ACC Men's Soccer 
FINAL: Pitt 2, Notre Dame 0 
SUMMARY
After a fairly quiet first half, Pitt stormed out of the gates in the second half and never looked back with a dominant performance in beating Notre Dame for the third time this season, 2-0, at Ambrose Urbanic Field on Saturday.
Arturo Ordonez scored his third of the season in the 46th minute, Alexander Dexter put the match away with his fourth of the season in the 76th minute and Nico Campuzano made one save as Pitt's defense and midfield dominated the match en route to the clean sheet victory.
Ed Thompson Photo Gallery 
This slideshow requires JavaScript.
After holding a slight edge in shots (4-2, 1-0 on target) and corners (3-1) at the half, the Panthers brought wave after wave of pressure, forcing the Irish into numerous mistakes and defensive scrambles.
Ordonez capitalized on a second ball from Bryce Washington after Pitt's first corner kick of the second half.
Ordoñez with his third goal of the year!

Pitt 1⃣, Notre Dame 0⃣#H2P pic.twitter.com/sPWilNFFID

— Pitt Men's Soccer (@Pitt_MSOC) April 4, 2021
Pitt continued to own the possession edge, but did allow a few Notre Dame counter moments, finally conceding a shot on frame in the 74th minute on a free kick from 19 yards from Aiden McFadden.  Campuzano was there though for his lone save of the match.
Shortly after this, the Panthers made the stretched out Irish pay, as Veljko Petovic played a vertical ball, hitting Dexter in stride as he got behind the Notre Dame back line, then after taking a few touches, blasting a shot past goalkeeper Bryan Dowd.
Dex😎

That's the senior's fourth goal of the season!

Pitt 2⃣, Notre Dame 0⃣#H2P pic.twitter.com/bCh7yv4VUa

— Pitt Men's Soccer (@Pitt_MSOC) April 4, 2021
Pitt would finish the match with a dominant edge in shots (12-3, 6-1 on target) and corners (9-2).   In three matches against Notre Dame in 2020-21, the Panthers outscored the Irish 8-2.
The Panthers are now 12-2 overall, and 4-1 in ACC for the Spring season, putting them in the lead in the Coastal Division with one game left to play.
Pitt will return to action to wrap up the regular season, hosting Virginia on Thursday at Ambrose Urbanic Field.
GAMEDAY 
FINAL – PITT 2, Notre Dame 0
Here's a look at Pitt's second goal.
Dex😎

That's the senior's fourth goal of the season!

Pitt 2⃣, Notre Dame 0⃣#H2P pic.twitter.com/bCh7yv4VUa

— Pitt Men's Soccer (@Pitt_MSOC) April 4, 2021
76′ – GOAL – Alexander Dexter –  PITT 2, Notre Dame 0
Not sure what @Pitt_MSOC HC Jay Vidovich said at halftime, but the Panthers have been bringing relentless pressure for the entirety of this second half. Maybe their most impressive half of Spring season as they lead Notre Dame, 2-0 late. #ACCSoccer @ACCMSoccer

— John Krysinsky (@JohnKrysinsky) April 4, 2021
75′ – Pitt with a few deep advances, but can't finish.  Notre Dame draws foul right on edge of box on right attacking side.  Free kick to the inside post area, but Campuzano is there to punch it away.
73' | ND 0 – #4 Pitt 1

Two big saves over the last 10 minutes from Byran Dowd to keep us in this one. 17 minutes left to find a goal.#GoIrish☘️ pic.twitter.com/E17AEkpuq3

— Notre Dame Men's Soccer (@NDMenSoccer) April 4, 2021
68′ – Pitt absolutely dominating possession and pressing Notre Dame into numerous turnovers.
60′ – Pitt has really turned up the pressure and also playing more physical too, forcing the issue now.
Here's a look at the Panthers' goal.  Ordonez in the box, again.
Ordoñez with his third goal of the year!

Pitt 1⃣, Notre Dame 0⃣#H2P pic.twitter.com/sPWilNFFID

— Pitt Men's Soccer (@Pitt_MSOC) April 4, 2021
47′ – GOAL – Arturo Ordonez!   PITT 1, Notre Dame 0
Bryce Washington with the assist.
45′ – PITT 0, ND 0
It's been a tentative affair, with neither side giving much away.  Pitt thus far with the only shot on frame, coming from Alexander Dexter.
Panthers with 4-2 edge in shots (1-0 on target).
HT | ND 0 – #4 PITT 0

We are scoreless at the break. Jack Lynn had our best chance when he hit the woodwork from outside the box.#GoIrish☘️ pic.twitter.com/DrjJDst8qr

— Notre Dame Men's Soccer (@NDMenSoccer) April 3, 2021
Look for lineups and gameday updates to be posted here.
Here's Pitt's starters:
GK – Campuzano
D – Loeffelsend, Crivello, Washington, Ordonez
MF – V. Noel, Mirkovic, Walti, Almeida,
F – Dexter, Jacquessen
We're live at Ambrose with Ed Thompson getting pics tonight!
Still working but now with @pghsoccernow as @_MSOC and @NDMenSoccer square off here in Pittsburgh. @JohnKrysinsky will have the recap. Kickoff was 2:00 ago. pic.twitter.com/B5XHPpQVIS

— Ed Thompson (@ThompsonFoto12) April 3, 2021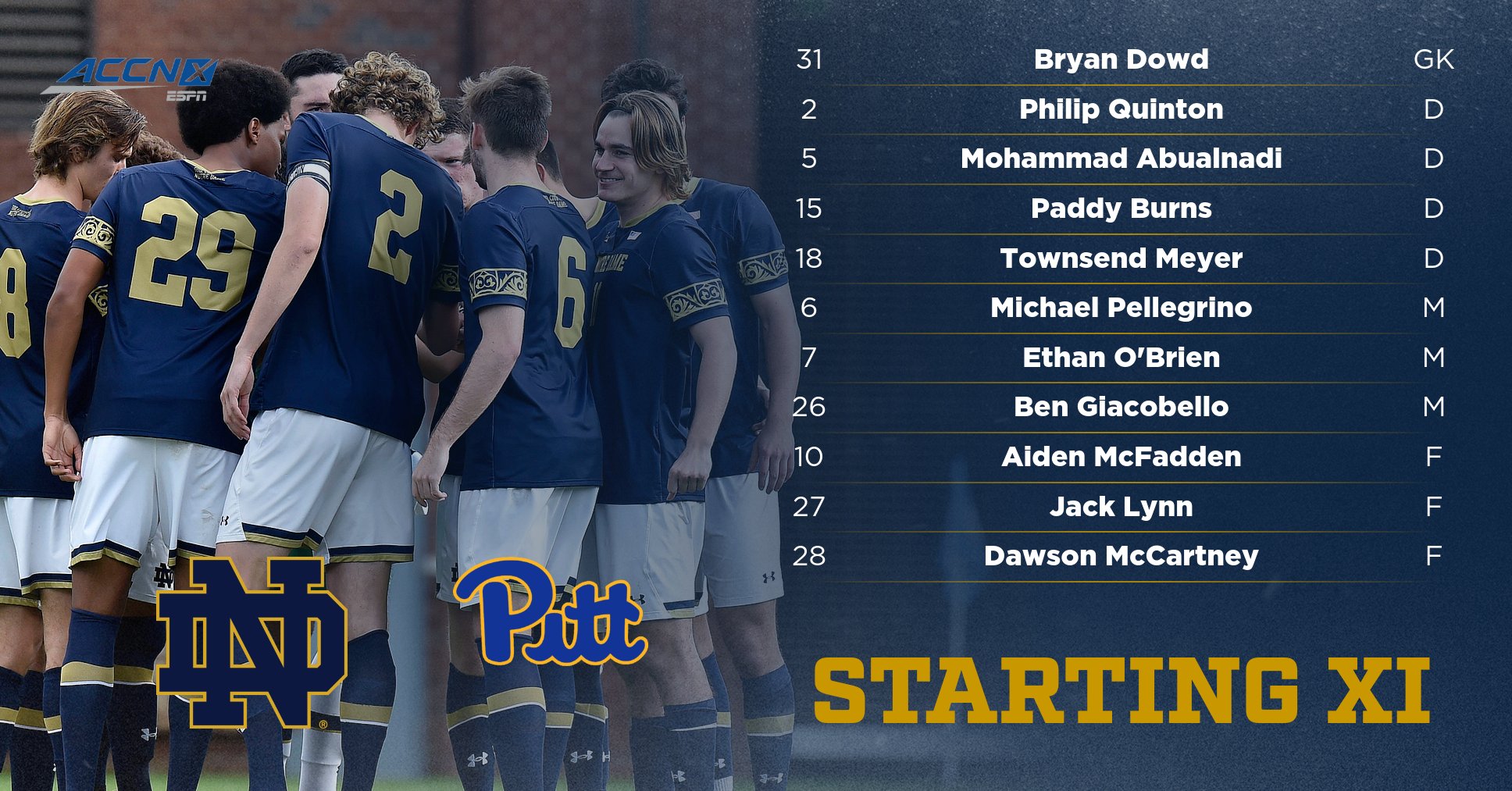 PREVIEW 
Coming off a two-game road stretch in which they pulled out consecutive overtime, golden-goal wins against Duke and Virginia Tech, the No. 3 University of Pittsburgh men's soccer team returns home to Ambrose Urbanic Field and hosts ACC foe Notre Dame Saturday evening.
The Panthers (3-1, 9 pts) are on track to be a potential number high seed in the NCAA tournament but will need to keep winning to stay atop the ACC's Coastal Division, slightly trailing North Carolina (3-1-1, 10 pts).  By closing out the season with two home victories, the Panthers should clinch the Division, putting them in position to play for the ACC's automatic bid.
The Panthers have also moved up again in the National Rankings this week, to number three.
NCAA D1 men's rankings:

1. Clemson
2. Georgetown
3. Pitt
4. Wake Forest
5. Indianahttps://t.co/49nxpoCs6F

— Steven Goff (@SoccerInsider) March 30, 2021
This will be the third meeting between Pitt and Notre Dame this season, as they met twice in the fall, with the Panthers winning each time by 3-1 scores.  The second meeting came in the ACC Tournament Semifinal.  Look for the return of Veljko Petkovic back to the lineup after the sophomore midfielder/forward had to sit out last week's win vs Virginia Tech due to a red card in the previous match vs Duke.
Remarkably, this will only be Pitt's fourth home match this entire season encompassing the fall and spring, as they only played once in the fall at Ambrose Urbanic Field (a 4-2 win vs Virginia Tech), along with victories over Duquesne and Boston College.
After Pitt's win vs Notre Dame in November, Mark Goodman joined me for our postgame thoughts.
Pitt Game Notes 
THE SERIES – NOTRE DAME
–        Notre Dame leads the all-time series 18-6-3.
–        The Saturday evening affair will be the third meeting between the Panthers and Fighting Irish this season. Pitt won the first meeting, 3-1, Sept. 26, 2020 and won the second affair by the same score in the ACC Championship Semifinal Nov. 18, 2020.
–        Prior to the 2020 season, Notre Dame won the past three meetings from 2017-2019.
SCOUTING THE FIGHTING IRISH
–        Notre Dame enters the contest 8-7 overall and 4-5 in conference play. They hold a 3-2 ledger on the road.
–        The Fighting Irish enter the game fourth in the ACC and 21st in the nation in total goals with 19.
–        Jack Lynn, one of the nation's leading goal scorers, comes in with eight goals to his name, ranking second in the ACC and fourth in the nation. Lynn's points per game (1.14) ranks sixth in the league, while his 16 total points is third in the ACC.
–        Goalkeeper Keegan McLaughlin has tallied 32 saves this year, fifth in the ACC. His 2.46 saves per game is eighth in the conference.
THE FIRST NOEL
–        Sophomore Valentin Noel finished the fall as one of the best goal scorers in the country, leading the Panther offense in goals, points, shots and shots on goal.
–        The Niort, France, native scored his first two goals of the spring campaign Mar. 19 at Duke in Pitt's 2OT thrilling victory over the Blue Devils. He followed that up with a goal at Virginia Tech Mar. 27, giving Pitt a 1-0 lead at halftime in Pitt's eventual 2-1 2OT victory over the Hokies.
–        Noel ranks among the best in the nation in major offensive categories, including total goals (T-1st – 11), points per game (14th – 2.00), goals per game (11th – .92), total points (2nd – 24) and shot accuracy (34th – .621).
–        On Nov. 15 vs. Duke, Noel set a school record for consecutive games played with a goal at four. The streak finished at six games, as he scored Pitt's lone goal in the ACC Championship Final against Clemson Nov. 22.
ACC'S NO. 1 SCORING OFFENSE
–        Pitt enters the Notre Dame match with the number one scoring offense in the conference with a 2.38 goals per game mark, a number also good for 15th in the nation.
–        The Panthers have totaled 31 goals this season, which leads the nation. Pitt also leads the country in total points (92) and is second in total assists (30).
–        Pitt's 7.08 points per game mark and .559 shot accuracy rank first in the conference.
–        The Panthers have had nine different goal scorers this season and have had 11 different players assist a goal this year.
JASPER SENDS IT IN
–        Graduate student Jasper Löeffelsend has emerged as one of the best passers in the country, finding his teammates on seven different occasions this season for goals.
–        The Cologne, Germany, native's seven assists are tied for first in the ACC and third in the nation.
–        Löeffelsend recorded an assist vs. Boston College Mar. 13 in the lone goal of the 1-0 shutout for his first of the spring campaign.
–        Löeffelsend tallied three assists against Virginia Tech Oct. 10, tying him for second all-time in a single-game in program history. Freshman teammate Bertin Jacquesson also had three assists in that same game.
–        Löeffelsend's seven assists currently ranks tied for ninth in a single-season in program history.
WALTI NAMED DEFENSIVE PLAYER OF THE WEEK
–        Junior Jackson Walti was named ACC Defensive Player of the Week Monday, Mar. 29 for his efforts in Pitt's 2-1 2 OT victory at Virginia Tech.
–        Walti played the entire 103 minutes, aiding a back line of defense that held the Hokies to one shot in both overtimes and three corner kicks all game.
–        The weekly honor was the first of his career and sixth this season by a Panther.
UP NEXT
–        Pitt hosts its final game of the spring regular season Thursday, April 8 against Virginia.
–        Start time is set for 7 PM on the ACCNX.
Sounding Off on Soccer: Riverhounds Road Woes
Subscribe to PGH Soccer Now