NCAA Men's Soccer College Cup Semifinal
FINAL: Indiana 1, Pitt 0 
Game Summary
It was a cruel result that ended a remarkable season for the Pitt Panthers, losing to the resilient and opportunistic Indiana Hoosiers, 1-0 on Friday night in the NCAA College Cup Semifinal at WakeMed Park in Cary, North Carolina. 
Despite controlling much of the match, holding the edge in possession and shots (14-7, 2-2 on target), the Panthers were victimized by
the game's lone goal, late in the second half, on a brilliant strike from Herbert Endeley. 
The Hoosiers will move on to face the Marshall Thundering Herd on Monday night in the College Cup final.
We'll have more detailed breakdown of the match and  look back at Pitt's remarkable season in the days to come.  
Postgame Press Conference
Postgame press conference with Indiana's Head Coach Todd Yeaghley and Pitt's Jackson Walti and HC Jay Vidovich.
Gameday Updates
FINAL — INDIANA 1, PITT 0
Cruel result for the Panthers, who controlled much of the match, but the Hoosiers show their resiliency and opportunistic play again to reach the final.
The Hoosiers will move on to face the Marshall Thundering Herd on Monday night in the College Cup final.
87  — Jacquesson back on for Pitt. They could use his dynamic play on the width.
85′ — IU will be putting as many men behind the ball in the last six minutes as possible. They've been terrific in managing games when they're under pressure all tournament. Only have allowed 5 goals all season.
84′ — Pitt with most of the possession here, but IU have numbers behind ball.
Not a stat Pitt faithful want to see, but when they score first they're 16-0, when they give up the first goal, they're 0-3
Endeley bigs deep and gives @IndianaMSOC the lead, 1-0!#CollegeCup pic.twitter.com/j37kPnLuGa

— NCAA Soccer (@NCAASoccer) May 15, 2021
80′ — GOAL — INDIANA 1, PITT 0
Brilliant strike from Herbert Endeley Blasts right over Campuzano 1-0 Indiana leads Pitt
73′ — Pitt's been very patient in build up. Another corner (5th of match) as Walti makes move into box. In swinging corner looks dangerous — Crivello header flys wide left of the post!
70′ — Pitt subs — again swapping the wingers —
Jacquesson and Dexter out
66′ — Cross in for Noel — sets up another corner for Pitt. Ensuing corner — quick short 1-2 between Petkovic and Jacquesson. Petkovic left footed in-swinging ball in middle of goal box but nice job by IU's Roman Celentano to secure ball.
Mirkovic looking to capitalize but JUST hitting one off the crossbar.#CollegeCup pic.twitter.com/rx7NIR8S2t

— NCAA Soccer (@NCAASoccer) May 15, 2021
58′ — Mirkovic… Off the bar down to line and out!!! here's comes instant replay!! But it shows didn't cross line.
56′ — Bezarra with a couple shot attempts in transition — the latest coming in a 1v1 situation, then bends ball toward far post that just misses.
53′ — Nice work into box by Goumballe to get into box and earn a corner for IU
48′ — IU gets forward in transition — Bezarra shot — low and pretty routine save for Campuzano.
Halftime stats of note:   Pitt with shots edge: 6-3, 2-0 on target.
IU's Todd Yeaghley in halftime interview:
"Thought we managed them well. Press middle of half. Have to take care of ball in transition.  Need to be better in those moments. Kept it tight. Overall in good place. Have to do more offensively.  Those transition moments, keep it in front half a little more.  Second balls in box. We can create problems. More service.  We'll have to keep it lock tight in the back."
HALF — PITT 0, Indiana 0
Celentano said nah 🙅‍♂️#CollegeCup pic.twitter.com/dh6JzEAp2a

— NCAA Soccer (@NCAASoccer) May 15, 2021
44′ — Great save by IU's Celantano!!! Petkovic in for Noel — header was on frame but Pitt's leading scorer was robbed.
42′ — it's a Balkans connection… Great ball through from Mirkovic to Petkovic, who splits IU's center backs, but shot sails over bar.
37′ — PITT SUB: Luke Mort for Bertin Jacquesson
31′ — PITT SUB:  Matt Bailey in for Alexander Dexter
A VERY close call for Indiana 😯

Still nothing to separate them so far.#CollegeCup pic.twitter.com/hSv045JvFo

— NCAA Soccer (@NCAASoccer) May 15, 2021
26′ — Whoooaaaaa
Pitt in transition — Jacquesson dangerous low ball in goal box and IU's Nyk Sessock (former Panther) somehow clears it off line.
24′ — Announcer just called Alexander Dexter, Dexter Alexander… Nice cross in but Noel was in between a pair of IU defenders.
22′ — YELLOW CARD IU's Bezarra — maybe studs up in 50/50 ball with Jacquesson.
16′ — Indiana's been selective about bringing high press against Pitt. They just tried to do it, and Arturo Ordonez did some nifty work to evade a defender and push ball forward to wing to Dexter, who got forward and drew foul.
7′ — Pitt dodges an early bullet! Loeffelsend has trouble with first touch on cross that comes in, but blocks shot. IU corner to near post is cleared away.
4′ — Pitt earns corner as Jacquessen cross is cleared off end line.
8:44 pm — they've kicked off, and it's Pitt with the early build-up that leads to Veljko Petkovic shot on frame. Easy save for IU's Roman Celentano
8:33 pm — No surprises, Pitt stays with same starting XI:
No changes!
It's going to be the same @Pitt_MSOC Starting XI
Here's how they typically line up. #CollegeCup #H2P pic.twitter.com/vpdc6RlwFH

— John Krysinsky (@JohnKrysinsky) May 15, 2021
Here's IU's starters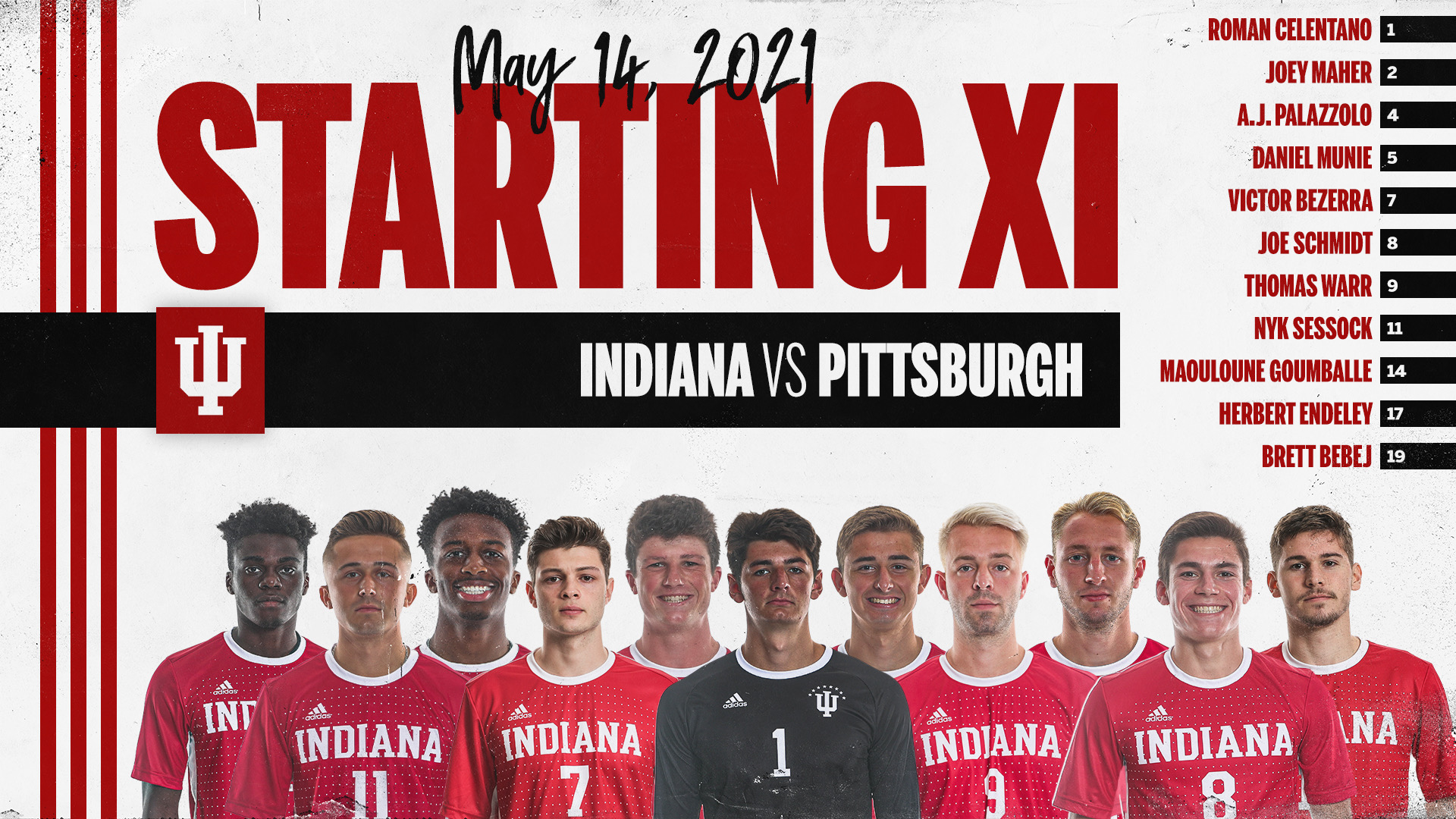 8:05 pm – Marshall ADVANCES — beats North Carolina 1-0.  Will we have a PA-WV final?   That would be something.
7:55 pm — Marshall takes the 1-0 lead!!
HAVE YOURSELF A CUP OF TEA 🤩

Jamil Roberts makes the difference and puts Marshall ahead, 1-0#CollegeCup pic.twitter.com/axmNt64JrV

— NCAA Soccer (@NCAASoccer) May 14, 2021
The countdown is on ⏲️

Tonight, we go again.#H2P pic.twitter.com/iu2BLCBuI7

— Pitt Men's Soccer (@Pitt_MSOC) May 14, 2021
John Krysinsky's projected starting lineups…
Pitt
Indiana
GK – Roman Celentano (1)
Defenders: Joey Maher (2), Daniel Munie (5), Nyk Sessok (11), Brett Bebej (19)
Holding/Central Midfielder: Joe Schmidt (8)
Forwards & Wingers/Attacking Midfielders: A.J. Palazzolo (4), Victor Bezerra (7), Thomas Warr (9), Maouloune Goumballe (14)  Herbert Endeley (17)
---
The NCAA Men's Semifinal between No. 2 Pitt and No. 3 Indiana will be the second game of the College Cup doubleheader on Friday night  Look for lineups to be posted here approximately 15 minutes before kickoff.
We'll also have updates throughout the match along with the postgame recap and reaction here on Pittsburgh Soccer Now.
The first National Semifinal between Marshall and North Carolina will kickoff at 6 p.m.
Preview / PSN's Pitt Men's Soccer Coverage 
NCAA College Cup: Can Pitt's dynamic attack break down a mostly impenetrable Indiana?
Western PA will be well-represented on college men's soccer's biggest stage
NCAA Tournament Gameday Blogs:
Quarterfinal — Pitt 3, Washington 0
Third Round — Pitt punishes Central Florida, 4-0, to advance to Elite Eight
Second Round — Pitt 6, Monmouth 1
Pitt Game Notes 
THE SERIES – INDIANA
–        Pitt faces Indiana for the second time in program history and second time in as many seasons, last facing the Hoosiers Aug. 30, 2019.
–        Indiana won the lone contest of the series by score of 3-2 in double overtime in the Adidas/IU Credit Union Classic in Bloomington.
–        Head Coach Jay Vidovich is 1-2-0 all-time against the Hoosiers.
SCOUTING THE HOOSIERS
–        Indiana enters the College Cup 11-1-2 overall and finished the regular season 7-1 in BIG Ten play. The Hoosiers won the BIG Ten Championship with a 1-1 tie (3-2 PKs) over No. 14 Penn State.
–        The Hoosiers enter the match with a stout defense that has limited its opposition to five goals this season. As a team, Indiana is third in the country in goal differential (25), first in save percentage (.909), second in team goals against average (.343) and fourth in shutout percentage (.643).
–        The Hoosiers has totaled 88 points this season, good for 11th in the country. Their 6.29 points per game rank 15th, while the scoring offense is 14th in the country (2.14).
–        Sophomore Victor Bezerra leads the Indiana offense with 12 goals and four assists on the season. Bezerra was named a MAC Hermann Trophy Finalist, as well as an All-Region First Team recipient and a First Team All-American. Bezerra has one goal and one assist in the NCAA Tournament.
–        Sophomore Roman Celentano is 10th in the nation with 50 total saves. Celentano leads the country with a .909 save percentage and has limited the opposition to five goals on the year.
PITT ADVANCES TO COLLEGE CUP WITH 3-0 WIN OVER NO. 7 WASHINGTON
–        The Pitt Panthers advanced to their first NCAA College Cup with a 3-0 shutout victory over No. 7 seed Washington Monday, May 10.
–        Sophomore Valentin Noel scored the first goal in the 52nd minute – his 14th of the year – and freshman Bertin Jacquesson and sophomore Veljko Petkovic added goals with less than five minutes to play to clinch the victory.
–        Graduate student Jasper Löeffelsend had an assist, his second of the NCAA Tournament and nation leading ninth of the year.
–        Graduate student goalkeeper Nico Campuzano tallied four saves for his sixth shutout of the season.
PANTHERS SET PROGRAM RECORD WITH MULTIPLE ACCOLADES
–        The Panthers earned a plethora of awards this past week, including five All-Region honors and two All-American recipients.
–        Sophomore Valentin Noel and graduate student Jasper Löeffelsend each earned All-American honors, with Noel claiming First Team and Löeffelsend Second Team.
–        The duo become the first Panthers in program history to be named All-Americans.
–        Five players were named United Soccer Coaches South All-Region recipients, as Noel, Löeffelsend and graduate student Nico Campuzano received First Team, sophomore Veljko Petkovic Second Team and junior Jackson Walti Third Team.
–        The five Panthers on All-Region is the most of any season in school history. Pitt had a total of seven players since 1983 earn an All-Region spot.
NOEL NAMED MAC HERMANN TROPHY FINALIST
–        Sophomore Valentin Noel was recognized by the United Soccer Coaches and Missouri Athletic Club Wednesday as a finalist for college men's soccer's most prestigious award, the MAC Hermann Trophy.
–        Noel joins Oregon State's Gloire Amanda and Indiana's Victor Bezarra as finalists.
–        The award is the most coveted individual honor in NCAA Division I men's soccer and has been awarded annually since 1967.
PETKOVIC NAMED TOPDRAWERSOCCER PLAYER OF THE WEEK
–        Sophomore Veljko Petkovic was named TopDrawerSoccer Player of the Week for his performance against UCF and Washington.
–        Petkovic scored three goals for the week, including a goal 23 seconds in to the UCF match, a school record for fastest goal scored to start a match.
–        Petkovic joins freshman Bertin Jacquesson to win TDS Player of the Week.
Subscribe to PGH Soccer Now