NCAA Women's Soccer – BancFirst Cowgirl Soccer Classic
FINAL: Pitt 3, Oklahoma State 2
Summary
Pitt women's soccer's (2-0-0) recorded its first win over a ranked opponent in 13 years, knocking off No. 16 Oklahoma State (1-1-0) 3-2 in overtime for the BancFirst Cowgirl Soccer Invitational Championship Sunday afternoon at Neal Patterson Stadium. Sarah Schupansky kicked in the golden goal just 30 seconds into overtime for her first collegiate goal.
Anna Bout retrieved an errant cross deep in the left side of the box and tapped it back to Athalie Palomo, who sent the cross in the middle for Schupansky to one-touch it in with her left foot.
"I'm extremely proud of the progress we are making," said Pitt head coach Randy Waldrum. "It was a huge win today against a very dangerous opponent. The way this team continues to fight back amazes me! Our young players played very well for us this weekend. Ellie Coffield, Bri Hilsenteger and Sarah Schupansky all played with composure and looked like veterans. Emily Harrigan, Ashton Gordon, and Landy Mertz our transfers brought great experience and quality to us as well."
Emily Yaple got the Panthers on the board first in the 37th minute. After Bout passed it back to Chloe Minas, Minas touched the ball over to Yaple who tucked in a shot in the top left corner from outside of the right side of the box.
The Cowgirls responded quickly to start the second half, scoring two goals in the first five minutes.
Amanda West tied up even quicker in the 51st minute, heading in a cross from Mertz. Schupansky picked up the secondary assist, taking possession of the ball atop the box and finding Mertz in the right corner.
"I want to congratulate Chloe, Amanda, Ashton, and Kat for making the all-tournament team!" said Waldrum. "Also Ashton was named Defensive Player of the Tournament and Amanda West Offensive Player of the Tournament. Final shout out to Pitt women's woccer for being the Cowgirl Invitational Tournament Champions! Now it's back to work and move forward getting better!"
Pitt returns home for its opener at Ambrose Urbanic Field Thursday at 5 p.m. against Cleveland State, with the No. 3 Pitt men's soccer team opening up its season in the City Game against Duquesne following.
NEWS AND NOTES
The Panthers recorded just their fourth victory against a ranked team and second on the road.
o   2-1 (2OT) vs. No. 19 Georgetown (10/19/08)
o   2-1 vs. No. 10 West Virginia (9/01/05)
o   2-1 at No. 24 Miami, Fla. (10/12/01)
Katherine Robinson (2-0) made three saves, with two coming in the second half on headers just yards away from the goal line.
Oklahoma State had the advantage in shots (15-11), but Pitt had a sizable advantage in corner kicks (8-3) and a slight edge in shots on goal (7-5).
Pitt has started 2-0 all four years under Waldrum.
West has scored in each of the first two games in all three seasons of her career.
Pitt rolled out its same starting lineup from its season-opening 3-0 shutout win over Tulsa.
Schupansky, Mertz, West, McKay and Yaple each had two shots, and McKay placed both on goal.
The meeting was the first between the two schools.
Gameday Updates
Pitt wins in 2OT!!
Its Sarah Schupansky who picks a great time for her first ever college goal.
Amanda West scores to level the match!
Of course @amanda_westt gets in on the scoring action in second half ☺️

💻: https://t.co/s33emVg94L#H2P pic.twitter.com/sqMeJJ9pP2

— Pitt Women's Soccer (@Pitt_WSOC) August 22, 2021
HALF – PITT 1, OSU 0
Team Totals
| TEAM | Shots | SOG | Saves | Fouls | Corners | OffSides |
| --- | --- | --- | --- | --- | --- | --- |
| | 3 | 3 | 1 | 7 | 0 | 2 |
| | 7 | 1 | 2 | 5 | 2 | 0 |
GOAL – Emily Yaple. Pitt goes up 1-0 late in the first half!
What a goal from Emily Yaple!
From outside the box.
Gives @Pitt_WSOC a 1-0 lead on the road against No. 16 Oklahoma State late in 1st half. #H2P

— John Krysinsky (@JohnKrysinsky) August 22, 2021
Look for starting lineups and highlights from today's match to be posted here.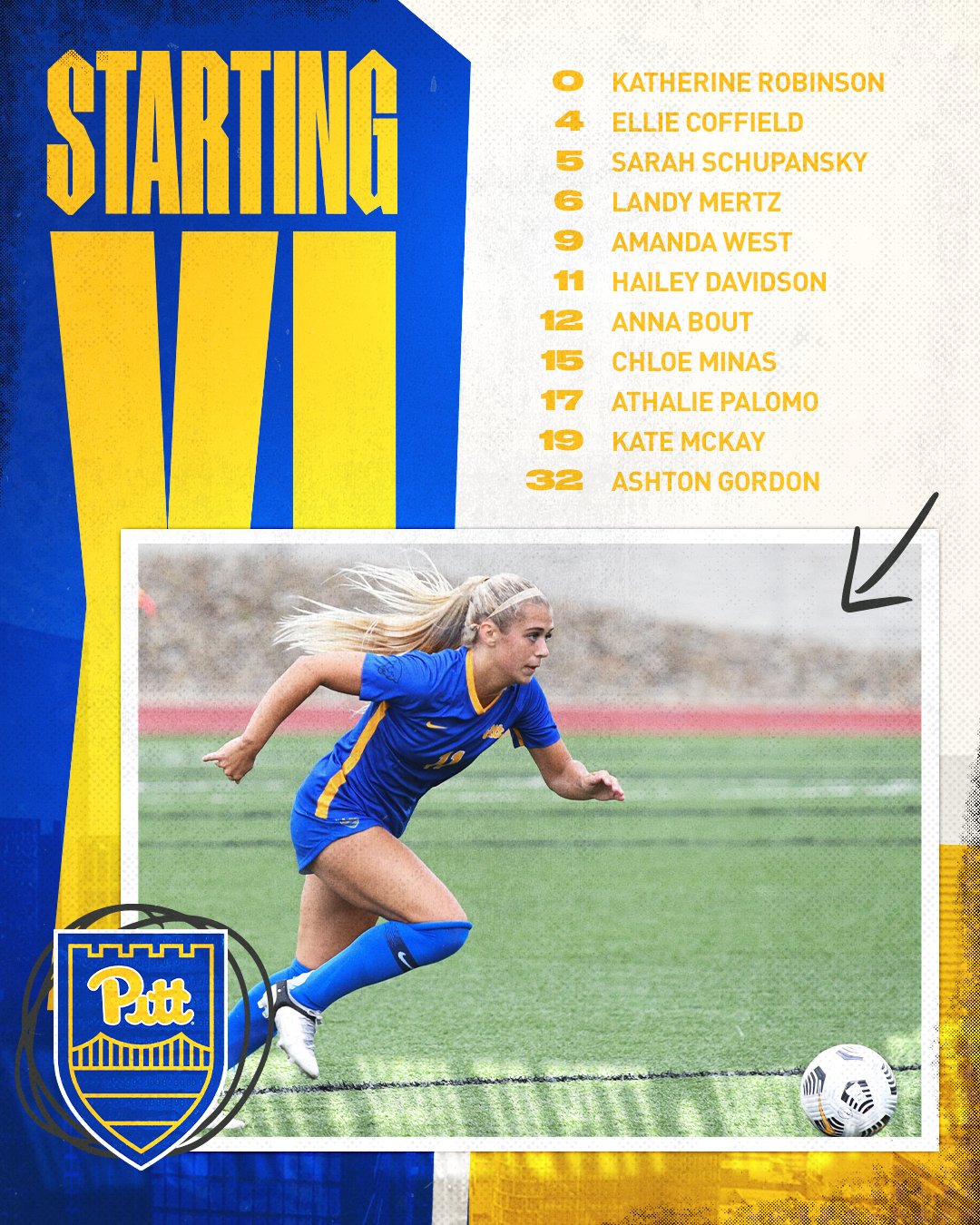 PSN Coverage / Preview
The Panthers will face a tough challenge on Sunday, facing a 16th ranked Oklahoma State team that opened its season with 2-0 win vs UTSA on Thursday and is returning 21 letter winners, including nine starters and five All-Big 12 honorees. The Cowgirls lost in the Round of 16 in the NCAA tournament in May, on penalty kicks to seventh seed Texas.
Pitt wins opener vs Tulsa, 3-0; Amanda West becomes program's all-time leader in goals scored
Pitt Game Notes
SCOUTING OKLAHOMA STATE
The Cowgirls opened the season with a 2-0 win vs UTSA on Thursday evening.
Oklahoma State is slotted at No. 16 in the United Soccer Coaches' Preseason Poll.
The Cowgirls went 13-3-2 last year, finished third in the Big 12 at 6-2-1 and advanced to the Sweet 16, where it fell in penalty kicks to seventh-seed Texas A&M.
Picked to finish third again in the coaches' preseason poll, OSU returns 21 letterwinners from last season, including nine starters and five All-Big 12 performers.
Senior defender/midfielder Kim Rodriguez was named to the TopDrawerSoccer.Com Preseason Best XI First Team.
MOVING ON UP THE ALL-TIME HEAD COACH WINS LIST
With 419 victories, Randy Waldrum ranks eighth in all-time career wins for head coaches at the Division I level.
Waldrum is seventh among active coaches.
He recording his 416th career win in 27 years at the Division I level against Navy on Sunday, Oct. 11, 2020 that passed David Lombardo (Keene State and James Madison, 35 Years) and Chris Petrucelli (Notre Dame, Texas and SMU, 30 Years) for eighth all-time.
He remains ahead of SMU's Petrucelli, who now has 416 wins.
Waldrum currently ranks sixth among active head coaches.
RETURNING EVERY STARTER
Pitt returns every starter from last season.
Forwards: Amanda West (16 starts), Leah Pais (14) and Landy Mertz (two-both spring games).
o Combined for 12 goals, nine assists, 100 shots and 52 shots on goal.
o West has started every game in her career while Pais and Mertz were both new to the team as transfers (Pais-Albany, Mertz-Dayton).
Midfielders: Anna Bout (16), Chloe Minas (16) and Emily Yaple (16)
o All three started every game last year
o Bout has started all but three games in her career, and Yaple and Minas started as true freshmen last season after enrolling in the previous spring semester.
o Yaple contributed offensively three goals and two assists while Bout had a goal and assist each.
Defenders: Hailey Davidson, Mackenzie Edwards (16), Kate McKay (16) and Athalie Palomo (16).
o All four started every game and were in the top-five for minutes played on the team
o Limited teams to a .410 shots on goal percentage
o McKay ranked third on the team in scoring with three goals and five assists while Palomo had a goal and assist.
Goalkeepers: Katherine Robinson (nine) and Caitlyn Lazzarini (seven)
o The two combined for six shutouts, .743 save percentage, 1.12 goals against average and six shutouts.
o Robinson was 7-2-0 with 21 saves, .724 save percentage and 0.95 goals against average.
o Lazzarini was 4-3-0 with 31 saves, .756 save percentage and 1.30 goals against average with all but three games started against ACC opponents.
LAST YEAR'S HISTORY
Despite playing less games than usual due to COVID, Pitt did many things the previous teams in program didn't accomplish.
Going 9-5-0 overall in the fall and winning both spring games, it surpassed the 1995 team (10-7-1) for the most wins in a single season and was only the third to ever post a winning record (8-5-5 in 2009).
Five of the victories were on the road, the most in a single-season in program history.
o In 2019 on the road, Pitt was 1-7-1 and a combined 2-28-4 in the last four seasons.
Pitt notched its first ranking in the United Soccer Coaches' Poll in program history, debuting at No. 12 in the first poll of the season and then No. 14.
Defeating The Citadel 2-1 (OT) and 1-0, Pitt won for the first time as a ranked team.
o Head coach Randy Waldrum has now led five schools to be nationally ranked: Tulsa men's and women's soccer, Baylor and Notre Dame in addition to Pitt.
Pitt started the season 6-0 for the first time in program history, which was the second-longest winning-streak in school history, as the 2015 team rattled off eight wins in a row.
o West scored three-straight game-winning goals, something no other Panther in program history has done before.
A NEWCOMER'S HOMETOWN ARRIVAL
Hometown native Landy Mertz has scored in every game as a Panther.
A transfer from Dayton joining Pitt for the spring season, Mertz made quite the impact in her Panthers' debut with two goals in the team's 3-0 shutout victory in the City Game.
Mertz was named the ACC Offensive Player of the Week.
She then followed up with a goal in the 4-1 win over Kentucky in the season-finale.
In the two exhibition games this season, she produced a goal in the 2-0 win at Youngstown State and had assists on both goals in a 2-0 victory at RV Ohio State.
NEWCOMERS
Pitt welcomes 15 newcomers to the team.
12 freshmen: Lacey Bernick, Ellie Coffield, Sara Darlington, Mackenzie Evers, Bri Hilsenteger, Elena Hinkson, Katelyn Kauffman, Maddie Keister, Ashley Moon, Hailey Schmidt, Sarah Schupansky and Madison Vukas.
o All but Darlington, Evers and Schmidt enrolled early in the spring of 2021.
o Evers graduated a year early at West Allegheny High School.
Three transfers: Ashton Gordon, Emily Harrigan and Kelly Moss.
o Gordon started two seasons at reigning SEC Champs Arkansas and joined the team last spring.
o Harrigan spent three seasons at Rutgers, and Moss comes from Notre Dame after two years.
Sounding Off on Soccer: Riverhounds Road Woes
Subscribe to PGH Soccer Now