'
FINAL: Riverhounds SC 1, The Miami FC 0
Live Statistics: USL Championship Match Center
#MIAvPIT
Match Summary
It may have taken five meetings, four official matches, three visits to South Florida and one controversial own goal, but the Pittsburgh Riverhounds SC finally picked up a win, 1-0, and an important full three points against a season-long nemesis, The Miami FC, at Ricardo Silva Stadium on Wednesday night.
In a match that was originally played on October 16, but was ordered to resume in the 67th minute, the Hounds held off Miami FC in a hectic match where the hosts were pushing numbers forward and sending many balls toward the box, while Pittsburgh did everything it could to keep numbers behind the ball, then look to stretch play on numerous counter chances into open spaces.
With the win, Pittsburgh (17-8-6, 58 points) secures its spot ahead of Miami, but still remain one point behind red-hot Charlotte (18-9-4, 58 points), who defeated Loudoun United FC on Wednesday. Each team has one game left to play this weekend.  Charlotte will be playing Austin Bold (in its last match ever) on Saturday, while the Hounds host Hartford.
Miami (15-10-6) came out firing in an effort to level the match, holding 62.2 percent of possession in the second half and sending multiple dangerous crosses into the box. Danny Vitiello was strong in the air to corral most of Miami's high entry passes, and he completed what will go down as his eighth shutout of the season without making an official save in the replayed time.
The Hounds had the best scoring chance of the replay in the 80th minute, when Russell Cicerone broke in behind the Miami defense. Miami goalkeeper Connor Sparrow came off his line and fouled Cicerone almost 35 yards from goal, but Sparrow only received a caution as the distance from goal and Cicerone's touch leading him toward the corner flag negated a possible red card for denying an obvious goal-scoring opportunity.
Congratulations to @RiverhoundsSC and Bob.

— Paul Dalglish (@DalglishPaul) October 27, 2021
USL Atlantic Division Standings
Pos.
P
W
L
T
GD
Pts

Form

1

Tampa Bay Rowdies
31
22
7
2
31
68
2

Charlotte Independence
31
18
9
4
21
58
3

Pittsburgh Riverhounds SC
31
17
8
6
18
57
4

The Miami FC
31
15
10
6
11
51
Match Day Updates
We want to thank the players on both teams for their professionalism to prepare and play in tonight's 24-minute match. pic.twitter.com/GgVzj6vi3R

— X- The Miami FC (@TheMiamiFC) October 28, 2021
FINAL — PITTSBURGH 1, MIAMI 0
The controversial 'own goal' is the difference. Pittsburgh comes out of its return trip to Miami with the full three points.
However, Charlotte did beat Loudoun tonight to stay ahead of Pittsburgh for second place.
90++ — Two more moments in open spaces where Miami could have had yellow cards. Sparrow taking down Dixon and Cicerone getting pushed down by Speedy with no one between him an goalkeeper. 1-0 PIT
90′ – Officials add 3 minutes of added time.
89′ — Attempt missed.  Dixon  left footed shot from the centre of the box is high and wide to the left.
82′ – First Hounds change. Jelani Peters on for Jordan Dover.
80′ — Cicerone in behind, and he's tripped up by Connor Sparrow off his line and outside of the box! Yellow card to the Miami goalkeeper, as Cicerone's touch was toward the corner rather than toward goal. Free kick to the Hounds.
75′ — That's three 'professional' fouls already for the Hounds on edge of Miami's attacking third. 75′
24 minutes to turn this one around. #VamosMiami pic.twitter.com/PtzOZ0rZRz

— X- The Miami FC (@TheMiamiFC) October 27, 2021
74′ – After a couple Miami free kicks lobbed into the box, the Hounds get their first chance with Forbes having a rip from the right side but hitting the side netting.
7:06 p.m. – annnnnnnnndddddd they've kicked off after the @RiverhoundsSC goal in Miami (on October 16)… Hounds lead 1-0 67′
6:32 p.m. — apparently they're starting over with the lineups.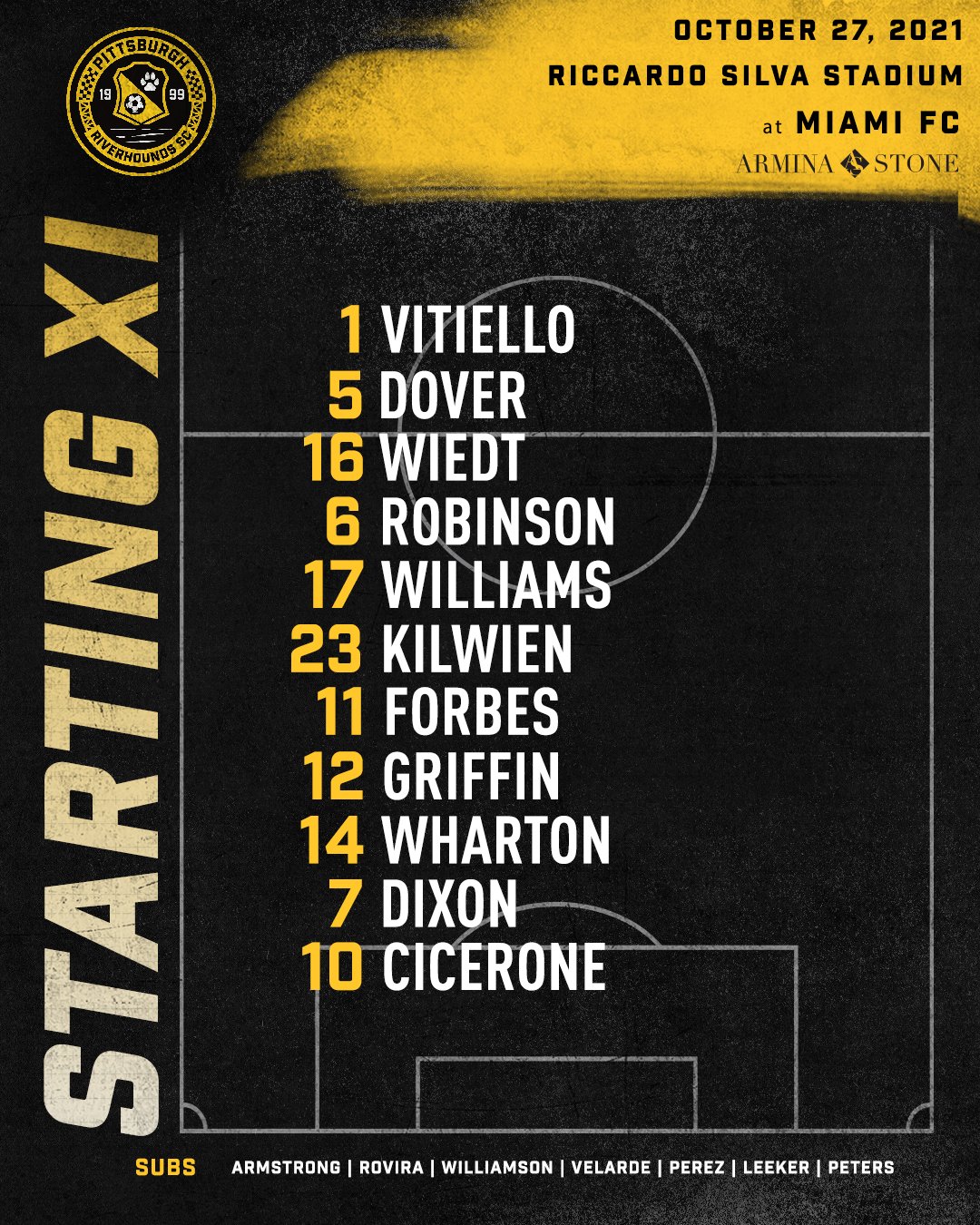 First off, here's how the hosts will take the field tonight.#UNLEASH #MIAvPIT https://t.co/44WHEQRmtI

— x – Pittsburgh Riverhounds SC (@RiverhoundsSC) October 27, 2021
We had to have a name for the Hounds greatest comeback in club history — Miracle on the Mon  — in case you didn't know — so we're having some fun with this one too.
We're calling this the Rectification Game or using a more formal title: The Rectification of the Mockery in Miami.
For your convenience, we have re-posted the match updates through the 67th minute from October 16th below.  We will pick-up from that point in this section once the game resumes.
---
67′ – GOAL – RIVERHOUNDS 1, MIAMI 0 (own goal)
It took a few days after the match to figure it out — but the USL Championship awarded the Hounds a goal (officially on October 22nd).
Here's the official ruling followed by the highlight of the goal…
Upon review of the Oct. 16 match, the Professional Referees Organization (PRO) determined that an officiating error and misapplication of the FIFA Laws of the Game occurred in the 66th minute. A goal was initially and correctly awarded to Pittsburgh because a Miami player played the ball into his own net during the run of play. After conferring on the field, the match officials erroneously disallowed the goal and awarded a corner kick to Pittsburgh.
Independent investigations by PRO and the USL found no evidence of match fixing or impropriety.
"In this instance, the match officials applied a law that unequivocally did not match the events on the field, and the ruling on the field exceeded the reasonable degree of human error that is inherently part of the game," said USL President Jake Edwards. "This extraordinarily rare circumstance necessitated the decision to ask two of our Clubs to replay the remainder of a match with the score at 1-0. In consultation with PRO and IFAB, we have taken this action to protect the integrity of the League, our competition, and the sport of soccer. We thank The Miami FC and Pittsburgh Riverhounds SC for their understanding and commitment to the integrity of our competition."
So here's the goal that wasn't, offered without commentary.#UNLEASH #MIAvPIT pic.twitter.com/3BTJbpJ3tv

— x – Pittsburgh Riverhounds SC (@RiverhoundsSC) October 17, 2021
The Hounds and Miami line-ups on the field in the 67th minute are as follows:
Riverhounds SC lineup (4-2-3-1) — Danny Vitiello; Jelani Peters, Mekeil Williams , Shane Wiedt, Jordan Dover (Dani Rovira 45'); Danny Griffin, Todd Wharton; Kenardo Forbes, Russell Cicerone , Alex Dixon; Tommy Williamson.
Note: Louis Pérez, Albert Dikwa; Preston Kilwien, Anthony Velarde, were used as subs in the original match. Below is the way the Hounds lined up during the October 16 match. 
Miami FC lineup (4-2-3-1) — Connor Sparrow; Robert Kcira, Callum Chapman-Page, Richard Ballard (Adonijah Reid 87'), Janos Löbe; Devon Williams, Bolu Akinyode; Othello Bah (Junior Palacios 78'), Ariel Martínez, Christiano François (Josh Pérez 86'); Lamar Walker (Pierre Da Silva 87')
Preview / Key Storylines:  
Where do we start?
The shortened match is critical for playoff seeding coming out of the Atlantic Division.
Miami needs a win to have any shot of catching the Charlotte Independence for second place, while the Hounds' easiest path the second is to win its remaining two games and hope Charlotte drops points in one of its final two.
This very unique set-up for the match will pick-up action in the 67th minute of a match played on Saturday, October 16 in Miami, when the Pittsburgh Riverhounds SC seemingly were to be awarded with a goal after a quick MIami restart, when former Robert Morris standout, Miami's holding midfielder Devon 'Speedy' Williams played the ball wide to defender Janos Löbe, who then played it back to goalkeeper Connor Sparrow, who misplayed the ball, allowing an apparent own goal.
What happened next proved to be a bit of a fiasco.
The replay was ordered by the USL Championship after an own goal put into the Miami net was wrongfully disallowed by the match officials. Because of the misapplication of the Laws of the Game, giving a corner kick restart rather than awarding the goal, the match will resume with the Hounds leading 1-0 entering the 67th minute.
While it is the first time the Hounds have been involved this sort of replay, the team has had to replay matches for other reasons, most recently in 2019 when rain washed out the team's match at Memphis 901 FC midway through the game, forcing it to be started over and played in full four months later.
But in this case, the Hounds and Miami join a list in U.S. sports history that includes George Brett's blow-up in the infamous Royals/Yankees "Pine Tar Game" in 1983, Shaquille O'Neal's erroneous "sixth" foul in a 2008 Heat/Hawks game, and others that were ordered to be replayed by their respective leagues for an official error.
Despite the odd situation, the Hounds are expected to send a full-strength side to Florida with a chance to bring the playoffs to Highmark Stadium on the line. That means it will be a chance for Russell Cicerone to add to his team-leading 16 goals, as he took sole possession of third on the club's single-season scoring list with his game-winning goal Saturday in a 2-1 win against Charleston.
Miami, meanwhile, has played twice since the original match against the Hounds. They lost 3-0 at Tampa Bay in what was a huge blow to their home-field hopes, but Miami bounced back with a 2-0 win over the weekend over New York in which former Hounds forward Christiano François netted his team-high 11th goal of the season.
PSN's Coverage of Mockery in Miami 
A Do Over? Yes! Riverhounds SC-Miami FC to replay controversial match on Oct. 27
Analysis & Player Grades: Tense, tight match between Hounds-Miami ends in draw amid controversy
Original PSN Match Updates (from 10/16/2021) 
65′ – Quick chance for Cicerone off a turnover, but his shot either is either partially blocked or he didn't get all of it, because it rolls safely to Sparrow.
62′ – Danny Griffin cautioned for holding Martinez in transition. Third Hounds player into the book.
54′ – Kenardo Forbes is cautioned for a foul on Lamar Walker. He's the second Hounds player in the book. 0-0
52'- @Speedy_ccc80 trying to get the scoring started. pic.twitter.com/HunBKTFGPO

— X- The Miami FC (@TheMiamiFC) October 17, 2021
46'- @ConnorSparrow24 with a diving save to keep the card clean. pic.twitter.com/jWi6ApAfIk

— X- The Miami FC (@TheMiamiFC) October 17, 2021
HALF — RIVERHOUNDS 0, MIAMI FC 0
35′ — Nice diagonal ball in box from Dover to Cicerone who gets behind the defense, but the Hounds leading scorer can't get a clean shot off.
33′ – Yellow Card – Jordan Dover
probably best move there — denies a deep advance and concedes free kick from 30 yards.
26′ – Great defensive work by Wiedt to go step-for-step with Lamar Walker, cutting him off until Dover was able to collapse down in support. Danger averted in a 0-0 game.
20′ — Hounds playing on front foot — have found a few dangerous crosses into the box, but it's still scoreless.
7:35 p.m. (1′) — game kicks off…
Riverhounds MF Danny Griffin
Subscribe to PGH Soccer Now