USL Championship Atlantic Division
FINAL: Pittsburgh Riverhounds SC 0, The Miami FC 0
Game Statistics: USL Championship Match Center
Match Summary
After four matches, the Pittsburgh Riverhounds SC still couldn't get over the hump against The Miami FC, as the two teams battling for playoff position in the USL Championship's Atlantic Division played to a tense, hard-fought and controversial 0-0 draw on Saturday night in South Florida.
"I think we played a pretty good game. We made chances, and I think we should have had four or five more," Riverhounds SC Head Coach Bob Lilley said. "I think we could have pressed more, been more assertive getting forward, but that said, we defended well, we recovered well and played well in our own half keeping them in front of us."
When the smoke cleared, the Riverhounds SC (52 points) now stay three points ahead of Miami (49 points) with two weeks remaining in the USL Championship's regular season.
However, the Hounds dropped to third place in the standings by virtue of Charlotte's win over Charleston on Saturday.  With three games remaining, Charlotte (also on 52 points) now has the inside track to second place, while the Hounds have two games remaining (both at home in the next two weeks against Charleston and Hartford).
The Hounds created more chances in the match, with 13 shots (five on frame), while the hosts could only muster five total shots, with one on frame.
The match's controversy came in the 66th minute, when after a quick restart, former Robert Morris standout Devon 'Speedy' Williams wide to defender Janos Löbe, who then played it back to goalkeeper Connor Sparrow, who misplayed the ball, allowing an apparent own goal.
After more than three minutes of discussion, however, match referee Jonathan Bilinski awarded a corner kick to the Hounds as though the ball was played directly into the Miami goal from the free kick instead of awarding the goal because the ball already had been put into play.
What happened next proved to be a bit of a fiasco.
The head official went over to the right side linesman for clarification.
What came next, was that the officials ruled to aware the Hounds with a penalty kick.
Here's another look at the replay.
So here's the goal that wasn't, offered without commentary.#UNLEASH #MIAvPIT pic.twitter.com/3BTJbpJ3tv

— Pittsburgh Riverhounds SC (@RiverhoundsSC) October 17, 2021
"(The officials) said it was the first pass, but it wasn't, clearly," Bob Lilley, Riverhounds SC Head Coach said. "We've seen it, (Miami coach) Paul Dalglish has seen it, and even he said it was a goal. It was a perfectly good goal."
Match Report by Half
First half
The Hounds limited Miami to just one shot on goal, and that came in the first minute when Ariel Martínez got a half-chance down the left side, but goalkeeper Danny Vitiello cut down the angle well for the only save of his eighth shutout of the season.
The Hounds then began to press forward more, and in the 13th minute, Sparrow made an excellent kick save when Alex Dixon had picked out Russell Cicerone for a chance at the near post.
Those would be the only two shots on goal in the first half, though Cicerone nearly pounced on a misplayed ball by the Miami defense, but his reflexes weren't quick enough to turn the surprising chance on net.
Second half
The Hounds created more chances in the second half, finishing the game with an 8-4 edge in shots and a 5-1 edge in shots on goal, despite having just 42 percent of possession. The team also did a much better job handling Miami's dangerous, fast attack of Martínez, Lamar Walker and former Hound Christiano François, keeping them off the board after allowing seven goals in three previous meetings.
Apart from the 66th minute controversy, the Hounds still had chances to win, as neither Kenardo Forbes nor substitute Albert Dikwa could get a clean shot away with the ball bouncing just 7 yards from goal in the 85th minute.
Two minutes later, Forbes picked out Dixon for a point-black shot, but Sparrow made the biggest play of the game by zipping across his goal from left to right and blocking the hard shot with his body.
What's next?
The playoff-bound Hounds play their final two regular-season matches at home at Highmark Stadium, the first of which is 7 p.m. Saturday, Oct. 23, against the Charleston Battery, who were eliminated from playoff contention earlier Saturday. The Hounds will need at least one and likely two wins, depending on other results, if they are to finish second in the Atlantic.
Riverhounds SC lineup (4-2-3-1) — Danny Vitiello; Jelani Peters, Mekeil Williams (Preston Kilwien 88'), Shane Wiedt, Jordan Dover (Dani Rovira 45'); Danny Griffin, Todd Wharton (Louis Pérez 78'); Kenardo Forbes, Russell Cicerone (Anthony Velarde 88'), Alex Dixon; Tommy Williamson (Albert Dikwa 78')
Miami FC lineup (4-2-3-1) — Connor Sparrow; Robert Kcira, Callum Chapman-Page, Richard Ballard (Adonijah Reid 87'), Janos Löbe; Devon Williams, Bolu Akinyode; Othello Bah (Junior Palacios 78'), Ariel Martínez, Christiano François (Josh Pérez 86'); Lamar Walker (Pierre Da Silva 87')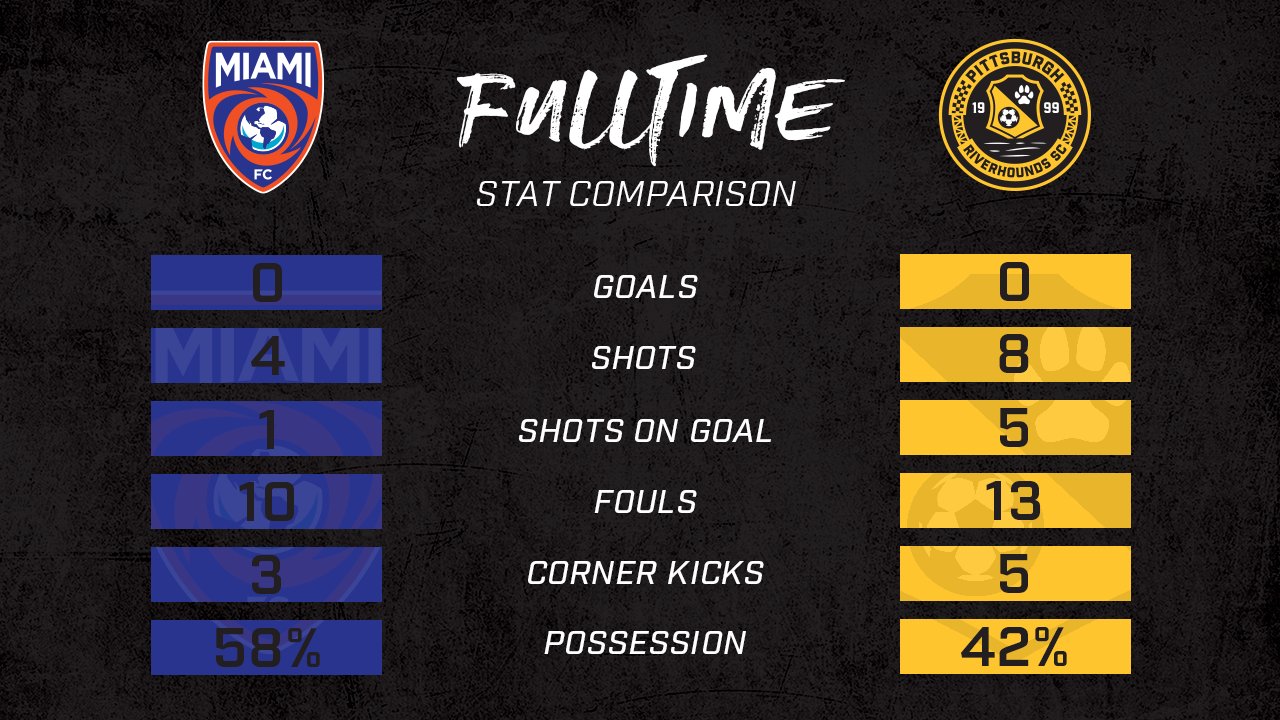 Gameday Updates 
Look for lineups and game updates to be posted here.
---
FINAL – PITTSBURGH 0, MIAMI FC 0
90′ – seven minutes of stoppage time added. Albert Dikwa, who came on late, is struggling to run.  Looks like his groin injury is bothering him.
78′ – Two Hounds changes: IN: Albert Dikwa, Louis Pérez OUT: Tommy Williamson, Todd Wharton Also one Miami change, Bah out, Palacios in.
72′- Yellow Card issued to Callum Chapman- Page
Beyond a JOKE!!!!

— Tuffy Shallenberger (@Tuffy_Shall) October 17, 2021
Some shambolic refereeing in the Riverhounds match. Completely inexplicable. How does a Miami own goal turn into a Riverhounds corner kick???? #UNLEASH

— Dr. Matthew Brown (@brownamatthew) October 17, 2021
STRANGE TIMES
Commentators suggesting either 1) the whistle on the field was to play a corner, but MIA mistakenly played a corner or

2) the free kick was played left to another MIA player, then back, but the ref missed that first pass and ruled the play cannot be a goal.

Again: weird.

— Soccer Rabbi (@soccer_rabbi) October 17, 2021
65′ – Quick chance for Cicerone off a turnover, but his shot either is either partially blocked or he didn't get all of it, because it rolls safely to Sparrow.
62′ – Danny Griffin cautioned for holding Martinez in transition. Third Hounds player into the book.
54′ – Kenardo Forbes is cautioned for a foul on Lamar Walker. He's the second Hounds player in the book. 0-0
52'- @Speedy_ccc80 trying to get the scoring started. pic.twitter.com/HunBKTFGPO

— X- The Miami FC (@TheMiamiFC) October 17, 2021
46'- @ConnorSparrow24 with a diving save to keep the card clean. pic.twitter.com/jWi6ApAfIk

— X- The Miami FC (@TheMiamiFC) October 17, 2021
HALF — RIVERHOUNDS 0, MIAMI FC 0
35′ — Nice diagonal ball in box from Dover to Cicerone who gets behind the defense, but the Hounds leading scorer can't get a clean shot off.
33′ – Yellow Card – Jordan Dover
probably best move there — denies a deep advance and concedes free kick from 30 yards.
26′ – Great defensive work by Wiedt to go step-for-step with Lamar Walker, cutting him off until Dover was able to collapse down in support. Danger averted in a 0-0 game.
20′ — Hounds playing on front foot — have found a few dangerous crosses into the box, but it's still scoreless.
7:35 p.m. — game kicks off…
It looks like the Hounds are going to a 4-1-4-1 again tonight.
Here are the starting lineups for both teams…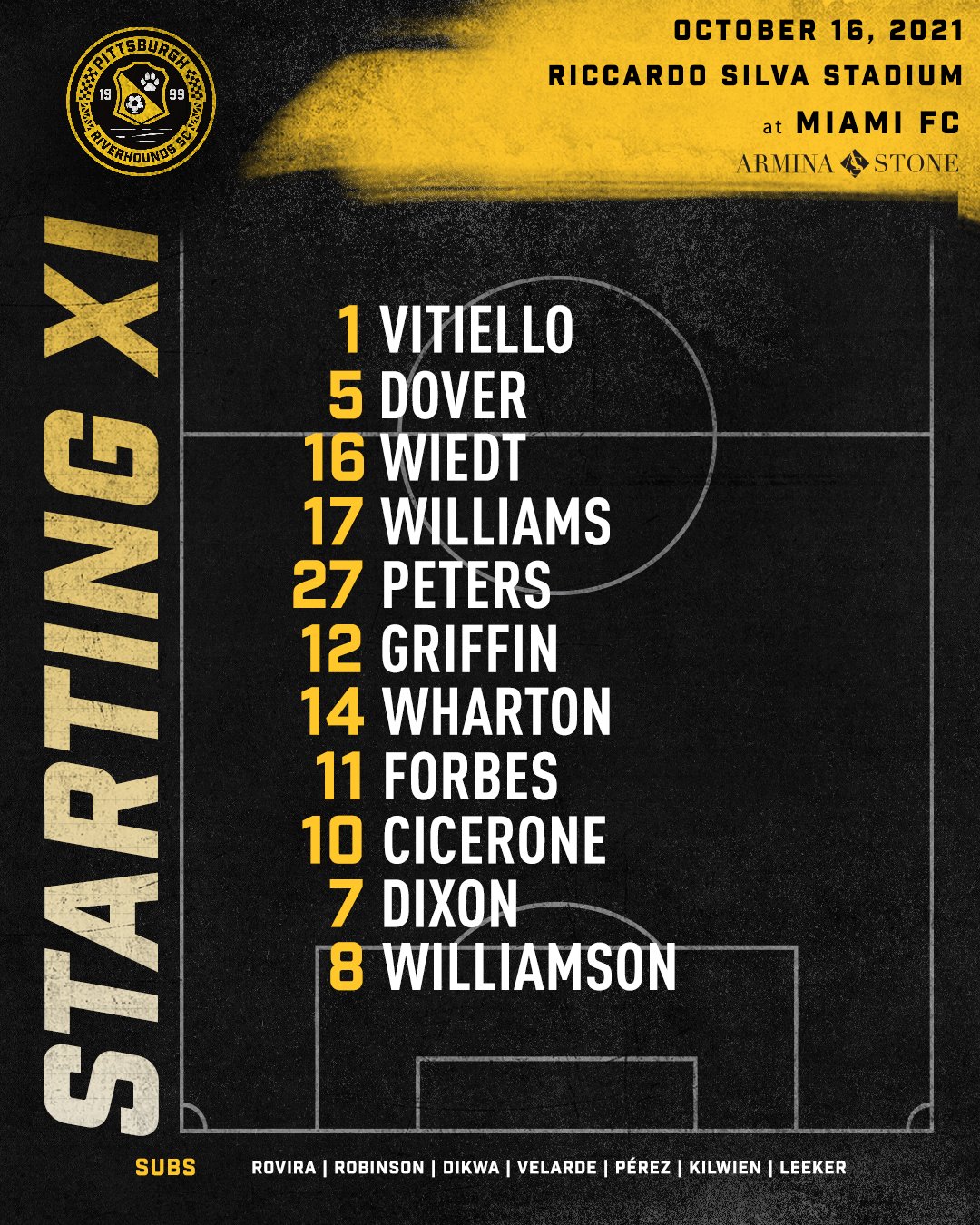 Tonight's @helbizofficial Starting XI against @RiverhoundsSC. pic.twitter.com/6yPJrZZZ1Y

— X- The Miami FC (@TheMiamiFC) October 16, 2021
Ahead of tomorrow evening's contest against @TheMiamiFC, we now have the most minimized @RiverhoundsSC injury report in awhile…

OUT
Josh Gatt (knee) @pghsoccernow #MIAvPIT #USLChampionship

— John Krysinsky (@JohnKrysinsky) October 15, 2021
Hounds Notebook: It won't be an easy task to secure home playoff match
Preview / Riverhounds SC Game Notes 
Positioning and home field for the playoffs are on the line when these two sides meet for the fourth and final time this regular season.
The Hounds and Miami are separated by three points in the standings with the Floridians holding a game in hand, which makes Saturday's fourth meeting of the season critical to both team's chances of claiming second place out of the Atlantic Division and the first-round playoff home game that comes with it.
Miami has had the Hounds' number in the teams' first season facing one another. The Hounds have scored first in all three matches, only to see the lead slip away for a 1-1 draw June 12 in Pittsburgh and a pair of 3-2 defeats, Aug. 11 in Pittsburgh and just two weeks ago in Miami.
Former Hounds forward Christiano François is Miami's leading scorer with 10 goals on the season, and he has been a menace to his former club with two goals and an assist in the three meetings. He is likely to be spearheading the attack down the right flank once again, with playmakers Ariel Martinez and Billy Forbes and striker Lamar Walker giving the hosts lots of speed up front, something that has given the Hounds problems all season.
Miami will be without defender Paco Craig, who is suspended after being sent off in his team's shocking 3-2 loss to Loudoun last week. Midfielder Speedy Williams — the Robert Morris University product — is back with the team after playing midweek for Jamaica in their World Cup Qualifying win over Honduras, and whether he is fully available or on a minutes restriction is unknown.
The Hounds, meanwhile, have almost a full squad to choose from after striker Albert Dikwa ended a two-month absence with his appearance off the bench Sunday in the 2-0 win over the Tampa Bay Rowdies. That gives coach Bob Lilley some options, but also some tough decisions, in selecting the 18 that will fly out of Pittsburgh on Friday after a light morning training session.
Captain Kenardo Forbes, a player more known for his passing than his finishing, has been lethal against Miami, scoring three of his five goals on the season against them. With 12 goals combined in three meetings, both teams would like to clean things up defensively, but both understand it will likely take more than one goal to get a win Saturday.
Both teams also will be interested in the result of the Atlantic Division match between the Charlotte Independence and Charleston Battery kicking off 30 minutes earlier.
The Battery (9-11-7) must win to remain in the hunt for a playoff spot, while Charlotte (15-9-4), despite entering the day in third place, is actually the team that would claim second place over the Hounds and Miami if they are able to win out over their final four matches.
Riverhounds MF Danny Griffin
Subscribe to PGH Soccer Now