ACC Men's Soccer Semifinal
FINAL: Notre Dame 2, Pitt 0
Match Summary
Following a formula that worked in a regular season win, and for nearly 300 minutes of play heading into this match without surrendering a goal, the Notre Dame Fighting Irish ended Pitt's 19-game home winning streak by scoring twice in a span of 14 seconds for 2-0 win at Ambrose Urbanic Field on Wednesday evening.
Notre Dame's Jack Lynn and Daniel Russo each scored to stun the Panthers in less than a minute's time.
TWO GOALS IN 12 SECONDS 🤯 @NDMenSoccer upsets No. 1 seed Pitt to advance to the ACC Championship! pic.twitter.com/nnjlGgKzsO

— ACC Network (@accnetwork) November 11, 2021
Pitt outshot Notre Dame, 17-10, but the Irish made their chances count, holding the 4-3 edge on shots on goal.
Pitt also controlled much of the first half, but the match swung in the second half, as Notre Dame continued to defend in its defensive third by blocking crosses, shots and clearing Pitt corners with regularity, then took advantage of its scoring chances by taking advantage of mistakes.
"We didn't capitalize in the first half on numerous chances," Pitt's Head Coach Jay Vidovich. "The blood was in the water, but we didn't push for it. They got their two goals against the run of play, off mistakes. Congratulations to Notre Dame."
The Panthers held a whopping 17-3 edge on corner kicks, but failed to convert on their set piece opportunities.
Notre Dame will now await the winner of Clemson-Duke for a meeting in the ACC Championship game on Sunday.
With the loss, Pitt ended its 19-game win streak at home.  The Panthers will now await Monday's NCAA tournament bracket selections to find out what their seeding and match-ups will be for the first and/or second round.
"We gave them some chances. We bent but we didn't break," Notre Dame Head Coach Chad Riley said. "In the second half, we started to get better defensive pressure on the ball that led to transition moments. It's a game away from home, against one of the best teams in the country, you have to get comfortable not having the ball for a while.  We always want to be a team that gets stronger as the match goes on, and tonight was another example of that."
Post Match Reaction from Pitt's Jay Vidovich & Notre Dame's Chad Riley
Match Day Updates 
We'll be posting game updates here around kickoff and throughout the match along with post match reaction.
---
Here are the goals…
Twelve. Seconds. Later.

Watch the finish on ACCN.#GoIrish☘️ pic.twitter.com/6De5PF6FIu

— Notre Dame Men's Soccer (@NDMenSoccer) November 10, 2021
77′ — GOAL — NOTRE DAME 2, PITT 0 
Daniel Russo
Pitt wanted offside call — but Panthers giveaway leads to another ND counter — as Russo broke behind Pitt back line after nice long thru ball from Jack Lynn.
75′ | GOAL — NOTRE DAME 1, PITT 0 
Jack Lynn Stuns the Panthers — after nice tackle from high press — then tough angle shot by Lynn beats Campuzano!
62′ | Pitt keeps bringing pressure from the width. Now up to 13 corner kicks but Irish are defending them well — blocking bunch of crosses and a few shots too.
HALF:  PITT 0, NOTRE DAME 0
43′ |  Yellow card now to ND's Reese Mayer
38′ | Yellow card on PITT Ordonez, Arturo.
38′ | Irish on another counter, first time a shot on frame! it's Russo with a hard lining shot but Campuzano with a stellar save.
36′ | Former Norwin standout Anthony Harding is in the match now, as well as Luis Sahmkow for Pitt. They've replaced Feitosa and Dexter.
33′ | Another short Dexter cross, just misses, this time it was Jacquesson making a break for it by far post.
29′ | The Irish continue to press high, forcing Pitt to play it out under pressure. Few times, Panthers have moved quickly into final third with shot chances. Latest coming from Loeffelsend, but shot goes wide left.
26′ | Pitt gets caught on counter — ND's Jack Lynn gets forward on thru ball, but center back Arturo Ordonez with a terrific sliding save right in front of keeper Nico Campuzano who was coming off his line.
17′ | Five corners and five shots so far for the Panthers.
15′ | Feitosa dangerous shot, deflected on edge, and nice save by ND keeper, Bryan Dowd
9′ | Crivello with two shots off three corners for the Panthers but no score
5′ | Nice quck advance by Pitt — Noel in space takes it to just inside box and drives shot barely missing it right. If Pitt has that kind of space getting forward, it will be a matter of time for a goal.
5:05 p.m. (1′) — the match has kicked off
4:58 p.m. – Here's a look at Pitt's starters for tonight and Notre Dame's below…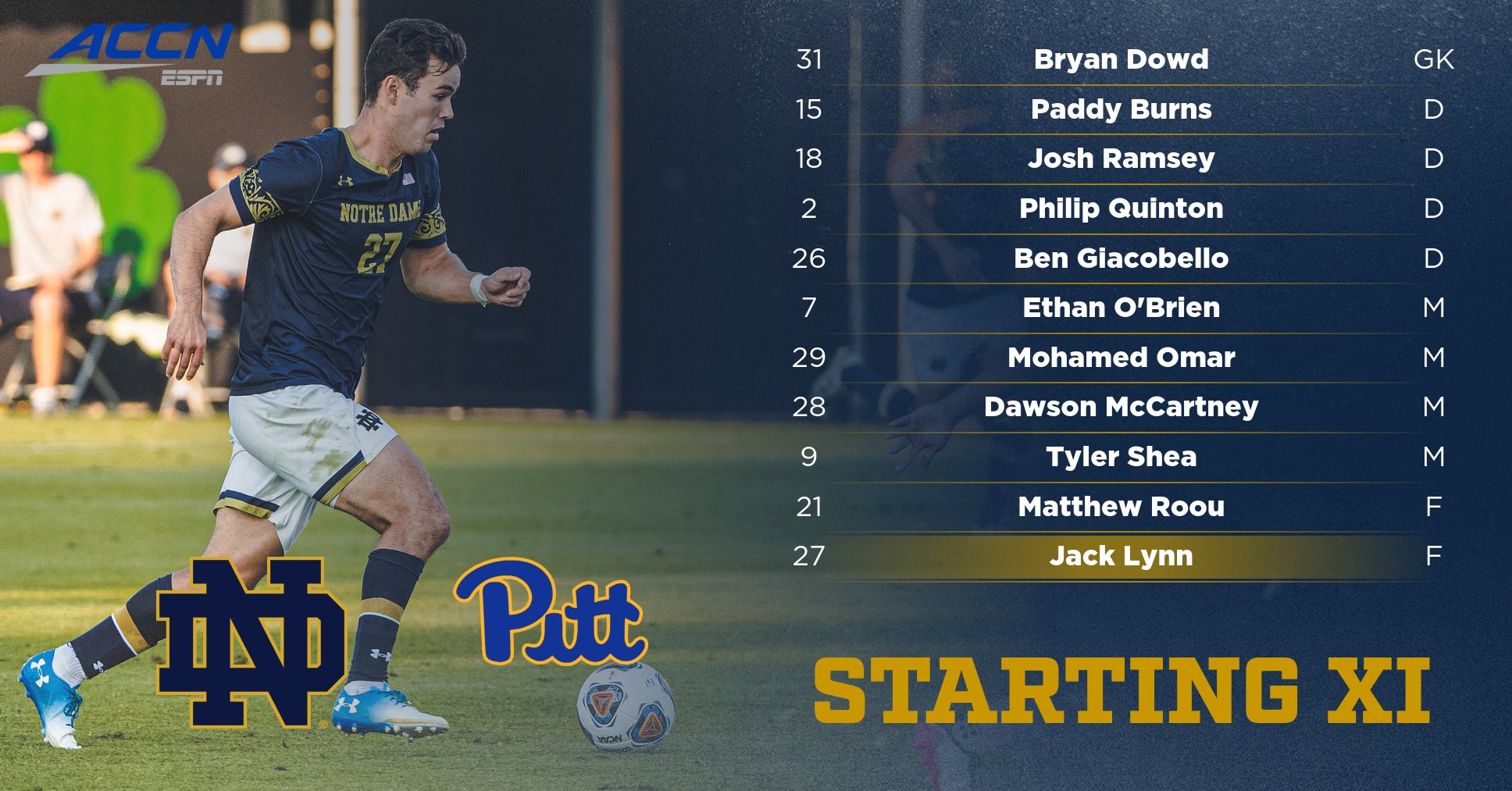 3:35 p.m. — Ahead of today's match Pitt getting a number of honors as part of the ACC postseason awards….
Pitt's Vidovich, Löeffelsend, earn ACC postseason honors; Eight players named All-ACC
PSN's Ed Thompson will also be at Ambrose Urbanic Field to provide images.
There's no place like home. 🏡#NCAASoccer x 🎥 @Pitt_MSOC pic.twitter.com/PE31olttVx

— NCAA Soccer (@NCAASoccer) November 10, 2021
Preview / Key Storylines 
The Pitt Panthers are riding an impressive 19-game home winning streak, but it was put to a stern test on Sunday in the Quarterfinal Round when Virginia Tech nearly executed an upset of the top-seeded team in the ACC Tournament with stingy defense, solid goalkeeping from former Riverhounds Development Academy and Philadelphia Union II standout Ben Martino and a counter-attack that had to keep Pitt honest.
Notre Dame, who stunned the Panthers in South Bend earlier this year in overtime, will try to follow the same formula. The Irish and the Panthers played an even match through 60 minutes the first time around, but Notre Dame were stronger in the late stages as they found opportunities to hit Pitt on the counter, eventually finding the game winner in extra time from Valentin Noel.
Remarkably, Notre Dame has played six matches this season that have gone to extra time, while Pitt has gone to extra time three times.  The Irish and Louisville went the distance on Sunday, playing a scoreless affair in regulations and extra time, with the Irish winning the match in a penalty kick shootout.
Speaking of Valentin Noel, here's a feature on the talented Pitt junior, who may not be scoring goals at the same rate this season, but has still been an extremely valuable part of the Panthers' success this Fall.
Valentin Noel's scoring resurgence fuels Pitt's postseason aspirations
Pitt's Game Notes 
THE SERIES – NOTRE DAME
The Pitt Panthers and Notre Dame Fighting Irish will meet for the fifth time in two seasons, matching up in the ACC Semifinals for the second consecutive year.
The five times in two seasons is a program record for the Panthers, having not seen a team more than three times in a two year span prior.
Notre Dame leads the all-time series 19-7-3, while Pitt has won three of the last four. The Fighting Irish won, 1-0, in double-overtime in the last matchup on Oct. 16 in South Bend.
Head Coach Jay Vidovich is 7-7-1 all-time against Notre Dame.
SCOUTING THE FIGHTING IRISH
Notre Dame enters Wednesday with an overall record of 10-5-3. The Fighting Irish finished with a 4-2-2 record in ACC play, earning the No. 5 seed in the ACC Championship.
Notre Dame enters with the fifth most goals (41) in the nation and third most among ACC schools. Its 119 total points are eight best in the country and fourth best in the conference.
Jack Lynn leads the team with 17 points, scoring a team-high seven goals with three assists. Lynn has totaled 55 shots, 23 shots on goal and three game-winners.
Dawson McCartney is first on the team with five assists and has five goals to his name. Of his goal total, four have been game-winners this year, including the 1-0 double-OT at home vs. Pitt. That mark ranks 15th nationally and first in the league.
Of Notre Dame's 18 games played, six have ended in extra time. The Fighting Irish most recently tied 0-0 to No. 4 seed Louisville and prevailed 3-0 in penalty kicks to advance to the ACC Semifinal round.
HOME TURF ADVANTAGE
The Panthers extended their home winning streak to 19 games with a 2-1 double-overtime victory over Virginia Tech in the ACC Quarterfinal Nov. 7.
Pitt's 19-straight matches won at Ambrose Urbanic Field is currently the most at any home venue in the conference. Clemson previously held that title with 31-straight wins at Historic Riggs Field before Pitt defeated them 2-0 Sept. 25.
In addition to the longest active streak in the ACC, the Panthers currently hold the second longest unbeaten streak at home in the nation.
Pitt's last home loss came Oct. 4, 2019 against No. 20 North Carolina (2-1).
Head Coach Jay Vidovich is 28-15-3 at home in six plus seasons at Pitt and is 19-2-1 in the past two seasons at Ambrose Urbanic Field.
Since the Panthers 6-0 victory at home vs. Howard Oct. 7, 2019, Pitt has outscored its opposition 64-15 with a 34-8 mark this season.
LAW-FULL-ZEND'S IT IN
Graduate student Jasper Löeffelsend (yas-pur Law-full-zend) finished the 2020-21 season as one of the best passers in the country and is keeping that status this season.
The Cologne, Germany, product is 8th in the nation in assists per game (0.62) and is tied for first in the ACC in total assists (8).
The defender recorded his first assist of the year at West Virginia and followed that match up with two at home vs. Lehigh.
Löeffelsend registered an assist against both North Carolina and Penn State before tallying two at home vs. Cleveland State.
He scored his first and second career goals at home vs. UMass Oct. 25, scoring two second half goals – and an eventual game-winner – in the 5-1 victory.
Löeffelsend assisted Valentin Noel's game-winning goal against Virginia Tech in the ACC Quarterfinal, his eighth assist of the season.
In 28 career games, he is third all-time in career assists with 17.
PITT RANKED NO. 5 IN UPDATED POLL
The Panthers were ranked No. 5 in the updated United Soccer Coaches poll Nov. 9.
This marks the 31st-straight week the Panthers have been ranked.
Of the 31 weeks ranked, 21 have been in the Top-5 and 26 in the Top-10.
Riverhounds MF Danny Griffin
Subscribe to PGH Soccer Now