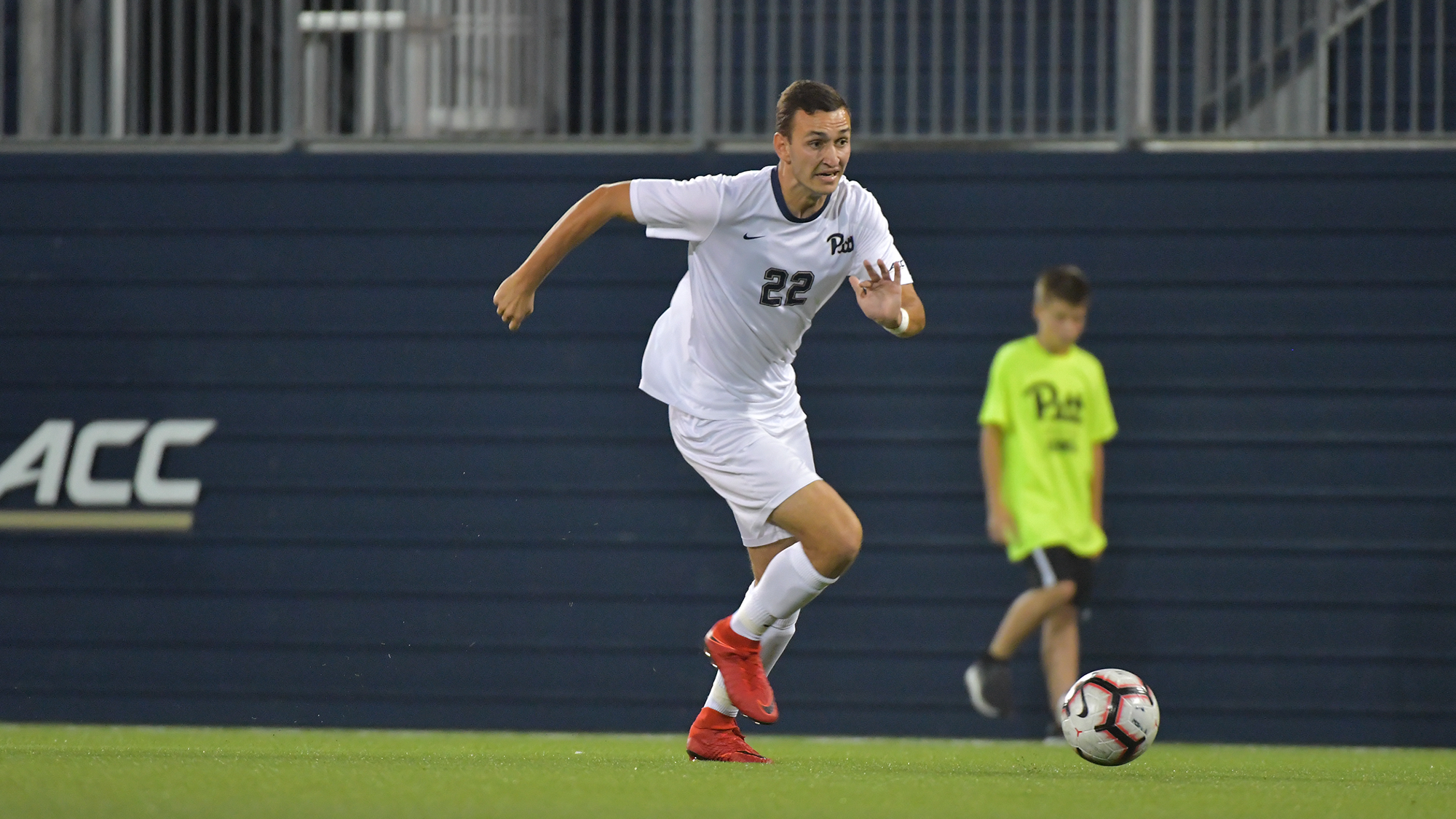 Riverhounds SC Head Coach Bob Lilley is always looking for ways to improve the team's roster and find the right pieces that fit to build a winning club.
As the University of Pittsburgh men's team has progressed in recent years, Lilley now has a distinct place to look in his own backyard for not just an occasional player to bring on trial, but to add building blocks to a championship contender.
LIlley has been taking notice of the talent pool circulating through Jay Vidovich's program, where he's seen many players first-hand in scrimmages or as he stays connected to Vidovich while closely following the progress of Pitt's program in its rise to national promenance.
Vidovich and his staff, including former Riverhounds SC captain Rich Costanzo, recruit many student-athletes who aspire to play at the highest levels of soccer.
So, it comes as no surprise with two of the most prolific coaches in the American soccer landscape during the past 25 years both landing in positions in Pittsburgh, that they have developed a connection.  While they each have their own unique perspectives and practices in developing players and navigating the soccer landscape in the United States, they share many similiar challenges and philosophies while leaning on decades of experience and knowledge.
In some respects, Vidovich and Lilley have completely different styles and methods, but they're alligned in many ways and have a shared mutual respect for each other and their respective programs.
Last week's announcement that Riverhounds SC signed former Pitt center back Arturo Ordonez only reinforced this connection. further cementing the pipeline between Pitt and the Riverhounds SC.
This is the second signing of a former Pitt player to the Hounds roster this preseason and the third overall, following Robby Dambrot's signing in the off season.  Defender Shane Wiedt signed with the Hounds last season after playing two seasons with Loudoun United FC.
If you dive a bit deeper into Dambrot and Wiedt's path to the pros, Vidovich's impact is even more evident.
Dambrot and Wiedt each got their chance to sign their first pro contracts with Loudoun in 2019 after completing their eligibility at Pitt, as they would play under the tutulege of Ryan Martin, who served as an assistant at Wake Forest University under — that's right — Jay Vidovich.
During his 20 year tenure at Wake Forest, Vidovich guided the Demon Deacons to a national championship, made three NCAA College Cups and won two ACC Championships while compiling a record of 102-39-22.
Martin was one of Vidovich's assistants on the Deacons' 2007 National Championship season.
"Jay Vidovich was the whole entire reason I ended up at the University of Pittsburgh," Dambrot said in an interview on Pittsburgh Soccer Live recently.
"When I decided to transfer (from Akron), there were a lot of bells and whistles that a lot of other really good programs had that Pitt didn't at the time, but I decided to go all in on soccer, and Jay Vidovich was the best person to help me do that."
Wiedt was at Akron too, and teammates with Dambrot, but didn't get a lot of playing time in his first few years in college.
"When I saw what they were trying to build (at Pitt). I heard good things about Jay (Vidovich) and the coaching staff, and what they were trying to build there, it was a no-brainer," Wiedt said.
"I was coming in at a pretting exciting time." Wiedt said. "We helped build the foundation. It's been exciting to see what they've been able to do even after I left.  But coach Vidovich really helped me as a player. He helped fine tune some of the parts of my game I needed to work on.  Making sure I am in the right position or prepared for different situations."
Since Vidovich arrived on campus in late 2015, he has transformed Pitt men's soccer into a NCAA National Title and ACC contender, winning back-to-back ACC Coastal Division Championships.
"I tell people all the time, it wasn't a matter of if Jay was going to turn the program around, but when he was going to, " Dambrot added.
Additionally, top players who've worn the blue and gold Pitt crest are starting to land into the professional ranks with regularity since the program has risen from the ashes.
Pitt's Growing Presence in MLS SuperDraft and in the professional ranks
Ordonez and his teammate Jasper Loeffelsend were taken in this year's MLS SuperDraft by the Houston Dynamo and Real Salt Lake, respectively.  While Ordonez was with the Dynamo in its preseason camp, he opted out of signing with the club, instead coming to Pittsburgh to play for Lilley and the Riverhounds in the USL Championship rather than potentially being part of Houston's inaugural MLS Next club.
The Salou, Spain, native was a pivotal piece to the Panther back line that earned six shutouts this season and set a school record with 11 wins at home. Ordoñez's efforts on the field earned him All-ACC Second Team and All-ACC Tournament Team honors.
In 2021, Edward Kizza became the first-ever first-round draft pick and just the third former Pitt player to be drafted into the top professional soccer league in the United States last January.  Kizza spent most of the 2021 season with Revolution II but he did appear in 11 matches with three starts for the first team and tallied one assist.
Prior to Kizza, Pitt placed former Panthers midfielders Pol Planellas and Javi Perez in the league as members of the Los Angeles Football Club.
Planellas was selected in the second round of the 2018 draft with the 24th overall pick, and Perez was taken in the third round of the 2019 draft with the 64th overall pick. However, Planellas did not make it out of the preseason in Los Angeles, and Perez saw his career derailed by injury issues.
The pathway to the professional ranks is not limited to Major League Soccer, as other recent members of Pitt's program who didn't get drafted by Major League Soccer continue to pursue professional soccer playing careers.
One Pitt alum who played with the Riverhounds SC in recent years was goalkeeper Dan Lynd, who was the primary starting keeper on Lilley's first team in Pittsburgh in 2018.
Ordonez's center back partner for two seasons, Bryce Washington, was signed to a Homegrown Contract by Atlanta United following the 2020-21 college season.
Despite joining Atlanta United 2 after the start of the 2021 USL Championship season in June, Washington completed his first year with the organization by making 21 appearances and will be heading into the Major League Soccer team camp in contention for a spot on the first team.
Meanwhile, Dambrot and Wiedt have been consistent performers in the USL Championship in the past couple of seasons, with more than 100 appearances for Loudoun United, and in Wiedt's case, with the Pittsburgh Riverhounds SC.
Wiedt was a mainstay on the Hounds' back line in 2021, as his steady and consistent play earned him an opportunity to return to the club, as his contract option was picked up for the 2022 season.
"You just see all those Pitt players going pro, that's just a testament to coach Vidovich, and what they're doing at Pitt." Dambrot boasted.
Pipeline In Place; Where Do They Go From Here? 
Last August, the Riverhounds SC hosted Atlanta United FC 2 in what normally would be a routine, run-of-the-mill USL Championship match.
However, this match not only featured the return of local product, Robbie Mertz to Pittsburgh, but also featured two former Pitt back line standouts, Washington (for Atlanta) and Wiedt (with the Hounds).
At halftime of the match, the Hounds honored the Pitt men's soccer program after its run to the NCAA College Cup and winning its first ever ACC Coastal Division championship.
Ed Thompson Photo Gallery
(Pitt men's soccer team honored at Riverhounds game vs Atlanta United 2 – August 2021) 
This slideshow requires JavaScript.
"We just appreciate the Riverhounds thinking of us," Vidovich said.  "It was good to be there. Good for soccer in Pittsburgh. Espeically having players on both teams. That was cool, and being recognized in front of the soccer people in Pittsburgh."
Wiedt became one of the Hounds' most dependable and reliable defenders in 2021, while Washington used his experience in his first year with Atlanta United 2 to get valuable experience, and make his case to get onto the first team.
"Shane's been holding down the spot.  Bryce, he worked very hard in the last six months at Pitt, that helped him, that shaped him, get on the first team contract (with Atlanta United FC).  He's putting in the minutes now," Vidovich added.
"They're learning about the business of the game.  Navigating the ups and downs. Going from first team to the second team. It's fun to see."
Now, three former Pitt players, Wiedt, Dambrot and Ordonez are becoming disciples of Lilleyball.
"He's extremely passionate. He's particular. He's detail-oriented," Dambrot pointed out what makes Lilley unique.
"I think the best part of coach Lilley is that he knows what he wants and he's not going to accept anything less."
With a full year of playing under Lilley, Wiedt has become a steady contributor.
"From the start, he just wants you to listen. Be laser focused. Locked in on the concepts he's trying to push and give to us." Wiedt explained.
"I didn't want to just earn a contract. I wanted to get a starting position. I did everything I could just what he had to say, and implement into my game."
While Lilley's made his mark with second and third division pro soccer clubs, Vidovich is synonymous with success in the college ranks.  Together, they're having an impact on bringing more soccer talent to the Pittsburgh region.
"Not every 17-year old is ready to play at the professional level.  College provides a unique platform.  I am not opposed  to this," Lilley said last year.
Playing under a coach with Vidovich's credentials only adds to a player's value in Lilley's eyes.
"I like them. They're a very well coached team.  They hang on the ball. They have attacking options and have shown they can be dangerous in the final third.  They've been building this up. They impressed me after losing (Edward) Kizza in the fall, and they didn't miss a beat," Lilley said last May.
Another area where both coaches are on the same page is developing a '21st Century' season model that Vidovich has led the charge, hoping that the NCAA will be open to having Fall and Spring seasons permanently, not just as one-time situation as transpired in 2020-21.
"The top programs do it right.  They've had a three-month season, but playing six-to-seven months is more realistic," Lilley added.
"There are academy players playing year-round, but with college players, it's a three month season, then they have to play in PDL or somewhere over the summer. We had (former Pitt star forward) train with us so he could stay sharp during the off season.  There are more scouts than ever. With the internet, everything has changed. For me, we know when players are ready (to play at this level)."
Already honored as a USL Hall of Fame coach, Lilley has won at every stop and earned playoff berths in every season he's been a professional coach.  He's also won two league titles (A-League with Vancouver Whitecaps and USL Cup with Rochester Rhinos).
Vidovich built the Wake Forest men's program into a national powerhouse, and now he's done the same at Pitt.
Both also signed on to contract extensions in 2021 with both the Riverhounds SC and with the University of Pittsburgh that will keep them in the Steel City at least through the middle of the decade.
Lilleyball Stays: Hounds extend Bob Lilley's contract through 2024
"I know where my heart and mind is at," Lilley stated after signing his extension with the Hounds.
"And, it's here in Pittsburgh."
Vidovich is excited about what lies ahead.
"It's an honor to lead Pitt Men's Soccer and to represent our jersey. I appreciate the leadership and support within the university and our athletic department. I'm excited to continue our work alongside such a talented staff and of course leading a group of hard working, committed student – soccer players as we strive to win on and off the field."
"Our challenge now is to continue to push to improve and evolve as a program as we pursue future success for the university. I look forward to the next chapter in Pitt Soccer history."
They both have unfinished business in their current positions.
Who knows, they might help each other deliver some Cup hardware (College Cup or USL Cup) to Pittsburgh.
Riverhounds MF Danny Griffin
Subscribe to PGH Soccer Now