USL Championship
FINAL: Pittsburgh Riverhounds SC 1, Orange County SC 1
Match Stats: USL Championship Match Center
Match Summary
Entering stoppage time, the Riverhounds SC couldn't hold on to the lead, conceding a goal in the late stages to settle for a 1-1 draw against Orange County SC at Highmark Stadium on Saturday night.
"Feels like we've had a lot of these nights where let points get away.   That's most diappoiting thing," Riverhounds SC Head Coach Bob Lilley said. "This time of year. Want to be playing solid soccer game in and game out. We were coming off two good performances against good teams, but we didn't do enough to connect passes and create more chances in the final third tonight."
Albert Dikwa's goal gave the Hounds an early lead in the fourth minute.  Pittsburgh controlled possession throughout the match (54%), but they couldn't find an elusive second goal.
USL Championship's Golden Boot leader Milan Iloski stunned the home crowd by crashing into the box for the equalizer.
.@milaniloski123 shows why he's the Golden Boot leader! 🫡#PITvOC | @orangecountysc pic.twitter.com/5MpWeMgkPB

— USL Championship (@USLChampionship) September 25, 2022
This result keeps the Hounds (15-8-8) in fifth place in the USLC standings, two points behind the Birmingham Legion FC and Tampa Bay Rowdies.
Match Report from the Riverhounds SC
First half
The Hounds got rolling early with their fastest goal of the season, as Kenardo Forbes played a pass through to Dikwa around the left of the center backs. Dikwa took a touch to get past onrushing goalkeeper Patrick Rakovsky, and he finished with his left foot into the open net.
Not only did the goal add to Dikwa's career-best total on the season, it was Forbes' 10th assist of the year, giving the USL Championship's career assists leader his first double-digit season and a share of the current league lead.
The Hounds remained on the front foot early with 71 percent of possession in the first 15 minutes, but Orange County slowly started to created their own chances. The visitors took the final seven shots of the first half, though none were on target.
Second half
The Hounds searched for the second goal, and nearly got it in the 69th minute, when Russell Cicerone hit Robbie Mertz in stride going to goal with a defender on his hip. Mertz made a nice 1-on-1 move to create space, and his shot forced an excellent diving save by Rakovsky to his right.
Hounds goalkeeper Jahmali Waite made an equally impressive save in the 83rd minute. Iloski received a ball played backward to him and hit a powerful volley from outside the box, but the Hounds goalkeeper — who leaves tomorrow to join the Jamaican National Team — denied his with a low dive to his right.
Iloski finally got his goal in the waning moments after Erick Torres tracked down a long ball in the left side of the Hounds box. That drew multiple defenders to Torres, and Iloski darted to the front of the net to tap in from a low, hard pass across the face of goal.
---
Hounds Man of the Match
Kenardo Forbes again put in an impressive 90 minutes in the center of the park, starting with his setup of Dikwa's goal. The captain also won 7 of 8 duels, connected on 82 percent of his passes (46 of 62, second-best among starters) and forced a save with his only shot of the night, an early header on goal.
What's next?
The Hounds continue their closing run against Western Conference teams when they host West-leading San Antonio FC (22-5-4) at 7 p.m. this Saturday, Oct. 1 at Highmark Stadium. The two teams met for the first time a year ago in Texas, where the Hounds stole a 1-1 draw on a late Alex Dixon goal.
---
Pittsburgh Riverhounds SC lineup (5-4-1) — Jahmali Waite; Dani Rovira (Angelo Kelly 80'), Mekeil Williams, Arturo Ordóñez, Shane Wiedt, Alex Dixon (Mark Ybarra 80'); Robbie Mertz (Luis Argudo 90'), Danny Griffin, Russell Cicerone (Toby Sims 80', Dane Kelly 90'), Kenardo Forbes; Albert Dikwa
Orange County SC lineup (4-4-2) — Patrick Rakovsky; Alex Villanueva, Brent Richards, Ashton Miles (Erick Torres 70'), Seth Casiple; Tony Rocha, Kevin Partida, Dillon Powers, Brian Iloski (Bryce Jamison 90'); Sean Okoli (Nico Ruiz 80'), Milan Iloski
Scoring summary
PIT — Albert Dikwa 4' (Kenardo Forbes)
OC — Milan Iloski 90' (Erick Torres)
Discipline summary
PIT — Danny Griffin 57' (caution – unsporting behavior)
OC — Ashton Miles 64' (caution – unsporting behavior)
PIT — Mekeil Williams 73' (caution – delaying restart)
PIT — Robbie Mertz 85' (caution – unsporting behavior)
---
Match Updates
Look for starting lineups to be posted here, along with any pregame updates, in-game highlights and more!
---
FINAL — RIVERHOUNDS 1, OC 1
Hounds were stunned by the late goal and unable to muster a chance in the dying moments.
90′ — GOAL – RIVERHOUNDS SC 1, ORANGE COUNTY 1
Milan Iloski stuns the Hounds and the Highmark Stadium crowd! Wow great work to keep ball alive on end line by OC– and then Iloski comes in to bury it!
83′ — Great save! Hounds keeper Jahmali Waite is finally tested by Golden Boot race candidate Milan Iloski who sends a laser but Waite is quick enough to get hand out to stop it and preserve clean sheet for the moment.
80′ — Hounds Subs:
Toby Sims, Marc Ybarra and Angelo Kelly-Rosales are on
Dixon, Cicerone and Rovira are out.
71′ — Orange County down 1-0 and facing elimination from playoff contention. Look for push from the defending champs in the final 20 minutes. Hounds have yet to bring on a sub.
69′ –Mertz is fed a nice ball from Cicerone, takes a touch, and finds room to get a shot as he enters the edge of box.
It's saved by a diving Rakovsky!
57′ – Danny Griffin picks up the game's first caution for going into an aerial challenge a bit out of control.
No changes for either side at start of half.
Hounds with three shots (two on frame) while OC had seven, but none were close.
Second half kicking off now.
Nice buzz to the crowd with festive Hispanic music playing.#PITvOC pic.twitter.com/JVjZXxNBYB

— John Krysinsky (@JohnKrysinsky) September 25, 2022
HALF — RIVERHOUNDS 1, ORANGE CTY SC 0
45+1′ – Great late chance for the Hounds with Dixon down the right side of the goal line. He tries to cut back a pass, but it slips through without anyone getting a boot to it.
The goal also provided Kenardo Forbes, the league's all-time leader in assists, with 10 helpers for the season.
A beautiful pass from @alexdixon19 sends through @DikwaAlbert 🏃💨#PITvOC | @RiverhoundsSC pic.twitter.com/oEZjz0dwVZ

— USL Championship (@USLChampionship) September 24, 2022
4′ — GOAL — RIVERHOUNDS 1, OC SC 0
Albert Dikwa with his 11th goal of the season.
Great ball from Kenardo Forbes. Dikwa beats OC GK Patrick Radcovsky to the ball, then slots it into open net.
Starting lineups below…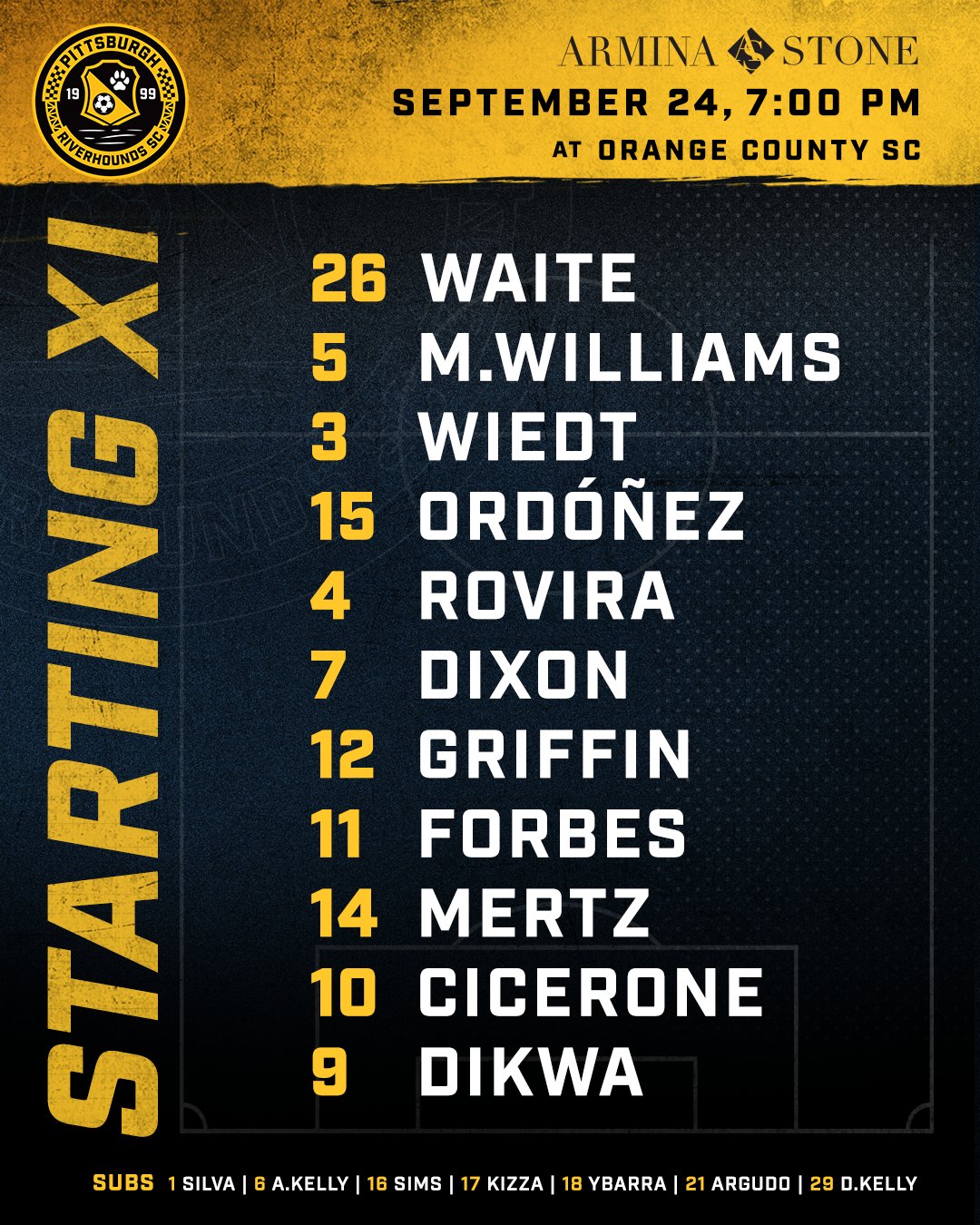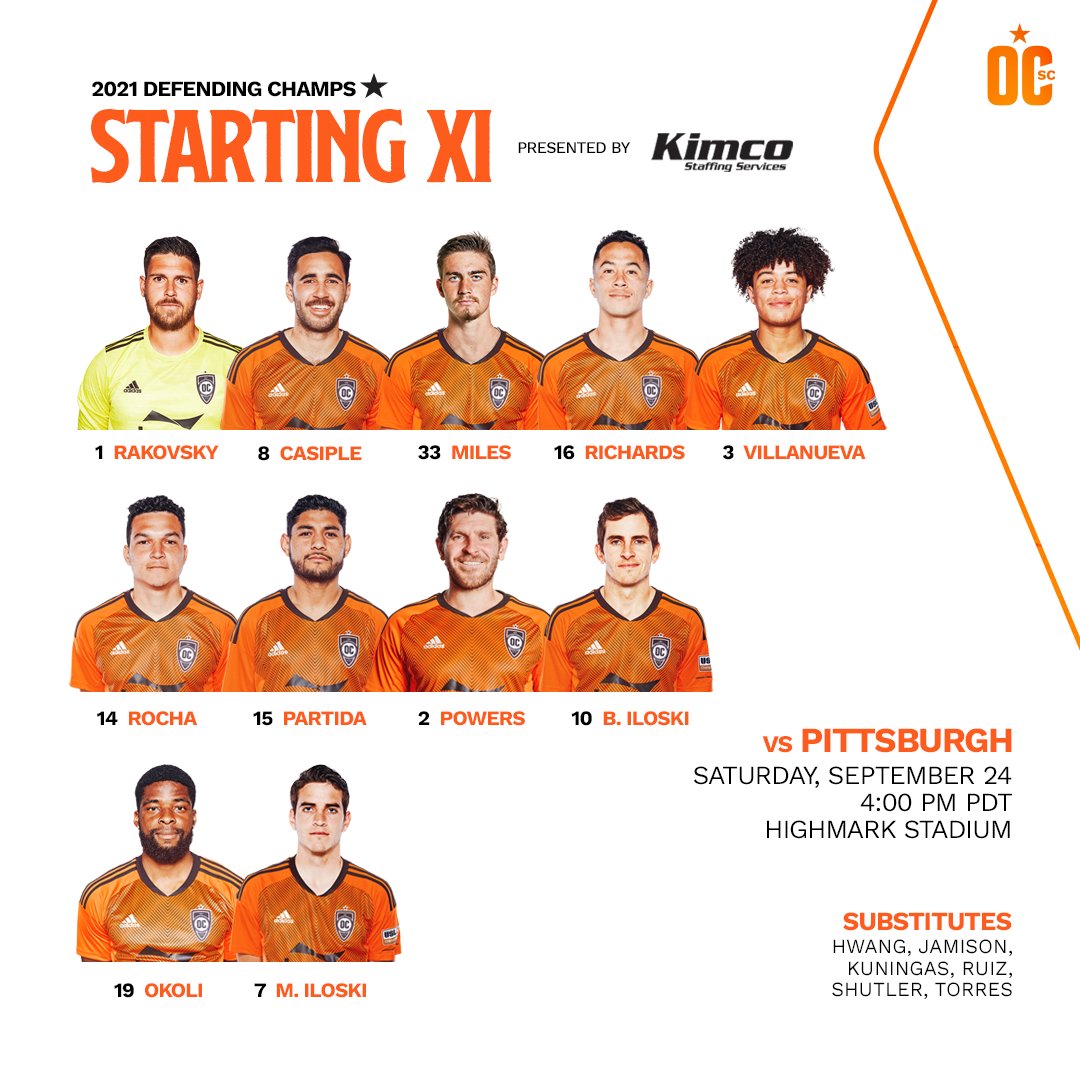 ---
Preview / PSN Riverhounds SC Coverage
Vamos! It's Hispanic Heritage Night at Highmark Stadium.
The Riverhounds begin a final stretch of the season when they face all Western Conference opponents in the final four weeks, starting with the defending USL Championship Cup winners from a year ago, Orange County SC.
Earlier in the week, I broke down the latest in the Eastern Conference battle for playoff spots, as all spots have already been clinched, but the Hounds and six other teams are playing for playoff positioning.
Hounds Notebook: Eastern Conference playoff positioning still a free-for-all
The last time the Hounds took on Orange County, they were known as the O.C. Blues. Back then, the Hounds when Mike Green scored the only goal in a 1-0 win.
That is the only head-to-head win in six meetings for the Hounds, but they will be striving to get their second by ending a streak of three straight home draws, the most recent being a 0-0 affair with East-leading Louisville.
After Tampa Bay and Birmingham played out a 1-1 draw Friday night, the Hounds can move into a three-way tie for third at 55 points with three games to play. At the other end of the standings, Orange County got bad news last night when Rio Grande Valley defeated Charleston, 3-0, making tonight's game a must-win or else the defending champs will be eliminated.
The Hounds are at full strength everywhere except the back line. The team is without Jelani Peters after he was sent off late against Birmingham, Jesse Williams, who is away on international duty with Trinidad & Tobago, exacerbating for one game the loss of Nate Dossantos to knee surgery. On the other side, Orange County is without their captain, Michael Orozco, who was also sent off in his team's last match.
The offensive end has been the better one for the visitors, with Milan Iloski leading the USL Championship with 20 goals this season. With four assists, as well, Iloski has been involved in 24 of Orange County's 43 goals on the season. But the visitors from Irvine, Calif., have only shut out three opponents this season, so the Hounds should be keen to create chances of their own.
As part of Hispanic Heritage Night, the team will recognize our players with Hispanic roots, who were born in or have roots from such diverse locations as Colombia, Spain, Peru, Honduras, Ecuador and Mexico. Latin-inspired music will be on the playlist, and other events are in store to celebrate our Spanish-speaking community in Pittsburgh.
Squad Trends & Match Notes
Once again, Danny Griffin has been carrying the load, and he has been joined by Kenardo Forbes and Robbie Mertz as mainstays in the central midfield in each of the last three matches. Russell Cicerone, Albert Dikwa and Alex Dixon have all started as part of the attacking group of forwards/wingers, with Dixon being subbed out each match. There wasn't a lot of change from the Saturday's starting eleven to Wednesday, with Angelo Kelly-Rosales getting the start in both matches as an outside back in the 4-2-3-1 and Jelani Peters and Mekeil Williams taking turns at center back. Otherwise, Arturo Ordonez is the only defender who started all three matches.
Griffin leads the team in minutes played (2,694), with Ordonez, Cicerone, Forbes and Wiedt right behind him, each with well over 2,000 minutes. With his hours combined from playing in Atlanta this season 1,792), Mertz (692) also has over 2,400 total minutes played this season.
The Hounds coaching staff relied heavily on squad rotation using five subs in each match.
The notable absence from the lineup the last three matches has been Dane Kelly, who has not played since starting and playing 59 minutes in 0-0 draw vs Charleston.
After picking up a pair of yellow cards and being sent off at Birmingham, Peters will have to sit out Saturday's match vs Orange County.
Arturo Ordonez and Shane Wiedt (both with seven yellow cards) are one yellow card away from a one-game suspension, while Danny Griffin is sitting on five total yellow cards. The double-whammy from Peters brought his Y-C total up to five.
Dikwa's goal at Birmingham brought his season total to 10, making him the second Hound with double-digit goals (Cicerone has 12). The duo has combined for 22 goals and nine assists this season.
Alex Dixon continues to be in a significant production drought, as it's been nine matches since he's had an assist (July 30 vs Tulsa) and 13 since he's scored a goal (early July, NYRBII).
• Orange County is the defending league champion, but the Hounds are 2-0-2 under Bob Lilley when facing the reigning champs during the season after their title.
• The Hounds have two players called up for international duty during the current window. Goalkeeper Jahmali Waite will be brought into the Jamaican side for his country's match Tuesday against Argentina in New Jersey, while defender Jesse Williams is traveling with Trinidad & Tobago, which is playing in the King's Cup in Thailand on Sept. 22 and 25.
• For the second year in a row, Russell Cicerone hit his stride in the summer months. In 20 appearances since May 14, Cicerone has 10 goals and five assists. He leads the Hounds with 12 goals on the season — good for 10th in the USL Championship — and he is just the third player in team history with consecutive double-digit goal seasons.
• Albert Dikwa has his first double-digit goal season as a professional after the 24-year-old from Cameroon scored the opening goal in the Hounds' last match on Sept. 14 at Birmingham. Dikwa and Cicerone (12 goals) are the fifth set of Hounds teammates to have at least 10 goals in the same season, and the first since 2019 when Neco Brett and Steevan Dos Santos accomplished the feat.
• Danny Griffin has played all but 17 minutes since the beginning of the 2021 regular season, starting every league match during that time. He has not missed a league game since turning pro with the Hounds in 2020, and today's match will be his 80th consecutive appearance in the USL Championship (regular-season and postseason).
• Hounds captain Kenardo Forbes is up to 40 assists as a member of the Hounds, pushing his USL Championship record total to 54. With nine assists on the season, Forbes is second in the league and on the verge of his first double-digit assist season.
• Pittsburgh native Robbie Mertz appeared in his 100th USL Championship match Sept. 14 at Birmingham.
• In 157 matches under Bob Lilley in all competitions, the Hounds are 82-34-41 and have allowed just 147 goals, an average of 0.94 goals per game.
Riverhounds MF Danny Griffin
Subscribe to PGH Soccer Now