ACC Women's Soccer
FINAL: Duke 1, Pitt 0
Match Summary
No. 13-ranked Pitt women's soccer team (11-3-0, 4-2-0 ACC) suffered a 1-0 road loss to No. 7-ranked Duke (10-3-0, 5-1-0 ACC) Sunday at Koskinen Stadium.
The Blue Devils broke a scoreless tie in the 53rd minute on a goal by Olivia Migli.
"I'm both extremely proud of our team and disappointed for them," head coach Randy Waldrum said. "(Associate head coach) Ben (Waldrum) put together an amazing game plan for this game, and the players executed it to perfection."
The Panthers had several opportunities to tie the score in the final four minutes. A shot by Athalie Palomo in the 86th minute from low left was saved by Ruthie Jones. Shots by Samiah Phiri and Landy Mertz a mere 12 seconds apart in the 88th minute both hit the crossbar, and Duke held on for the one-goal victory.
Both teams finished with nine shots, but Duke held a 5-2 advantage in shots on goal. Pitt went into halftime holding a 4-3 edge in shots. Anna Bout accounted for four of Pitt's nine shots.
"We minimized their chances, and we missed on several great opportunities ourselves, including hitting the crossbar twice in the final two minutes," said Waldrum.
Caitlyn Lazzarini made three solid saves to keep Duke off the scoreboard over the first 50 minutes of play and finished with four total.
Mackenzie Pluck led Duke with three shots while Kat Rader tallied two. Jones made two saves for the Blue Devils en route to the win.
UP NEXT
Pitt wraps up its season-long three-game road trip with its final road contest of the season when it visits Boston College on Saturday, Oct. 15. The contest is set for a 7 p.m. start and will be streamed live on ACC Network Extra.
Match Stats
Team Statistics

| Game Stats | PITT | Duke |
| --- | --- | --- |
| Goals | 0 | 1 |
| Shots | 9 | 9 |
| Shots on Goal | 2 | 5 |
| Saves | 4 | 2 |
| Corners | 4 | 1 |
| Offsides | 2 | 0 |
| Fouls | 11 | 10 |
Match Updates
GOOOOALLLLL DUKE!

E. Royson ➡️ Michelle ➡️ Olivia#GoDuke pic.twitter.com/cFsGYns4T8

— Duke Women's Soccer (@DukeWSOC) October 9, 2022
Intermission at our matinee!

SHOTS: 4-3 (Pitt)
SHOTS ON GOAL: 2-0 (Duke)
CORNERS: 2-1 (Pitt)
SAVES: 2-0 (Pitt)#GoDuke pic.twitter.com/OdHUbJNdQR

— Duke Women's Soccer (@DukeWSOC) October 9, 2022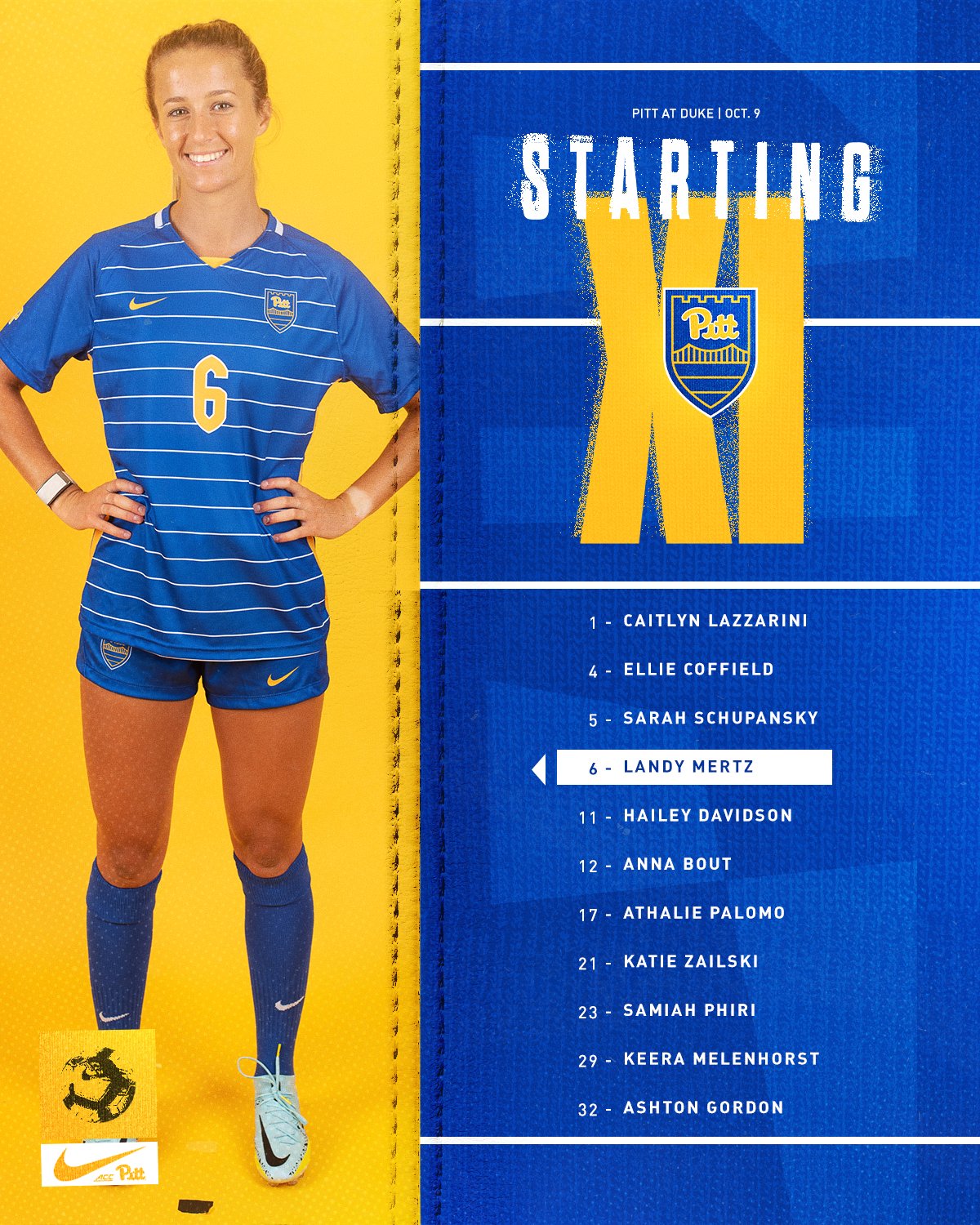 Preview / PSN Pitt Women's Soccer Coverage
Pitt saw its five-game winning streak snapped with a 4-0 loss on the road to No. 5-ranked North Carolina Thursday. The setback marked the first for the Panthers in ACC play in 2022.
Pitt's four goals conceded marked a season high. The Tar Heels outshot the Panthers, 22-5, and held the advantage in shots on goal (10-4) and corners (9-5). Pitt was shutout for the first time this season.
The Panthers will have a chance to make-up for the tough loss at Chapel Hill, if they can produce a result in Durham on Sunday.
The teams are currently tied for second place in the very competitive ACC Women's Soccer standings.
Game Notes
MOVIN' UP
Pitt moved up one spot to No. 13 in the country in the latest United Soccer Coaches Rankings.
The Panthers entered the rankings at No. 14 a week ago, marking the third-straight year Pitt has appeared in the weekly poll. Pitt reached as high as No. 19 in the poll last season and No. 12 in 2020.
BATTLE OF RANKED TEAMS
Pitt's matchup against No. 7 ranked Duke on Sunday marks the program's fourth showdown as a ranked team against a ranked opponent. Last season, then-No. 20-ranked Pitt hosted then-No. 6-ranked TCU and fell by a 1-0 score. In 2020, the then-No. 14-ranked Panthers suffered a 2-1 overtime setback to then-No. 10-ranked Virginia. Pitt's loss to North Carolina on Thursday marked its third defeat in three tires as a ranked team against a ranked opponent.
TOP TWO
The Panthers have climbed all the way to No. 2 in the NCAA's third Rating Percentage Index (RPI) report of the 2022 season after opening at No. 18 in the initial report and then moving up to seventh last week.
HOT START
With 11 wins in 13 attempts, Pitt is off to its best start in program history. With their next victory, the Panthers will set the program standard for the most victories in a single season.
A FIRST TIME FOR EVERYTHING
ACC play has seen Pitt record its first-ever wins over Virginia Tech (4-1) and Notre Dame (3-1). The Panthers were previously 0-7-1 against the Hokies and 0-15-1 against the Fighting Irish.
BUILDING THE PROGRAM
The Panthers are now 42-36-4 under the leadership of fifth-year head coach Randy Waldrum. After going 9-22-4 in the first two years of a massive rebuild, Pitt has gone 33-16 over the last two-plus seasons.
PILING UP POINTS
With five games still to play in the 2022 regular season, Pitt has already set a program record for points in a single season with 117 (40 goals, 37 assists). The previous high-water mark was shared by the 2020-21 and 1998 teams with 104. The Panthers' 117 points are good for third in NCAA Division I behind Gardner-Webb's 132 and Alabama's 122 while their 9.00 points per game ranks fourth behind Gardner-Webb (9.71), UCLA (9.33) and Florida State (9.18).
OFFENSIVE ONSLAUGHT
Pitt has outscored the opposition 40-13 so far in 2022. The Panthers' 40 goals rank as the second most in a single season in program history behind the 2021 team's 41 and are tied for the third-most in NCAA Division I this season with Saint Louis behind Gardner-Webb (46) and Alabama (41). Pitt is tied for fourth in the country in scoring offense with Saint Louis with 3.33 goals per game.
FINDING BALANCE
The Panthers have seen 13 different players find the back of the net so far this season. Leah Pais is pacing Pitt, scoring all seven of her team-leading goals in the last eight games. She is tied for 35th in the country and third among ACC players in goals. Amanda West, who is out for the rest of the season following an injury in the win over Cincinnati, is tied for second on the team with Landy Mertz with six goals. Mertz has compiled a team-high four game winners, which is tied for most among ACC players. Sarah Schupansky (5) and Ellie Coffield (3) round out Pitt's top five goal scorers. Fleming Dean, Samiah Phiri, Emily Yaple and Katie Zailski have each cashed in twice. Anna Bout, Mackenzie Evers, Ashton Gordon and Bri Hilsenteger have each found the back of the net once.
HOW MAY WE ASSIST?
Eleven different Panthers have distributed assists this season, with Anna Bout and Sarah Schupansky leading the way with six apiece, which is tied for 24th in the country and fourth among ACC players. Bout's 15 career assists are good for the fifth-most in program history. Landy Mertz and Leah Pais are tied with four apiece. Ellie Coffield, Ashton Gordon, Samiah Phiri, Amanda West and Emily Yaple have each dished out three assists while Keera Melenhorst and Ashley Moon have all logged one helper. Pitt's 37 assists rank as the second-most in program history behind the 2021 squad's 47. The Panthers are currently tied for second in the country in total assists with Alabama, trailing only Gardner-Webb (44). Pitt ranks third in the nation and second in the ACC in assists per game with 3.08.
PANTHERS FINISH NON-CONFERENCE PLAY STRONG
Pitt prevailed in seven of its first eight games for the second year in a row to finish non-conference play strong. The Panthers went a perfect 4-0 at home in non-conference action.
SHUT IT DOWN
The Panthers opened the 2022 season by earning a pair of shutout victories at the Rumble in the Rockies in Missoula, Mont. Pitt blanked Gonzaga, 1-0, in the season opener, then stifled host Montana, 2-0, three days later. The Panthers started a new season with back-to-back shutout victories for the first time since 2017. Pitt has added four more shutouts to its total courtesy of a 6-0 rout of Cleveland State, a 7-0 romp over Kent State, a 2-0 blanking of Cincinnati and a 1-0 win over Louisville. Pitt's six shutouts are already tied for the third-most in a single season in program history. The Panthers had not allowed a goal over 315 minutes of play until VCU broke through for the first goal of the match in the sixth minute.
LAZZ LOCKS IT DOWN
Caitlyn Lazzarini put together a career effort in the season-opening shutout of Gonzaga with 10 saves. With an 19-7-0 career record, she is one victory away from becoming the program's all-time leader in goalkeeper wins.
SCOUTING DUKE
Pitt will face Duke for the seventh time and is in search of its first win over the Blue Devils. The Panthers took a 5-0 loss to Duke in Durham in the last meeting between the two teams on Oct. 10, 2021.
Robbie Church is his 22nd season as the head coach at Duke and has led the Blue Devils to a 281-138-60 mark.
The Blue Devils were selected as the preseason favorite to capture the 2022 ACC championship in the league's Preseason Coaches Poll. Duke collected three first-place votes and 156 total points
Duke moved into a tie with Pitt for second place in the ACC thanks to a 2-1 victory over Wake Forest on Thursday.
Michelle Cooper is the ACC's leading goal scorer with nine so far this season and is tied with Mackenzie Pluck for the team lead with six assists. Cooper's 24 points are tops in the ACC and tied for sixth in the country. Kat Rader ranks second on the Duke squad with seven goals.
UP NEXT
Pitt wraps up its season-long three-game road trip with its final road contest of the season when it visits Boston College on Saturday, Oct. 15. The contest is set for a 7 p.m. start and will be streamed live on ACC Network Extra.
Riverhounds MF Danny Griffin
Subscribe to PGH Soccer Now