USL Championship
Riverhounds 3, Oakland Roots SC 1
 Stats: USL Championship Match Center
Match Summary
The Pittsburgh Riverhounds SC picked up a much needed win to close out the regular season by storming back to defeat the Oakland Roots, 3-1, before a sellout crowd at Highmark Stadium on Saturday night.
After surrendering an early goal, the Hounds got the equalizer from Toby Sims in first half stoppage time, then veterans Russell Cicerone and Kenardo Forbes added to the scoring surge in the second half.
"It's a good performance. It's been coming," Riverhounds Head Coach Bob Lilley uttered his first words following the victory, the team's first since early September, as they snapped a winless streak of five games.
"We've taken steps forward the last three games. It was nice to get out there, and get this one. The fans have been great and we wanted to do this for them."
Things didn't start off well for Pittsburgh. The Hounds had to fight back, after surrendering a goal off a set piece in the 9th minute.
Oakland's Juan Carlos Azocar delivered a highlight reel one-time shot after getting a low cut back pass to the near corner edge of box from a corner kick taken by Jose Hernandez who split the Hounds two nearest defenders, Kenardo Forbes and Robbie Mertz.
Even with Forbes and Mertz converging on Azocar, the Roots' forward delivered the goods to give the visitors the early lead and a boost to their playoff clinching chances.
Following the goal, Pittsburgh started to play with a sense of urgency and were doing an oustanding job in limiting Oakland's chances in the run of play, even with a makeshift five-man backline (5-4-1) that included holding midfielder Danny Griffin stationed deepest in the center of defending line.
Sims' goal came right when the Hounds needed it, were facing the prospects of heading to the locker room down 1-0.
It was Cicerone who found the opening to deliver a looping ball to the far post spot, where he anticipated Sims have time to get to the ball. First, the ball came to Robbie Mertz on the left, and Mertz played a backheel to Cicerone, who then beat his defender on the dribble.
"Teams know we might be going long and through the middle, so we have to get around the edges," Cicerone said.
"I beat my guy.  They're pretty big back there, I knew we want to try to get numbers. When we break a team down like that, someone would be there. I thought Toby could get there. I lofted it to give him enough time. That was a fantastic goal."
Not only did Sims get a deft first touch on it as he was coming in with a full head of steam, but he also, somehow, took a second touch before reaching the endline, and sent a tough angled shot past Oakland's keeper, Paul Blanchette.
Already holding a decided (57-43) edge in possession for the first 45 minute, Pittsburgh carried this momentum forward into the second half, when Cicerone was on the receiving end of a cross from Robbie Mertz.
It began with a corner kick in the 54th minute. Oakland cleared the initial ball, but the Hounds regained possession, and Mertz got the ball at his feet on the left flack.
Mertz served a pass back to the middle, where Cicerone finished with a simple header for his team-leading 13th goal of the season. It is the second straight year Cicerone has led the Hounds in scoring, and his 29 goals with the Hounds are tied with Rob Vincent for fifth in club history.
The Hounds added their insurance goal in the 75th minute when Danny Griffin fed Angelo Kelly in the center of the box. Two Roots defenders sprawled in front of Kelly to block his shot, but the rebound fell to Forbes, and the Hounds captain scored his third of the year and his second in as many games.
The defense did its job throughout the match, limiting Oakland to just two shots on goal and holding them to just 0.13 xG (expected goals), according to Opta.
With the win, the Hounds (16-9-9, 57 points) wrapped up fifth place in the USL Championship's Eastern Conference. They'll now face Birmingham Legion FC on Sunday, October 23, at 6 p.m. in the First Round of the league's playoff tournament.
"The most important thing is to get the result," Cicerone said. "You can play all the beautiful soccer you want, but if you don't win, no one is going to remember it. When it comes down to it, you have to get results. It was nice to get three goals, which was another stepping stone for us. Overall it was an extremely good performance."
Now that they have a win under their belt for the first time since early September despite playing at a high level against some of the top teams in the league, only to come up short with a slew of draws and a pair of losses, the Hounds' veteran coach was very pleased with a solid all-around performance as they head into the postseason.
"I won't even say one of our best, " Lilley said, then hesitated.
"It was our best performance on both sides of the ball and in possession. We always talk about being dangerous, creating quality chances, limiting the other team's chances and dictating the game with our possession. I felt we were able to do that tonight consistently through both halves."
Riverhounds SC lineup (5-2-3) — Jahmali Waite; Dani Rovira (William Eyang 90+3'), Jelani Peters, Danny Griffin, Shane Wiedt, Toby Sims (Luke Biasi 85'); Kenardo Forbes (Edward Kizza 90+3'), Angelo Kelly (Alex Dixon 85'); Russell Cicerone (Mekeil Williams 72'), Albert Dikwa, Robbie Mertz
Oakland Roots SC (3-4-3) — Paul Blanchette; Daniel Barbar, Alejandro Fuenmayor, Tarek Morad (Jonathan Rodriguez 74'); Guillermo Diaz (Jesús Enriquez 65'), José Hernández (Joseph Nane 87'), Charlie Dennis, Edgardo Rito; Juan Azócar, Óttar Magnus Karlsson, Lindo Mfeka (Mikael Tørset Johnsen 46')
Scoring summary
OAK — Juan Azócar 8' (José Hernández)
PIT — Toby Sims 45+1' (Russell Cicerone)
PIT — Russell Cicerone 54' (Robbie Mertz)
PIT — Kenardo Forbes 75'
Discipline summary
OAK — Jesús Enriquez 90+2' (caution – unsporting behavior)
Match Day Updates
Look for updates to be posted here, including pregame build-up, starting lineups, in-game highlights and even progress from the Detroit-Miami match kicking off at 4 p.m.
Miami FC's victory against Detroit City FC means the Hounds only needs a draw against Oakland to claim the No. 5 seed in the Eastern Conference. The Hounds hold the head-to-head tiebreaker over Miami with a 1-0-1 record.
---
84′ — HOUNDS SUBS – Sims and Kelly-Rosales come off, for Luke Biasi and Alex Dixon.
75′ — GOAL – RIVERHOUNDS 3, OAKLAND 1
Big first USL Championship goal for 2021 @USLLeagueTwo Defender of the Year Toby Sims.

As of now, @RiverhoundsSC is the No. 5 seed in the East, and @lvlightsfc's playoff chances are alive going into its late kickoff. #PITvOAK #LAvLV https://t.co/hOtzUOTiFE

— Nicholas Murray (@NJEMurray) October 16, 2022
Kenardo Forbes
The Hounds' captain is there to clean things up! Angelo Kelly-Rosales attempt is blocked, but Forbes is there to put it in from six yards out.
72′ — SUB – Mekeil Williams IN; Russell Cicerone OUT
57′ — Hounds off to the races again after defending a corner. This time Cicerone does most of the work with the ball through center and into final third, then passes off to Mertz, who drives a shot after cutting back into edge of box, but it grazes, barely, over bar.
52′ — GOAL – RIVERHOUNDS 2, OAKLAND 1
Towering header from @RussellCicerone to put @RiverhoundsSC in the lead 🗼#PITvOAK pic.twitter.com/8vNOZuDUJ0

— USL Championship (@USLChampionship) October 16, 2022
Russell Cicerone with #13 on the season.
Well-placed header after a terrific cross from left side from Robbie Mertz.
52′ — Dikwa gets loose, plays ball behind defender past midfield, then turns on jets to get to it first for a clear breakaway, but waits to shoot it when he gets in box and Oakland's keeper Paul Blanchette makes the save!
HALF – RIVERHOUNDS 1, OAKLAND 1
Hounds own the possession 57/42 battle
45′ — RIVERHOUNDS 1, OAKLAND 1
Toby Sims
The birthday boy with a great first touch to control Russ Cicerone cross from far right side to far post. Quick second touch is a terrific low strike from very tough angle.
27′ – Hounds get a free kick on the edge.  Toby Sims attempts a spinning low ball around the ball that grazes the outside netting.
23′ –
Correction:
it was a back-heel from Forbes to Angelo Kelly-Rosales who sent that through ball. #PITvOAK

— John Krysinsky (@JohnKrysinsky) October 15, 2022
9′ — GOAL – OAKLAND 1, PITTSBURGH 0
Juan Carlos Azocar
Great one-time shot after getting a low cut back pass to near corner edge of box from Jose Hernandez from a Corner kick.
Hounds didn't do enough to close down on shot.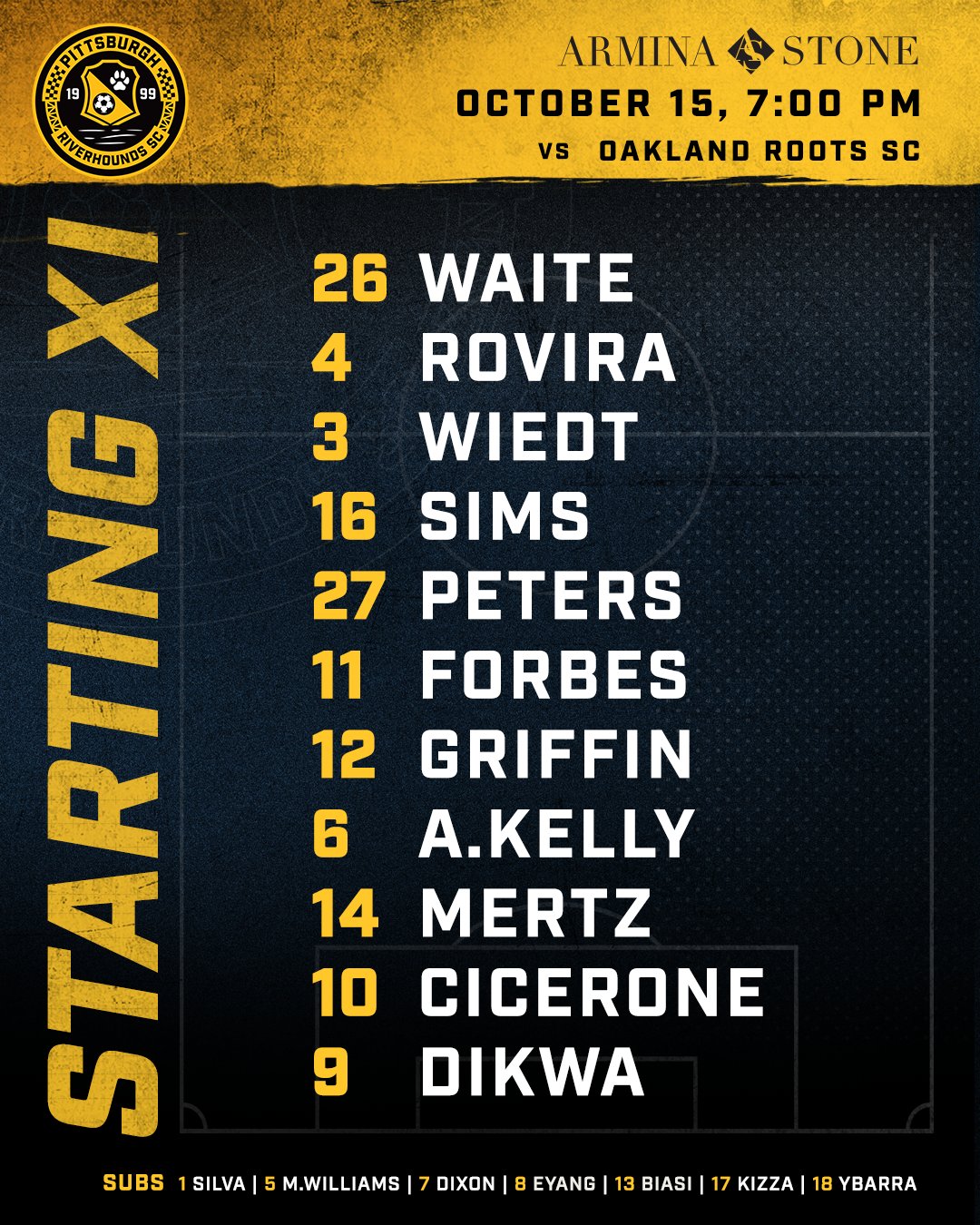 Working w/ @oaklandrootssc Sat as they continue their hunt for a playoff spot when they face off against @RiverhoundsSC. Had to give them a MUST EAT AT location of @primantibros in Market Square. Hope Primanti Bro's gives them their Pittsburgh's best for their pre game meal. pic.twitter.com/00Sig3aDKG

— Ed Thompson (@ThompsonFoto12) October 15, 2022
Preview / Recent PSN Hounds Coverage 
The Riverhounds will be competing again in the USL Championship Eastern Conference playoffs, but before they do that, they'll wrap-up the regular season on a positive note as they enter Saturday's match vs Oakland Roots SC on a five match winless streak.
Believe it or not, this is the seventh first-time foe the Hounds have faced this season.
The playoff picture for the Hounds is a simple one after Birmingham defeated Indy on Wednesday night to clinch the No. 4 seed in the Eastern Conference.
Birmingham clinches fourth place; Hounds will start playoffs on the road
A Hounds win makes them the No. 5 seed and puts them on the road at Birmingham; a Hounds loss makes them the No. 6 seed and sends them to whichever side finishes third, either Tampa Bay or Memphis; and a Hounds draw leaves both possibilities open depending on the outcome of Detroit vs. Miami earlier in the day.
For Oakland in the Western Conference, the picture is simpler and more urgent.
The Roots are in the playoffs with a win, but a draw or loss means they can be passed for the final spot if Las Vegas defeats Los Angeles in the night's final game.
The Hounds will be shorthanded along the back line with starting center back Arturo Ordóñez serving a one-game suspension after being sent off late in last Sunday's 1-1 draw at Sacramento. While it will serve to give Ordóñez only his third game off of the season to rest for the playoffs, it means coach Bob Lilley will have to adjust his lineup as the Hounds seek to enter the postseason on a high note.
On the attacking end, Kenardo Forbes got just his second goal of the season (and 16th with the Hounds) last match, and the playmaking midfielder remains in range to claim the USL Championship's assists title this season. Forbes enters the game one assist off the league lead of 11, held by Detroit's Antoine Hoppenot.
Oakland comes in with the Championship's third-leading scorer, Óttar Magnús Karlsson, leading the lines. The Icelandic striker on loan from Italian club Venezia has 19 goals this season, three off the league lead. The Roots also enter the match in a good run of form with a 4-0-1 record over their past five matches, but only one of those wins — a 2-1 home victory over Birmingham — came against a team with a winning record.
Sounding Off on Soccer: Dissecting Riverhounds SC, Pitt men's recent struggles
---
Game Notes
Fifty years after the Immaculate Reception bound Oakland and Pittsburgh together in sports history, the Roots and Riverhounds meet for the first time ever to start a new chapter in the cities' sports history.
Apart from the long-running Steelers/Raiders NFL rivarly during the Raiders' time in Oakland, teams from the cities have only faced off occasionally in pro sports. The first meeting was on the basketball court between the Oakland Oaks and Pittsburgh Pipers in the 1967-68 ABA season, while MLB's Pirates and Athletics first met in 2002 during interleague play.
Pittsburgh and Louisville are the only two USL Championship clubs to have qualified for the playoffs in each of the past five seasons (2018-22).
Danny Griffin set a new club record this season with 2,965 minutes played entering today's game. The third-year pro has played all but 17 minutes since the beginning of the 2021 regular season, and today's match will be his 83rd consecutive appearance in the USL Championship (regular season and postseason). He has not missed a league match since turning pro in 2020.
Albert Dikwa has his first double-digit goal season as a professional. The 24-year-old from Cameroon has scored four goals in the Hounds' past eight matches to give him 11 on the season.
Hounds captain Kenardo Forbes is up to 41 assists as a member of the Hounds, pushing his USL Championship record total to 55. The most recent — setting up Dikwa for his goal Sept. 24 against Orange County — gave him his first career 10-assist season and puts him one behind Detroit's Antoine Hoppenot for the league lead.
For the second year in a row, Russell Cicerone leads the Hounds with 12 goals on the season. He is just the third player in team history with consecutive double-digit goal seasons.
Dikwa and Cicerone are the fifth set of Hounds teammates to have at least 10 goals in the same season, and the first since 2019 when Neco Brett and Steevan Dos Santos accomplished the feat.
In 160 matches under Bob Lilley in all competitions, the Hounds are 82-35-43 and have allowed just 150 goals, an average of 0.94 goals per game.
Across 22 seasons as a professional head coach, Lilley has guided his team to a winning record and made the playoffs every year — both streaks he extended this season, his fifth in Pittsburgh.
Riverhounds MF Danny Griffin
Subscribe to PGH Soccer Now