It was down to the final four on Halloween night, and the performances set on display did not disappoint.
In two close games at West Allegheny high school, it would be Ambridge (13-6-1) outlasting Plum (18-2-1) and Moon (19-0-1) passing by Montour (12-5-4) to advance to the 3A Boys WPIAL finals.
#1 Plum vs. #11 Ambridge
A year ago, Ambridge lost in the semifinal round to Quaker Valley in the 2A boys WPIAL playoffs. This year, they would get back to the semifinals, but this time, moving a classification up to 3A.
Plum was also in familiar territory.
The Mustangs led by Rafal Kolankowski, had made the semifinals two out of the past three seasons and were looking to break through to Highmark this time.
Early on, there wasn't too much action. Plum had the edge on attacking space, mainly due to senior and all-state player Lucas Pittman, exploiting the Ambridge defense down the left side.
His pace was a handful to deal with. Eventually he moved over from left wing to the center forward position in Plums 4-3-3 system the rest of the game.
It took 27 and 28 minutes for Plum and Ambridge to get their first shot on goal.
About ten minutes later, the atmosphere started to get chippy as Nico Caprini from Ambridge and Tristan Ralph on Plum were both given yellow cards.
With a scoreless first half, it was only a matter of time for the game to open up.
In the 55th minute, sophomore Aldi Flowers picked up a loose ball in the box and slid one past the keeper. Flowers picked up his 13th goal of the season. Plum took the lead 1-0 but it wouldn't last long…
Exactly 27 seconds later, Anthony Powell beat a defender down the left side, getting close to the goal line he crossed it in softly where Will Gruca slipped it past the goal box finding junior JJ Simms to smash in the ball one yard out. Plum couldn't clear, and the game was tied 1-1.
Simms said, "It was a lucky goal. Ball came right to the goal line, and I tapped it in. But it really changed the game, and they lost their energy."
The remaining 20 minutes featured tight defense as both teams were playing cautious. The biggest opportunities came from two free kick opportunities for Ambridge. Will Gruca took both and shot them just high over the crossbar.
OT in WPIAL playoffs are two 15-minute periods, golden goal. The Bridgers only needed 3 minutes…
Very similar to the first goal they had, Simms would head in a goal from a yard out. Off a free kick from Gruca, Simms was there once again to clean up the trash. "It came off the bar and went 20 feet in the air" stated Simms. "I just waited an eternity for it to come down. It was a hard-fought victory."
After scoring two in the quarterfinals against Thomas Jefferson, he scored his 15th and 16th of the season to send the Bridgers on the highway to Highmark Stadium.
Head Coach for Ambridge Ben Fiore stated, "I told our guys we don't care what number is next to our name or anybody else. It's just another opponent. We want to be doubted, we like it that way."
SCORING PLAYS
38' – Yellow Card | Nico Caprini
39' – Yellow Card | Tristan Ralph
55' – Plum Goal | Aldi Flowers
56' – Ambridge Goal | JJ Simms
Assisted by Will Gruca
65' – Yellow Card | Preston Harper
83' (OT) – Ambridge Goal | JJ Simms
Assisted by Will Gruca
FINAL STATS
PLUM 
Total Shots – 10
Shots on Goal – 5
Offsides – 0
Corners – 4
Fouls – 18
AMBRIDGE
Total Shots – 9
Shots on Goal – 5
Offsides – 0
Corners – 2
Fouls – 12
🚨WE'LL SEE YOU AT HIGHMARK🚨

Bridgers advance to the WPIAL AAA Championship this Saturday after defeating the #2 Plum Mustangs by a score of 2-1 in OT.

Goals scored by:

JJ Simms⚽️⚽️(16) with both

9 saves by Evan Scheib

We #BuiltThatBridge ⚒🌉⚽️

LET'S GOOOOOOOOOOOOOO

— Ambridge HS Boys Soccer (@BridgersBsoccer) November 1, 2022
#1 Moon vs. #13 Montour
With the previous game going to OT, it was a later start for the Tigers and Spartans.
Both sides started in their formations they've played all season. Moon plays a 4-3-3 and Montour in a 3-4-3.
Like the Ambridge and Plum game, both teams early on were feeling each other out. Not a whole lot of action as Moon and Montour only produced two shots on goal each in the first half.
"We adjusted putting more guys in the midfield in the second half" said Moon's head coach Earl Pannebaker.
The best chance came in the 14th minute when All-State Ryan Kopay was found in the box but blasted his shot wide. Halftime went 0-0.
Kopay missed his first opportunity but created one for his own in the second half.
Only seven minutes into the second half, Kopay got a pass from his senior teammate Christopher Brancato about 20 yards out. It was all Kopay from then on as he dribbled past two players and scored.
"Not many players (Kopay & Brancato) in our program earn our four-year letterman" said Pannebaker. "That first goal from Brancato to Kopay tells the story of what we've been working on for four years."
Montour started to press forwards higher, but Moon's backline led by junior Cooper Nickles shut them down as they didn't give up a shot on goal the rest of the game.
12 minutes later, it would be Jacob Puhalla scoring and giving Moon the 2-0 lead. The Tigers remained in control of the match and advanced to the 3A Boys WPIAL final.
SCORING PLAYS
47' – Moon Goal | Ryan Kopay
Assisted by Christopher Brancato
59' – Moon Goal | Jacob Puhalla
59' – Yellow Card | Montour Bench
FINAL STATS
MOON
Total Shots – 16
Shots on Goal – 7
Offsides – 1
Corners – 4
Fouls – 5
MONTOUR
Total Shots – 7
Shots on Goal – 2
Offsides – 1
Corners – 5
Fouls – 9
Yellow Cards – 1
HIGHMARK HERE WE COME!!! 2-0 over Montour!!! #mahs @JohnKrysinsky @pghsoccernow @TribLiveHSSN @timesscores pic.twitter.com/NyLRQ50owA

— moonboyssoccer (@moonboyssoccer) November 1, 2022
3A WPIAL Boys Final Preview – #1 Moon vs. #11 Ambridge
The 3A Boys WPIAL final will feature the Moon Tigers (19-1-1) and Ambridge Bridgers (13-6-1). The teams will face off at the home of the Pittsburgh Riverhounds at Highmark Stadium on Saturday, Nov. 5.
When these teams faced in the regular season, Moon won both games by a score of 5-2 and 4-0.
Moon have won 5 WPIAL championships, the most recent being in 2003. Ambridge will be looking to win their first ever WPIAL championship.
Moon's path to Highmark included beating #17 Ringgold 6-1, #8 Bethel Park 6-0 and #13 Montour 2-0. Ambridge as the lower seed all three times beat #6 Hampton 3-0, #3 Thomas Jefferson 7-1, and #2 Plum 2-1 (OT).
Some key players to watch on Moon are Ryan Kopay, Chris Brancato, Davi Jansson and Cooper Nickles. On Ambridge look out for Will Gruca, Anthony Powell, and JJ Simms. Kopay and Gruca were two of 14 WPIAL players earning All-State honors this past week.
After being an overtime goal away from the 2A WPIAL final last year and making it to the WPIAL final this year in 3A, Fiore stated on the expectations of this season," My coaching side says yes, we expected to be here, and my soccer fan side says probably not. But, to make it to the 3A championship is incredible. I have so much respect for this section."
Before Moon played Montour, assistant coach Tyler Blake of the Tigers stated how it's going to be hard to beat any team three times. They beat Montour a third time and will now have to beat Ambridge a third time to secure the title.
"Ambridge is very fast" said Pannebaker. "It's an attest to our section and how they strong they are. We'll figure out our game plan against them soon."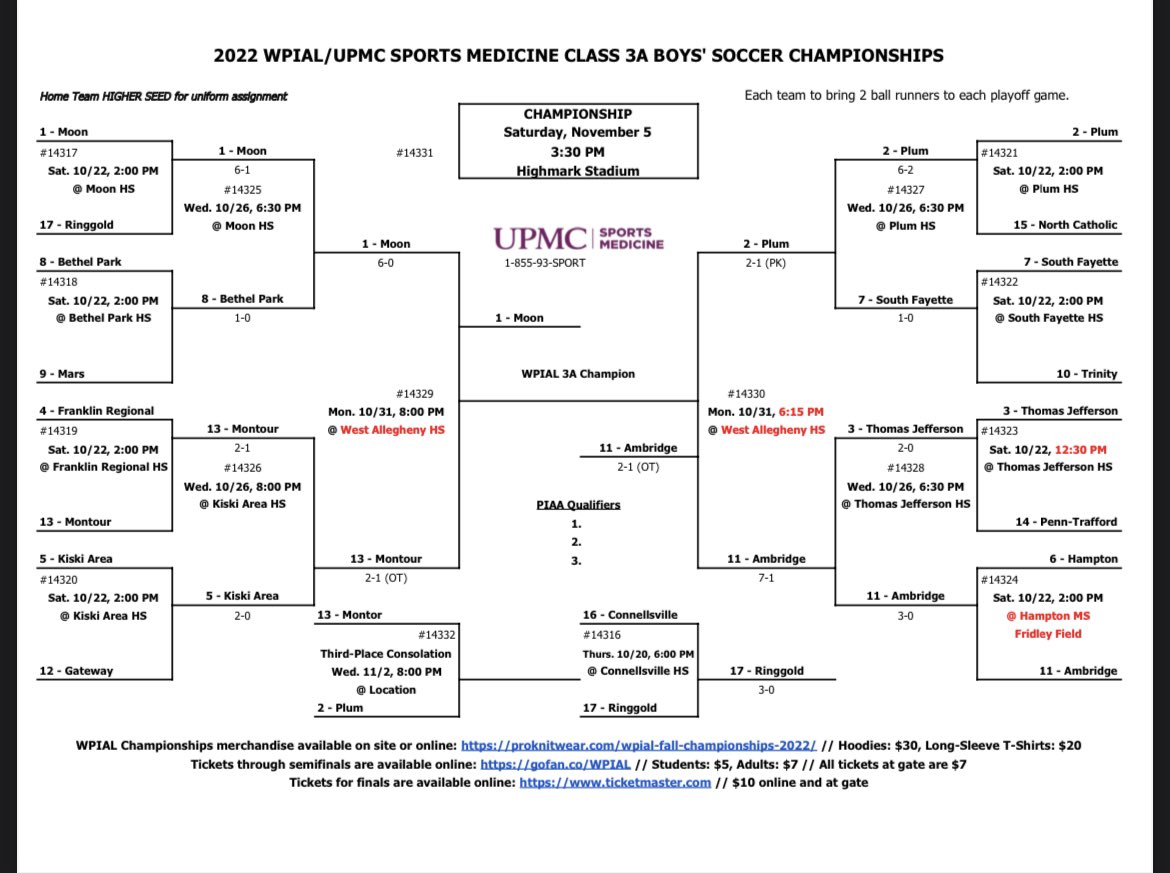 Riverhounds MF Danny Griffin
Subscribe to PGH Soccer Now