2023 Lamar Hunt U.S. Open Cup Fourth Round
FINAL:  Riverhounds SC 1, New England Revolution 0 
Match Summary
The Pittsburgh Riverhounds SC defied the odds, knocking off Major League Soccer's New England Revolution, 1-0, at Gillette Stadium in Foxborough, MA, on Tuesday night, to advance to the Fifth Round of the Lamar Hunt US Open Cup.
"It never felt like we were under siege. The last 5-10 minutes got a bit hairy, but the key was we found outlets," Hounds coach Bob Lilley said.
"We were positive with our play going forward, we were positive with the ball, and that gave us the energy and time to get back and defend properly."
The Hounds outplayed New England for most of the match, despite conceding the possession battle (62/38), as recent returnee to the club and New England native Danny Griffin made a run behind the Revs backline in the 44th minute to score the game's lone goal.
The pass came from second year Hounds midfielder Marc Ybarra, who had an exceptional match.
Pittsburgh executed Lilley's game plan flawlessly, defending well, limiting New England's shot total to four in the first half, and even when under pressure late in the second half, only allowed one shot on frame, as goalkeeper Jahmali Waite made one save.
The Hounds will now advance to the Round of 16, where they will find out who they'll play either on Tuesday May 23 or Wednesday, May 24, when US Soccer re-draws for the final time in the tournament most likely to take place on Thursday.
How It Happened
First half
The Hounds signaled from the opening whistle they weren't going to sit back and defend, as Marc Ybarra stung a low shot on goal and forced a save by Earl Edwards Jr. just 28 seconds into the match.
The Revolution posed plenty of threats of their own, and former U.S. international Jozy Altidore had an early chance in the box blocked away by the Hounds' Mike DeShields.
The game hit a major flashpoint in the 27th minute when New England's Latif Blessing, who was previously booked, lunged into a studs-first tackle over the ball against Joe Farrell. A foul was given, but no card was shown to Blessing, keeping both sides at 11 players.
Chances remained even for much of the half, but with two minutes until halftime, Ybarra weighted a low pass perfectly between the Revolution center backs to play Griffin through. The midfielder, in only his second game back with the Hounds after a transfer deal last week, scored with a low shot to put the Hounds in front.
Second half
Neither team made a change at halftime, but Revolution coach Bruce Arena tried to tip the scales in his team's favor in the 63rd minute by introducing four substitutions — a quartet that included former MLS MVP Carles Gil.
Gil's creativity paid dividends, and the Revolution looked more dangerous, never more than in the 77th minute when he threaded a diagonal pass through to Altidore, only to have the shot fired over the crossbar.
The Hounds defense swarmed back to defend but did well to alleviate pressure by winning fouls and finding outlets. A pair of 3-on-2 chances in the late moments could have allowed the Hounds to put the game away, but a turnover and a shot wide by Arturo Ordóñez in stoppage time kept the match close until the final whistle.
Match Updates
Look for match updates, including starting lineups, top tweets and highlights below…
---
FINAL — PITTSBURGH 1, NEW ENGLAND 0
CUP-SET IS DONE! PITTSBURGH RIVERHOUNDS HANG ON TO STUN NEW ENGLAND REVOLUTION, 1-0 Danny Griffin's 44′ goal holds up. Hounds execute Bob Lilley's terrific game plan to pull off first win vs MLS side since 2001 to advance in US Open Cup's 5th Rd.
@RiverhoundsSC BOOM!!!👊👊👊

— Tuffy Shallenberger (@Tuffy_Shall) May 10, 2023
83′ — YELLOW CARD — NE's Jack Panayotou
81′ – YELLOW CARD — Luke Biasi given the first Hounds card of the match.
80′ – New England also made its final change. IN: Esmir Bajraktarevic OUT: Justin Rennicks
80′ — No surprise here — as Hounds final two subs are Albert Dikwa and the return from injury for Junior Etou.
They come in for those two top guys that have been running their tails off — Showunmi and Kizza.
75′ – Chances galore for the Hounds! New England with desperate blocks on shots by Ybarra and Kizza, but with the ball still alive, the offside flag goes up. So close to a second!
73′ – REVS CHANCE!  Carles

Giacomo for another opportunity! Giacomo has a shot, but GK saves it.
72′ – Biasi works well down the left, and there's a great chance in the box for Tola that's blocked away by the Revs defense.
64′ —  Hounds with two more subs —
IN: Kenardo Forbes, Luke Biasi
OUT: Robbie Mertz, Burke Fahling
63′ — Here come the big line of (FOUR) Revolution subs:
IN: Dave Romney, Carles Gil, Brandon Bye, Emmanuel Boateng
OUT: Josh Sweat, Damian Rivera, Latif Blessing, Omar Gonzalez
56′ – First Hounds substitution of the night. IN: Trevor Zwetsloot OUT: Joe Farrell
52′ – Hounds defends one Revs corner by bundling the ball behind; then they win possession on the next by drawing a foul.
46′ – Mertz free in the box, and he tries to pop a pass through instead of going for goal. Hounds going forward right out of the gate!
HALF – RIVERHOUNDS 1, NEW ENGLAND 0
44′ — GOAL — RIVERHOUNDS 1, NEW ENGLAND 0
DANNY GRIFFIN
How fitting that the best player on the field this half — Danny Griffin makes the run behind the NE backline to put it through. HOUNDS SNIFFING A CUP-SET
39′ — Another golden chance for Pittsburgh.
Griffin redirects a header over to Showunmi — but the rookie misses his one time low shot chance jussst wide right.
Oh so close for the Hounds to take the lead.
32′ — Burke Fahling's bid for All-Open Cup team honors status continues — as he saves one off the line. Close call for the Hounds there — with great tracking back to deny Rennicks a tap-in chance at the back post! Revs looked dangerous on that chance coming down the left side.
Watching the Hounds get completely out-possessed on the road, but still look more dangerous in spurts than its opponent in final third, is nothing new. Kind of this year's team's calling card.
That's not just a second yellow, that should be a straight red. That's an atrocious refereeing decision. How can you not at least give a yellow there? That is madness. #USOC2023 #NEvPIT

— Soccer Analysis – Americas (@SoccerAmericas1) May 10, 2023
23′ – Harmon receives a pass at the top of the box from Tola after some quick build-up, but his curling attempt sails high of the goal.
19′ — Mertz fouled 28 yards from box.  Ensuing free kick goes wide beyond far post — for Fahling who heads to middle for Showunmi who redirects it high but easy for Edward to grab.
15′ – Showunmi beats Gonzalez for pace and gets a cross in, but no one home for the Hounds. Revs counter, and Altidore tries a shot from distance that is caught by Waite.
14′ Omir cross from near side, aiming for Dru Yearwood but he lets in run through. Casseres shot from top of the box high into parking deck.
Bruce Arena is gonna come away from this game thinking 'why didn't I sign Robbie Mertz when I had the chance?'#Houndtahn

— Soccer Rabbi (@soccer_rabbi) May 9, 2023
12′ – Cross comes in low for Altidore, but DeShields sticks right to him and blocks the ball out for a corner. Hounds defend the set piece and thump it clear.
5′ – Harmon works down the right flank and chips in a cross that's just a little too high for Mertz to get a header on target. Positive start for the Hounds.
1′ — Don't blink — as the Hounds get a great crack at it from the start as Marc Ybarra drives a shot right on target. But NE keeper Earl Edwards dives for the save.
Starting Lineups have been posted…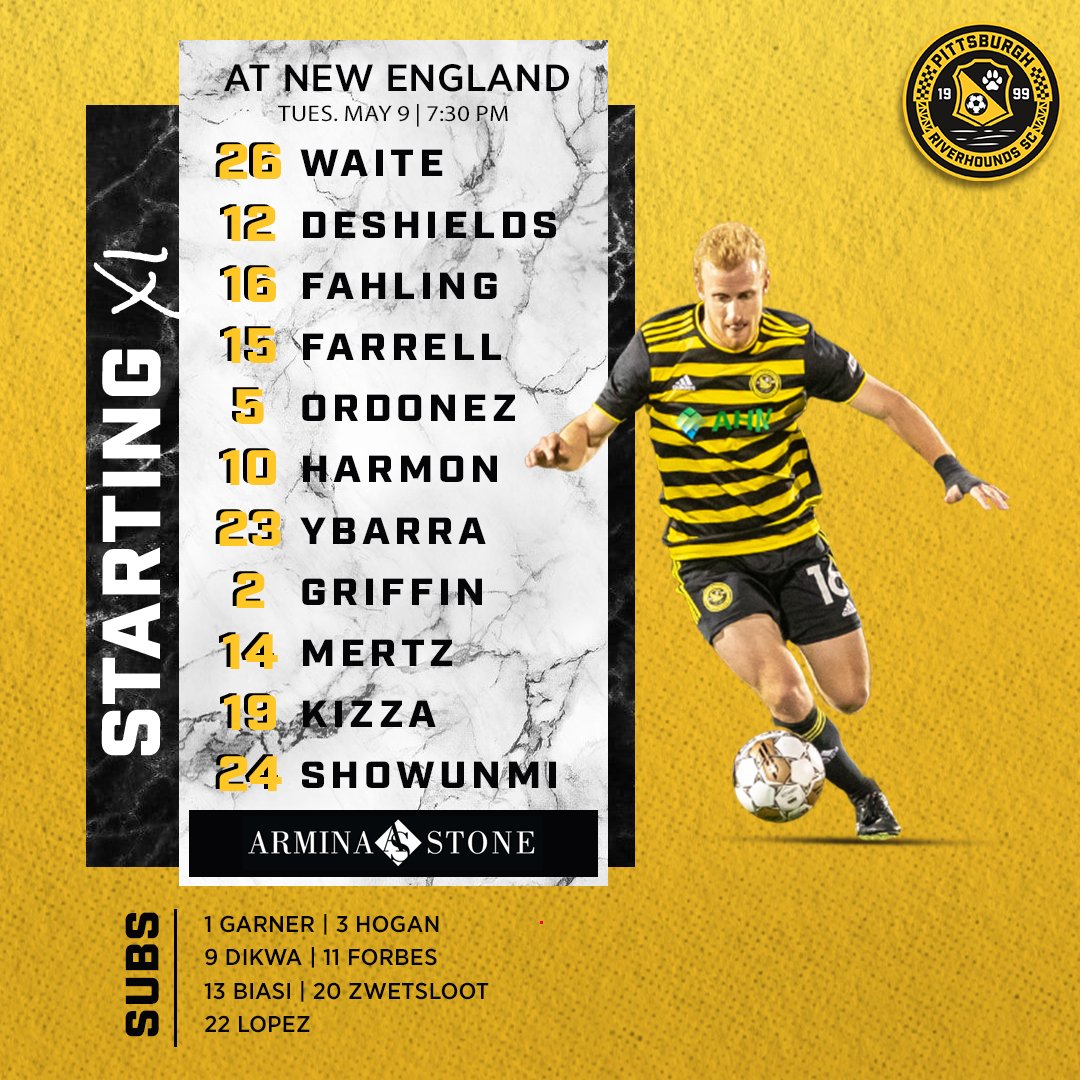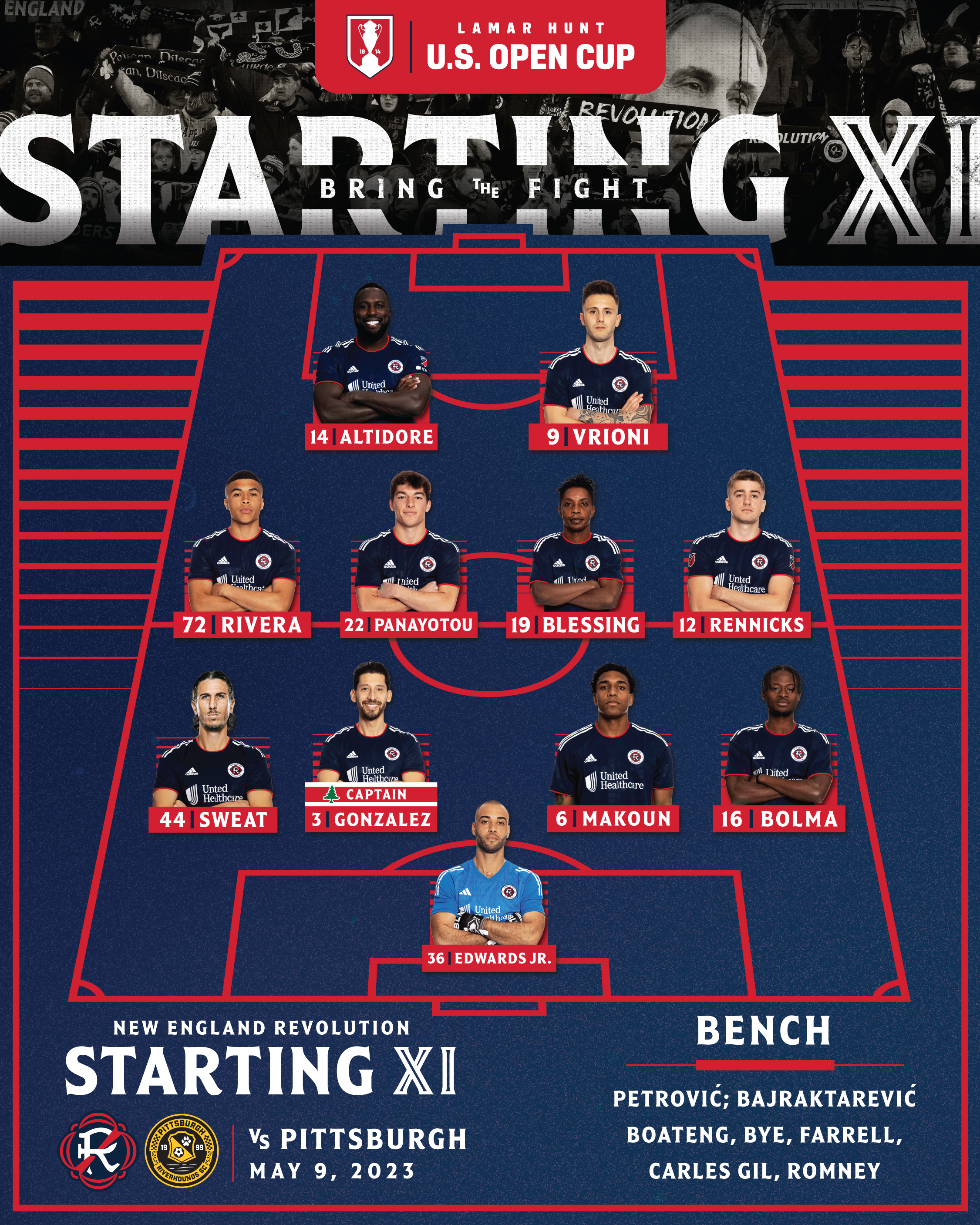 Views from down on the field. @visserdan in the middle leading the men through their warm-ups.

Only 30 minutes until match time!#NEvPIT #HOUNDTAHN #USOC2023 pic.twitter.com/gfIV7QKTXc

— Pittsburgh Riverhounds SC (@RiverhoundsSC) May 9, 2023
Hounds Coverage on PSN
Preview: Riverhounds face New England Revolution in US Open Cup
Riverhounds' Head Coach Bob Lilley's bond with Pitt alum and former Revolution GM Todd Smith nearly landed him in New England

Riverhounds MF Kenardo Forbes
Subscribe to PGH Soccer Now