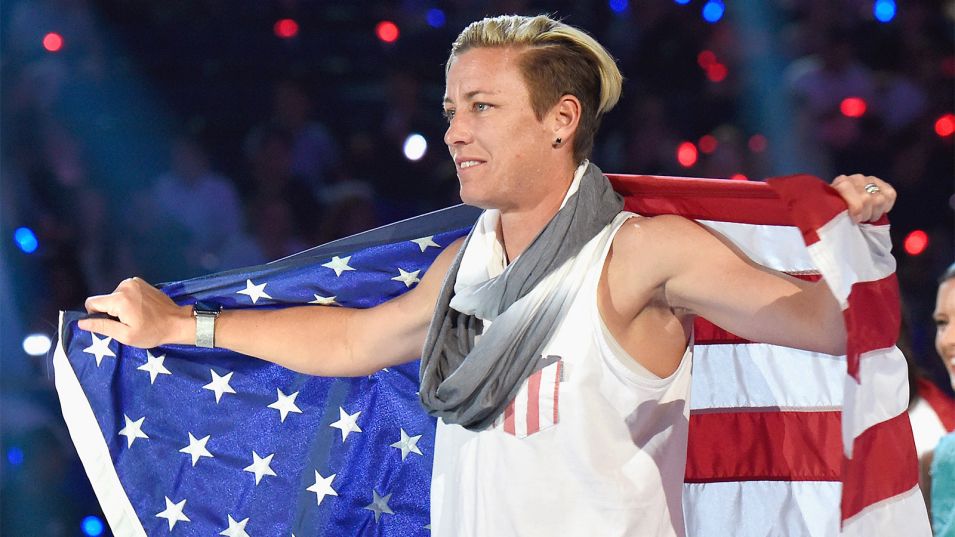 This week we said farewell – on the field – to the all-time leading scorer in all international soccer,
Abby Wambach
.
As expected, Wambach received a wonderful send-off by U.S. Soccer, her teammates – and the fans in New Orleans.  The only thing that appeared to taint the evening was a 1-0 loss to a resurgent China squad.
Wambach's 184 goals are the standard for all of the goal scorers that will come after her.   She has set the bar pretty high — and judging from how all of her teammates expressed their gratitude, her impact goes well beyond her accomplishments on the playing field.
On the field, if a ball was played into the box during the past 15 years of USWNT competition, chances were that Wambach was somewhere near it — and became a deadly assassin – scoring goals at a manic pace.   Off the field and among her teammates, she was a leader and her competitive spirit was contagious.
But we got a bit more than the usual emotional send off from Wambach last week.
About 24 hour prior to her farewell game
, she joined HBO's Bill Simmons on one of his podcasts
, which have become the sports world's equivalent to the long conversational, no-holds barred interviews that
Howard Stern
does.
During the podcast, Simmons compared Wambach's candid personality to Basketball Hall of Famer
Charles Barkley
— suggesting that she could really be a terrific contributor to a soccer studio show at some point.
Like most of Simmons' interviews, this one included a lot of candid dialogue, and with Wambach's insights on things and her personality she didn't hold back on much.
And eventually she dropped a bombshell.
Shortly after Simmons made his endorsement for her career behind a microphone, he asked her a question about her thoughts on the U.S. Men's National Team (USMNT).
Without hesitation, Wambach replied.
"I would definitely fire (USMNT Head Coach) Jurgen Klinsmann."
Whoa!
She went on to add the following:
 "Sorry, Sunil [Gulati, U.S. Soccer president], sorry, U.S. Soccer, but I don't think the litmus test on him has worked."
"He hasn't really focused enough attention on the youth programs," Wambach said.
"Although he says he has, I don't think he has. I also believe the way he has changed and brought in a bunch of these foreign guys is just not something I believe in. Wholeheartedly, I don't believe in it. I don't believe it in my heart."
As you might imagine, her comments raised a lot of eyebrows and upset a few others.
What it brought to light, maybe more than anything else, is that there clearly is a rift among the American soccer community regarding this issue.  This will likely continue to be an interesting debate and one that could cause a significant divide.
U.S. Men's all-time leading scorer, Landon Donovan supported Wambach and took to Twitter to share his comments.
https://twitter.com/landondonovan/status/677709666839863296
While most of the current players remain quiet, one took exception on his Instagram account.   Mix Diskarud – a Norweigan-born player who is currently playing for NYCFC in MLS, and for USMNT, including being on the roster of the 2014 World Cup.
Is there common ground here?
The crux of this is – should we continue to embrace foreign born players into the U.S. Soccer player pool?
And to really get even deeper to the heart of the matter, is the U.S. senior team talent pool producing enough top-level home grown talent — and are we doing a good enough job at the youth level?
Apparently Jurgen Klinsmann has not been enamored with where things stand in the U.S. talent pool, and has sought players born in other countries that have U.S. parents.
But lets be honest, this is not something that is exclusive to the U.S.  It's a very common theme in soccer.  Many countries have numerous players hold duel citizenship and who play for a country that they were not born.
We can cite an example of the greatest player in the world — Leo Messi.  If he wanted could have played for Spain — and not his birth country of Argentina.  After all, Messi has lived in Spain since he was 13 years old.  Messi has chosen to play in his birth home, but not the place where he's lived much of his life.
There are so many examples of players that have duel nationalities/citizenship, and with the mostly open and liberal policies in FIFA's rules, many could be lured by one country or another.  Many soccer national federations and players themselves take advantage of playing for the country that benefits them the most and provides them with the opportunities to play in significant International Soccer matches — primarily the World Cup and qualifiers.
Taking it to another level, this is not something exclusive to soccer.  Many Olympic sports, athletes compete for whichever nation they can if it means they can win a gold medal, or win a World Championship — or avenues to professional success.
Did you know U.S. Dream Teamers, Patrick Ewing (1992-Dream  Team I, Jamaican-born) and Hakeem Olajawon (1996-Dream Team II, Nigerian-born) have duel citizenship?
Other rumblings and response last week included those who pointed out that Wambach's USWNT teammate, Sydney Leroux, was Canadian-born.
My point here is that we could go back and forth with this — and hypocrisies could be cited throughout.
Wambach obviously has a lot of pride in coming through the system in the U.S. where it's been advantageous for development of female players thanks mostly to Title IX legislation which has provided female athletes with the opportunities to play sports at a very high level.
Donovan, carrying the torch for many years for the men's side, which has struggled to become a top men's national program, shares the same pride and desire to see the U.S. to really conc
This is an issue that has been an underlying them in the well-played out rift between Klinsmann and Donovan.   It began when LD began playing for Klinsmann in Germany.  Donovan never quite fit in during his time in the Bundesliga, and has been criticized by Klinsmann for leaving Germany, choosing to come back to the U.S. to play in the MLS.
Klinsmann has continued to take issue with other American players who have chosen to play here in MLS as well.
There should be middle ground here.
Why can't we identify that our home grown talent pool still needs to improve — at the same time embracing the fact that players who may be born in other countries that have stronger pedigree, skill level and talent can help provide depth for our Senior teams player pools?
I think a little more patience needs to exercised on all sides too.  From some coaches and scouts that I know (both American and from other countries), I've heard some very positive things about some of the younger (players born after Y2K) player pool that is almost exclusively made up of home-grown U.S. players.
That day is coming when the men's player pool will be deeper and more talented.  It's just a matter of time.
Until then, and unless he really loses control of the team in World Cup qualifying, Klinsmann remains the man for the job for the senior team, whether our most accomplished players are in favor or not.

Riverhounds MF Danny Griffin
Subscribe to PGH Soccer Now