The WPIAL Boys and Girls soccer finals have been held at Highmark Stadium since 2013, and for the first time since PA high school soccer had gone to four classifications, the usual schedule had to be tweaked.
With the Pittsburgh Riverhounds SC hosting its first-ever November home playoff match on Saturday night — the WPIAL adjusted its schedule accordingly, Instead of the usual doubleheaders on Thursday and Friday, and four games on Saturday, the schedule was altered to have two on Thursday, three on Friday and three on Saturday.
As it turned out — all of Saturday's matches — which started a bit earlier at 10 a.m. this year finished up by 4:30 p.m., plenty of time for people to leave, and Highmark Stadium to be ready for the USL Championship playoff match.
Once again, the finals didn't disappoint.
Of the eight matches, six were decided by a one-goal difference (one of those included a 2-0 score with a late goal) — and there were more memorable moments with golden goals, comebacks, heartbreak, and plenty of drama played out all weekend.
Pittsburgh Soccer Now's crew was there for all of it.
Ed Thompson was there for every match — capturing fantastic photos of the action, the atmosphere and, of course, all of the emotion from the three days.
Ed Rosensteel, Matt Popchock and Ryan Kelly also contributed to our coverage as well, and together we were very proud to share all of the excitement from another wonderful three days.
And very special thanks to Kolankowski Insurance Agency for sponsoring our Championship Friday and Saturday Scoreboard/Live Blogs.
WPIAL Championship scoreboard: North Catholic, Mars girls & Franklin Regional boys win titles
Below is one more look back at another memorable WPIAL Finals weekend at Highmark Stadium.
BOYS 4A – CANON-MAC: THE COMEBACK KIDS 
Game report by Matt Popchock
Blame it on the Reign: Big Macs overcome weather, Mt. Lebanon for 3rd title of decade
The Boys 4A classification has provided some thrilling finals matches in recent years — and now four times in the past five years — a team trailing late in regulation somehow rallied to get the equalizer with less than five minutes remaining, then score the game winner in extra time.
It happened again. And it was the same school led by the same coach, that started this run of wild 4A Championship game finishes in 2015.
Canon-McMillan's boys soccer team dealt with its share of adversity this season.
Still, they reached the WPIAL Finals — and even when trailing late in its match to section rivals Mt. Lebanon, a team that had beaten them twice already in the regular season, they pressed on.
Fueled by their team motto, "We Over Me," the Canon-McMillan boys' soccer team found a way past Mt. Lebo when it mattered most.
"We always pick one at the beginning of the season. We decided we were going to stick together, and not play as individuals, and that's where 'We' came from," junior forward Joseph Fonagy said.
Defender Kyle Katreeb left the ball for fellow senior Gladden, and with 62 seconds to play, the midfielder found enough room above the box to launch a 35-yard rocket that went bar down past outstretched goalkeeper Steven Vines, sent half the crowd into delirium and sent the match to a 15-minute, golden-goal overtime.
"Kyle was at right back and won the ball on a tackle at midfield and just sort of found my feet through an open slot, said Gladden. "I just hit it top left, and I had a good touch to frame."
"We just moved a couple guys forward, which we'd done before," Fingers said. "It's something we know how to do, we just had to know when to pull the trigger."
Canon-McMillan would only need 2:06 in overtime to complete the comeback.
That's how long it took Gladden, from deep on the right wing, to leave a cross for Fonagy, whose leaping header beat Vines to make the Big Macs the first South Hills champion of 4A since the WPIAL expanded boys' soccer to four classifications.
"I just saw Lukie cross the ball in, and I knew I'd be the first to it," said Fonagy, playing on a yellow card issued near the midpoint of the second half.
"Once we got that second goal, I knew we were going to get that third right away and end the game.
GIRLS 4A: BUNDY'S ASSISTS SET UP 'THE U' FOR FIRST GIRLS SOCCER TITLE 
Game Report by Ed Rosensteel 
North Allegheny school district — and especially its sports programs — have come to be known in recent years as "The U" — in reference to its large, almost 'University' likened size along with the scope of success within its athletic teams.
Interestingly, North Allegheny had never won a girls soccer title.
Until now.
North Allegheny had to face Norwin, on a windy, spooky Halloween night with the wind whipping up to more than 20 MPH at times.
Norwin's girls program that's certainly familiar with this stage, but it was North Allegheny that rode the strong winds to its backs in the second half to its advantage — scoring twice
Emma Bundy found Pitt commit Sarah Schupansky on the back side to give the Tigers just seven minutes into the second half.
NA didn't let up.
The Tigers stayed on the front foot but couldn't shake the three-time WPIAL champs until the last minute on a counter chance when Bundy found Hannah Kirkpatrick.  On this Halloween night — with the clock ticking away — Kirkpatrick put the nail in the coffin by driving her shot past Norwin's goalkeeper Liz Waszkiewicz with just 1:30 left to play to give NA the commanding 2-0 lead — and its first-ever title.
"Defenders came right at me — and she was there — wide open," Bundy said of the pass that led to the second goal.
And with that, North Allegheny girls soccer has finally reigned supreme.
BOYS 3A: "I CAN'T BELIEVE THAT'S THE WAY IT WENT" — FRANKLIN REGIONAL WINS BACK-TO-BACK TITLES 
Game report by Matt Popchock
It Takes Two: Franklin Regional keeps WPIAL 3A boys' crown from West Allegheny
With his Franklin Regional boys team having just given up a goal which tied the WPIAL Class 3A Boys Final with less than 10 minutes left against West Allegheny, Garrett Beaver was just trying to get in the right place at the right time. As he and his teammates pressured the West Allegheny goal, a poor clearance was redirected by Luke Kimmick — and Beaver was there to pounce on the rebound and drive it past West A's keeper Trevor Day.
"I'm speechless. After scoring that, and to win with all my friends, it's like…I couldn't ask for more. It's an experience," Garrett Beaver said. "You saw me–I could barely run [after the goal]. It's amazing. I'm at a loss for words."
The same could not be said for a misty-eyed Franklin Regional coach Rand Hudson, reveling in the team success resulting from Beaver's individual effort.
It was a year ago around this time, that Beaver learned his father was fighting cancer –a battle he continues fighting today.
"A year ago, when we played here, his dad was told the cancer was back. So, we had a big celebration going home, and they didn't tell anybody, because they didn't want to rain on our parade," Rand Hudson, Franklin Regional's coach, explained, choking up. "He's in a battle now, and I want him to have that, so he knows…we care about him."
"I drive over [the Fort Pitt] bridge all the time. I look down here, and I have good feelings about it. I said, 'I'm so glad we won this time.' They can't drive across that bridge and be like, 'That's when I found out my dad had cancer' again. We had to change it."
"I'm so happy for Garrett. I can't believe that's the way it went. Can't believe it."
Sure enough, Beaver's parents were given the honor of putting his gold medal around his neck.
What a moment.
GIRLS 3A: IMPOSING ITS WILL EARLY, MARS ROLL TO WEEKEND's MOST DOMINANT PERFORMANCE 
Game report by Ed Rosensteel 
Mars coach Blair Gerlach needed to step outside his comfort zone to get his girls prepared for playing a Championship match that would bookend an undefeated WPIAL campaign.
"The biggest factor in the game was going to be how difficult it is to play here (at Highmark Stadium)," Gerlach explained after the match. "Beside the emotional side of things, you've got a train, a boat, the wind — and nobody can hear anything. So, we actually practiced with me not saying anything, so they would have to make decisions on their own. And there's more than capable of doing that, but that's not my style."
But as Gerlich said, his girls were more than capable of doing it on their own.
And oh boy, did they ever.
Mars scored four first half goals in a short period of time, then dominated the match the rest of the way by controlling possession and not allowing a pretty strong Plum side, that had won 14 in a row prior to the match, to have to many chances.
"They're very, very quick. They did a good job of slicing through our defense. We tried to play a little more defensive early, in the first 10-20 minutes," James Stewart, Plum head coach said.
"They're a really good team."
Taylor Hamlett was the recipient of two of those goals — and now Mars turns its attention to the PIAA's as one team that has a great chance to win the entire thing.
2A BOYS: QUAKER VALLEY SHINES THE BIG MOMENTS TO BEAT DEER LAKES, 4-3, IN OT THRILLER  
What is it about 2A Boys Finals matches the past three years?
Once again, it was a wild, wild one.
Quaker Valley's WPIAL finals experiences the two previous years included tough losses to Shady Side Academy in matches that went to overtime — one when they surrendered a bicycle kick goal on a long throw-in, then another giving up a goal in the last minute of regulation, then getting shut down by a goalkeeper on three straight penalty kicks.
This time, Quaker Valley won a thriller of its own.
This match had a little bit of everything. Some controversy, some spectacular goals, lead changes, some high drama — and a lot of something we all enjoy — scoring.
Deer Lakes got things started as one of its defenders, Tyler Tofil, scored in the third minute of the game.
Quaker Valley scored twice in the first half to pull ahead, including Dom Reiter, a Pitt recruit, overpowering a trio of defenders on his way to a terrific strike. Before the end of the half, Keller Chamovitz scored on a 30-yard free kick to give the Quakers a 2-1 lead before the half.
In the second half, Deer Lakes shifted the tide of the match yet again — especially as its talented midfield took over the match by controlling possession.
They finally got the equalizer with terrific work up the right end line by Ryan Rodgers, who shook off a pair of QV defenders, and provided a fantastic assist to Michael Sullivan who buried the close range chance to level the match at 2-2.
Only two minutes after Deer Lakes scored, and seemingly had regained momentum, Rowan Kriebel tallied another go-ahead goal for Quaker Valley with a brilliant strike from 25 yards out.
Down 3-2, Deer Lakes didn't wilt. They stuck with their game — knocking the ball around relentlessly.
"This is the most determined group of players I've ever coached," Dan Yates, Deer Lakes' coach said after the match.
After a through ball and a collision at the top of the box, Deer Lakes' A.J. Dorman took the deflected ball — and sent a low shot inside left post to tied the match at 3-3 in the 68th minute.
From there, both teams tightened up — and things got physical.
Dom Reiter would be sent off (remember in HS soccer they have to sit out for five minutes) with a yellow card for elbowing a defender while jostling for position with six minutes left in regulation.
As the match made its way into overtime, Deer Lakes continued to dictate terms.
"I think that they outplayed us for most of the game, to be fair," Quaker Valley's Andrew Marshall said after the match.
"We knew what they were going to do. They are a good side," Deer Lakes first-year coach Yates said. "They have individual talent. They don't move the ball like we do, and they don't play like we do. So we came in with a game plan. They haven't played a team like us this year. We're high intensity. We go to win the ball. "
And man, that game plan almost produced Deer Lakes' first-ever WPIAL title.
In the second overtime, as they were lining up for a free kick, the officials held up play a bit longer.  After some discussion, Deer Lakes' Devin Murray, one of its key, play-making midfielders, would be sent off.
What exactly was the call?
"He (referee) said to Devon, it was a simulation," a flabbergasted Yates, one who we're learning is not to mince his words, explained after the match. "The guy took Devon out from the side, and booked him for simulation.  It kind of killed us. Devon was controlling the midfield. He was getting on the ball. A yellow card for simulation when a guy just took him out, just killed us. Killed our momentum."
Moments later the Reiter brothers, senior twins who've been through all these battles, came up with the game winning play.
Fritz Reiter delivered a ball over the top of the Lancers defenders, who might have slightly misplayed the ball. The diagonal ball found his twin brother, Dom — who made sure he ended the battle with a clinical strike from 12 yards to give Quaker Valley its eighth overall WPIAL title and second in four years.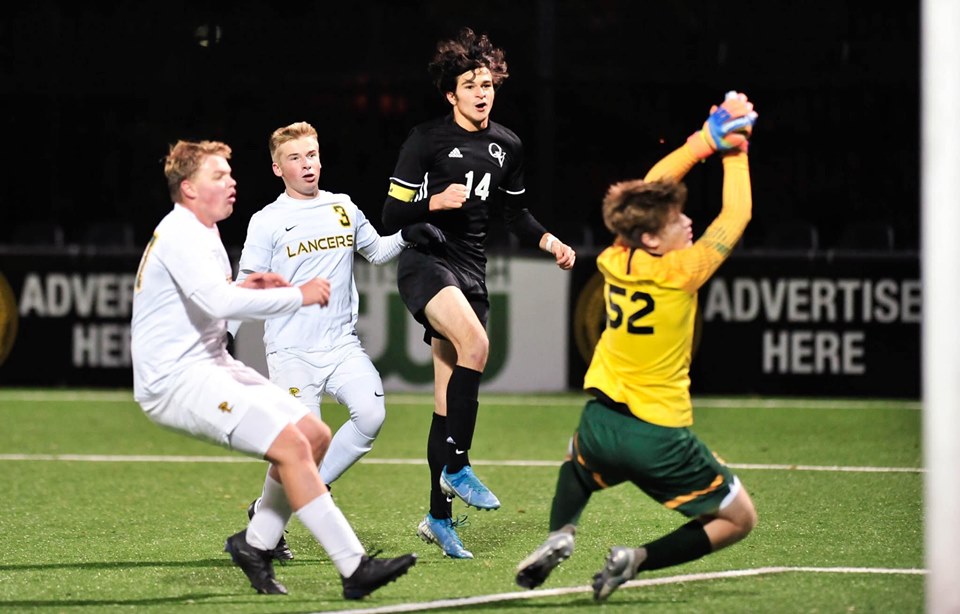 "If the script was written for this game, you'd probably bet Dom would get the game-winner," Marshall said. "So, I'm so happy for him and happy for the boys. But what Coach (Dan) Yates has done at Deer Lakes in a year is pretty fantastic."
It was a release of joy for the Quaker Valley players, especially its senior leaders.
"We've been in those types of positions before," Dom Reiter said of facing the early deficit. "We just acted like it was a 0-0 game, and we had to work our butts off to get back into it and that's what we did."
"The better team lost today, in my opinion," Yates proclaimed. "We'll look to get our revenge at states."
But in the end, the Quakers came out on top in the biggest moment of the match.
"But in those crucial moments we stood up when we needed to, and I think that comes down to leadership and getting a little monkey off our back there,' Marshall added.
2A GIRLS: SHARPLESS IS RIGHT ON TARGET FOR NORTH CATHOLIC 
Game report by Ed Rosensteel
Sharpless' golden goal delivers North Catholic's first WPIAL girls soccer title
Jayden Sharpless delivered the shot.
But her teammate, goalkeeper Andrea Bean made the save.
With both school who'd never played in a district final battling in the first overtime trying to break through for the game winner — the back and forth action saw Yough come so close to claiming its first-ever WPIAL girls soccer title.
Yough's McKenzie Pritts danced around some defenders and got on goal to deliver a hard strike to the right of North Catholic goalkeeper Andrea Bean. A quick reaction save from Bean denied Pritts and kept the match tied at zero.
"She saved the game for us. She won the championship for us there," North Catholic's head coach Emily Karr said. "That was the best save I've ever seen her make right there. Point blank. That's something she's come into. She hasn't always made the big save, but she's matured so much this year. And really turned into a standout keeper, and to finally get some recognition for that is great."
The second overtime provided the opportunity for WPIAL's leading girls goal scorer last year (as a freshman at her previous school, Freedom), to come through with a deadly free kick that came on a second chance after Yough defender moved into within 10 yards on her first attempt.
"It was my shot," Sharpless proclaimed with a smile.
here's the game winner from Jayden Sharpless that give North Catholic girls it's first-ever WPIAL soccer title, to beat Yough, 1-0 in 2OT pic.twitter.com/GzLSbyGIa5

— John Krysinsky (@PghSoccerScribe) November 2, 2019
1A BOYS: WARD's BRILLIANT STRIKE DELIVERS GCC's FIRST TITLE IN 10 YEARS 
Game Report by John Krysinsky 
Ward's brilliant strike lifts Greensburg Central Catholic to WPIAL title
In a tightly contested match, sometimes it takes a special player to create a special moment that can be the difference.
Greensburg Central Catholic's Nate Ward did exactly that to lift his team.
The senior and Indiana University recruit, score the game's lone goal. It wasn't just a put back or something that came by way of a defensive mistake.
No, Ward and GCC needed to make a brilliant play to finally solve a tough Winchester Thurston side.
A clever 1-2 between Ward and Mason Fabian led to a left-right move by Ward toward the right edge of the six-yard goal box. Normally, taking a shot from that point would be difficult to pull off, especially with two defenders breathing down your neck, and a goalkeeper coming out to take away the angle.
That didn't faze Ward.
"Mason gave me a great give and go there," Ward said, deflecting the credit. "We really came together as a team. I was thinking, hit it. You're that close. You just have to test the goalie sometimes. If you miss it, you keep coming."
"We practiced a lot this week on how to attack Diede (Diederik-Paul Schlingemann), a really good player," GCC's Head Coach Tyler Solis said after the match, and praising his star player.
"He loves that move. It was left, right. He goes right between two defenders. But when it got to his right foot, I knew he was going to finish it. It was teamwork in getting the ball there, but it was also a great individual effort."
 GIRLS 1A: SHADY SIDE 
Game report by John Krysinsky 
Shady Side holds off section rival Greensburg Central Catholic to capture 4th WPIAL title
After a one-year hiatus from the Girls 1A final — both Shady Side and Greensburg Central Catholic, returned to Highmark Stadium.
The section rivals were the only two schools since the start of this lower classification in 2010, to win the WPIAL until last year's Freedom squad rolled to the win at Highmark Stadium,
It was a typical tight battle, but Shady Side controlled much of the match, and Melissa Riggans scored a goal and had an assist in the first half, and her team held on after GCC made some changes — and scored an early second half goal to assure that this would be yet another frantic finish between the two rivals, but the Indians held on for the 2-1 win.
To throw out one of those sports cliches that rings true — defense wins championships, and when they needed to — Shady Side girls locked down GCC's skilled midfield when it counted.
"In the end, they were pressuring us, Greensburg had some chances. All we asked from them was to leave it all out there," Mary Lynch, Shady Side's Head Coach said. "We expected them to come out with more firepower. But our defensive did a great job of shutting them down."
Riverhounds MF Danny Griffin
Subscribe to PGH Soccer Now