What is it about WPIAL Class 2A Boys Finals matches the past three years?
Once again, we were treated to a wild, wild one on Friday night at Highmark Stadium.
Quaker Valley's WPIAL finals experiences the two previous years included tough losses to Shady Side Academy in matches that went to overtime — one when they surrendered a bicycle kick goal on a long throw-in, then another giving up a goal in the last minute of regulation, then getting shut down by a goalkeeper on three straight penalty kicks.
This time, Quaker Valley would win a thriller of its own.
This match had a little bit of everything.
Some controversy, some spectacular goals, multiple lead changes, some high drama — and a lot of something we all enjoy — scoring.
Deer Lakes got things started as one of its defenders, Tyler Tofil, scored in the third minute of the game.
Quaker Valley scored twice in the first half to pull ahead, including Dom Reiter, a Pitt recruit, overpowering a trio of defenders on his way to a terrific strike. Before the end of the half, Keller Chamovitz scored on a 30-yard free kick to give the Quakers a 2-1 lead before the half.
In the second half, Deer Lakes shifted the tide of the match yet again — especially as its talented midfield took over the match by controlling possession.
They finally got the equalizer with terrific work up the right end line by Ryan Rodgers, who shook off a pair of QV defenders, and provided a fantastic assist to Michael Sullivan who buried the close range chance to level the match at 2-2.
Only two minutes after Deer Lakes scored, and seemingly had regained momentum, Rowan Kriebel tallied another go-ahead goal for Quaker Valley with a brilliant strike from 25 yards out.
Down 3-2, Deer Lakes didn't wilt. They stuck with their game — knocking the ball around relentlessly.
"This is the most determined group of players I've ever coached," Dan Yates, Deer Lakes' coach said after the match.
After a through ball and a collision at the top of the box, Deer Lakes' A.J. Dorman took the deflected ball — and sent a low shot inside left post to tie the match at 3-3 in the 68th minute.
From there, both teams tightened up — and things got physical.
Dom Reiter would be sent off (remember in HS soccer they have to sit out for five minutes) with a yellow card for elbowing a defender while jostling for position with six minutes left in regulation.
As the match made its way into overtime, Deer Lakes continued to dictate terms.
"I think that they outplayed us for most of the game, to be fair," Quaker Valley's Andrew Marshall said after the match.
"We knew what they were going to do. They are a good side," Deer Lakes first-year coach Yates said. "They have individual talent. They don't move the ball like we do, and they don't play like we do. So we came in with a game plan. They haven't played a team like us this year. We're high intensity. We go to win the ball. "
And man, that game plan almost produced Deer Lakes' first-ever WPIAL title.
In the second overtime, as they were lining up for a free kick, the officials held up play a bit longer.  After some discussion, Deer Lakes' Devin Murray, one of its key, play-making midfielders, would be sent off.
What exactly was the call?
"He (referee) said to Devon, it was a simulation," a flabbergasted Yates, one who we're learning is not going to mince his words, explained after the match. "The guy took Devon out from the side, and booked him for simulation.  It kind of killed us. Devon was controlling the midfield. He was getting on the ball. A yellow card for simulation when a guy just took him out, just killed us. Killed our momentum."
Moments later the Reiter brothers, senior twins who've been through all these battles, came up with the game winning play.
Fritz Reiter delivered a ball over the top of the Lancers defenders, who might have slightly misplayed the ball. The diagonal ball found his twin brother, Dom — who made sure he ended the battle with a clinical strike from close range on the left side of the box to give Quaker Valley its eighth overall WPIAL title and second in four years.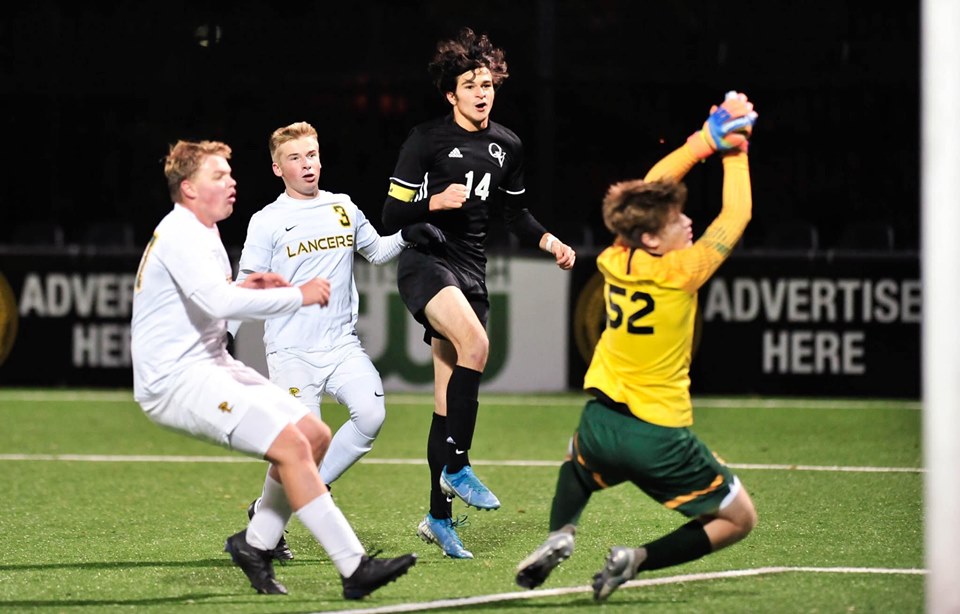 "If the script was written for this game, you'd probably bet Dom would get the game-winner," Marshall said. "So, I'm so happy for him and happy for the boys. But what Coach (Dan) Yates has done at Deer Lakes in a year is pretty fantastic."
It was a release of joy for the Quaker Valley players, especially its senior leaders.
"We've been in those types of positions before," Dom Reiter said of facing the early deficit. "We just acted like it was a 0-0 game, and we had to work our butts off to get back into it and that's what we did."
"The better team lost today, in my opinion," Yates proclaimed. "We'll look to get our revenge at states."
But in the end, the Quakers came out on top in the biggest moment of the match.
"But in those crucial moments we stood up when we needed to, and I think that comes down to leadership and getting a little monkey off our back there,' Marshall added.
MORE PHOTOS FROM ED THOMPSON 
This slideshow requires JavaScript.
Riverhounds MF Danny Griffin
Subscribe to PGH Soccer Now