USL Championship – Atlantic Division
FINAL: Riverhounds SC 1, Red Bulls II 0
Game Stats: USL Championship Match Center
Summary
In a physical fourth match of the season between Atlantic Division rivals, the Pittsburgh Riverhounds SC made the most of a set piece opportunity to defeat the New York Red Bulls II 1-0 at Highmark Stadium on Wednesday evening.
With the win, the Riverhounds now improve to 13-6-4 overall, good for 43 points as they take over the top spot in the Division.  The Hounds completed a four-game sweep of the Baby Bulls, the first time in club history they've accomplished this feat of beating the same team in a season four times.
It was Jelani Peters who converted a Kenardo Forbes corner kick in the 33rd minute to give Pittsburgh the goal that would hold up.
"With how tall I am, just running in and jumping is going to be an advantage on a corner," Peters said. "Kenny put a great ball in, and I was happy that I was able to get my head on it and get the game-winner."
Jelani Peters with the towering header to break the deadlock 🔒#PITvNY | @RiverhoundsSC pic.twitter.com/QkGzWyxChk

— USL Championship (@USLChampionship) September 1, 2021
"We haven't scored off corners as much as we would like, so it was nice to get a goal," Riverhounds coach Bob Lilley said. "It was an important game for us to get the three points. It's a home game. We didn't play great, but we've played a lot of games recently, so just to get through this one was good."
This was a match that featured a lot of whistles, including 34 total fouls (17 apiece), and five total yellow cards (Hounds had three of those.)
"I felt like it was borderline reckless at times, but that's part of the game," Lilley added. "It's just the way the game was being called."
Danny Vitiello made two saves to record his fifth shutout of the season and 10th of his career, all with the Hounds, which moves him into the top five for shutouts in team history.
How It Happened 
First half
A chippy game broke out, with each team being whistled for 17 fouls in the match and Hounds players Tommy Williamson and Shane Wiedt seeing yellow cards in the first 18 minutes of the match.
At the center of the Hounds' early chances was leading scorer Russell Cicerone, who broke free along the goal line and poked a pass across goal in the 24th minute, only to have the ball roll all the way across just 4 yards from the goal line.
Finally, the Hounds got on the board with the goal headed across the frame and inside the far post by Peters, which was the Hounds' first goal directly from a corner kick this season. Forbes served the ball from the right corner for his sixth assist of the season and team-record 31st with the Hounds, and for Peters, it was his first goal since making the move to USL with Toronto in 2017.
Second half
Things started slow, and New York pressed the action holding the ball, as they finished with 58 percent of possession.
The visitors' best chance of the game came in the 65th minute, when a ball was played across to substitute Luther Archimede, but he pushed the close-range effort wide of the post with Vitiello scrambling across. The Hounds mostly kept Red Bulls II out of dangerous areas, however, limiting the visitors to just three total shots.
In the 77th minute, defender Jordan Dover entered the match as a substitute for the Hounds, as the team's joint-most-tenured player (with Forbes) made his first appearance since June 12 because of a lingering lower-body injury.
"He did well for us the last 15 minutes, getting us possession and intelligently reading the game," Lilley said. "His experience helped us close out that game."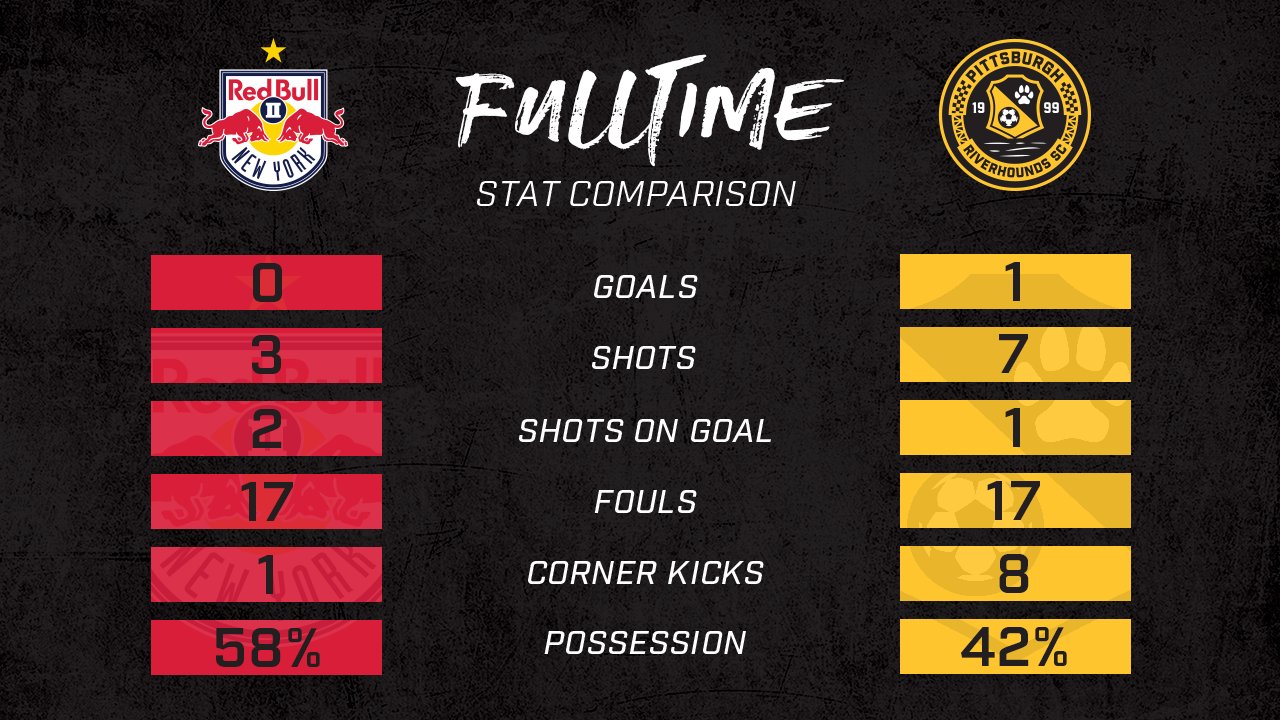 Riverhounds SC lineup (3-4-3) — Danny Vitiello; Preston Kilwien, Shane Wiedt, Jelani Peters; Tom Judge (Ezra Armstrong 45'), Danny Griffin, Dani Rovira (Jordan Dover 77'), Alex Dixon (Louis Pérez 90+1'); Russell Cicerone, Tommy Williamson (Todd Wharton 60'), Kenardo Forbes (Anthony Velarde 77')
New York Red Bulls II lineup (4-4-2) — Luca Lewis; JC Cortez (Curtis Ofori 71'), Emir Tombul, Mike Knapp (Luther Archimede 59'), Juan Castillo; Jake LaCava (Nico Rabiu 82'), Daniel Edelman, Kyle Zajec (Sam Williams 72'), Jeremy Rafanello; Omar Sowe, Serge Ngoma (Mathias Jørgensen 71')
Scoring summary
PIT — Jelani Peters 32' (Kenardo Forbes)
Discipline summary
PIT — Tommy Williamson 10' (caution – unsporting behavior)
PIT — Shane Wiedt 18' (caution – persistent infringement)
NY — Michael Knapp 34' (caution – unsporting behavior)
PIT — Tom Judge 45' (caution – unsporting behavior)
NY — Luther Archimede 90' (caution – unsporting behavior)
---
Gameday Updates
Look for starting lineups and gameday coverage updates, highlights and postgame reaction to be posted here.
---
FINAL —  RIVERHOUNDS SC 1, NY Red Bulls II 0
90′ – Louis Perez is the Hounds' final substitute coming into the game, as he replaces Alex Dixon. At the same break, we get the indication of 3 minutes of stoppage time.
86′ – Castillo down momentarily after leaping over Dover going for a 50/50 ball. He gets the call, much to the consternation of the crowd and Lilley.
77′ – Two more Hounds changes. Jordan Dover makes his return from injury, replacing Dani Rovira. Anthony Velarde replaces Kenardo Forbes, and the captain hands the armband to Dover on his first game back. 1-0 Hounds
Perfect view of the nice defensive coverage by @Ezarms98!#UNLEASH #PITvNY https://t.co/dMucggSOtO

— Pittsburgh Riverhounds SC (@RiverhoundsSC) September 1, 2021
68′ – Hounds with a couple threatening moments from another corner kick, but NY manages to clear. The sequence ends with Alex Dixon trying a volley, but he comes nowhere close with the high-degree-of-difficulty shot.
65′ – Golden opportunity for Red Bulls II, but Archimede pushes the close-range effort wide of the post with Vitiello scrambling to get across.
60′ – Todd Wharton enters the game, replacing Tommy Williamson, who was sitting on a yellow.
45′ – One halftime change to report: Ezra Armstrong has entered for the Hounds; he will replace Tom Judge on the left side.
HALF — RIVERHOUNDS 1, NY RED BULLS II 0
Been a physical match. Four yellow cards (3 to Hounds). 21 total fouls (Hounds w/10) The trainers have been busy making a few visits on the field for a few bloody knocks (for Hounds Tom Judge & Tommy Williamson)
44′ – Riverhounds Tom Judge booked for yellow card for dangerous challenge
34′ – Michael Knapp booked for NY, as he got the ball but then took out Cicerone with the second leg through on a sliding tackle.
33′ — GOAL — RIVERHOUNDS SC – Jelani Peters
Jelani Peters with header from a corner kick.
I believe it's the first goal of the season for a Hounds defender on a set piece.
30′ – Vitiello takes a high boot from an NY player on a header back from Peters, and players from both teams (and the crowd) are furious. NY wanted a no call, Hounds want a card. It seems the ref will take no extra action other than giving the free kick.
24′ – So close, but no one home! Cicerone gets to the goal line and pokes a ball that rolls all the way through the goal box, but it's behind Forbes and no one is at the far bar for the tap-in!
21′ – Forbes lays a pass back to Griffin inside the arc, but Danny can't get his shoulders over it, and the shot sails over.
18′ – Second caution of the game for the Hounds already, this one to Shane Wiedt. He gets it for his second foul after a warning on the previous.
11′ – Williamson is booked for the last play, while both he and Daniel Edelman, the NY player down on the play, will be able to continue.
Hounds starters…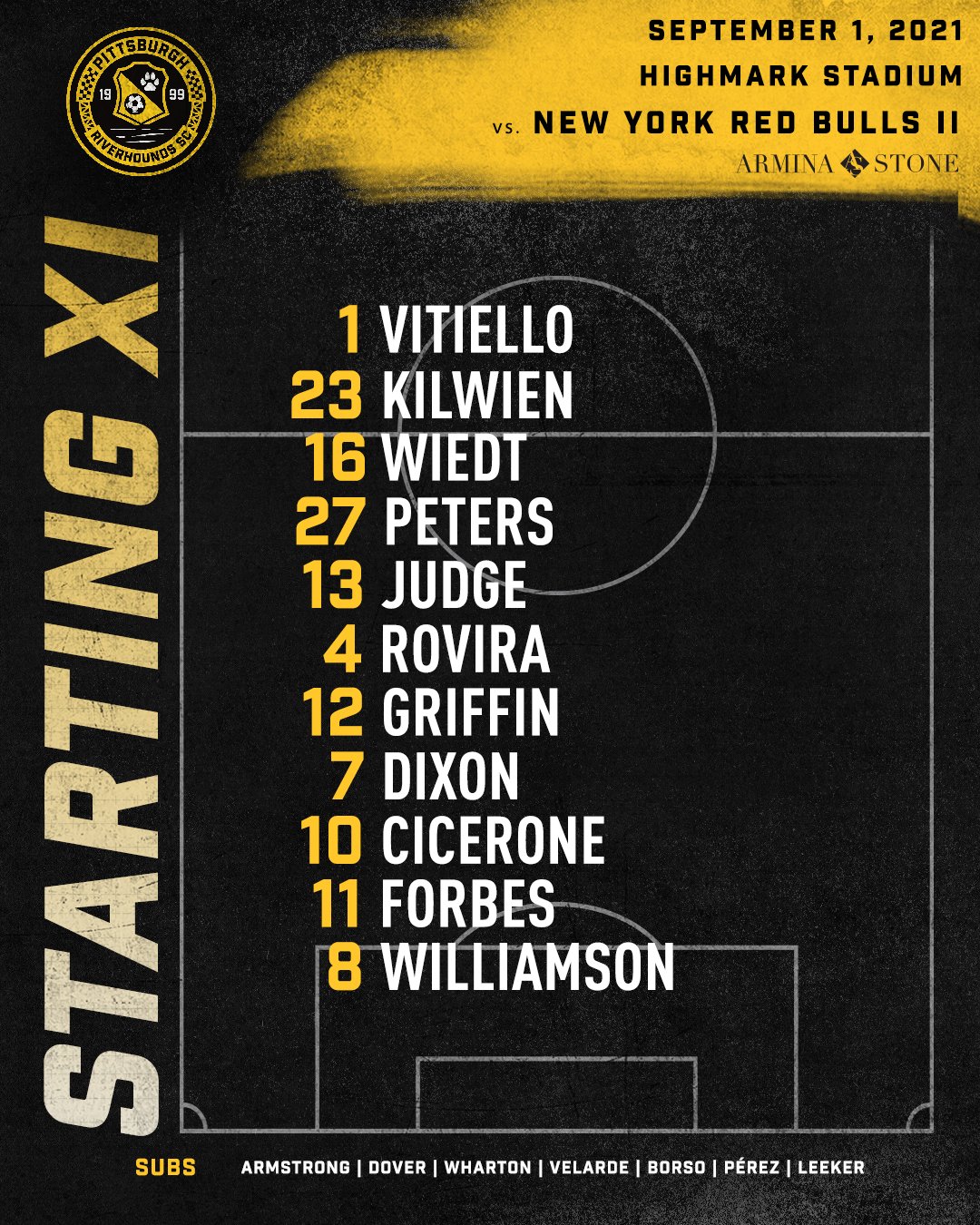 Red Bulls II starters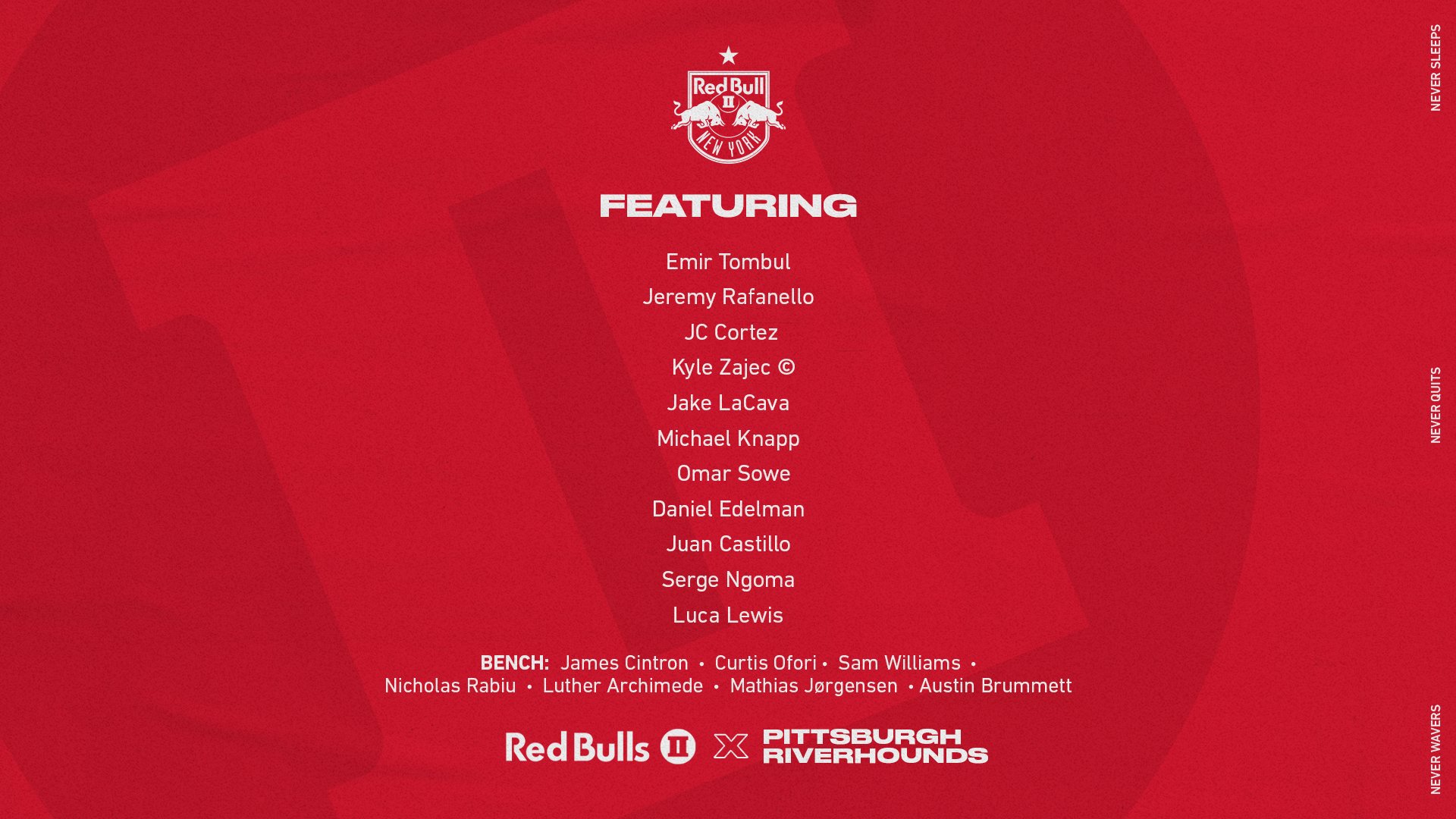 10:30 a.m. — It appears that the rain will be tapering off and the skies wil clear slightly before kickoff tonight at 6 p.m.
From earlier in the week — Here's the Hounds injury report…
Already getting @RiverhoundsSC injury report ahead of Wednesday evening's match vs @NYRBII

OUT
Albert Dikwa (groin)
Jordan Dover (lower body)
Josh Gatt (knee)
Jalen Robinson (lower body)#PITvNY

— John Krysinsky (@JohnKrysinsky) August 30, 2021
A couple things in your favor:

1. Looks like the rain will move out a little before kickoff.

2. The drainage on the field is quite good.

3. Sugar Free Redbulls are trash

— Steel Army (@SteelArmy) September 1, 2021
Preview / PSN Riverhounds SC Coverage 
Mark Goodman's preview of NY Red Bulls II earlier this season…
Riverhounds SC Game Notes 
These clubs meet for the fourth and final time this season, making New York the first Atlantic Division opponent the Hounds will complete their season series against. With wins of 3-0 and 3-1 in New Jersey and a 2-1 win in Pittsburgh, the Hounds now have won five straight against the Baby Bulls dating back to last season.
New York will be no easy out, however, despite having lost its past six matches to slip from playoff contention. Red Bulls II has a high-pressing style that causes issues for the best of teams, and dangerous young attacking players, such as forward Omar Sowe (6 goals, 1 assist) and midfielder Jeremy Rafanello (4 goals, 5 assists).
The Hounds have never beaten an opponent all four times they have met in the same season.
Though Hounds coach Bob Lilley is expected to rotate his lineup somewhat with the team traveling to San Antonio for a Saturday match just 73 hours later, he is somewhat limited with the same four players — Jordan Dover, Albert Dikwa, Jalen Robinson and Josh Gatt — remaining out and leaving him with only 17 healthy field players.
Russell Cicerone (13 goals, 4 assists), who has five goals in his past two matches and has made the USL Championship Team of the Week twice in a row, is expected to lead the line again with Alex Dixon (7 goals, 7 assists) presenting danger down the flank.
Sounding Off on Soccer: Riverhounds Road Woes
Subscribe to PGH Soccer Now