SL Championship Eastern Conference
Pittsburgh Riverhounds SC 1, Detroit City FC 1
Match Stats: USL Championship Match Center |
Match Summary
It was a tale of two halves, as the Pittsburgh Riverhounds SC played Detroit City FC to a 1-1 draw on Saturday afternoon at Keyworth Stadium in Hamtramck, Michigan.
With this result, the Hounds now post a 2-0-1 record, while Detroit now holds a 1-1-1 record in their first season in USL Championship.
"It's tough. I thought we played pretty well," Riverhounds SC Head Coach Bob Lilley said after the match. "Detroit deserves a lot of credit. They put plenty of dangerous balls into the box. They changed the momentum in the second half. They started to become more and more dangerous and we needed to become more stoudt defensively.  We started to react to the game rather than get on the front foot.  Sometimes that momentum changes. Balls bounce around. Things happen that you don't want to happen. It was there for us. It feels like we let some points get away."
Following a corner kick in the 18th minute, Albert Dikwa's first half goal gave the Hounds a 1-0 lead.
Despite being outpossessed, the Hounds controlled play in the first 45 minutes, with seven shots, three on frame, while shutting down the Detroit City FC attack, limiting the home side to one shot.
Hounds Head Coach Bob Lilley dipped deeper into his roster in this road match, giving numerous players their first starts of the season (veterans Dani Rovira and Dikwa) and for a few (Nathan DosSantos, Silva and Wyatt Borso)– their first starts as professionals.
The second half, Detroit started to play its way back into the match, as they started to keep possession deeper into the final third.
DCFC came out more sharply and had a chance to level nine minutes after the break when Rhys Williams fired over the crossbar after being played in by Antoine Hoppenot.
In the 58th minute, the Hounds averted danger when Antoine Hoppenots shot attempt was deflect off defender Nathan DosSantos left side — and replay showed it may have hit his hand.
More pressure came in the 72nd minute when Danny Griffin was called for a foul in the box when Detroit City FC attempted to redirect the ball toward goal.
Maxi Rodriguez Detroit leveled the match, converting the penalty kick attempt to beat Hounds GK Kevin Silva.
"We dealt with it pretty well," Lilley explained in how his team handled Detroit's second half pressure.
"It's tough to take a penalty.  It's tough to see that. There's no danger. There's two guys coming together. Player goes down — it's a tough way to give up a goal."
The Hounds late push included a chance late in the match with a free kick and corner attempts taken by Kenardo Forbes, who entered the match in the 61st minute, but both times, his service was cleared and well defended by DCFC.
The teams' ended the match even on shots (7-7, but the Hounds had 3-1 edge with shots on target), while Detroit City FC held the possession advantage with 57 percent of the ball
"I think it was the most consistent performance over the 90 minutes," Riverhounds SC Head Coach Bob Lilley said.
"I am disappointed we broke their midfield line a lot, and didn't end up with a chance at more opportunities. The cross or the pass wasn't good enough. The quality was lacking a little there, but some of the build up play was good and the defending was very, very good in the first half. Not as good in the second half, they were able to get in behind us and get a lot of service."
Pittsburgh returns home to take on Loudoun United FC on Saturday, April 2 at Highmark Stadium.
Gameday Updates
We'll have the starting lineups here shortly before kickoff.
---
FINAL — RIVERHOUNDS SC 1, DETROIT CITY FC 1
90′ +++ — Kenardo Forbes with a free kick after a quick Hounds counter. Then a corner, but the match ends as both attempts are cleared away.
87′ — Decent chance for one of the newest Hound, Luis Argudo. who misses his shot from outside the box — as it goes wide right.
75′ — SUBS
Substitution, Detroit City FC. Billy Forbes replaces Pato Botello Faz.

 Luis Argudo replaces Albert Dikwa.

William Eyang replaces Russell Cicerone.

Angelo Kelly-Rosales replaces Marc Ybarra
73′ — GOAL — DETROIT CITY FC 1, HOUNDS 1
72' – As per usual, @MaxiRodrigue21 NAILS the penalty kick!

1-1 out here! ⚜️#DETvPIT | #DCTID pic.twitter.com/c3Ek1dzszv

— Detroit City FC Men's Matchday (@DetroitCityFCM) March 26, 2022
Maxi Rodriguez Detroit levels the match — and really has the momentum now with a PK goal. Slots it to the left inside post to beat Hounds GK Silva.
Hounds foul coming from Danny Griffin who was the guilty party.
68′ – Marc Ybarra now picks up a yellow card for the Hounds… not sure if they pegged him for that foul or being a repeat offender.
61′ — Detroit's been more patient. Playing ball on the ground and less giveaways this half. 
SUB – Hounds counter now by bringing in Kenardo Forbes, in for Wyatt Borse, who can really help with extending possession.
61′ – Also got late confirmation that Antoine Hoppenot for Detroit was carded in the penalty protests a few minutes ago. First card of the game, which is a refreshing change
58′ — HANDBALL??  No call but it was close. Nathan DosSantos in box makes contact on Antoine Hoppenot's shot attempt.
54′ — Williams gets behind Hounds back line, but rushes a shot — excellent job by Arturo Ordonez in closing him down. We've seen Arturo do that so often in his years playing for @Pitt_MSOC.
50′ — DosSantos with a bump of Hoppenot in the box that knocks him overThe veteran midfielder and former Harrisburg City Islander wanted a call, but it was the right call.
46′ – Second half off and running, and an early offside flag against Dikwa kills off a promising chance. 1-0 Hounds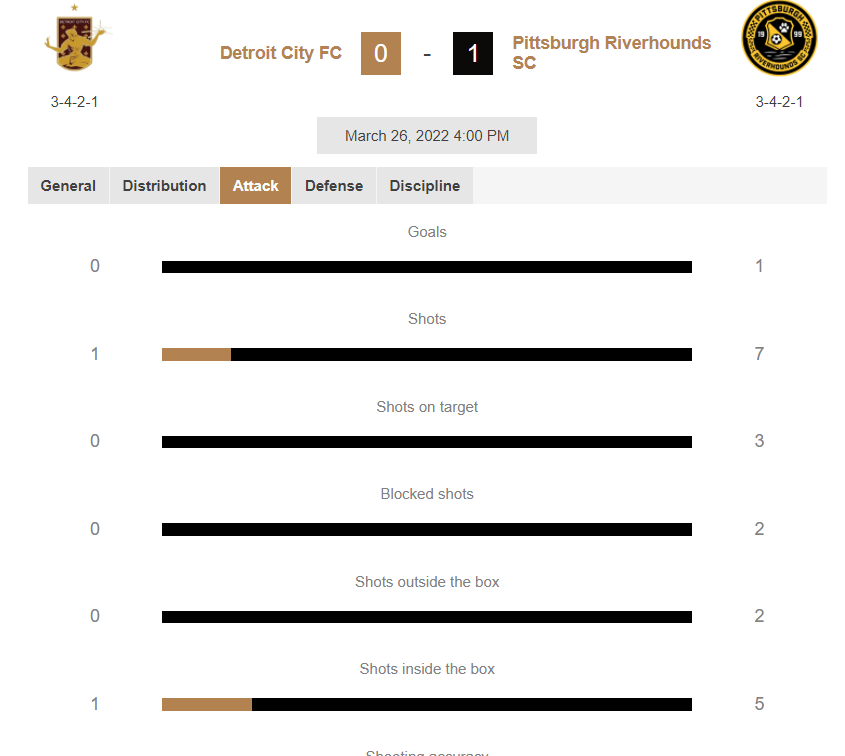 HALF
HALF@RiverhoundsSC 1 @DetroitCityFC 0

Hounds are controlling the midfield, shutting down the flanks and a timely goal from Alex Dikwa (2nd of season) has them in control. #DETvPIT

— John Krysinsky (@JohnKrysinsky) March 26, 2022
A lot like the Memphis game, the Hounds are conceding possession, yet doing a great job taking away any threat from the width of the field and also backs/MFs well positioned/anticipating passes (14 interceptions!)#DETvPIT

— John Krysinsky (@JohnKrysinsky) March 26, 2022
Big Dikwa energy! Hounds 1-0 at 18'. #DETvPIT #COYH #PRSC

— Adam Yacono (@whyadamwhy) March 26, 2022
17′ — GOAL – RIVERHOUNDS SC – Albert Dikwa
Dikwa pokes it home after Detroit is unable to handle the corner kick!

1-0!#DETvPIT #HOUNDTAHN pic.twitter.com/tJzyn8FZTL

— Pittsburgh Riverhounds SC (@RiverhoundsSC) March 26, 2022
Hounds starting XI…
Interesting lineup and first starts for rookies DosSantos, Silva and for @HoundsAcademy product Wyatt Borso.

No Dixon, Forbes or Dane Kelly in starting XI#PITvDET https://t.co/xYM0Rj7cHT

— John Krysinsky (@JohnKrysinsky) March 26, 2022
Keyworth Stadium and the view just behind Keyworth Stadium pic.twitter.com/Is1E0CTUFW

— Steel Army (@SteelArmy) March 26, 2022

Key Storyliness / Preview
It's been a pretty busy week on our end, as we've provided a good share of content ahead of this week's match in Detroit, as the Hounds go for the first-ever 3-0-0 start in team's 23-year history.
The Hounds will be facing the USL Championship Eastern Conference's newest team, with a rabid fan base we featured in this week's edition of Hounds Notebook. The Steel Army will also be on hand in Hamtramck, traveling with a decent sized group to Michigan.
Be sure to check out Mark Goodman's scouting report of DCFC.
PSN Riverhounds SC vs Detroit City FC Coverage
In addition to some of our pregame coverage, the Hounds signed two more players to the roster this week, midfielder Luis Argudo and goalkeeper Jahmali Waite.
Hounds Notebook: Revvin' up for early season trip to Motown, where Bob Lilley once held the keys to The Ignition
Ahead of Hounds' road challenge at Detroit, Lilley acknowledges 'We need to play much better'
Riverhounds SC sign former Columbus Crew midfielder Luis Argudo
Riverhounds MF Danny Griffin
Subscribe to PGH Soccer Now