Riverhounds SC 1, New Mexico United 1
Match Stats: USL Championship Match Center
Match Summary
The Riverhounds SC and the New Mexico United, two teams that came into their inter-conference match-up with 33 points apiece, both in fourth place in their respective conference standings played to a hard-fought draw in the first meeting ever between the sides at Isotopes Park in Albuquerque, NM, on Saturday night.
The United's Jerome Keisewetter scored in the the first minute of the match, taking advantage of a Hounds giveaway.  The Hounds responded in the second half when Dane Kelly broke out of his goal scoring drought, to come off the bench to deliver the equalizer in the 75th minute.
In the first minute of the match, Hounds defender Shane Wiedt played a ball right back to the United, which turned into a quick three-on-one break into the final third.
Former Hound Neco Brett spotted Keisewetter breaking into the box, and the New Mexico forward had an easy finish.
The Hounds were held in check until a pair of subs helped spark the effort to get the game's tying goal.  Angelo Kelly-Rosales connected with Russell Cicerone to get the ball into the edge of the box. From there, Cicerone laid a perfect through ball that caught Dane Kelly in stride.  The USL Championship's all-time leading goal scorer took a clever touch to beat his defender and goalkeeper Alex Timbakis for the goal.
.@dane_kelly99 ties the game!#NMvPIT | @RiverhoundsSC pic.twitter.com/vdkLolbEc3

— USL Championship (@USLChampionship) July 17, 2022
It was the first-ever meeting between the teams, and the Hounds notched a point in the standings battling 98-degree heat and at 5,100 feet above sea level — the highest elevation for a match in team history.
---
First half
The biggest moment of the half occurred just 51 seconds into the match, when former Hounds striker Neco Brett intercepted a pass out of the Hounds defense from Shane Wiedt.
Brett quickly spotted Kiesewetter moving down the right side and sent his strike partner toward goal with a through pass. Kiesewetter was on target with his low shot to the left corner, putting the hosts ahead.
The Hounds thought they had pulled even in the 21st minute when Russell Cicerone put away the rebound of a long-range shot by Danny Griffin, but the offside flag was raised against Cicerone.
Six minutes later, Alex Dixon got behind the defense down the right side, but with no options for a pass, he elected for a sharp-angled shot that skimmed across the face of goal and wide.
Second half
New Mexico nearly pulled further ahead in the 60th minute after a good team move forward that ended with Josh Suggs hitting the top of the crossbar from the left side of the box. Moments later, Hounds coach Bob Lilley went to his bench; he made four changes in the next 10 minutes, including introducing Kelly in the 62nd minute.
The moves paid off, as another substitute, Angelo Kelly, fed a pass forward to Cicerone, who deftly redirected the ball behind the New Mexico defense to hit Dane Kelly in stride for a one-touch finish. The 75th-minute goal was Dane Kelly's seventh of the season and ended a 10-match scoring drought for the USL Championship's all-time leading scorer.
Cicerone nearly gave the Hounds the lead two minutes later by pouncing on a New Mexico turnover on the bumpy infield dirt, but his shot was saved by onrushing goalkeeper Alex Tambakis.
Stoppage time saw each team get one final chance, as a volley by Sam Hamilton missed narrowly wide for New Mexico, and a late Dane Kelly header of a Marc Ybarra free kick was equally close for the Hounds.
Look for a more detailed recap to follow later along with Post Match Reaction to follow on Pittsburgh Sports Live.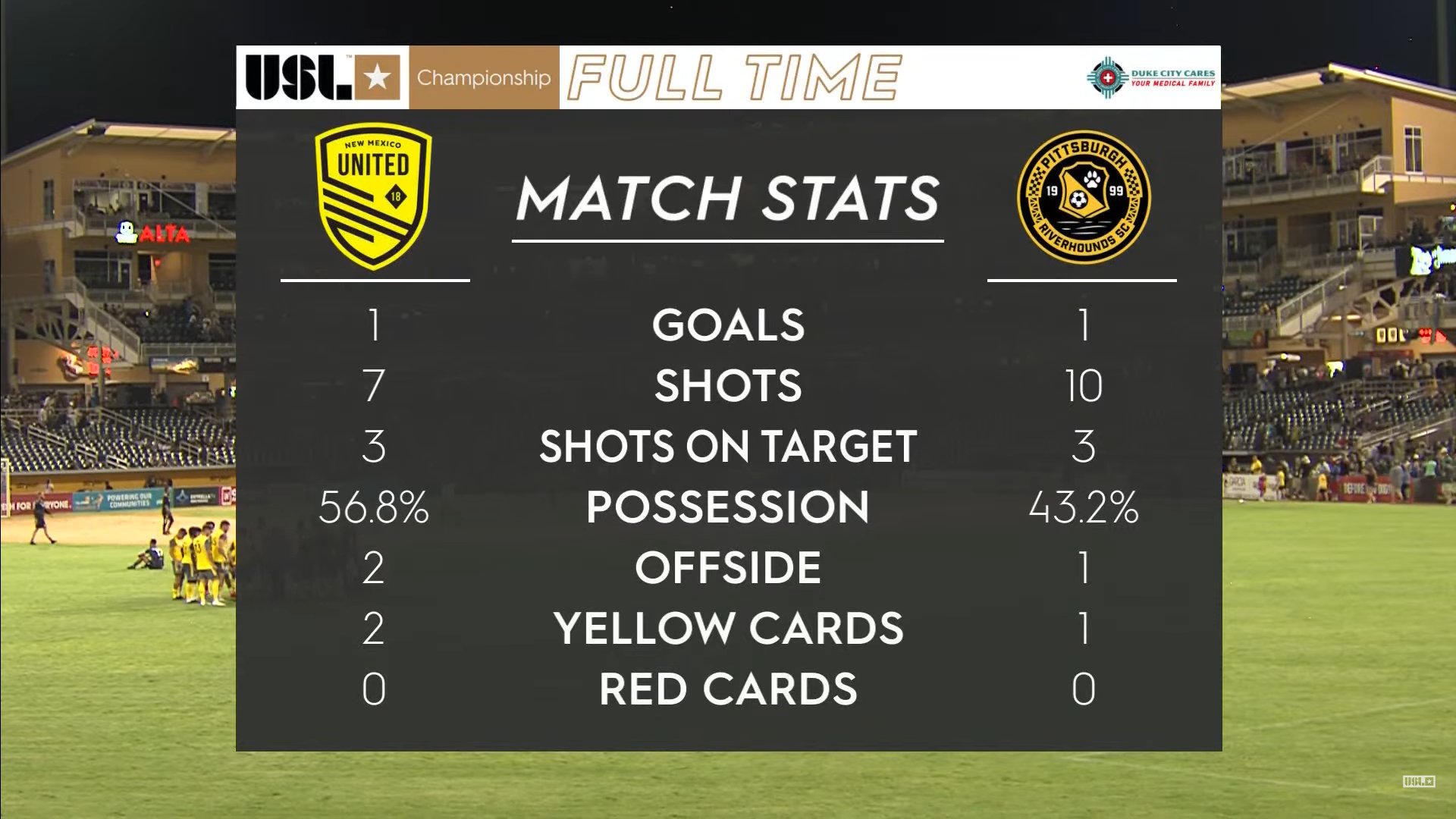 Expected Goals via Opta@NewMexicoUTD – 0.68@RiverhoundsSC – 1.42

Shared points between the teams that entered the day in fourth place in their respective conferences, but #HOUNDTAHN might be disappointed not to have grabbed a winner. #NMvPIT https://t.co/2HTVTkHoi1

— Nicholas Murray (@NJEMurray) July 17, 2022
What's next?
The Hounds remain on the road to complete their final set of back-to-back away matches when they visit Hartford Athletic at 7 p.m. Saturday, July 23, at Dillon Stadium in the Connecticut capital. Hartford (4-11-4) dropped a 3-1 match earlier tonight at the Charleston Battery.
---
Riverhounds SC lineup (5-2-1-2) — Jahmali Waite; Nate Dossantos (Luke Biasi 84'), Jelani Peters (Marc Ybarra 70'), Arturo Ordóñez, Shane Wiedt (Mekeil Williams 70'), Alex Dixon; Dani Rovira (Angelo Kelly 62'), Danny Griffin; Kenardo Forbes; Russell Cicerone, Albert Dikwa (Dane Kelly 62')
New Mexico United lineup (3-5-2) — Alex Tambakis; Alexis Souahy, Kalen Ryden, Rashid Tetteh (Tabort Etaka Preston 84'); Justin Portillo, Josh Suggs, Harry Swartz (Daniel Bruce 70'), Will Seymore, Sam Hamilton; Neco Brett (Sergio Rivas 70'), Jerome Kiesewetter
Scoring summary
NM — Jerome Kiesewetter 1' (Neco Brett)
PIT — Dane Kelly 75' (Russell Cicerone)
Discipline summary
NM — Sam Hamilton 12' (caution – unsporting behavior)
PIT — Nate Dossantos 57' (caution – unsporting behavior)
NM — Harry Swartz 62' (caution – unsporting behavior)
Match Day Updates 
Final – Riverhounds and NM United draw 1-1. Kiesewetter and Dane Kelly are the goal scorers. Over 12,000 in attendance in Albuquerque on a hot day, very impressive. Post game video with John Krysinsky to be posted later.
90′ – 4 minutes of stoppage time added. Going to be a grind till the finish.
84′ – Preston Tabort Etaka comes on for New Mexico. Rashid Tettah subs off. Luke Biasi for the Hounds replaces Nathan Dossantos as it looks like he cramped up. Both teams looking tired.
.@dane_kelly99 ties the game!#NMvPIT | @RiverhoundsSC pic.twitter.com/vdkLolbEc3

— USL Championship (@USLChampionship) July 17, 2022
75′ – WHAT A PLAY! Dane Kelly the super sub scores his 106th goal in the USL and 7th of the season. Cicerone checks in and makes a beautiful flick into space, Kelly runs on and taps it past the keeper. 1-1 game!
69′ – Riverhounds make two more subs. Ybarra and Mekeil Williams on for Wiedt and Peters. Harry Swartz and Neco Brett off for New Mexico. Sergio Rivas and Daniel Bruce are on.
62′ – Harry Swartz on New Mexico now given a yellow card for a late tackle on Forbes.
61′ – Angelo Kelly Rosales and Dane Kelly subbed on. Dikwa and Rovira subbed off.
60′ – Another bad turnover by the Hounds defense and Suggs hits the crossbar. Not the start I expected from Pittsburgh this half.
57′ – Dossantos gets a yellow card. Definitely a sign of frustration.
55′ – There's been at least 5 goal kicks for the Hounds 10 minutes into this second half. Struggling to hold the ball up top.
45′ – Start of the second half begins now. No subs that I see out there.
Half – Hounds down 1-0 after 45 minutes. A few bad turnovers and a lack of possession but a few good scoring chances. I'd bet we see super sub Dane Kelly come on the pitch soon.
45′ – 3 minutes of stoppage time added.
42′ – Hounds only with 37% of possession this half.
30′ – Both teams getting a hydration break. It's 99 degrees in Albuquerque. Pittsburgh players definitely not used to this kind of heat.
28′ – Alex Dixon almost scores! Had the left side open but just shanks it wide. Still 1-0 New Mexico
22′ – Goal for Hounds but called offsides!! A brilliant step over move and shot by Griffin. Tambakis had to really dive over and make the save. Cicerone tapped it in but offsides.
16′ – Peters and Waite collide on a cross. Peters is down in some pain.
6′ – Will Seymour with some great dribbling on the attack. New Mexico with another chance in the box. Not the start the Hounds were looking for tonight.
ɴᴏ ᴛɪᴍᴇ ᴛᴏ ᴡᴀꜱᴛᴇ ⏰@NewMexicoUTD get on the board early.#NMvPIT pic.twitter.com/NiFTv8yJmY

— USL Championship (@USLChampionship) July 17, 2022
2′ – Terrible giveaway by Wiedt and just like that, New Mexico is up 1-0. Kiesewetter scores for United.
WELCOME TO THE MULTIVERSE; New Mexico Style🌀🔮

Just an hour till take off✨Your starting hosts for tonight's adventure are presented by @MichelobULTRA. Vamos! #SomosUnidos pic.twitter.com/GlzBiyPYd8

— New Mexico United (@NewMexicoUTD) July 17, 2022
Look for starting lineups, in-game highlights and post match recap and reaction to be posted here.
---
Here's the Hounds starting XI: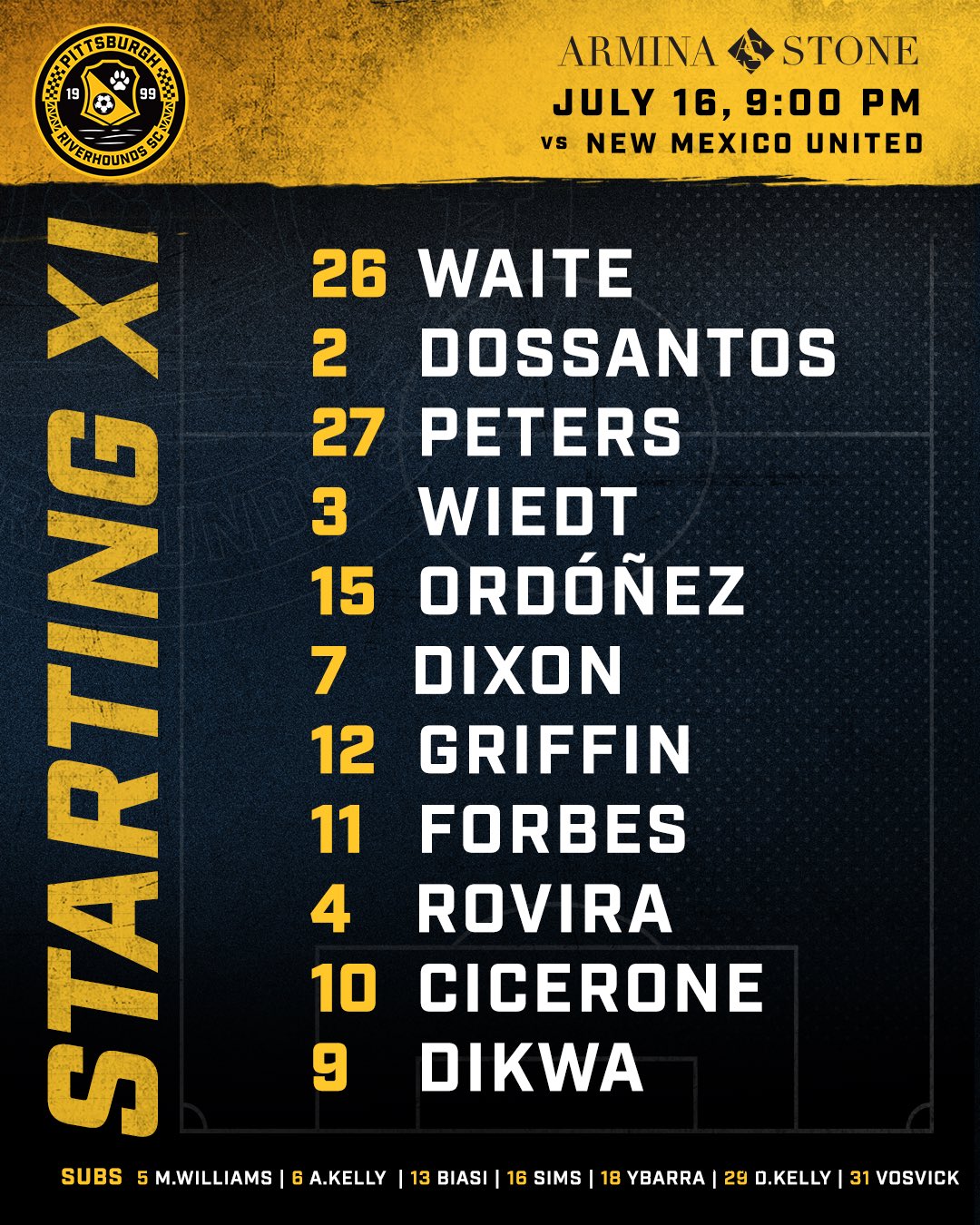 It was earlier in the week, but while the Hounds were adding Edward Kizza to the roster, NM added Romario Williams, a proven scorer in the USLC.
Romario Williams is United ⚫️&🟡

The 27yo forward and Jamaican international already has 53 career goals to his name, with plenty more to add. Welcome to New Mexico Romario! #SomosUnidos pic.twitter.com/3l7VSnzCP8

— New Mexico United (@NewMexicoUTD) July 14, 2022
Preview / Key Storylines  
After back-to-back home wins and three straight victories overall, the Hounds are back on the road to face New Mexico United for the first time at the high altitude of Isotopes Park in Albuquerque, N.M.
This will be a meeting of two teams that are in very similar position at this point in the 2022 season.  They both sit in fourth place in their respective conferences with 33 points.
Both are well-disciplined (among lowest in cards accumulated), rank fairly low in passing accuracy (both 17th at 76%), close in goals scored (Hounds – 9th with 32; NM 11th with 28); Shots (Hounds with 233; NM with 224), Conversion Rate (Hounds 18%; NM 16%).  While Pittsburgh has two more clean sheets (7-5), New Mexico has surrended just 15 goals total this season, while the Hounds have surrendered 24 total goals.
The Hounds are traveling to the state of New Mexico for the first time and will take the field for their first game in the Mountain Time Zone since 2014 but it is the team's second Western Conference road trip of the season, having already played in Las Vegas back in April. With three important points on the line, the Hounds turn to the momentum from their last three victories in hopes of finding more success tonight.
Contribution from up and down the Hounds' roster has allowed the team to come away with these victories. Defender Jelani Peters is coming off his first career two-goal game and a Team of the Week selection after scoring only once last season. Kenardo Forbes continues to rack up assists and is entering tonight's game with a career total of 52 after two against Miami, putting him into a tie for the USL Championship lead with seven. The Hounds' leading goal scorer, Russell Cicerone, has six goals and two assists in his last 10 games for a season total of eight goals.
In their last three games, the Hounds have only allowed one goal, and that came in stoppage time of the 4-1 win last Saturday over Miami FC. A strong defense will be needed in what could be a low-scoring affair with New Mexico, which only has one loss in its last 12 games and has not allowed three goals in a game yet this season.
Tonight marks New Mexico's fifth match in 14 days, and in that stretch, the team has two wins and two draws. Justin Portillo holds the lead for most goals with six for United, including the game-winning penalty Wednesday in a 2-1 win over Tulsa, while Daniel Bruce leads in assists with four.
The Hounds are reuniting with New Mexico's Neco Brett, who led the Hounds in scoring in each of Bob Lilley's first two seasons as head coach. Brett's 34 goals in all competitions with the Hounds is the second-most in team history, but tonight, the Hounds hope to shut down United's striker and come away with a win.
Match Notes 
The Hounds continue to make new acquaintances as they travel to visit New Mexico United for the first time. This is the Hounds' sixth first-time USL Championship opponent this season, with the seventh and final new foe — Oakland Roots SC — scheduled for the final day of the season.
This is the Hounds' first visit to the state of New Mexico and their first game in the Mountain Time Zone since a 3-1 loss to Arizona United (now Phoenix Rising FC) on Aug. 16, 2014.
Defender Jelani Peters earned a Team of the Week spot for his first career two-goal game in the Hounds' 4-1 win Saturday against Miami. The Trinidadian international scored just once in 2021, which ended a four-season goal drought.
Hounds captain Kenardo Forbes remains the all-time USL Championship assist leader, and he ran his career total to 52 against Miami, serving in a pair of corner kicks headed home by Peters and Shane Wiedt.
Forward Russell Cicerone is showing the form that made him the team's top scorer in 2021. Over his last 10 games, he has six goals and two assists, including the opening goal last week against Miami, and he leads the team with eight goals on the season.
Alex Dixon, who last month became the 15th player to appear in 200 USL Championship matches and the 14th with 30 assists in the league, is on the cusp of more scoring milestones. With 48 goals and 30 assists, he could become the 17th 50-goal player and join longtime Charlotte forward Jorge Herrera and current Birmingham midfielder Enzo Martinez as the third 50/30 player in USLC history.
Midfielder Danny Griffin has played all but 17 minutes since the beginning of the 2021 regular season, starting every league match during that time. He has not missed a league game since turning pro with the Hounds in 2020, appearing in 68 straight USL Championship contests.
Cicerone, Albert Dikwa and Dane Kelly (six goals each) are on pace to give the Hounds three double-digit goal scorers, which the club hasn't had since its inaugural 1999 season in the USL A-League.
New Mexico striker Neco Brett was the Hounds' leading scorer in the first two seasons under coach Bob Lilley (2018-19).  His 34 goals in all competitions are the second-most in team history.
In 146 all-competition matches under Lilley, the Hounds have allowed just 137 goals, an average of 0.94 goals per game.
PSN Recent Riverhounds Coverage 
Back in the 'Burgh: Edward Kizza joins Hounds on loan from Revs
Robert Morris alum Jeff Garner to take over as Riverhounds SC president
Riverhounds Postgame: Russell Cicerone after brace vs Indy
Subscribe to PGH Soccer Now