Match Summary
The Pittsburgh Riverhounds SC battled the Hartford Athletic for 90 minutes, and found a way to overcome a deficit with a stoppage time goal from Shane Wiedt, to deliver a 2-1 win on a muggy night at Trinity Health Stadium in Hartford, CT, on Saturday night.  
Despite being on the front foot for large portions of the first half and early second half, the Hounds conceded a goal to Hartford's Conor McGlynn in the 56th minute. 
Not to be deterred, the Hounds early second half subs, Robbie Mertz and Russell Cicerone connected for the equalizer in the 74th minute. 
The Hounds broke the deadlock in the dying moments of stoppage time as defender Shane Wiedt delivered a wonder strike. 
WINNER IN STOPPAGE TIME FROM @wiedt_bread23 😱#HFDvPIT | @RiverhoundsSC pic.twitter.com/DiWQtdRDqS

— USL Championship (@USLChampionship) July 24, 2022
The former Pitt standout's goal came four minutes into stoppage time, after another former Pitt stand out, Edward Kizza accelerated into the final third, leading to Kenardo Forbes pass to find Wiedt on the right edge of the box with room to shoot.   
Cicerone's was the eighth goal by a Pittsburgh sub this season. 
With the result, the Hounds (11-6-4, 37 points) remain in the hunt to make a move up in Eastern Conference standings.  Hartford is now 4-12-4.  
First half
The nature of the game was established early, as Hartford finished with 58 percent of possession, but the Hounds were the more direct side in their attack, outshooting the hosts 21-1.
Still, Hartford managed the game well, and the Hounds logged just one shot on goal in the first half, a soft, low effort by Arturo Ordóñez off a corner kick.
Second half
The pace of play picked up in the second half, as the Hounds brought Cicerone and Mertz in off the bench. But it was Hartford that landed the first blow in the 55th minute.
Andre Lewis shook free on the left side and played a low pass to Rashawn Dally at the top of the box. Dally played a pass backward to McGlynn, who took a settling touch before striking an untouchable shot into the top left corner of the net.
With added urgency, the Hounds began to push forward in greater numbers, and Mertz was denied at close range just three minutes after Hartford's goal.
The pressure paid off when Mertz got loose in the right side of the box and chipped a cross over the near-post traffic for Cicerone to head into the net at the back post. The goal made Cicerone the seventh player in Riverhounds history to score 25 goals for the club, and it was the seventh assist of the season for Mertz, the Pittsburgh native who was acquired this week from Atlanta United 2.
Five minutes of stoppage time was announced, and Danny Griffin nearly netted a winner for the Hounds in his home state of Connecticut, but Hartford defender Modou Jadama got a foot on the shot from 18 yards to redirect it wide of the goal.
The Hounds last attack of the game captured the win, as Kenardo Forbes played a pass forward to Wiedt, who was pushing up from his right back position. Rather than look for a cross, Wiedt opted for the shot from a tight angle and powered the ball past the near post and into the top of the net.
---
Hounds Man of the Match
Shane Wiedt takes the title for his winning goal, the second goal in three games for the defender, but he also played a strong 90 minutes as a center back and later right back. He also had a team-leading four interceptions, two clearances and completed 86 percent of his passes.
What's next?
The Hounds come back to Highmark Stadium next Saturday when they host FC Tulsa at 7 p.m. Tulsa (7-11-4) scored a big 2-0 win over Birmingham tonight to close to within three points of Miami for the final Eastern Conference playoff spot. The teams' first meeting was a wild 4-3 win for the Hounds on April 9 in Oklahoma.
---
Riverhounds SC lineup (5-2-1-2) — Jahmali Waite; Nate Dossantos (Dani Rovira 69′), Mekeil Williams, Arturo Ordóñez, Shane Wiedt, Luke Biasi (Russell Cicerone 46′); Marc Ybarra (Robbie Mertz 46′), Danny Griffin; Kenardo Forbes; Alex Dixon (Jelani Peters 84′), Albert Dikwa (Edward Kizza 69′)
Hartford Athletic lineup (4-1-4-1) — Yannik Oettl; Logan Gdula, Modou Jadama, Tom Brewitt, Younes Boudadi; Conor McGlynn; Joel Johnson (Peter-Lee Vassell 67′), Andre Lewis, Danny Barrera (Prince Saydee 85′), Luka Prpa (Ariel Martinez 82′); Rashawn Dally (Juan Carlos Obregon Jr. 66′)
Scoring summary
HFD — Conor McGlynn 55′ (Rashaun Dally)
PIT — Russell Cicerone 74′ (Robbie Mertz)
PIT — Shane Wiedt 90+4′ (Kenardo Forbes)
Discipline summary
HFD — Luka Prpa 24′ (caution – unsporting behavior)
PIT — Mekeil Williams 66′ (caution – unsporting behavior)
HFD — Younes Boudadi 69′ (caution – unsporting behavior)
HFD — Tom Brewitt 73′ (caution – unsporting behavior)
PIT — Shane Wiedt 90+4′ (caution – unsporting behavior)
---
Match Updates
Look here shortly before kickoff for match updates including starting lineups, key moments and highlights from the contest and look for a postgame recap and reaction from the PSN team on Pittsburgh Sports Live.
---
90+1′ – Cross in from the left finds the head of Kizza, but his lunging attempt can't find the frame
84′ — SUB – Jelani Peters in for Alex Dixon 
79′ – Nearly a Hartford own goal. The crowd gasps as a back pass evades the keeper but rolls wide for a corner.
74′ — GOAL – RIVERHOUNDS 1, HARTFORD 1 
In his first game back, @robbiemertz14 puts it on a plate for @RussellCicerone to finish 🍽️#HFDvPIT | @RiverhoundsSC pic.twitter.com/JK7TwgvPm0

— USL Championship (@USLChampionship) July 24, 2022
Russell Cicerone heads in his 9th of the season.
Robbie Mertz with the lofting assist from the right edge of the endline — that is perfectly placed.
Mertz with another big assist this season, and his first as a Hound in '22.
69′ — SUBS for Hounds: 
Edward Kizza (making his Hounds' debut) and Dani Rovira in for Nathan Dossantos and Albert Dikwa.  
66′ — Mekeil Williams is in the book with a yellow card for a hard, from-behind tackle that was more body.  
63′ – Another dangerous setup by Cicerone. Mertz lets the ball go by, and Dikwa just misses with his off-balance header.
59′ – Mertz right in front, but Oettl somehow makes the save from 4 yards away! Hounds pressing forward even hard now.
56′ – GOAL – HARTFORD 1, RIVERHOUNDS 0 
https://twitter.com/NJEMurray/status/1551000818643603456
What a strike from Conon McGlynn — first shot of match for Hartford.  
Rashawn Dally delivers a ball to Conor McGlynn outside the box, who stripes his right footed effort past Waite to take the lead!
53′ – Dikwa feeds Cicerone at a tight angle, and he high-steps through a tackle to get off a shot that gets saved. Official stats showing a 9-0 edge in shots at the moment.
48′ – The first major action for Mertz is leading the counter, and he gets the ball wide to Dixon just as he gets fouled at the top of the box. Advantage played, but Hartford scrambles away Dixon's pass to the center.
46′ — Second half resumes with a few subs…
IN: Robbie Mertz, Russell Cicerone
OUT: Marc Ybarra, Luke Biasi
Shots: Hounds with 8-0 edge, but just one shot on frame.  
Possession:  Hartford 61/39, but Hounds have forced Hartford to concede eight fouls.  Somewhat like that last match of season in Pittsburgh in 2021, Hartford doing what they can to slow Pittsburgh down. 
HALF — RIVERHOUNDS 0, HARTFORD 0
First half comes to close with Hounds teeing up a long free kick, that is headed away.  
45+2′ – Barrera tees up a free kick from about 40 out for Hartford, but his service is barely over the heads of his runners.
39′ — Griffin with a deadly through ball for Dikwa, who can't shake a trailing defender who deflects it out for corner.  Hounds can't convert on corner.  
35′ — After hydration break, Hounds again gamely going up for the set pieces, and this time it's Ordóñez who's first to it but heads the ball high.
Hounds formation tonight… 
29′ – Beautiful build up leads to Dixon finding Griffin in the middle of the box, but the Hounds' ironman and Conn. native can't connect.
24′ – Luka Prpa goes into the book for Hartford after Forbes got inside position on a 50/50 ball. Prpa hauled him down and took the foul at midfield.
23′ – Dikwa rises to meet a Forbes cross from deep on the right, but he can't direct his header downward and it sails high.
19′ – Ybarra and Dixon force a turnover, but the threat ends with Dixon's chipped pass forward being a little too long for Forbes in transition.
16′ – Waite makes his first stop of the night, as Joel Johnson gets free down the Hartford left and sets up Prpa for a softly struck volley on target.
15′ – After corner and decent passing to keep it alive, Ordonez with a chance at near post but it's saved.  
Forbes sends Ybarra toward the goal line with the second ball off the corner. He cuts a pass back to Ordóñez, who hits a low shot that gets smothered and held.
13′ – Dossantos again down the left, and he wins the Hounds' first corner of the match.
6′ — Hounds absorbing a lot of pressure and conceding a ton of possession thus far.  
7:06 p.m. – kickoff — Hounds wearing Black and Yellow kits
6:55 p.m. — Hounds starting XI: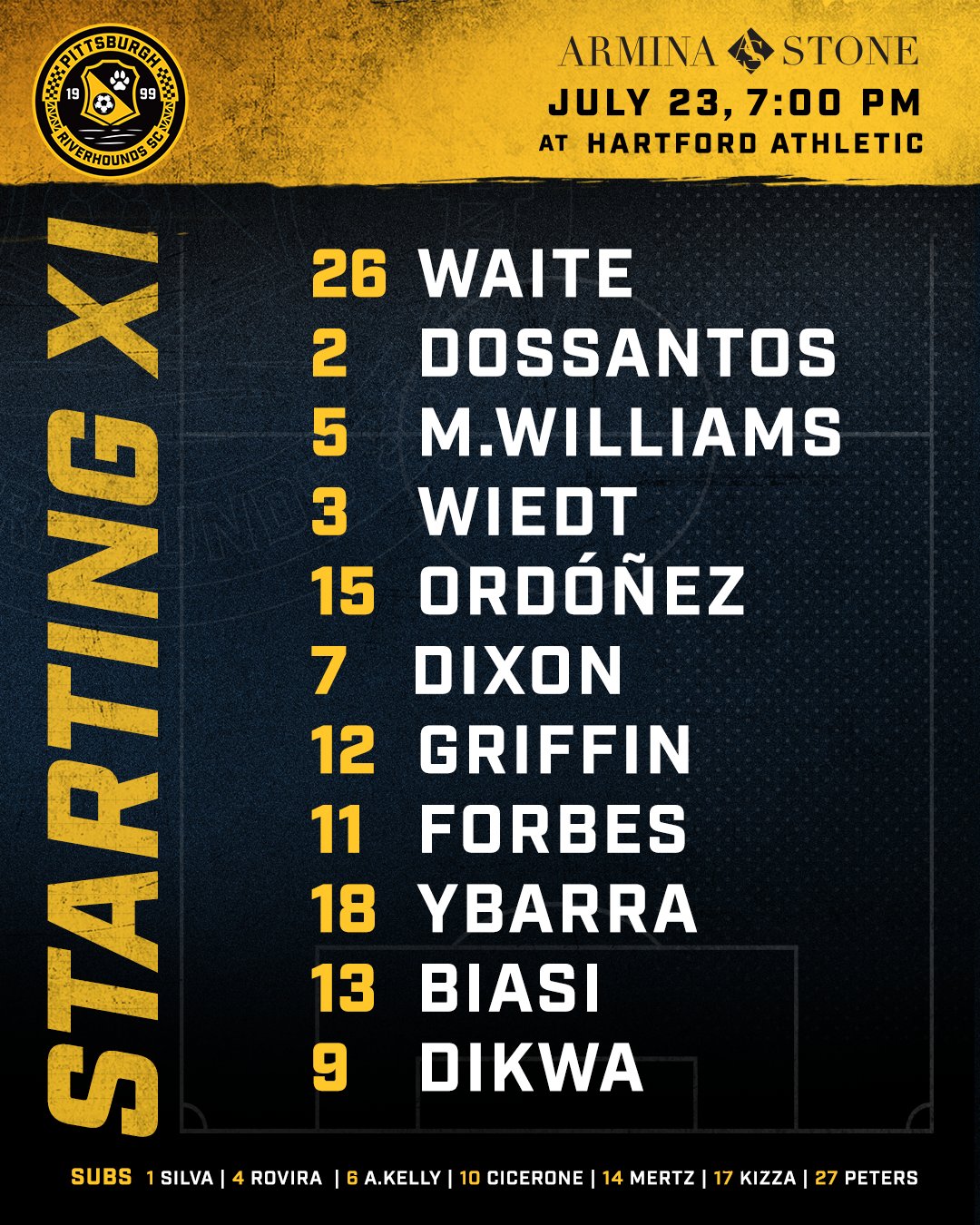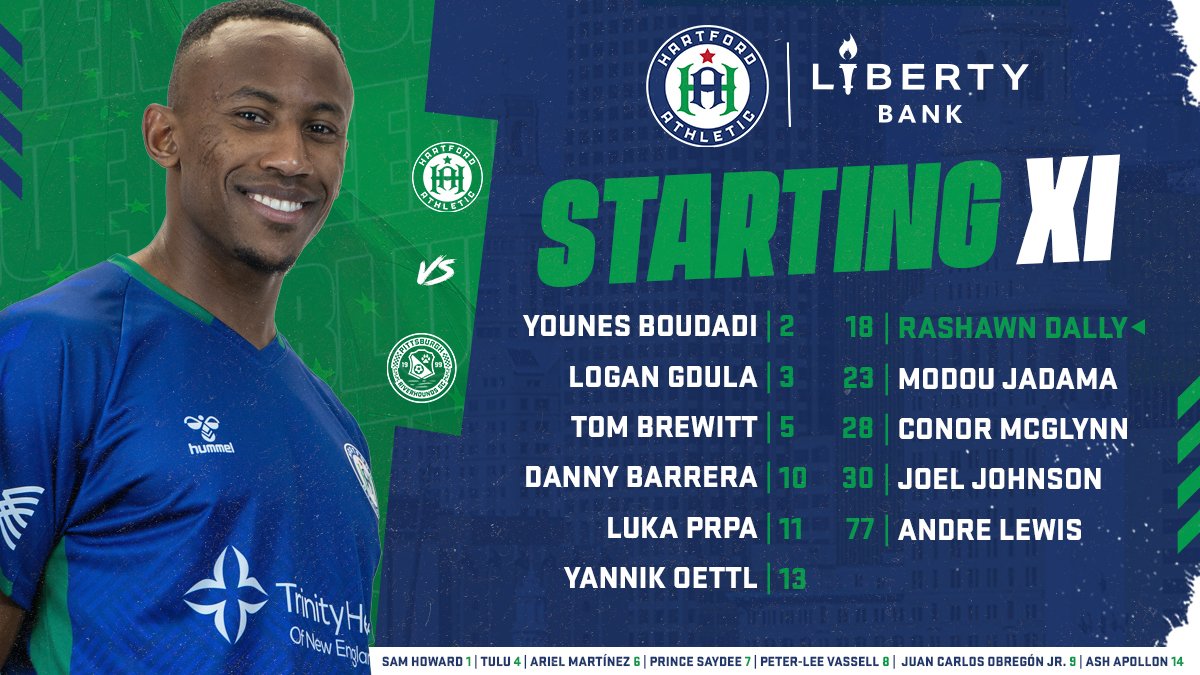 Preview / What's At Stake: 
Pittsburgh Riverhounds SC will try to complete a season-sweep of Hartford Athletic as it visits Connecticut on Saturday night while also aiming to continue its four-game undefeated streak.
Pittsburgh played to a 1-1 draw against New Mexico United last Saturday night as Dane Kelly scored his seventh goal of the season to pull the visitors level at Isotopes Park. Kelly is now tied for the team lead in goals with Russell Cicerone, while Kenardo Forbes sits tied for second in the league with seven assists. Forbes found the net when these teams last met at Highmark Stadium in March as the Hounds took a 2-1 victory to move their undefeated streak in the series to five games.
Hartford will be hoping to reverse that trend but is coming off a 3-1 defeat on the road against the Charleston Battery last time out that delivered another blow to the club's postseason chances. The Athletic are currently in 10th place in the Eastern Conference, 12 points out of the playoff positions with 15 games remaining and are in major need of a victory to try and bridge the gap to Miami FC in seventh place after suffering defeats in their last two outings.
The Hounds will see a familiar face facing Hartford striker Corey Hertzog. Hertzog is sixth in club history with 27 goals in his two seasons in Pittsburgh (2016-17), but he has just one goal this year for Hartford. Joel Johnson leads the hosts with four goals.
Game Notes 
The Hounds meet Hartford for the second time this season after winning 2-1 back on March 19 in Pittsburgh. In four all time meetings at Dillon Stadium, the Hounds are 3-0-1.
Dane Kelly ended a personal scoring drought with the gametying goal last Saturday at New Mexico. It was his seventh of the season and record 106th in the USL Championship, and he now has scored against 41 different USLC clubs.
Forward Russell Cicerone is showing the form that made him the team's top scorer in 2021. Over his last 11 games, he has six goals and three assists, including the helper on Kelly's goal last week at New Mexico. He leads the Hounds with eight goals on the season.
Defender Jelani Peters posted the season's most surprising brace in the Hounds' 4-1 win July 9 over Miami, as he scored twice in a 12-minute span to put the game out of reach.
Hounds captain Kenardo Forbes remains the all-time USL Championship assist leader, and he ran his career total to 52 two games ago against Miami, serving in a pair of corner kicks headed home by Peters and Shane Wiedt.
Alex Dixon is sitting on 48 goals and 30 assists. He is in range of becoming the 17th 50-goal player in USL Championship history, and he also would join longtime Charlotte forward Jorge Herrera and current Birmingham midfielder Enzo Martinez as the third 50/30 player for his career.
Midfielder Danny Griffin has played all but 17 minutes since the beginning of the 2021 regular season, starting every league match during that time. He has not missed a league game since turning pro with the Hounds in 2020, appearing in 69 straight USL Championship contests.
Cicerone, Kelly and Albert Dikwa (six goals) are on pace to give the Hounds three double-digit goal scorers, which the club hasn't had since its inaugural 1999 season.
The Hounds made two recent roster additions. Pittsburgh native Robbie Mertz was re-acquired by the team in a transfer deal with Atlanta United II this week, and former Pitt striker Edward Kizza was brought in on loan from the New England Revolution of MLS.
Hartford striker Corey Hertzog is sixth in Hounds history with 27 goals in his two seasons with the club (2016-17).
It will be the third straight match the Hounds will face one of their former top strikers, having just battled Miami's Romeo Parkes and New Mexico's Neco Brett.
In 147 all-competition matches under Lilley, the Hounds have allowed just 138 goals, an average of 0.94 goals per game.
Riverhounds Postgame: Russell Cicerone after brace vs Indy
Subscribe to PGH Soccer Now