ACC Men's Soccer
Pitt  0, No. 2 Duke 0
Match Stats: HERE.
Match Summary
Pitt men's soccer team went to Durham, N.C. and came away with a hard-earned point against the Coastal Division leading and No. 2 Duke on Friday night.
The Panthers held the edge in the first half in shots and possession, but also got caught up in what became a frantic, back-and-forth affair with solid transitional defending on both sides.
Duke created more chances on the width, as they took a 6-1 advantage on corner kicks.
Pitt's best chances in the run of play in the match came on two separate occasions when Lucas Rosa delivered a diagonal ball to the far post area to teammates who slipped behind the last Duke defender.  In the first half, Josh Luchini came up short when he lunged forward to head Rosa's ball in, but his redirect off the head sailed wide right of the right post.
Late in the second half, after Rosa missed a free kick from close range, he found Valentin Noel breaking to the far post.  Noel's header just missed, going off the side netting.
Pitt ended the match with a 10-7 edge in shots (3-2 on frame). The Panthers also weren't afraid to take fouls, ending the match with 10 more fouls (18-8) than the home side.
Match Updates
Look for updates to be posted here, including the starting lineups and in-game highlights.
---
FINAL: PITT 0, DUKE 0
Panthers go on the road were on equal terms w/ No. 2 Blue Devils. Last 15 minutes Pitt were clearly on the front foot, but couldn't convert on chances. Solid result vs a Duke side who hasn't lost this season.
87′ | Fantastic ball put into the box by Lucas Rosa but Valentin Noel's diving header goes just over the goal.
First half stats
| TEAM | Shots | SOG | Saves | Fouls | Corners | OffSides |
| --- | --- | --- | --- | --- | --- | --- |
| Pitt | 5 | 2 | 1 | 9 | 1 | 0 |
| Duke | 3 | 1 | 2 | 3 | 2 | 1 |
HALF
PITT 0, DUKE 0
At the half, @Pitt_MSOC 0@DukeMSOC 0

Been frantic pace, physical match (Pitt with 9-3 edge in fouls) and Panthers have more shots (5-3, 2-1 on frame).

I like Pitt's chances in the second half. but they can't let it get too much into a track meet.@ACCMSoccer

— John Krysinsky (@JohnKrysinsky) October 22, 2022
30′ | Josh Luchini has the best chance of the first half as he breaks free on the left side but his low shot is kicked away by the Duke keeper.
23′ | Mike Sullivan has the first shot of the match for Pitt as his header is saved by the diving Duke keeper.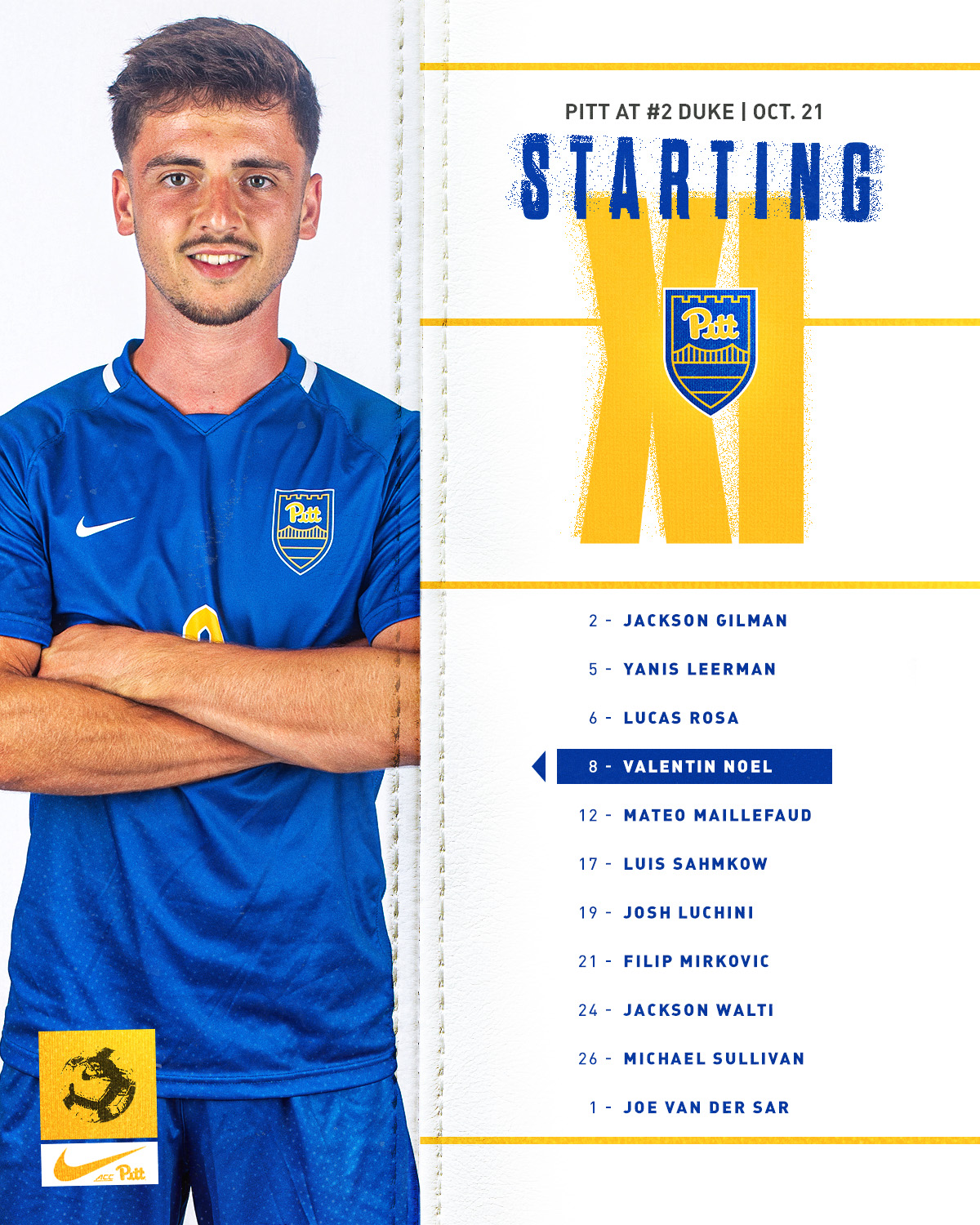 Last time in Koski for the regular season tomorrow night 😈

🚨 PARKING INFO BELOW 🚨

Preview tomorrow's game vs. Pitt ⤵️https://t.co/PEFx09kp7W

— Duke Men's Soccer (@DukeMSOC) October 20, 2022
Preview & PSN Recent Pitt Coverage
Pitt has won two matches in a row and are looking to make some headway in the ACC Coastal Division standings as they now face a big challenge at No. 2 Duke on Friday night in Durham.
Duke has been without a loss this season, and after starting the season in the Top 10 in the rankings, Pitt has stumbled a bit in terms of place in the ACC standings due to a pair of losses in conference play, but could really make up for that with a win at Duke.
In the past few years, the Panthers have had Duke's number, winning the last four matches between the two sides.
Match Report: Pitt gets better of City Game against Duquesne
THE SERIES – DUKE
This meeting marks the 13th meeting of all-time between the two programs with Duke holding the 6-4-2 advantage in the series.
The Panthers have won four straight in the series including a 3-2 home victory over the Blue Devils last season. Filip Mirkovic netted a pair of goals and Bertin Jacquesson scored the other in the win for the Panthers.
The Panthers have netted 13 goals in the last four matches against Duke.
Pitt is 1-2-2 all-time in games played in Durham with their lone victory coming in 2021 as they earned a 4-3 double overtime road win.
SCOUTING THE BLUE DEVILS
Duke enters Friday's match with a 10-0-3 overall record and a 4-0-2 ACC mark. Duke has won two straight including a 4-0 win over George Washington last time out.
The Blue Devils are tied for No. 2 in the latest United Soccer Coaches Top-25 Poll. They also rank No. 3 in the latest RPI ranking.
The Blue Devils are led offensively by Shakur Mohammed who leads the ACC with nine goals, two assists and 20 points on 38 shots. Mohammed also has a team-high five game-winning goals. Nick Pariano has started all 13 martches and has one goal, a team-high six assists and 14 shots.
In goal, Eliot Hamill is enjoying a great season as he owns a 10-0-3 record to go along with a 0.38 goals-against average, a .891 save percentage and an ACC-high nine shutouts.
FACING RANKED OPPONENTS
The Panthers are no stranger to nationally ranked opponents. Pitt has played a total of eight nationally ranked opponents through their first 13 games of the season for the first time in program history.
Pitt opened the season with back-to-back wins over top-10 programs for the first time in program history as they downed No. 2 Georgetown 2-1 and No. 6 West Virginia 3-0.
Pitt is 4-0-1 against top-5 opponents over the last two seasons as they downed Georgeotwn (No. 2), Clemson (No. 2), Duke (No. 3) and North Carolina (No. 4) during the regular season and tied Notre Dame (No. 4) in the Elite Eight last season.
Overall, Pitt is 7-2-4 against nationally ranked foes over the last two seasons.
Over the last three seasons, Pitt owns a 11-5-4 record against ranked opponents.
Currently, Pitt has one more ranked opponent on their schedule, #2 Duke on Friday night.
SCORING FIRST A MUST FOR PITT
One of the keys to victory for the Panthers over the last four seasons has been scoring the first goal of the match.
Since 2019, Pitt owns a 39-1-2 overall record when they record the first goal of the match.
The Panthers are 6-0 this year when scoring the first goal while being just 1-3-3 when allowing the first goal of the match.
Pitt hasn't lost a game when scoring the first goal since falling to #2 Indiana 3-2 in double overtime on August 30, 2019.
Season             Record             Win %
2022                 6-0-0                1.000
2021                 11-0-2              .923
2020-21            14-0-0              1.000
2019                 8-1-0                .889
SAHMKOW RIDING A HOT STREAK
After fighting injuries early in the season, sophomore Luis Sahmkow has fianlly settled into his important role for the Panthers attack.
Sahmkow has been one of the best players on the pitch for Pitt of late as he has netted a goal in three straight games for the first time in his career. Sahmkow netted the game-tying goal against Denver, the game-winning goal at Virginia Tech and the first goal in a 5-2 win over #25 Duquesne Monday.
The sophomore joins Valentin Noel as the only Panther this season to score in three straight matches.
He finished off his best game of the season Monday with a goal and assist, his first career three-point game in the win over Duquesne.
On the year, Sahmkow has three goals, three assists and nine points on 11 shots. His three goals and three assists are both career-highs.
UP NEXT
Pitt returns home for their regular season finale on Friday, Oct. 28 as they welcome Notre Dame to Ambrose Urbanic Field for a 7pm first kick. Friday's match will air on ACC Network Extra.
Notre Dame owns a 20-7-4 edge in the all-time series and defeated the Panthers in all three meetings last season including a 1-1 tie but advanced on PK's, 4-2, in the Elite Eight.
Riverhounds MF Danny Griffin
Subscribe to PGH Soccer Now