2022 NCAA Championship First Round
FINAL: Pitt 1, Buffalo 0
PSN Coverage: Dominic Campbell
Update (8:55 p.m.)
Pitt wins it!

Pitt defeats Buffalo 1-0 in the First Round of the NCAA Tournament, thanks to a late goal from Leah Pais. This is the first NCAA Tournament win in Pitt history

Pitt takes on Georgetown next Friday, Nov. 18 in the Second Round of the NCAA Tournament.

— Dominic Campbell (@DOMISMONEY) November 13, 2022
Update (8:49 p.m.)
'85 GOAL PITT!!!

Who else, but Leah Pais. She heads the cross from Anna Bout into the back of the net and Pitt leads with five minutes remaining.

She also appeared to be fouled in the box on a header, but gets back up, finds space and heads it home.

1-0 Pitt

— Dominic Campbell (@DOMISMONEY) November 13, 2022
Update (8:48 p.m.)
'84 Another shot by Guerber is tipped by Lazzarini, but she manages to haul it in for the save.

— Dominic Campbell (@DOMISMONEY) November 13, 2022
Update (8:44 p.m.)
'80 Guerber takes a long strike that goes over the goal.

Last 10 minutes of the match, who will take this game?

— Dominic Campbell (@DOMISMONEY) November 13, 2022
Update (8:40 p.m.)
'76 So close for Pitt! Mertz ran onto a long pass and beat out two Buffalo defenders. She put in a cross to Schupansky. Schupansky had all day to score with no one near her, but her shot hit the side of the right post out for a goal kick.

0-0 here

— Dominic Campbell (@DOMISMONEY) November 13, 2022
Update (8:34 p.m.)
'70 Pais puts a cross in, but Kelly's strong enough to punch it away, albeit weakly, for Buffalo.

Still scoreless here.

— Dominic Campbell (@DOMISMONEY) November 13, 2022
Update (8:28 p.m.)
'64 Buffalo midfielder Katie Krohn with a shot from distance that is easy for Pitt GK Lazzarini to save.

Pitt has also had two shots this second half, but nothing seriously threatening.

— Dominic Campbell (@DOMISMONEY) November 13, 2022
Update (8:26 p.m.)
'63 Pitt substitution

Schupansky on for Phiri

Mertz has been on the right side not Schupansky. My mistake.

— Dominic Campbell (@DOMISMONEY) November 13, 2022
Update (8:21 p.m.)
'58 Pitt Substitution

Melenhorst comes on for Dean

— Dominic Campbell (@DOMISMONEY) November 13, 2022
Update (8:08 p.m.)
Second half starts

For Pitt, Pais is still out there and Phiri comes on. Schupansky on as well, looks like Pitt is going with three on attack.

— Dominic Campbell (@DOMISMONEY) November 13, 2022
Update (7:52 p.m.)
Halftime. Pitt and Buffalo are deadlocked at 0-0. Lots of good chances for the Panthers, but too many offsides and lack of quality finishing in the final third keep them off the score sheet.

— Dominic Campbell (@DOMISMONEY) November 13, 2022
Update (7:48 p.m.)
'41 Really great build up play by Pitt, but the final product just ends up being an easy save for Buffalo GK Emily Kelly

— Dominic Campbell (@DOMISMONEY) November 13, 2022
Update (7:46 p.m.)
'40 Pitt Substitution
M Fleming Dean comes in for Melenhorst

— Dominic Campbell (@DOMISMONEY) November 13, 2022
Update (7:44 p.m.)
'38 Pitt Substitution
M Bri Hilsenteger comes in for Schupansky

— Dominic Campbell (@DOMISMONEY) November 13, 2022
Update (7:40 p.m.)
'34 Yellow card to Schupansky for unsporting behavior. First yellow card of the game for Pitt

— Dominic Campbell (@DOMISMONEY) November 13, 2022
Update (7:33 p.m.)
'26 Cross from Schupansky is headed by Mertz just over the goal.

— Dominic Campbell (@DOMISMONEY) November 13, 2022
Update (7:31 p.m.)
'23 Pitt Substitution
F Leah Pais comes on for Phiri

— Dominic Campbell (@DOMISMONEY) November 13, 2022
Update (7:30 p.m.)
'23 Phirri's cross to Schupansky is knocked out for a corner. Really close here.

— Dominic Campbell (@DOMISMONEY) November 13, 2022
Update (7:29 p.m.)
'22 Five offsides already called on Pitt. They have some good attacking play, but aren't staying patient and the refs call it every time. Fans here at Ambrose Urbanic Field are angry with the amount of offsides calls.

— Dominic Campbell (@DOMISMONEY) November 13, 2022
Update (7:25 p.m.)
'19 Buffalo forward Jasmine Guerber rips a shot from distance, but it goes wide for a goal kick.

— Dominic Campbell (@DOMISMONEY) November 13, 2022
Update (7:14 p.m.)
'7 Pitt continuing to attack here. Melenhorst blasted shot is blocked and then Coffield's curling shot from outside the box is out for a goal kick

— Dominic Campbell (@DOMISMONEY) November 13, 2022
Update (7:07 p.m.)
Kickoff starts at 7:07 p.m. here

— Dominic Campbell (@DOMISMONEY) November 13, 2022
Update (7:05 p.m.)
Pitt starting lineup

GK: Caitlyn Lazzarini

Def: Hailey Davidson, Athalie Palomo, Katie Zailski, Ashton Gordon

Mid: Ellie Coffield, Landy Mertz, Anna Bout, Keera Melenhorst

Att: Sarah Schupansky, Samiah Phiri

— Dominic Campbell (@DOMISMONEY) November 13, 2022
Update (6:56 p.m.)
The winner of this match takes on No. 5 Georgetown, after they defeated No. 12 Hofstra, 1-0 today.

Pitt would host the next game if they win tonight on Friday Nov. 18 here at Ambrose Urbanic Field

— Dominic Campbell (@DOMISMONEY) November 12, 2022
Update (6:53 p.m.)
https://twitter.com/DOMISMONEY/status/1591580046556282883?s=20&t=Y2esh_fq-1-p9czy90mGZQ
Update (6:44 p.m.)
https://twitter.com/DOMISMONEY/status/1591577648261918720?s=20&t=Y2esh_fq-1-p9czy90mGZQ
Update (6:42 p.m.)
https://twitter.com/DOMISMONEY/status/1591576343145316353?s=20&t=8eeTwz7iYoRKI2XmoRLwlQ
Preview / PSN PItt Women's Coverage
The Panthers earned the program's first-ever selection to the NCAA Tournament field as a No. 4 national seed. Pitt qualified for the NCAA Tournament field as one of 33 at-large bids. Buffalo earned one of 31 automatic qualifying bids after winning the MAC regular season and tournament titles. The Bulls will be making their second NCAA Tournament appearance.
PSN's Rachael Kriger took a closer look at the match earlier this week.
Preview: Pittsburgh looks to continue historic 2022 season with NCAA Tournament
The winner of Saturday's matchup will play the winner of the First Round game between No. 5 national seed Georgetown and Hofstra on Friday, Nov. 18 in the Second Round. Second and third rounds will be conducted at eight non-predetermined campus sites. At each campus site, four teams will compete in a single-elimination second-round competition. The two winning teams will then compete against each other in a single-elimination third-round competition at the same campus site. The winning team from each of the eight third rounds advances to the quarterfinals.
NCAA Women's Soccer Tournament: Pitt selected as 4-seed; will face Buffalo at home on Saturday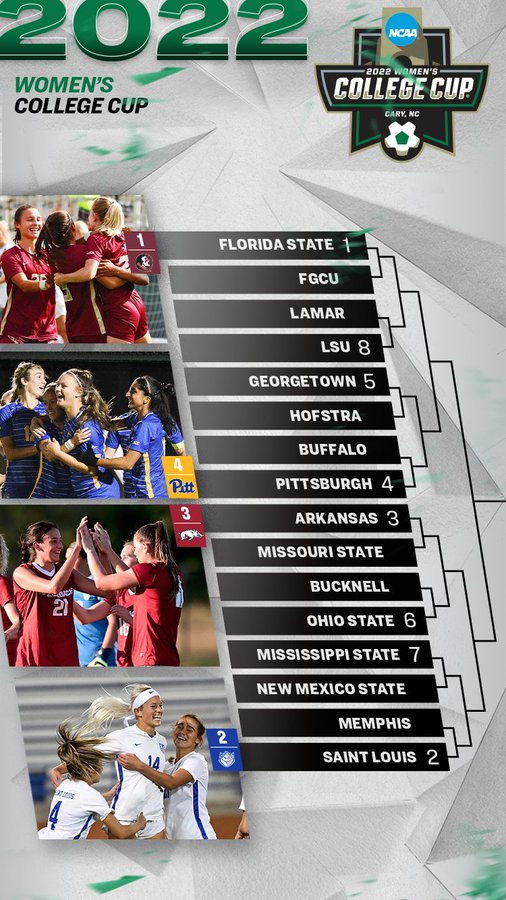 Reaction: Randy Waldrum, Sarah Schupansky on Pitt's first-ever NCAA women's soccer tournament selection
History will be made tonight at Ambrose Urbanic Field. First NCAA Tournament game for @Pitt_WSOC.#H2P https://t.co/x2mjrAsrhk

— Mike Ashcraft (@mike__ashcraft) November 12, 2022
Game Notes
HISTORY MADE
This season Pitt has been growing accustomed to making history.
The Panthers qualified for both the ACC Championship and NCAA Championship fields for the first time in program history in 2022. Pitt will join New Mexico State and Omaha as first time participants in the NCAA Tournament this season.
Pitt clinched its first-ever berth in the ACC Championship field courtesy of a 0-0 draw with Clemson to close out the 2022 regular season. The Panthers had last appeared in postseason play in 2010 – a 1-0 loss at DePaul in the Big East Tournament First Round.
Pitt fell to No. 4-ranked Notre Dame in a penalty kick shootout, 5-4, in the 2022 ACC Championship First Round after playing to a 1-1 draw following two overtime periods. Freshman Katie Zailski came up clutch for Pitt in the 70th minute, converting on a scramble in front of the net to ultimately send the game to overtime. Leah Pais assisted on the game-tying goal.
ALL-CONFERENCE HONORS
Senior midfielder Landy Mertz and freshman defender Katie Zailski represented Pitt on the 2022 All-ACC teams, with Mertz being named to the Third Team and Zailski being named to the All-Freshman Team.
Mertz is the second Panther to be named to the All-ACC Third Team, joining Amanda West, who garnered honors in 2019. Zailski becomes the second Pitt player named to the ACC All-Freshman Team, also joining West, who received such honors in 2019.
Mertz has started all 19 games for the Panthers in 2022 to set a career high. The Pittsburgh native has set new career standards in points (16), goals (6), shots (54), shots on goal (33), game winning goals (4) and minutes (1434). She ranks third on the team in points, tied for second in goals and fourth in assists (4). Her four game winners are tied for the most among ACC players and are tied for 29th-most in the country.
A native of Summerville, S.C., Zailski has played in all 19 games for the Panthers this season, making 17 starts in her rookie campaign. She has registered six points off of three goals, including potting the game winner in a 4-1 victory at Virginia Tech. She has also tallied six shots, with four coming on goal, and played 1537 minutes. Zailski has been a key part of a back line that has registered eight shutouts so far in 2022, which ranks as the second most in a single season in program history. She was recognized last month on TopDrawerSoccer's Freshmen Top 100 list, coming in at No. 26.
LAZZARINI NAMED ACC DEFENSIVE PLAYER OF THE WEEK
Senior goalkeeper Caitlyn Lazzarini was named ACC Defensive Player of the Week for the final week of the 2022 regular season. She garnered conference player of the week honors for the first time in her career
Lazzarini totaled five saves and preserved the shutout in a 0-0 draw against Clemson to help clinch Pitt's first-ever trip to the ACC Women's Soccer Championship. The Nazareth, Pa., native recorded three saves in the first half and two in the second as she notched her sixth clean sheet of the season.
BUILDING THE PROGRAM
The Panthers are now 43-38-7 under the leadership of fifth-year head coach Randy Waldrum. After going 9-22-4 in the first two years of a massive rebuild, Pitt has gone 34-18-3 over the last two-plus seasons.
NCAA DIVISION I COMMITTEE TABS PITT TOP TEN
The NCAA Division I Women's Soccer Committee ranked Pitt ninth in its midseason reveal.
IN THE RANKINGS FOR A FIFTH-STRAIGHT WEEK
Pitt moved up another spot in the United Soccer Coaches Rankings, coming in at No. 19 last week to mark the fifth week in a row the Panthers have been ranked in the national poll.
The Panthers entered the rankings at No. 14, marking the third-straight year Pitt has appeared in the weekly poll. Pitt moved up one spot to No. 13, then was ranked No. 21 and No. 20. The Panthers reached as high as No. 19 in the poll last season and No. 12 in 2020.
TOP-THIRTEEN RPI RATING
The Panthers currently occupy the No. 13 spot in the NCAA's fourth Rating Percentage Index (RPI) report of the 2022 season after opening at No. 18 in the initial report, moving up to seventh five weeks ago, second four weeks ago and then ranking eighth three weeks ago, 10th two weeks ago and 12th last week.
A WIN FOR THE RECORD BOOK
Pitt set new program standards for both wins and goals in a single season courtesy of a 2-0 victory over Syracuse on Oct. 20 at Ambrose Urbanic Field.
The Panthers have captured a program-record 12 victories in 2022, surpassing the previous standard of 11 set by the 2020-21 and '21 squads. Pitt's five ACC wins this year are the most in a single season in program history since the Panthers joined the league prior to the 2013 campaign. Pitt also set a new program record for goals scored in a single season after potting a pair against the Orange.
LAZZ LANDS ALL-TIME WINS RECORD
In addition to the team records falling in the win over Syracuse, Caitlyn Lazzarini set a program record by earning her 20th career victory in goal, overtaking the previous record of 19 that was shared by Morie Kephart (2007-10) and Jamie Pelusi (2002-05). With 12 victories in goal this year, Lazzarini is also the program's single season wins leader
PILING UP POINTS
Pitt has already set a program record for points in a single season with 128 (44 goals, 40 assists). The previous high-water mark was shared by the 2020-21 and 1998 teams with 104. The Panthers' 125 points are tied for 17th in NCAA Division I while their 6.74 points per game are tied for 16th.
OFFENSIVE ONSLAUGHT
Pitt has outscored the opposition 44-17 so far in 2022. The Panthers' 44 goals are a program record and are tied for the 16th-most in NCAA Division I this season. Pitt is tied for 16th in the nation in scoring offense with 2.32 goals per game.
FINDING BALANCE
The Panthers have seen 13 different players find the back of the net so far this season. Leah Pais is pacing Pitt, scoring a team-high seven goals. Amanda West, who is out for the rest of the season following an injury in the win over Cincinnati, is tied for second on the team with Landy Mertz and Sarah Schupansky with six goals. Mertz has compiled a team-high four game winners, which is tied for most among ACC players. Ellie Coffield, Samiah Phiri and Katie Zailski round out Pitt's top seven goal scorers. Fleming Dean, Bri Hilsenteger and Emily Yaple have each cashed in twice. Anna Bout, Mackenzie Evers andAshton Gordonhave each found the back of the net once.
HOW MAY WE ASSIST?
Eleven different Panthers have distributed assists this season, with Sarah Schupansky leading the way with seven, which is tied for 51st in the country and ranks fifth among ACC players. Anna Bout ranks second on the team with six assists. Her 15 career assists are good for the fifth-most in program history. Leah Pais has distributed five assists to rank third on the squad while Landy Mertz has tallied four to rank fourth. Ellie Coffield, Ashton Gordon, Keera Melenhorst, Samiah Phiri, Amanda West and Emily Yaple have each dished out three assists while Ashley Moon has logged one helper. Pitt's 40 assists rank as the second-most in program history behind the 2021 squad's 47. The Panthers are currently tied for 27th in the country in total assists and tied for 24th in the nation in assists per game with 2.11.
HOME IS WHERE THE WINS ARE
Pitt went 7-1-1 at home in the regular season, tying the 2021 squad for most home victories in a single season.
A FIRST TIME FOR EVERYTHING
ACC regular season play saw Pitt record its first-ever wins over Virginia Tech (4-1) and Notre Dame (3-1). The Panthers were previously 0-7-1 against the Hokies and 0-15-1 against the Fighting Irish.
PANTHERS FINISH NON-CONFERENCE PLAY STRONG
Pitt prevailed in seven of its first eight games for the second year in a row to finish non-conference play strong. The Panthers went a perfect 4-0 at home in non-conference action.
SHUT IT DOWN
The Panthers opened the 2022 season by earning a pair of shutout victories at the Rumble in the Rockies in Missoula, Mont. Pitt blanked Gonzaga, 1-0, in the season opener, then stifled host Montana, 2-0, three days later. The Panthers started a new season with back-to-back shutout victories for the first time since 2017. Pitt has added six more shutouts to its total courtesy of a 6-0 rout of Cleveland State, a 7-0 romp over Kent State, a 2-0 blanking of Cincinnati, a 1-0 win over Louisville, a 2-0 victory over Syracuse and a 0-0 tie with Clemson. Pitt's eight shutouts are tied for the second-most in a single season in program history.
SCOUTING BUFFALO
Pitt and Buffalo face off for the first time since 2010 – a 4-1 victory for the Panthers on Aug. 20, 2010. The Panthers are 3-1 all-time against the Bulls.
Buffalo is 95-49-25 under the leadership of ninth-year head coach Shawn Burke. Burke guided the Bulls to their first-ever NCAA Tournament appearance in 2014.
The Bulls have put together a 15-1-4 campaign in 2022, winning the MAC regular season crown with a conference mark of 7-0-4. Buffalo won the MAC Tournament after posting a 1-0 win over Miami in the semifinals and a 2-0 victory over Ball State in the title game. Buffalo has shut out its last three opponents dating back to 2-0 triumph over Kent State in the regular season finale.
Buffalo has outscored the opposition 36-8 this season. The Bulls are tied for first in the country with a .400 goals against average and second with a .882 save percentage while ranking fourth with .700 save percentage. Buffalo is also tied for eighth in the nation in assists with 47.
The Bulls boast a pair of eight-goal scorers in Jasime Guerber and Arianna Zumpano. Guerber leads the squad with 20 points in addition to being tied with Zumpano for the team lead in goals. Guerber's five game-winning goals are tied for ninth in the country. Payton Robertson has distributed a team-high eight assists, tied for 25th in the country. Ellie Simmons is right behind her with seven helpers.
Emily Kelly has started all 20 games in goal for the Bulls, logging 59 saves and recording a nation-high 13 shutouts while surrendering just eight goals. Her .403 goals against average is fifth-best in the nation while her .881 save percentage is good for eighth in the country.
Buffalo dominated the MAC postseason awards, with Burke being named Coach of the Year, Kelly being named Goalkeeper of the Year and Simmons being named Defensive Player of the Year. Kelly and Simmons also earned spots on the All-MAC First Team. Robertson, Hannah Callaghan and Leah Wengender were all named to the All-MAC Second Team. Simmons and Katie Krohn garnered All-MAC Freshman Team selection.
Riverhounds MF Danny Griffin
Subscribe to PGH Soccer Now