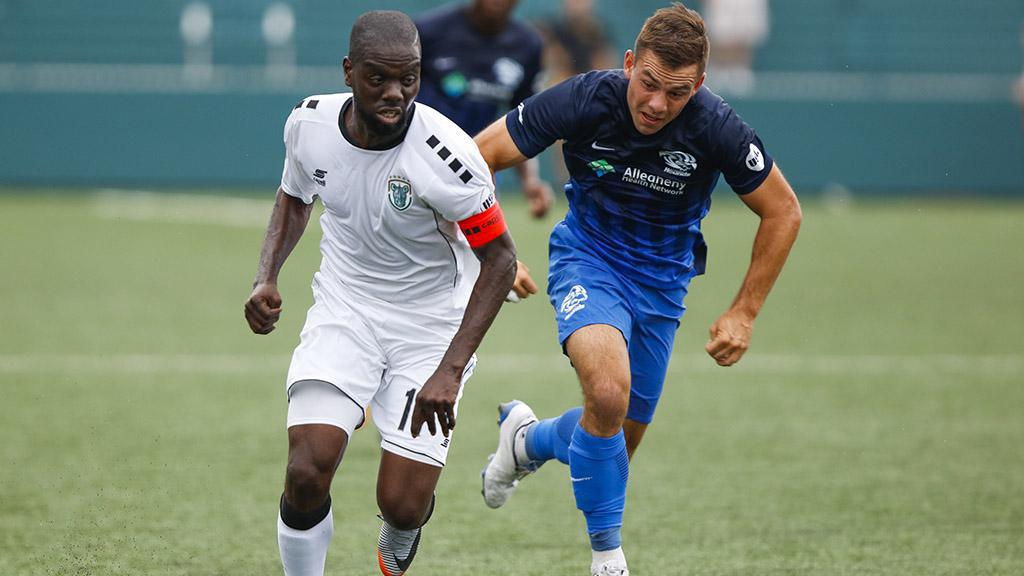 This is now the third edition of Playoff Push — as the USL Eastern Conference playoffs now have six weeks remaining, and with Rochester's ascension into fourth place, there are now seven teams who still have a chance at the final three playoff spots, but two of them, Ottawa and Saint Louis are hanging on by a thread, after they drew against each other.
There is still a lot of soccer to be played, and it seems as if things are only getting tighter in the standings — especially from fifth place (Tampa Bay – 38 points) to 10th place (Pittsburgh Riverhounds – 34 points).
Here's my latest, team-by-team, look at the playoff race broken down into three categories of USL's Eastern Conference:
Pretty secure
Battle for final playoff spots
Out of contention
PRETTY SECURE
Louisville City FC (47 pts) – Bounced back from a loss to Orlando City B, by defeating third-place Charleston, 1-0.  Next up: at Pittsburgh, Sat. Sept. 9  
Charlotte (47 pts) – after a loss to last place Toronto FC II, Enzo Martinez made his USL MVP case with two goals leading the Independence past 14th place Richmond. Next up:  at Charleston, Sat. Sept 9
Charleston (41 pts) – another loss for the Battery, this time to front-running Louisville. If they have any hope to finish at the top, will need a win against Charlotte at home. Next up:  Charlotte, Sat. Sept. 9 
Rochester (41 pts) – The Rhinos keep prodding along, jump over struggling Tampa Bay with a business-like result in beating last place Toronto FC II, 1-0. Next up: at Ottawa, Sat. Sept. 9 
Tampa Bay (38 pts) – returned to action after more than a week, and defensive woes persist in a 4-2 loss to NY Red Bulls II. Rowdies head to Pennsylvania for swing vs Harrisburg and Bethlehem Steel FC. If they falter on this trip, I might have to knock them down a category. — and into the battle for final playoff spots Next up: at Harrisburg, Wed. Sept. 6 / at Bethlehem Steel FC, Sat. Sept. 9.  
BATTLE FOR FINAL PLAYOFF SPOTS 
6. Orlando City B (36 pts) – hottest team in USL continues unbeaten streak that reaches 12 games (3-0-9) as Bethlehem Steel FC found a late equalizer that kept OCB in 6th place. Next up: Richmond, Thurs. Sept. 7 (4:30 p.m. kickoff!?) 
7. New York Red Bulls II (35 pts) – suddenly the Red Bulls II jump over a bunch of teams with a 4-2 win against the struggling Rowdies. Next up: Toronto FC II, Sat. Sept. 9
8. FC Cincinnati (35 pts) – a draw at home against the Hounds was disappointing result, especially since they only have one more match (out of six) at home, One of the drawbacks about playing at a facility which is home to a Division I college football program.  Next up: at Harrisburg, Wed. Sept. 12


9. Bethlehem Steel FC (34 pts) – late equalizing goal against red-hot Orlando City B allows them to keep pace. Next up: Tampa Bay, Sat. Sept. 9 
10. Pittsburgh Riverhounds (34 pts) – Despite a 'positive' draw on the road at Cincinnati, the Hounds drop a spot in standings after NY Red Bulls II win, but remain only one point off the pace. Four of final six are at home, but next two are against two top four teams. Next up: Louisville FC, Sat. Sept. 9
11. Saint Louis FC (31 pts) – picking up a pair of draws in the past week didn't help STLFC pick up any much needed ground in the race. Next up: Harrisburg, Sat. Sept 9.
12. Ottawa Fury (30 pts) – needing a win against STLFC, they also settled for a 2-2 draw that keeps both teams behind the Riverhounds and Steel FC. Next up: Rochester, Sat. Sept. 9.   
OUT OF CONTENTION
13. Harrisburg (25 pts) – the City Islanders have been dormant, and finally will get back into action this week, trying to snap an eight-game winless streak. Next up: Tampa Bay, Wed. Sept. 6 / at St. Louis, Sat. Sept. 9
14.  Richmond (23 pts) – following up an upset win at Charleston, the Kickers were kicked back to the curb by front-running Charlotte, in 3-0 loss. Next up: at Orlando City B, Thurs. Sept. 7  
15. Toronto FC II (21 pts) – Rochester's 1-0 win kept TFCII in the basement, for now. Next up: at NY Red Bulls II, Sat. Sept. 9 
GAMES TO WATCH (SEPT. 9):

Pittsburgh vs Louisville City FC  – the Hounds are unbeaten in their last five games,  but have struggled vs front-running Lou City FC this season, losing previously at home, 1-0, and getting beat soundly on the road, 3-0. With newfound confidence in the attack, this can be a signature win for the Hounds as they make a playoff push. Lou City are in a neck-and-neck race for the top spot with Charlotte, so don't expect them to take the foot off the gas at any point in this game.
Charlotte vs Charleston – in a battle of 2nd vs 3rd place teams — Charleston continues to struggle, with only one win in its last 10 games. Charlotte is keeping pace with Lou City for the top spot, and will likely need a win to keep pace.

Rochester vs Ottawa – this could very well be an elimination game for the Fury, who are now five points out of a playoff spot.
Tampa Bay vs Bethlehem Steel – both teams have faltered a bit in the past month, but a win can catapult either back into more comfortable position.

Riverhounds Postgame: Russell Cicerone after brace vs Indy
Subscribe to PGH Soccer Now