Pittsburgh Riverhounds SC 1 vs Ottawa Fury FC 0
It took nearly 87 minutes, but Riverhounds SC finally came through with an elusive goal to earn its second consecutive win against a pesky Ottawa Fury FC, 1-0, at Highmark Stadium in tense match on Saturday.
That elusive goal came from an unlikely and maybe most fittingly — a defender, Tobi Adewole, who scored the game winner while goalkeeper Dan Lynd's save late in stoppage time preserved the Hounds fourth consecutive clean sheet to open the season.
"I am proud of the fact that we kept at it," Bob Lilley, Riverhounds head coach, said. "You wonder if you're going to get it. They (Ottawa) were killing clock. We were able to get it to the corners, and send in crosses. We kept the pressure on and I felt like the goal was coming. It was important to win this. We'll have to be able to fight through these moments. Every game in this league will pose new challenges."
The tension of the match built as the Hounds dominated possession throughout with 62 percent of the ball, send waves of crosses (30 to be precise), but could not find the back of the net as Ottawa jam packed the box.
In the 87th minute, the Hounds finally connected when Ray Lee made a nice run into the box, and delivered a cross that went over everyone but veteran midfielder Kevin Kerr who got to the bouncing ball first in tight space on the right end line to make another big play — in a big moment.
Kerr calmly delivered a ball inside the box to the top of the six — and that's where Adewole took it from there reacting quickly enough — as he was falling over — to redirect it in the back of the net.
Everything about this goal…beauty.

Congrats on career goal No. 1️⃣, @TobiAdewole95. #PGHvOTT pic.twitter.com/JAJDIKnikN

— Pittsburgh Riverhounds SC (@RiverhoundsSC) April 15, 2018
Despite dominating most of the match, the Hounds faced some very late pressure.
Ottawa midfielder Christian Portillo had a very good look from 35 yards that nearly tied it, and ended the Hounds shutout streak.
The save to seal it. #PGHvOTT

????‍♂️ @DanLynd20 pic.twitter.com/u63Rslt2CM

— Pittsburgh Riverhounds SC (@RiverhoundsSC) April 15, 2018
"We believe in each other. We're covering for each other. And we all know that keeping the clean sheet is the number one priority for the back four," Adewole said. "Lot of pride in our job back there, and I thought we did a good job today."
"The number one thing I was thinking was attack the ball, and be dangerous in the box," Adewole said. "I got to contribute to the team any way I can. Getting shutouts is one thing, but getting a goal is another. I'm blessed to get."
More post-game coverage will follow after interviews with Kevin Kerr, Adewole and coach Bob Lilley.
GAME DAY UPDATES/TIMELINE 
2nd half updates:
46′ – great chance to start the second half for Pittsburgh. Brett works his way up left endline — finds François right in front of net, but Crepeau is there for save.
51′ – Falvey with a poke of Forbes –and Hounds get a free kick, but try a quick restart and lose possesion.
53′ – Another cross into box — and Hounds Brett called for a little push after redirected header comes his way between two defenders
55′ – Tony Taylor with a decent look from the top of the box for Ottawa but shot goes over bar
56′ – Tobi Adewole is fouled by Gerardo Bruno — who becomes the first player to get a yellow card in the match
60′ – after about two or three minutes of an Ottawa player being attended to — first sub of night now as Jamar Dixon comes in for Ottawa.
61′ – Hounds with a pair of corner opportunities — first one goes way over — but cleared out by Ottawa. Second played way too short and an easy clearance.
62′ – Another corner goes way over bar. Hounds set pieces leaving a lot to be desired tonight.
64′ – now a free kick — from Zemanski is a quality ball in from 30 yards — Vancaezeele heads it forward toward goal — pings off left post, then then finds way in back of net on what looked like an Ottawa defender.
NO GOAL. Offside call — looks like the Hounds were guilty.
65′ – three prior corners in a two minute span left a lot to be desired but finally that free kick by Zemanski was first real quality set piece for Hounds tonight. With Ottawa bottling things up, set pieces could be big
71′ – Hounds finally making some subs — Kevin Kerr and Kay Banjo are in for Lubahn and François.
74′ – things got real interesting — as Ben Zemanski was jumped by Christian Portillo — and a bit of a scrum followed. Official issued yellow cards for each. Then moments later, an Ottawa assistant coach was also sent off.
81′ – Hounds with a corner opportunity off foot of Kerr who set it up with nice run on right side. Ball in to near post cleared.
83′ – Kerr brings another ball up end line — and nice lofting ball to Banjo but header just missed.
84′ – Another corner — again Kerr takes it
86′ – GOAL – RiverhoundsSC  – 1-0
That went Lee to Kerr to Adewole! First career goal for Tobi.
Great reaction by Kerr after Lee's cross went over the top to right end line to keep it alive and get it to Adewole.
90′ – Eight minutes added to this one. Yes – eight!
92′ – Ottawa earns a free kick after Todd Pratzner takes down a player near midfield on counter Pratzner is booked with yellow card 90+2
93′ – Ottawa's Eddie Edwards now booked for yellow card after taking down Hounds player on left side.
96′ – strike from Portilla is stopped by the Riverhounds goalkeeper Dan Lynd who got finger tips on it to clear it over the bar.
Halftime summary
It's been a trend this season for the Riverhounds SC to play to scoreless draw in the first half.
No exception again on Saturday.
The Hounds have clearly dominated possession (66%) while Ottawa have been content to sit back — at times packing five or six defenders and midfielders into the box.
Despite having the ball for much of the half, the Hounds were only able to generate three shots, with only one on target.  With a crowded box to penetrate, Pittsburgh attempted 12 crosses and balls into the box with mixed success.
The best opportunity came when Chrisiano François got forward quickly into space on the right side in the 27th minute — sending a hard lining ball directly to Neco Brett — who's header just missed.
27' | Neco looking for an encore! #PGHvOTT pic.twitter.com/Rf9lJR35EK

— Pittsburgh Riverhounds SC (@RiverhoundsSC) April 14, 2018
Again though, the Hounds back four, and holding midfield combination of Ben Zemanski and Mouhamed Dabo have been solid in extending the club's shutout streak now to 315 minutes.
1st Half updates: 
7:07 p.m. — (1′) — teams kickoff with Hounds going toward the Paul Child Stand/Steel Army
3′ – Pittsburgh with most of possession — and bringing high press in what looks like 4-3-3, but Dabo and Zemanski sitting in front of back four. Vancaeyezeele, slotted as central midfielder, pushing up a lot higher.
8′ – After Hounds GK Dan Lynd sends a low ball forward right to Kenardo Forbes, he sends nice ball to left of box to Neco Brett who unleashes left footed shot forcing Maxime Crepeau to make save by post
9′ – Another cross in for Pgh results in corner. Ball played to far post area, and redirected header is grabbed by Crepeau
13′ – Zemanski clearly orchestrating a lot of quality possession — but Hounds still unable to get another shot attempt on frame
17′ – don't think Ottawa has really had any kind of possession in attacking half of field.
18′ – this really, really looks more like a 4-2-3-1 for the Hounds…
21′ – Ottawa with a free kick chance from the left side — just outside box — well defended by the Hounds.
27′ – Ottawa for most part packing it in, so on a counter, Francois gets forward quickly on right side — sends a liner into the box for Brett who's header going toward left post deflected away by Ottawa defender.
Yes — it was a nice save and play by defender Colin Falvey…
28' A great play from #CaptainColin @falvey32 stops a good Riverhounds chance ????

PGH 0 | OTT 0#USL #PGHvOTT #WeStandTogether

— Ottawa Fury FC (@OttawaFuryFC) April 14, 2018
34′ – Dabo with a bit careless play in midfield, but he recovers nicely to help deny any kind of scoring threat for the Fury
36′ – Zemanski called for a foul that give Fury a free kick about 35 yards out
40′ – Zemanski plays a vertical ball to Brett — but last week's hero was offside.
42′ – Lubahn and Francois get it forward on right side — and Christiano with a nice little stutter-step move that beats defender, but ensuing ball into box is cleared away
Hounds Starting XI:
Only slight surprise is Kevin Kerr not in the starting 11. Also, Andy Lubahn getting the nod at right back for his first start as a Hound.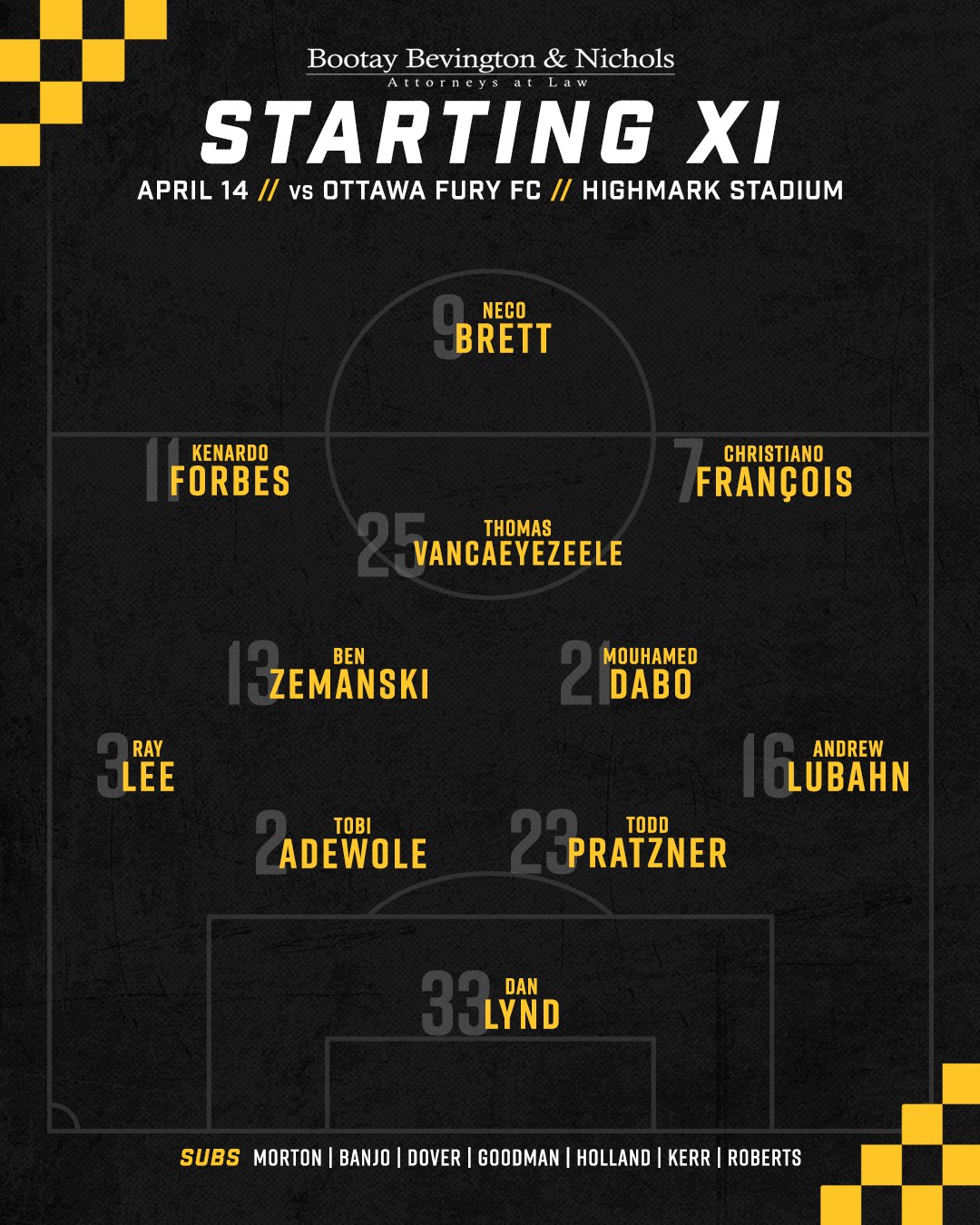 Available subs:
Kyle Morton (G), Kay Banjo, Jordan Dover, Bakie Goodman, Joe Holland, Kevin Kerr and Hugh Roberts
Here's Ottawa's starting lineup…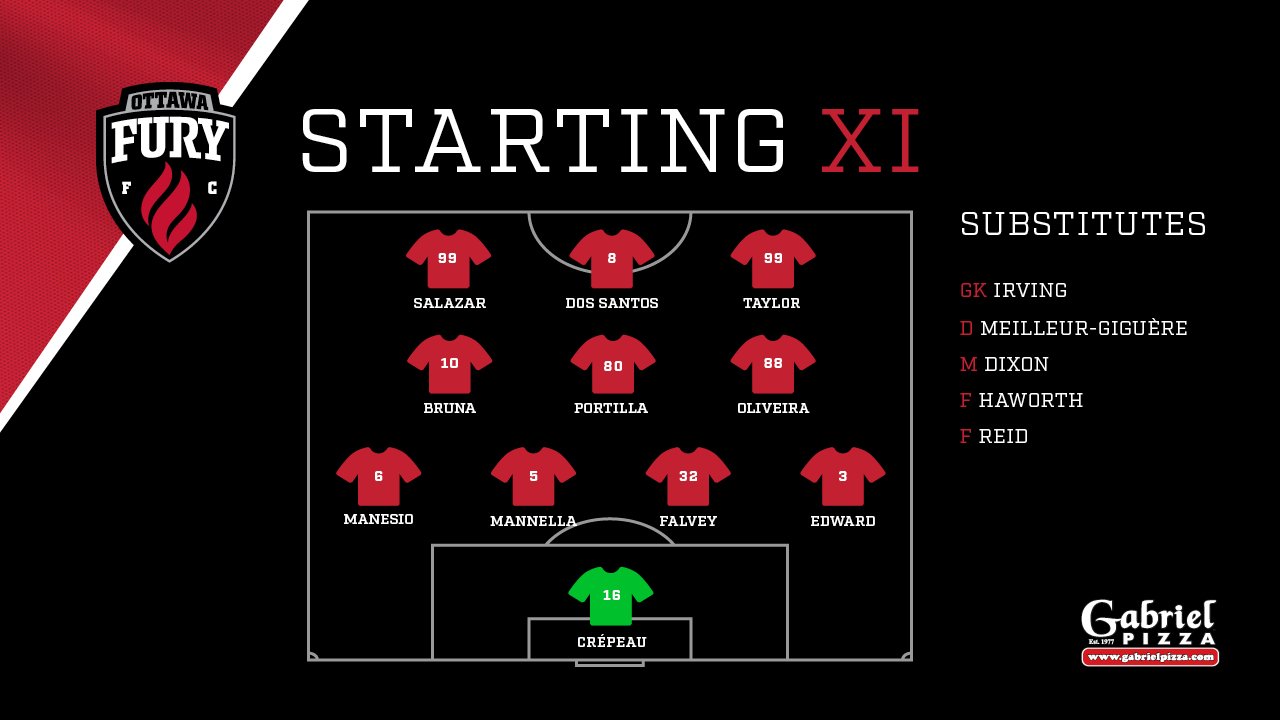 GAME DAY DETAILS:
Highmark Stadium, Pittsburgh, PA – 7 p.m.
Stream – ESPN+
Follow – Twitter: #PGHvOTT and USL Match Center
Weather forecast: 72, cloudy chance of rain
All-time series: Pittsburgh leads 1-0-1
Pittsburgh Soccer Now coverage will include score and in-game updates here on this thread and on twitter @Pghsoccerscribe
KEY STORYLINES
• The Hounds are home for the third straight Saturday. After two scoreless draws to start the season, thanks to a second half scoring surge, the Hounds had a breakout win over Toronto FC last week. Pittsburgh is one of two USL teams to still not concede a goal yet in the early part of the season. The Hounds unbeaten streak is the longest such streak to open the season by the club in the current era of the USL (since 2011).
• Ottawa comes to town with the worst goal differential in the conference at minus-8 having allowed the most goals in the East (9) despite playing the least amount of games to date (2).
• Forward Neco Brett very well may be getting his second start in a row after earning USL Player of the Week honors after recording his first career professional hat trick and also adding an assist for good measure in the win over TFCII.
• The hat trick, coming in the span of 31 minutes – the fastest in club history eclipsing José Angulo's 39-minute effort – marked the fourth ever by a Hounds player in the current era of the USL (since 2011) and the first since Rob Vincent against Wilmington on Aug. 1, 2015. Brett is likely to get nod to start again, as Romeo Parkes, who started the first two games at forward, will be out of the line-up again with a knee injury.
• Another milestone of note was Kevin Kerr making his 134th appearance to move into third all-time in club history. Currently the longest-tenured Hound on the club, Kerr is only 11 games played away from tying Gary DePalma at No. 2 (145)
MORE ON OTTAWA FURY
Pittsburgh Soccer Now's extensive pregame coverage includes:
MonGoals Preview Podcast with Hounds defender Hugh Roberts
Riverhounds Rabbi scouting report on Ottawa
In addition, USL veteran defender Onua Obasi has been suspended for three games following his red card against the Tampa Bay Rowdies this past Saturday.
INJURY REPORT
This is the same as last week for the Hounds:
Ben Fitzpatrick – Out (Lower body)
Joe Greenspan – Out (Calf)
Romeo Parkes – Out (Knee)
WHAT THEY'RE SAYING ABOUT #PGHvOTT / Riverhounds
"A lot of teams would have struggled to go into Tampa and Charlotte to begin the year. It's dangerous to scoreboard watch. Ottawa has quality," Bob Lilley, Riverhounds head coach.
"It's a very important test for us, to see how we will react after our result in the previous game. It's an important moment for us, to see how the players will show what they are capable of. What we need is consistency. We cannot alternate between the good and the not-so good. We have to find stability in our game and then perform consistently at a good level. We were able to create much more chances than in our first game. We are getting better but of course somebody has to put the ball inside the net. And we are expecting to start doing this," Nikola Popovic, Ottawa head coach.
This is a thing I really enjoyed writing. If ever a club was more of an island of misfit toys, straight out of a novel by Gabriel Garcia Marquez, it is the Ottawa Fury. https://t.co/9I9oxjVFow

— Riverhounds Rabbi (@riverhoundrabbi) April 13, 2018
"We are confident because we are a really good team. The last two games were horrible but it's only six points. If we win two in a row we can be in a good position, so we are confident. We will go to Pittsburgh to win and after that do well in the home opener against North Carolina." Cristian Portilla, Ottawa midfielder.
And finally, as if you need any additional incentive to go to the game — free koozies for the first 2,000 fans on Saturday.
First 2,000 fans through the gates for Saturday's match against Ottawa receive this snazzy Hounds-@s04_us koozie. #SchalkePittsburgh

???? -> https://t.co/eKA8iilEkE pic.twitter.com/5LbWbBAIQj

— Pittsburgh Riverhounds SC (@RiverhoundsSC) April 10, 2018
Riverhounds MF Danny Griffin
Subscribe to PGH Soccer Now