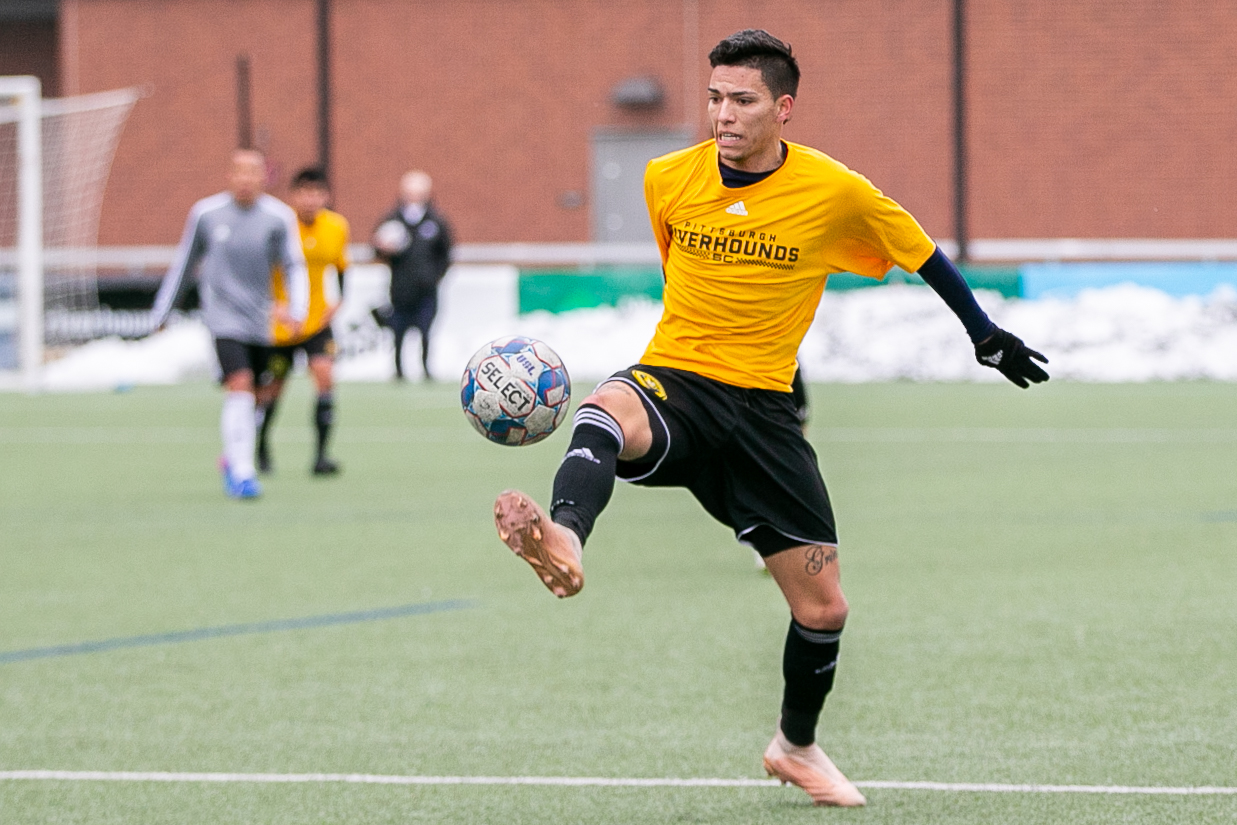 Pittsburgh, Pa. — Dani Rovira came a long way to reach his destination of Pittsburgh.
Born in Colombia, Rovira spent time at Dean College and the University of Vermont before arriving in Pittsburgh. Rovira spent two seasons, his junior and senior seasons, in Vermont, making 33 appearances and starting 23 games. Now, he's a professional in Pittsburgh after signing with the Pittsburgh Riverhounds SC this offseason.
Rovira admits that the transition from college to the USL Championship has provided a different atmosphere.
"The pace of the game, the movement, the physicality of it, it's just a good thing for me to learn," Rovira said after training this week. "It has been a fun experience, which I enjoy. It's good the team is getting points. These practices have been helping them get ready for the game."
Rovira said that being a rookie, he's looking up to plenty of players on the team. He tries to learn a piece of information from every player on the team.
"All of them have experience, have won championships, have played at this level," Rovira said. "My roommate Kyle Morton, I get to hang out with him a lot. And some of the guys, they are always trying to teach me something, always trying to learn. That is what makes it the best. To get to enjoy it. Obviously putting in the work when it's time and get to enjoy it afterward."
#HoundsTV caught up with defender Ryan James to talk about facing his former team, Nashville SC. #UNLEASH #PITvNSH pic.twitter.com/QgrWJgOLDl

— Pittsburgh Riverhounds SC (@RiverhoundsSC) April 24, 2019
Sammy Kahsai also experiencing shift from college to professional
Sammy Kahsai spent the majority of his college career with the University of Maryland, Baltimore County. He said his biggest takeaway from the transition is that the standards are higher in the USL Championship.
"[It's] just coming out every day and training and giving it all," Kahsaid said. "Doing what I have been doing at UMBC and also bringing it to the pros."
Kahsai has academy experience under his belt, featuring for the D.C. United Academy. The Hyattsville, Maryland, native spent time with D.C. United Academy from 2013-14.
"That helped me big time," Kahsai said after training this week. "Coming out of high school and going into the academy helped me understand the game, give me better positioning, understanding, IQ and good professional standards at D.C. United."
Kahsai said that featuring for the Riverhounds SC has been a great experience. He called his teammates a great group of guys and mentioned that he pays attention to every player, but especially the older, veteran ones. However, it's been Riverhounds SC co-captain Kenardo Forbes that has been the main focus of Kahsai's learning.
"He seems like he has a lot of class within his game," Kahsai said. "And he plays my position, as well. Just following in his footsteps, moving forward."
Gearing up for Nashville SC on Saturday
Both players are getting used to a new city.
However, there hasn't been any complaints about their new stadium, fans and home. Kahsai said that the club's season opener was "something else." He's not wrong, as the Riverhounds broke a regular-season attendance record with 5,182 fans in the stands and around Highmark Stadium.
"It was a great amount of people, great amount of crowd, and I'm looking forward to the rest of the regular season," Kahsai said.
Meanwhile, Rovira exclaimed his appreciation for the beauty around the Steel City.
"I love the view from the stadium," Rovira said. "The fans are such great people. And I've liked what I have seen from Pittsburgh. I look forward to seeing new places and enjoying the experience."
However, when they're on the pitch, they're focused. Tomorrow, the Riverhounds SC will host Nashville SC at Highmark Stadium. This is the third-consecutive home match for the Hounds after spending the first four matches of the season on the road. Nashville is currently in seventh place in the Eastern Conference, while the Hounds sit in 11th place. However, this match, for Rovira, is just another game.
"We're at home so it is important to keep using those points toward us," Rovira said. "[We have to] Believe in what we do. Every game, we get better, and we get more comfortable. Just keeping working hard. They are a good team and it is time to put our name out there. Show them what we are doing and what we want."
Kahsai shared the same sentiment, saying that the Hounds need to protect their home ground.
"It's a home game, and we expect to win," Kahsai said. "Just like the coaches say, just try to get on the ball, keep the ball and good things will happen."
Pittsburgh and Nashville will kick off at 7 p.m.
The Hounds take on @NashvilleSC for a home game this Saturday, which will mark #BeTheKindKid Night at @highmarkstadium.#UNLEASH | #PITvNSH pic.twitter.com/KSFYzOdyyj

— Pittsburgh Riverhounds SC (@RiverhoundsSC) April 25, 2019
Riverhounds Postgame: Russell Cicerone after brace vs Indy
Subscribe to PGH Soccer Now