USL Championship Eastern Conference
Pittsburgh Riverhounds SC 3, Memphis 901 FC 0
Game Summary
The Pittsburgh Riverhounds SC flexed its muscles in the season opening match with an impressive 3-0 victory at Memphis 901 FC at AutoZone Park in Memphis on Saturday night.
One of the newest Hounds, and the USL Championship's all-time leading scorer, Dane Kelly made his presence felt in a big way, scoring the match's first goal in first half stoppage time, then added an assist in the 64th minute to set up Russell Cicerone.  Kelly's replacement, Albert Dikwa capped the scoring for the Hounds with a clever finish in the 77th minute
Chase Vosvick made his pro debut in goal for the Hounds. The rookie goalkeeper was put into a pressure situation midway through the first half, making a penalty kick save on Memphis' Chris Allen by extending his body to the right and using his leg to deny a goal.
Shortly after that, Memphis defender Graham Smith was sent off after his second yellow card when taking down Cicerone.
Forced to play down a man the rest of the match, the Hounds dominated play in the second half, wearing down a Memphis squad that had four players on its roster on the injury list.
KEY STATS:
Possession 50/50
Shots:  Memphis 9 (5 on target); Pittsburgh 7 (4 on target)
First Half
The match started with both teams feeling their way out in freezing temperatures in Memphis. Cicerone nearly opened the scoring in the 22nd minute with a long-distance shot that hit the inside of the left post and stayed out.
Just before the half-hour mark, defender Arturo Ordóñez — another Hounds first-year pro out of Pitt — was called for handling the ball as he made a sliding tackle, giving Memphis a penalty kick. Goodrum went right down the middle with his shot, and Vosvick was able to drag a leg behind him to make a kick save as he dove to his right.
With that momentum, the Hounds sprung forward, and Cicerone was fouled by Smith, who came into the tackle with a high boot. Smith had received a yellow card earlier in the match, and referee Kevin Broadley had little choice but to send him off in the 34th minute for a second cautionable offense.
The Hounds finally broke through in first-half stoppage time, when Alex Dixon pushed a pass through traffic to Kelly in the box. The Hounds' offseason free-agent signing outworked his defender for the ball and scored with a low shot for the career milestone goal.
Second Half
Memphis regrouped after halftime and held their shape with only 10 men, and they were even able to keep possession even at 50-50 for the night while forcing five saves from Vosvick.
But the Hounds got their second goal in the 64th minute from a corner kick, as Kenardo Forbes delivered a high ball for Kelly to head toward the back post, where Cicerone was waiting to slam it into the open net. The goal was Cicerone's 17th with the Hounds, which puts him into the top 10 in team history for goals in just the first game of his second season.
Dikwa finished the scoring in the 76th minute after a nice move down the right wing that ended with Dixon picking up his second assist. Dikwa was able to slow down and receive the pass slightly behind him, and with Memphis defenders overrunning the play, he had time to slam the ball into the goal.
In total, five players made professional debuts tonight for the Hounds — starters Vosvick, Ordóñez and midfielder Marc Ybarra, as well as defenders Nate Dossantos and Toby Sims off the bench.
What's Next?
The Hounds will host Hartford Athletic in the 10th season opener at Highmark Stadium on Saturday, March 19 at 7 p.m. Hartford (0-0-0) was the odd team out of the 27 clubs on the opening weekend of the USL Championship season; next week's game will be its season opener.
Riverhounds SC Lineup (3-4-1-2) — Chase Vosvick; Jelani Peters, Arturo Ordóñez, Shane Wiedt; Robby Dambrot (Nate Dossantos 68'), Marc Ybarra (Toby Sims 68'), Danny Griffin, Alex Dixon (Angelo Kelly 85'); Kenardo Forbes; Russell Cicerone (Mekeil Williams 85'), Dane Kelly (Albert Dikwa 68')
Memphis 901 FC (4-2-3-1) — Trey Muse; Jeremy Kelly, Niall Logue, Graham Smith (sent off 34'), Rece Buckmaster; Chris Allan (Chris Allan 82'); Leston Paul (Mitchell Myers 77'); Derek Dodson (Simeon Betapudi 90'), Laurent Kissiedou, Devin Boyce; Phillip Goodrum (Patrick Seagrist 45')
Gameday Coverage 
Look for starting lineups, gameday updates and post match reaction to follow here on this matchday blog.
Goals:
Right place, right time for @RussellCicerone 👏#MEMvPIT | @RiverhoundsSC pic.twitter.com/KLCeO4nb7O

— USL Championship (@USLChampionship) March 13, 2022
Here's the highlight for the record books that ended the first half!#MEMvPIT pic.twitter.com/Rwze5mZWTC

— Pittsburgh Riverhounds SC (@RiverhoundsSC) March 13, 2022
---
84′ — SUBS
77′ — GOAL – RIVERHOUNDS SC 3, Memphis 901 FC 0
Finds the back of the net with composure!
Takes a nice forward touch first after another pinpoint pass from Alex Dixon coming into the right side of the box.
Dikwa buries right footed shot inside right post.
68′ — SUBS for Hounds
Nathan DosSantos and Toby Sims making Hounds debuts plus Albert Dikwa
Marc Ybarra, Robby Dambrot & Dane Kelly
64′ — GOAL — RIVERHOUNDS SC 2, Memphis 0
Russell Cicerone is there on the back post! Came from corner from Kenardo Forbes to near post area — it's Dane Kelly who outleaps Memphis defenders to redirect header to back post area. Clinical finish for Cicerone.
48′ — Dane Kelly goes down – maybe a finger to the eye?  He would get up but
8:10 pm — Second half starts!
45′ +++ – GOAL – RIVERHOUNDS SC 1, Memphis 0 
Dane Kelly hits the century mark! 100th career goal is his first as a Hound. Nice low ball in across the box from Alex Dixon. 45++ 1-0 Hounds lead
45′ – Three minutes of stoppage time added.
45′ — the disappointing effort by Hounds attack in this first half points to fact that they don't have shot on target. Closest came from Cicerone's banger off the post.
40′ — Half volley cross attempt by Forbes across the box nearly connects but Cicerone can't get to it at the far post side.
39′ – Niall Logue goes into the book for Memphis for almost an identical challenge to the one that was Smith's second. Free kick in a dangerous spot on the right side.
35′ —  RED CARD! MEMPHIS's Graham Smith picks up his second yellow after a physical encounter with Russ Cicerone at midfield.
Hounds now playing up a man
32′ – Forbes with a high cross to Cicerone, and he heads over the bar on the tough chance. Hounds with a bit of momentum after Vosvick's PK stop.
30′ – PK SAVED!
Hounds keeper Chase Vosvick guesses to his right and denies Memphis Chris Allen's penalty attempt! 30′
29′ — PENALTY!  Hounds defender Arturo Ordonez is called for a foul in the box. He slid in to deny shot attempt and official determined he made contact.
25′ — Dambrot left footed short cross to back post but doesn't quite connect with Kelly.
22′ — Bang!
Hounds with the first real chance of match.
Russell Cicerone hits the first shot of the match off the left post, but it bounces away from danger.
15′ — Logue makes unbelivable recovery and kicks it away for Memphis.  Kelly got in behind on the right, but Memphis defender Logue is able to get the angle on him and clear the ball out of play.
12′ — Kenardo Forbes, as he did toward the end of last season, is sitting just below the two forwards (Cicerone & Kelly) in tonight's formation. 0-0
8′ — First corner of the season for the Hounds comes from Kenardo Forbes, but it goes way over everyone.
7′ — Dane Kelly gets a nice pass from Kenardo Forbes who picked off a Memphis defender's pass, but Kelly didn't look to his right, as Alex Dixon was breaking, with room in the box!
7:07 p.m. — match has kicked off…
Almost game time!! Stop by @MikesBeerBar Let's get this thing started!!!👊 @RiverhoundsSC 👊

— Tuffy Shallenberger (@Tuffy_Shall) March 12, 2022
6:50 — Also, Chase Vosvick making his first pro start too, in goal for the Hounds.
GK – Vosvick
D – Peters, Ordonez, Wiedt
M – Dixon, Ybarra, Griffin, Forbes, Dambrot
F – Cicerone, Kelly
6:45 pm – STARTING LINEUPS
Hounds Opening Night Starting XI includes three former Pitt men's soccer players (Shane Wiedt, Robby Dambrot & Arturo Ordonez on the back line) and another rookie right out of college, Robbie Mertz' former UM teammate: Mark Ybarra. Baptism by fire for Ordonez & Ybarra!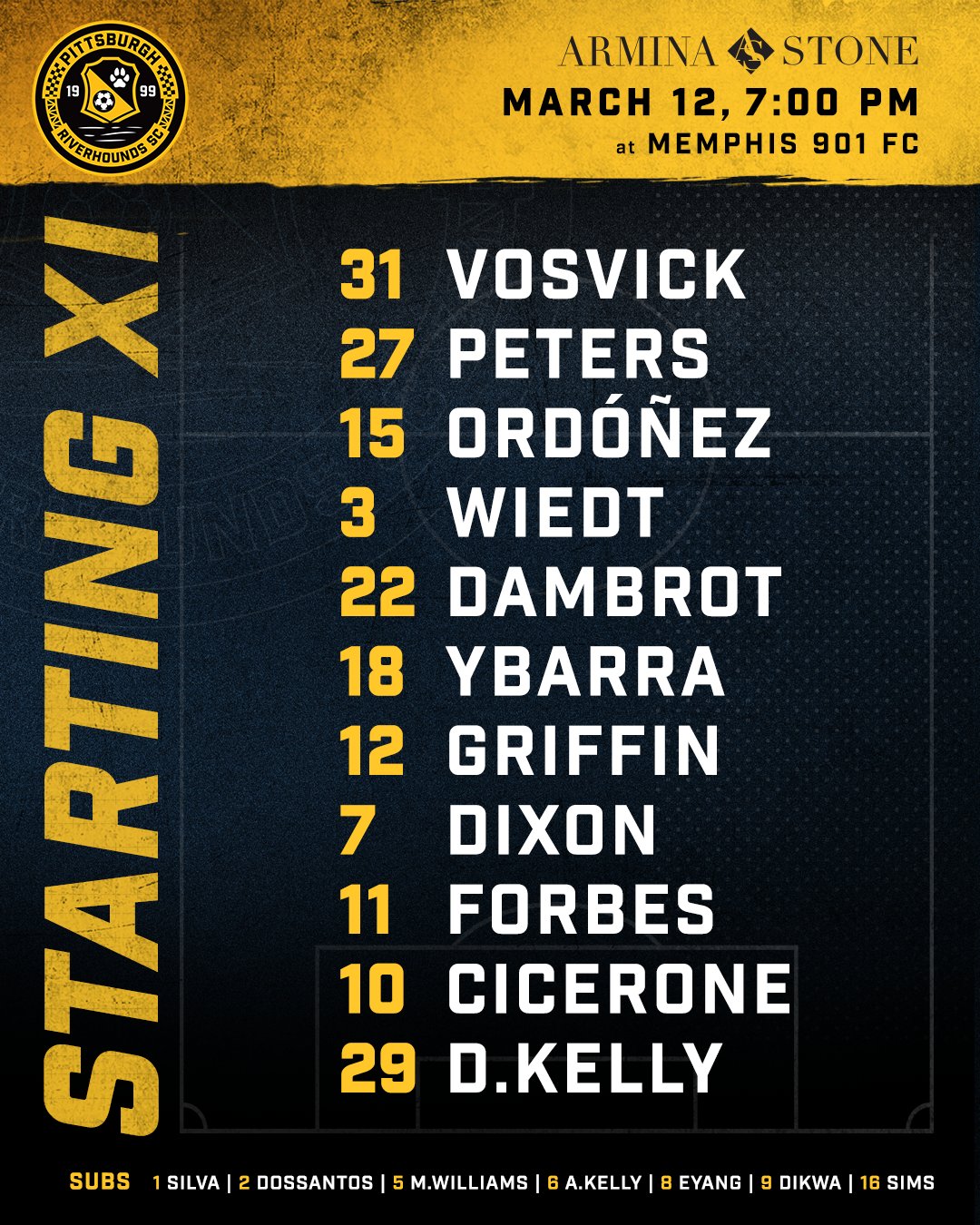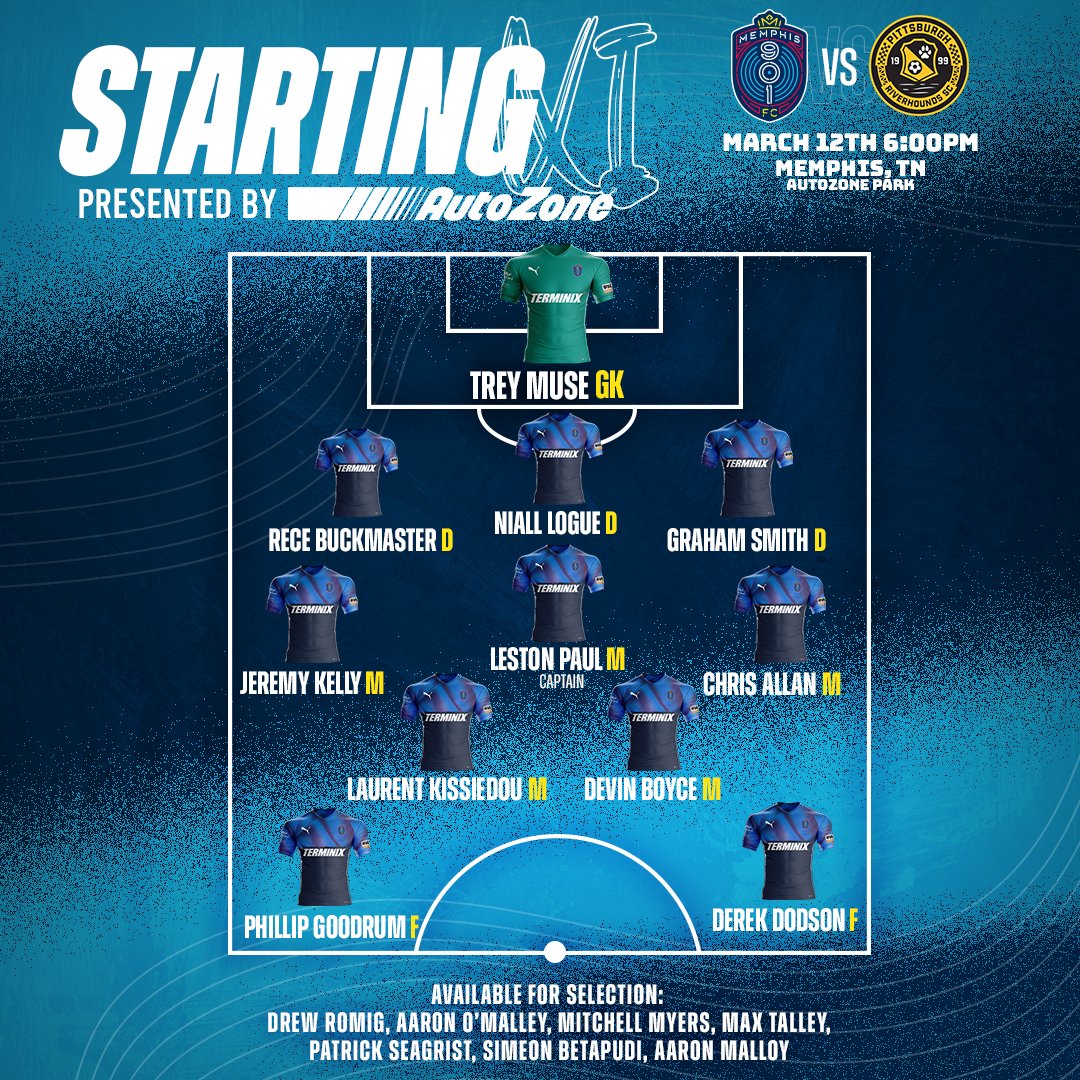 We have boots on the ground in Memphis. pic.twitter.com/xYflS0GqZY

— Steel Army (@SteelArmy) March 11, 2022
Match Preview 
PSN's Mark Goodman is already in midseason form, as he provides a terrific scouting report and overview of Memphis 901 FC as they enter their fifth season in USL Championship.
His preview also included projected lineups.
The Hounds have not played Memphis since 2019, when they swept the season series. Like the Hounds, Memphis finished in third place in its division a year ago, but fell to the Charlotte Independence in the USL Championship Eastern Conference Quarterfinal Round.
In addition, Mark and I went a bit more in-depth to preview the Hounds' roster, tactical options and more on Pittsburgh Sports Live.
Key Storylines / PSN Coverage 
It's season opening weekend across the USL Championship.
The Hounds open on the road for the fifth straight season.  That seems to be a thing since Bob Lilley's been Head Coach.  The club opens the season with a tough road game.
In 2018, it was at Nashville, playing before 20,000 fans, in Lilley's debut with the club, the Hounds and Nashville SC played to a nil-nil draw.
In 2019, the Hounds began the season with four games on the road before finally coming home in mid-April, as Highmark Stadium underwent some renovations.
In 2020, after the season was halted and delayed due to COVID-19 Pandemic, the Hounds began the season in the first-ever league match at Lynn Family Stadium in Louisville, coming away with an impressive 3-1 win.
In 2021, the Hounds began the campaign at Al Lang Stadium last May, getting completely outplayed, 3-0, by the two-time defending Eastern Conference Champions.
The PSN Riverhounds coverage team provided a slew of predictions on Pittsburgh Sports Live for the Riverhounds SC and the USL Championship's Eastern Conference.
Riverhounds MF Danny Griffin
Subscribe to PGH Soccer Now