Riverhounds 2, Richmond 1 – Final 
USL Match Center
In-game updates of note
2nd half
Wild sequence in 53rd minute results in Richmond goal.
GOAL – Richmond leads 1-0. Luiz Fernando on a relatively easy counter.
It all started when Hounds coach Bob Lilley almost had an assist retrieving ball that went out — helps get it back to one of his players for quick throw. After Hounds get ball into the box, forward Romeo Parkes goes down in pain– and then Richmond quickly counters — and Fernando is there to finish it off.
"Can you hear the drums Fernando" ????

Luiz Fernando gives @RichmondKickers the lead!#RICvPGH pic.twitter.com/L37mHkdwPn

— USL (@USL) June 3, 2018
Lee with ball into top of goal box — Parkes can't connect — his attempt trickles wide right.
After Hounds knock it around a bit, Kenardo Forbes unleashes an absolute stinger right to center of goal but right at keeper in 60th minute.
Richmond with another counter chance on big field. This time Heviel Cordoves settles for shot from 22 yards — and misses to the left.
Neco Brett — Hounds top goal scorer comes into the game for defender Todd Pratzner.
Parkes draws foul on edge of box in 66th minute. Free kick by Forbes forces Richmond's keeper Spangenberg to make diving save.
GOAL — Riverhounds. Neco Brett finishes with a header after nice cut-back pass from the end line from Kevin Kerr — who gets to long cross and redirects it back to center of the box.
Haven't we seen this same thing before this year?
Get in there! @necobrettj tallies his team-leading sixth goal of the season. @KevinKerr89 on the assist – his team-leading third. #RICvPGH pic.twitter.com/r5iqFhfv4S

— Pittsburgh Riverhounds SC (@RiverhoundsSC) June 3, 2018
Moments after the goal, Kerr with a fantastic shot but Spengelberg with a diving save.
Now the Hounds captain picks up yellow card for hard foul.
Hounds continuing to bring pressure.
GOAL – Riverhounds take 2-1 lead in 78th minute.
Parkes gets past the back line, overpowers Richmond's Mikiel Willams to get to ball and toe-tap it after a terrific feed from Brett.
And just like that your Hounds are ahead! @romeoparkes36 and @necobrettj with the Jamaican Connection. #RICvPGH ???????? pic.twitter.com/P7910X76BV

— Pittsburgh Riverhounds SC (@RiverhoundsSC) June 3, 2018
Yikes — straight red for Richmond's Umar who takes down Ben Zemanski.
Hounds playing 11v10 with one goal lead in 86th minute
1st half
Hounds' Ray Lee booked for yellow card (9′)
Three header attempts in the box in the first 12 minutes — and each one can't connect.
Dan Lynd comes up big after Richmond gets close after three corner kicks in a two minute span.
Romeo Parkes right footed shot from distance misses.
Hounds with more crosses into the box in late stages of second half. This time it was Hugh Roberts missing his chance from Kevin Kerr corner.
Parkes on the end of a Jordan Dover cross — and guess what — his header misses the frame.
Halftime stats of note:
Shots (10-1 Pgh- 1-1 on target)
Possession (Pgh 54/46)
Crosses (Pgh 16-6) Pgh
Passing accuracy Pgh 83%
Corners (3-3)
Starting Line-ups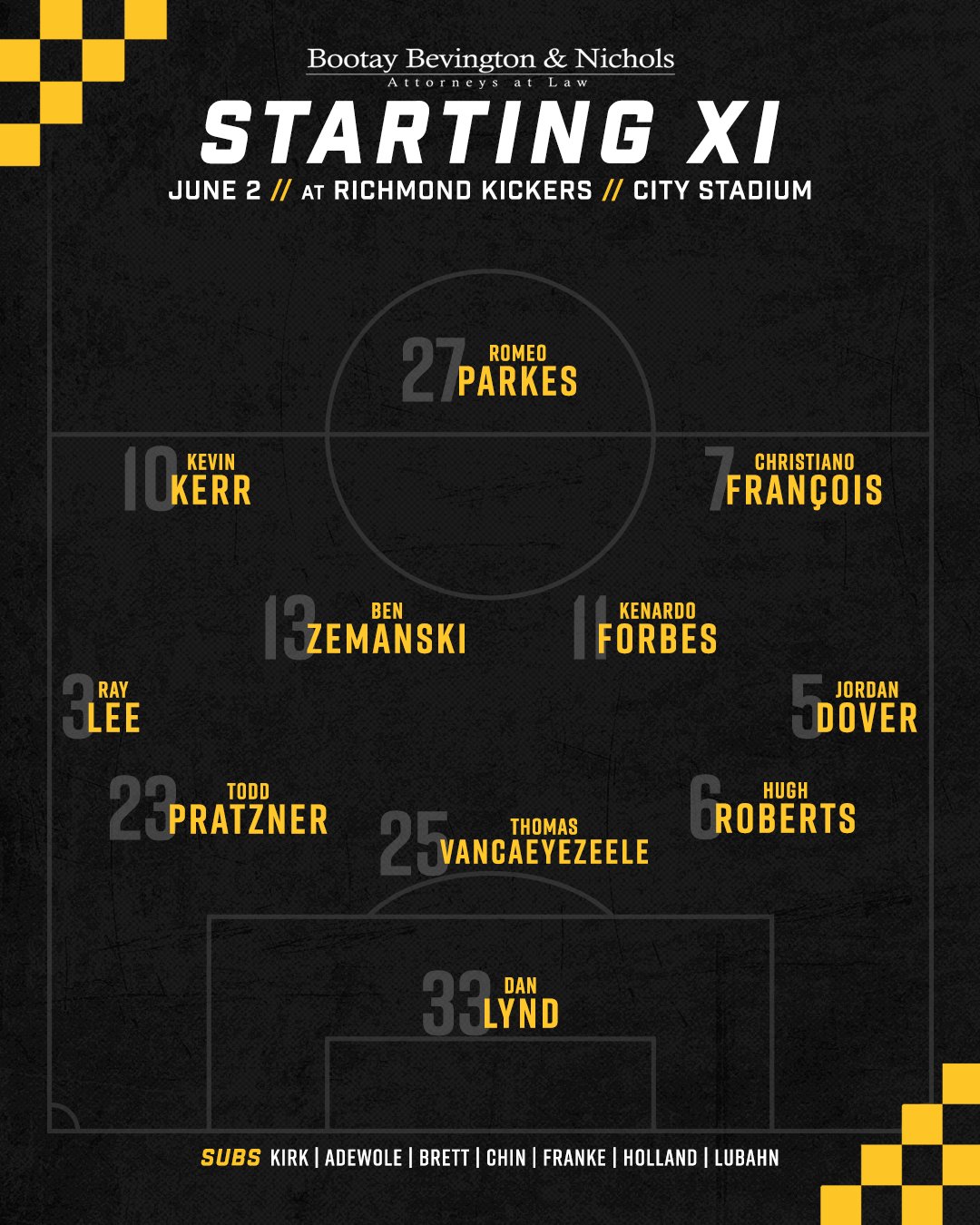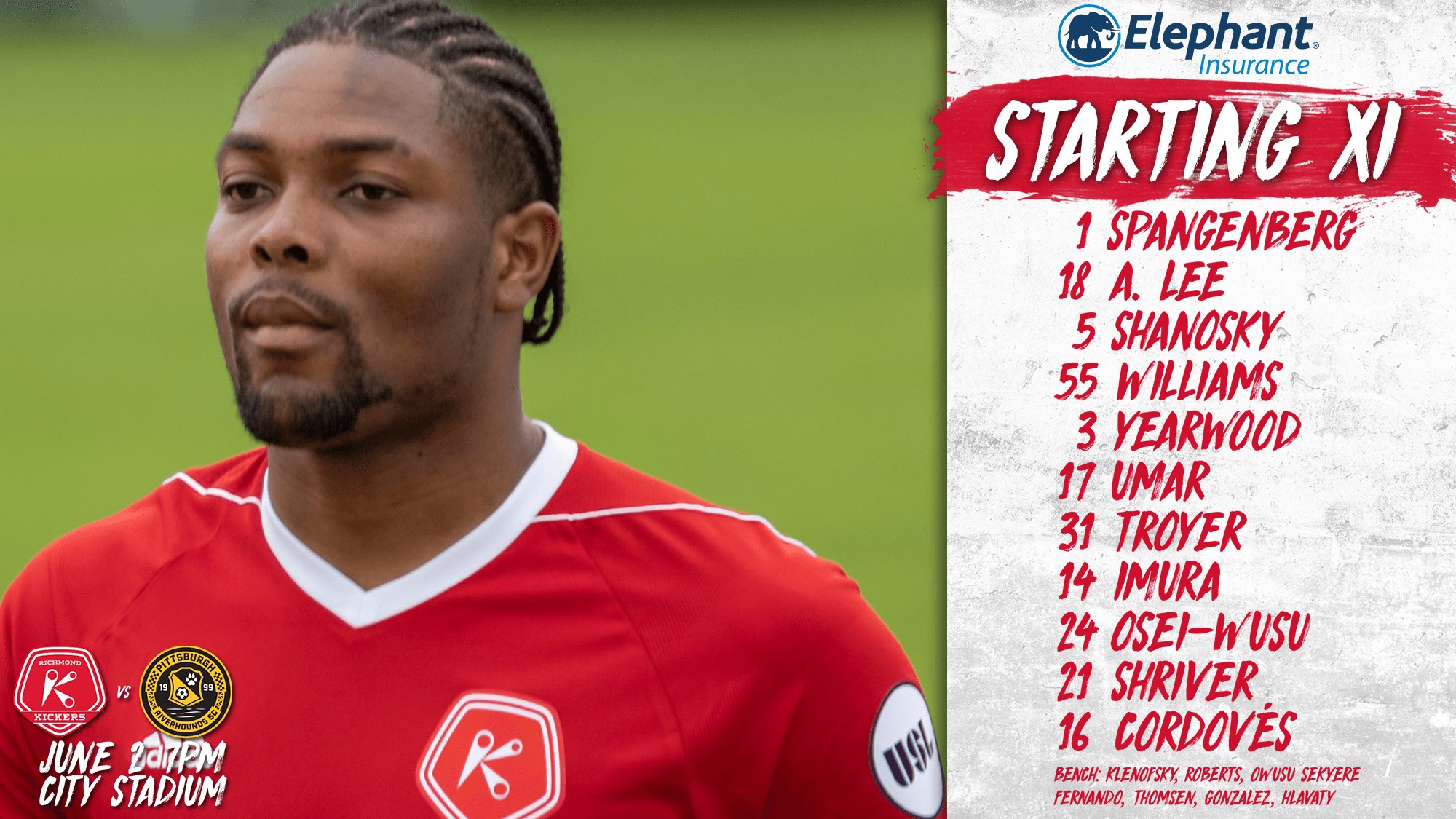 Pittsburgh Riverhounds SC (4-1-6, 18 points) vs Richmond Kickers (3-5-1, 10 points)
7 p.m. – City Stadium (Richmond, VA)
WATCH
Pittsburgh's CW | ESPN+
FOLLOW
Twitter: #RICvPGH | #UNLEASH
KEY STORYLINES
• This match will mark the end of a busy stretch of six games in 18 days for the Hounds as they will also be looking to bounce back from a loss in league play for the first time this season. Falling 1-0 to Nashville this past Wednesday, the defeat snapped the club's best start in franchise history at 10 games unbeaten, as the Hounds were the last remaining team in the league without a loss in 2018.
• Although they only have one loss, the Hounds have struggled to score goals — and at home they've been shut out in each of its last three league games (two 0-0 draws and Wednesday's loss). On the road, they've had success in generating chances as a counter-attacking team (last three road games in all competitions they've scored six goals) and will likely look to do the same thing on a much wider field at City Stadium.
• This is the first meeting between the two "Old Guard" USL rivals this season and the 39th all-time in head-to-head history. Richmond has the upper hand in the 19-year series – and recently as well – with the last time the Hounds won came on May 16, 2015. Richmond leads the all-time series 20-8-10, including a 14-3-3 at City Stadium.
• Hounds coach Bob Lilley who has faced off many times over the years against Richmond's coach Leigh Cowlishaw, hinted after the match on Wednesday that we might see some returnees to the Hounds lineup selections for this match. Both Kay Banjo and Ben Fitzpatrick have been training this week and are no longer listed on the team's injury report.
MORE ON THE KICKERS 
Riverhounds Rabbi put together this in-depth scouting report on the Kickers — citing that while they are not near the top of the USL's Eastern Conference standings, they won't be a pushover.
While all three of Richmond's wins have come at home so far this year, the club has proven vulnerable on the defensive end. The Kickers are one of the seven teams in the East to have allowed two or more goals on at least four separate occasions despite playing one less game than everyone else in the conference. Additionally, they have allowed three or more goals three different times to date.
HOUNDS INJURY REPORT
Mouhamed Dabo – Out (Lower-body)
Joe Greenspan – Out (Calf)
Kyle Morton – Out (Knee)
WHAT THEY'RE SAYING #RICvPGH 
Both teams are coming off losses. In fact, the Kickers may be the more desperate team after dropping to 14th in the USL standings after last week's 3-1 loss to Charlotte.
"Last weekend's game was a tough one because I don't think the score truly reflected the game," Ben Shriver, Richmond forward, said. "They were the best team overall, but I think for us to come out on Saturday and put in a good performance is key going forward. We need three points this weekend."
"Would I like to have seven wins right now instead of four, absolutely," Lilley said. "We'll now try to go ten games unbeaten again. The important thing is, when we go to Richmond, is we have the shots, and we have the better chances."
We don't care if it's Richmond or on Riverside.
We don't have any reasons.
We left them all behind.
We're in a Gameday state of mind.#UNLEASH #Joel

— Steel Army (@SteelArmy) June 2, 2018
TEAM TRENDS & FORM 
Richmond home record: 3-2-1
Streak: L1
Pittsburgh road record: 1-0-3
Streak: L1
RECENT HEAD-TO-HEAD
Aug. 5, 2017, at Highmark Stadium
Pittsburgh 1, Richmond 1
Scoring Summary
RIC – Raul Gonzalez 65' (Yudai Imura)
PGH – Stephen Okai 82' (Victor Souto)
April 22, 2017, at City Stadium
Richmond 2, Pittsburgh 1
Scoring Summary
RIC – Fred Owusu Sekyere 15' (Raul Gonzalez)
RIC – Alhaji Kamara 46'
PGH – Marshall Hollingsworth 59'
SEASON LEADERS
Pittsburgh
Goals: Neco Brett (5)
Assists: Neco Brett, Kevin Kerr and Kenardo Forbes (2)
Points: Neco Brett (12)
Saves: Dan Lynd (14)
Save %: Kyle Morton (1.000)
GAA: Kyle Morton (0.00)
Richmond
Goals: Brian Shriver (3)
Assists: Brian Shriver and Austin Yearwood (2)
Points: Brian Shriver (8)
Saves: Travis Worra (24)
Save %: Travis Worra (.632)
GAA: Travis Worra (1.75)
LAST TIME OUT…
Pittsburgh
Nashville 1, Pittsburgh 0
SCORING SUMMARY:
NSH – Brandon Allen 69'
LINEUP:
Dan Lynd – Ray Lee, Tobi Adewole, Thomas Vancaeyezeele, Hugh Roberts, Connor Maloney (Dennis Chin 83') – Kenardo Forbes, Jordan Dover – Joe Holland (Romeo Parkes 66'), Noah Franke (Kevin Kerr 66') – Neco Brett
Richmond
Charlotte 3, Richmond 1
SCORING SUMMARY:
CLT – Yann Ekra 14' (Cordell Cato)
CLT – Cordell Cato 45' (Yann Ekra)
CLT – Cordell Cato 76' (Yann Ekra)
RIC – Brian Shriver 80'
LINEUP:
Travis Worra – Austin Yearwood, Mekeil Williams, Conor Shanosky (Raul Gonzalez 45'), Alex Lee – Brandon Eaton (Yudai Imura 45'), Braeden Troyer, Christopher Osei-Wusu, Oscar Umar – Brian Shriver, Heviel Cordovés (Luiz Fernando 45')
Riverhounds MF Danny Griffin
Subscribe to PGH Soccer Now