While the Pittsburgh Riverhounds season ended in more typical disappointing fashion via a loss in the playoffs last month, on Saturday the two teams, Phoenix Rising FC and Tampa Bay Rowdies, who reached the USL Championship's Final, which was set to be played Sunday night before a nationally televised audience on ESPN, are now left without a chance to play for the league crown.
The United Soccer League announced Saturday that the 2020 USL Championship Final scheduled for Sunday, November 1 will not be played.
After a round of tests on Saturday morning, multiple players from the Rowdies joined three club personnel (including head coach Neill Collins and assistant coach Kevin Foley) who tested positive on Friday.
ESPN's Taylor Twellman first alluded to the potential cancellation.
.@USLChampionship final looks to be "off" with @TampaBayRowdies players testing positive. Stay tuned! #USL

— Taylor Twellman (@TaylorTwellman) October 31, 2020
Sure enough, an announcement came in the afternoon.
UPDATE: There will be no #USL Championship Final or champion for the 2020 season. @PHXRisingFC and @TampaBayRowdies are your conference champions, while @Reno1868FC won the regular season.

(first on total cancellation: @BrianStraus) https://t.co/jCZCvOmNSP

— Jeff Rueter (@jeffrueter) October 31, 2020
The league has zero plans to play the game. This leaves Tampa Bay and Phoenix Rising as the conference champions after Reno 1868 won the regular season.
According to The Athletic's Jeff Rueter, the league had been considering playing the game in three to four weeks, allowing for a two-week quarantine period for those who tested positive and additional time for full-side training.
In all likelihood, with the pandemic seeing rises in cases throughout the country, with many additional unknowns heading in the coming weeks or month, the USL didn't want to drag this out any further. Additional factors involved include various challenging logistics, including travel arrangements, the USL Players Association approval would have been needed,
The excerpt below comes from the league's press release.
"The decision has been made for the health and safety of everyone involved after multiple persons on the Tampa Bay Rowdies covered persons list tested positive for COVID-19 upon a second round of rapid testing on Saturday morning at the Tampa Bay Rays' medical facilities. The affected individuals have been immediately isolated at home, are recovering in good spirits under the care of team physicians and infectious disease experts, and all league, local and state health and wellness protocols continue to be followed." 
Here's more from the USL statement:
USL HQ, in collaboration with the Tampa Bay Rowdies and Phoenix Rising FC, made the determination that the season will conclude after Tampa Bay and Phoenix each progressed through their conference playoffs to win the Eastern Conference and Western Conference titles, respectively, last Saturday. 
 
"First and foremost, we want to applaud these two teams on an incredible season," said USL President Jake Edwards. "They deserved the opportunity to play for the USL Championship Final trophy and we are disappointed that we won't be able to watch them on Sunday night. With that said, we want to thank all of our clubs, our supporters, our players and our staff for all of their time, hard work and energy this season. We've grown closer under difficult circumstances and we can't wait to be back together again soon." 
Additionally, USL HQ, the Tampa Bay Rowdies and Phoenix Rising FC will explore the possibility of a 2021 Season Kickoff game between the two clubs prior to the start of the 2021 Championship season. 
 
"While we are disappointed that the Championship and League One Finals have been cancelled, we understand and appreciate the decision to put player health and wellness first," said the USL Players Association Executive Committee. "We look forward to seeing all our players back in action at the start of next season. 
As you might imagine, this is not the ideal end result for the league and, in particular, these teams.
Here's the statement released from the Rowdies.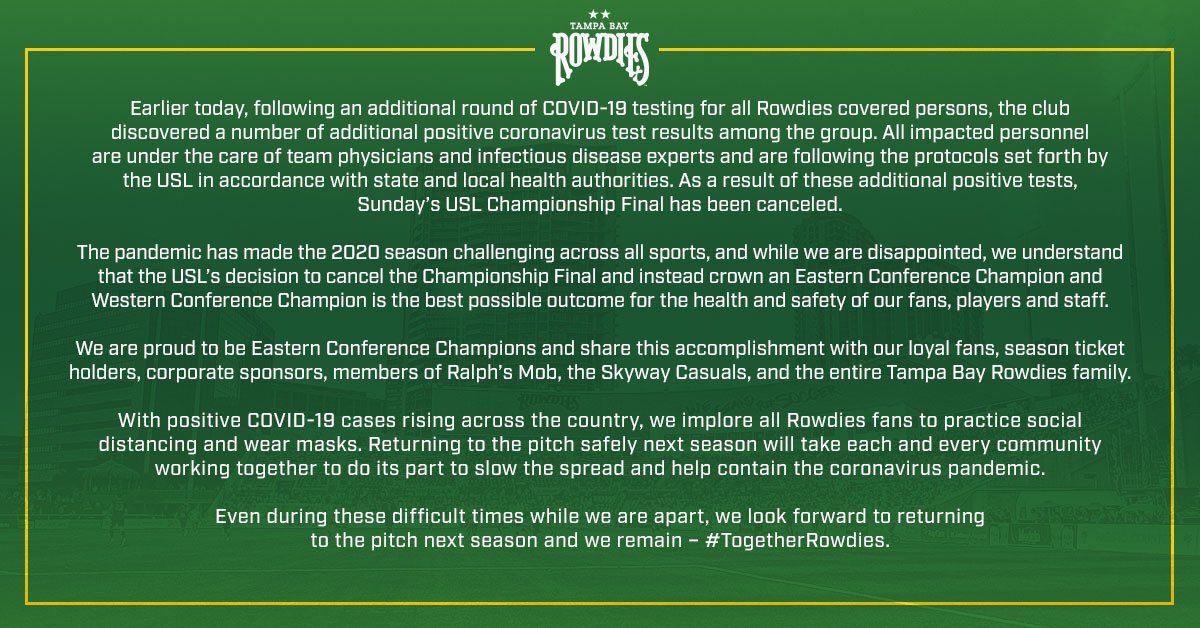 It wasn't a good week for the USL.
On Thursday, they announced its third division entity, League One, would have to cancel its final after multiple cases among expansion side Union Omaha, including players. Rather than rescheduling that game, the league awarded the title to regular-season champion Greenville Triumph.
The Riverhounds SC's season ended with a disappointing 2-0 loss at Louisville City FC on October 10. Most, if not all, players returned home shortly after the season ended.
The club, and its league, reeling from this week's developments, now head into an off season and winter filled with many question marks and uncertainty of what 2021 will bring for second and third division soccer in the U.S.
The. Worst. Year. Keeps. Getting. Worse. https://t.co/4Ur21X1JTd

— Vote. No exceptions. (@soccer_rabbi) October 31, 2020
For everyone who always makes the long-hanging joke about hoping neither team wins: today is your day. Go crazy. https://t.co/kYOOugfAK4

— Steel Army (@SteelArmy) October 31, 2020
Riverhounds MF Danny Griffin
Subscribe to PGH Soccer Now