FINAL: Loudoun United FC 2, Pittsburgh Riverhounds 1
Leesburg, VA — The Pittsburgh Riverhounds SC slumped their way through a long night, losing to Loudoun United FC, 2-1, for the first time in three years on Wednesday night at Segra Field.
After the match ended, Pittsburgh Soccer Now was unable to secure an interview with Hounds Head Coach Bob LIlley, as he held his players in the locker room for more than an hour, which after a weather-delayed match, extended to nearly the Midnight hour.  This was the second time Lilley has held a very long postgame ear chewing after a loss, as he also did the same after the Hounds 1-0 loss to Austin Bold FC at home in early June when he was extremely frustrated with his team's lack of urgency.
The Hounds, playing with a handful of different starters than Friday's 2-1 win vs NY Red Bulls, were outplayed by Loudoun, who coming into the match had struggled to finish on its opportunities, losing a number of one-goal games.  On Wednesday, they finally capitalized.  Ted Ku-DiPietro and Jovanny Bolivar both scored on long-range goals.
Both goals were terrific strikes.
Ku-DiPietro's came in the 42nd minute.
Bolivar's broke a 1-1 tie late in the second half.
YEAH JAY! 💪

2 – 1 | #LDNvPIT #LetsRide pic.twitter.com/I0ktKYywVC

— Loudoun United FC (@LoudounUnitedFC) July 1, 2021
The one bright spot for the Hounds came when Louis Pérez scored his first professional goal tie the match early in the second half, but it wasn't enough to keep alive the Hounds overall win streak or a four-match road win streak.
The match, which was delayed by 1 hour, 40 minutes due to lightning, saw Loudoun play a physical style, receiving eight yellow cards against just one given to the Hounds. Possession in the match was an even 50/50, while Loudoun outshot Pittsburgh, 15-12.
Match Takeaways
This is the second time of the season that the Riverhounds played down to their competition. Lilley and his staff didn't put out their top 11 but there isn't any weak links either.
It might be that less strong teams in the league tend to play a trap and counter attack style that the Riverhounds haven't seem to be able to handle efficiently yet.
The few bright spots were Anthony Velarde having to honor of wearing the captains band and setting up Louis Perez for his first professional. Both had a good game offensively. Besides for them there wasn't much else.
Jake Leeker played a great game in net. The score could have easily been 3-1 if it weren't for some big saves by the backup.
Pittsburgh is now 0-4 on the season when conceding first. A sign that the team struggles to come back after giving up just one goal. The offense is yet to be trusted to give you two or three goals on a nightly basis.
Maybe the Hounds deserved to be a man up in this game. Loudoun committed several fouls and had eight yellow cards. The officials probably could have handed out a red at some point, and therefore Bob Lilley's squad could have a man advantage for at least part of the second half.
The Riverhounds lost a vital away game against a bottom team in the division, and that's most certainly why Lilley yelled at the team for two hours after the match. If you want to win in this league and make the playoffs, you can't drop points to a 1-7 team.
There was a lack of emphasis on possession. Loudoun's forward and midfield group looked much more dynamic than the Riverhounds front five players.
It's just very odd that this team played its best game against the #1 seed Tampa Bay Rowdies, but lose to the #8 seed and play as poor as they have all season.
The team has two quick matches within the next week. In this league, you're as good as your coach. We'll see if Lilley can finally get this team on track to earning consistent results.
Stats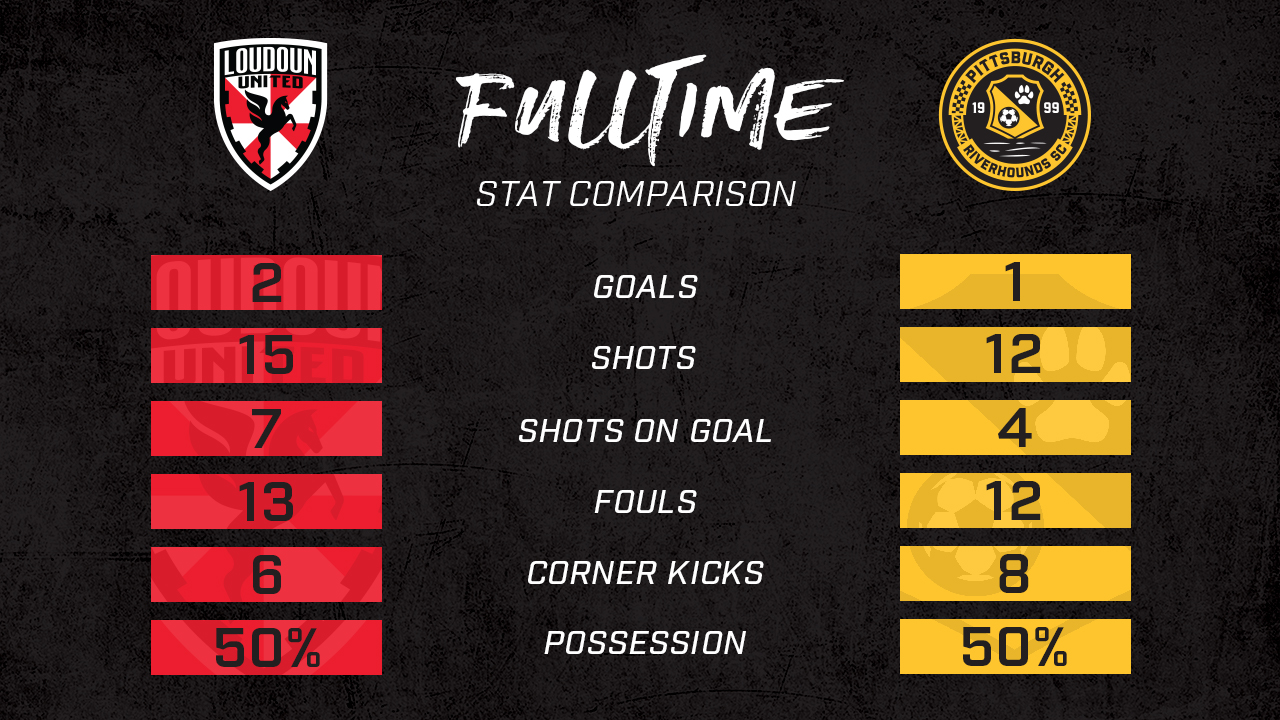 Lineups
Riverhounds SC lineup (5-2-2-1) — Jake Leeker; Louis Pérez (Alex Dixon 61'), Preston Kilwien, Jalen Robinson, Shane Wiedt, Dani Rovira; Danny Griffin, Todd Wharton (Kenardo Forbes 61'); Anthony Velarde, Russell Cicerone; Tommy Williamson (Albert Dikwa 61')
Loudoun United FC lineup (3-4-3) — Jermaine Fordah; Timmy Mehl, Micael DeShields (Robby Dambrot 64'), Jacob Greene (Logan Pinchot 64'); Jeremy Garay, Gaoussou Samake, Ted Ku-DiPietro, Kimarni Smith (Nicky Downs 64'); Darius Paz (Abdellatif Aboukoura 68'), Jovanny Bolivar, Kairou Amoustapha (Houssou Landry 90')
What's next?
With Loudoun picking off the Hounds for the first time, the Hounds now get a chance to pull the same feat against the Charlotte Independence at 7 p.m. Saturday at Highmark Stadium. The Hounds are 0-7-5 all-time against the Independence (5-4-0), who also sit just behind the Hounds in third place in the Atlantic Division standings.
Riverhounds MF Danny Griffin
Subscribe to PGH Soccer Now