NCAA Men's Soccer 
FINAL Pitt 4, Cleveland State 0
Match Summary
The Pitt Panthers defeated Cleveland State, 4-0, for the first time since 2004 and for first time in eight matches against the Horizon League leaders in a non-conference match at Ambrose Urbanic Field on Tuesday.
"I am happy with the result tonight," Pitt's Head Coach Jay Vidovich, said after the match. "Cleveland State has the potential to draw blood and you have to break them down as they are efficient on the counter attack and we respected that. Happy for Mikey [Sullivan] and Lucas Matuszewski for scoring their first goals tonight."
Continuing in excellent form, freshman Guilherme Feitosa gave Pitt the lead in the 25th minute.
Despite dominating possession and holding a shots advantage (11-2) in the first half, Pitt held onto a 1-0 lead at the half.
The Panthers broke open the match in the second half scoring three times, including local standout freshman Michael Sullivan, from Deer Lakes, scoring his first collegiate goal.
First career goal ⚽ for Mikey

💻 – https://t.co/whI8Kt4iUm (ACCNX)#H2P pic.twitter.com/r0ezRgF0jP

— Pitt Men's Soccer (@Pitt_MSOC) October 6, 2021
Also scoring in the second half were Bertin Jacquesson and another Panther picking up his first ever goal, Lucas Matuszewski.
With the win on a day when they improved its national ranking in the United Soccer Coaches poll to 13th (from 16th), Pitt now improves to 7-3 overall record.
It was also the first win for Pitt against Cleveland State since 2004 as well as its 15th straight win at Ambrose Urbanic Field. Pitt outshot the Vikings 20-6 and finished with six corner kicks compared to Cleveland State's one. It was the first time since Oct. 7, 2019 (Howard – 30) the Panthers recorded 20+ shots in a game.
Next up for the Panthers, they'll look to keep its home winning streak intact when they host ACC foe Duke at Ambrose Urbanic Field on Saturday to close out a three-game homestand.
Look for a more detailed recap to follow later. 
Gameday Updates
Look for lineups to be posted here along with key game updates and highlights.
---
82′ – GOAL – PITT (4-0)
Matuszewski, Lucas Assist by Loeffelsend, Jasper and Walti, Jackson.
75′ – GOAL – PITT (3-0)
First career goal ⚽ for Mikey

💻 – https://t.co/whI8Kt4iUm (ACCNX)#H2P pic.twitter.com/r0ezRgF0jP

— Pitt Men's Soccer (@Pitt_MSOC) October 6, 2021
Michael Sullivan with his first collegiate goal!  The freshman from Deer Lakes gives Pitt a 3-0 lead.
68′ – GOAL – PITT (2-0)
Bertin Jacquesson (Almeida and Loeffelsend credited with the assist)
HALF –  PITT 1, CLEVE ST 0
Pitt with clear edge in stats:  Shots (11-3) and Corners (6-0)
25′ – GOAL – PITT — Guilherme Feitosa
G with the Goal ⚽

Jacquesson and Almeida with the assists 👊#H2P pic.twitter.com/yOyyZ66sdt

— Pitt Men's Soccer (@Pitt_MSOC) October 5, 2021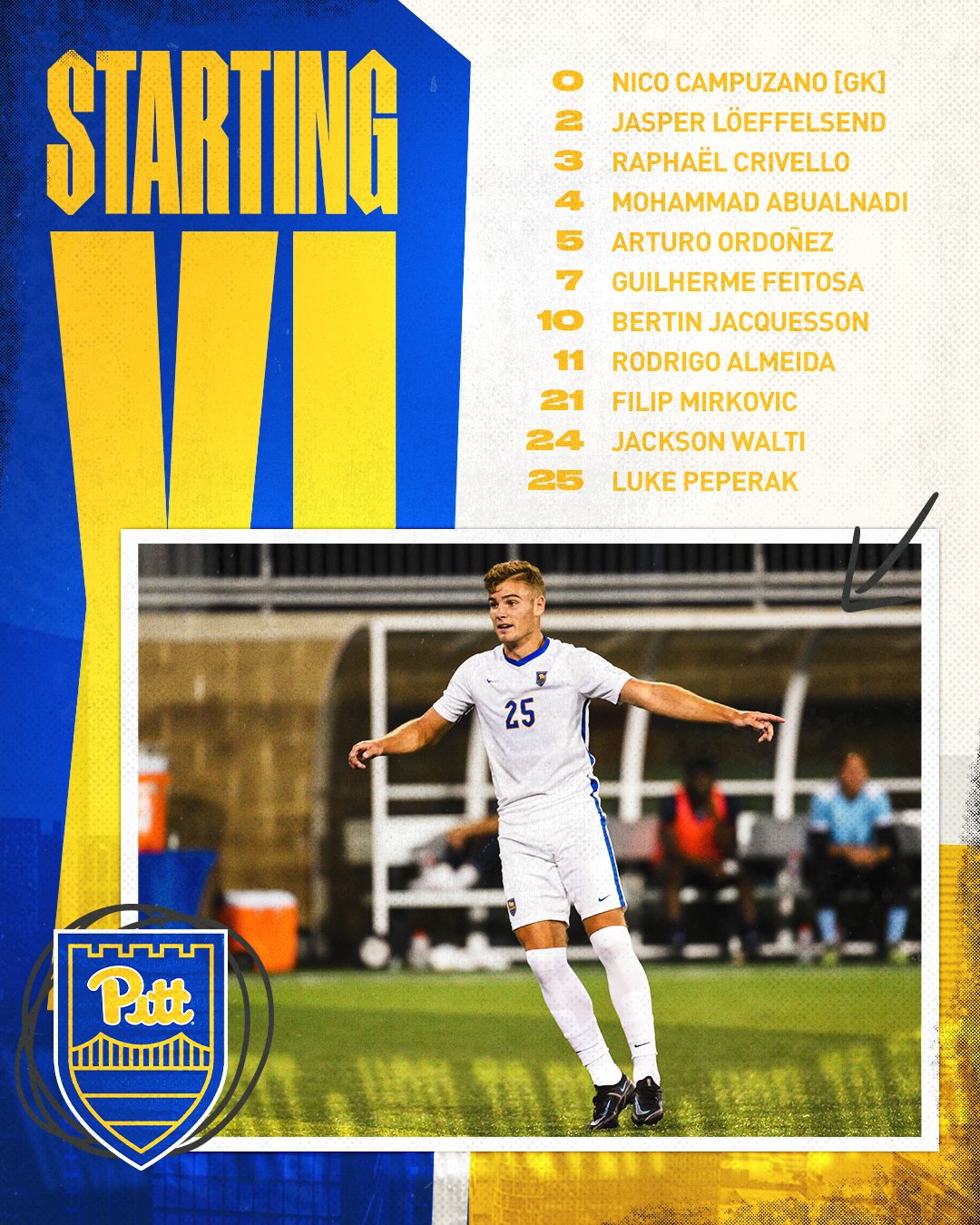 Recent PSN Pitt Men's Soccer Coverage
Analysis: Pitt got its mojo back in statement win at Clemson
Pitt Game Notes 
THE SERIES – CLEVELAND STATE
–        Tuesday marks the 19th meeting between the two schools. Cleveland State leads the all-time series 8-6-4.
–        The Vikings enter with a five match winning streak in the series and are 5-0-2 in the last seven. The last victory for the Panthers against the Vikings came in 2004 at home (3-2).
–        Head Coach Jay Vidovich is 2-2-0 all-time against Cleveland State and 0-2 while Pitt's head coach.
SCOUTING THE VIKINGS
–        Cleveland State enters the match 6-3 overall and 5-0 in the Horizon league. The Vikings are currently on a three-match win streak and have won six of their last seven matches.
–        The Vikings come into Ambrose Urbanic Field as one of the most proficient shooting teams in the country, registering a .520 shot accuracy mark, good for ninth in the nation.
–        Cleveland State is 29th in the nation in assists per game (2.11) and 34th in total assists (19).
–        Senior midfielder Jannis Schmidt enters the contest eight in the country in total assists (6) and 11th in assists per game (0.67). He is also 15th in the nation in total points (16), totaling five goals to his six assists this season.
–        Junior goalkeeper Omeed Naeemy is 18th in the country in total saves (42) and is 22nd in saves per game (4.67).
PITT CLAIMS THRILLING 2OT VICTORY OVER SYRACUSE
–        The Panthers extended their home winning streak in thrilling fashion Friday, Oct. 1 vs. Syracuse, defeating the Orange 3-2 in double-overtime.
–        Freshman Guilherme Feitosa scored the game-winning goal with a header inside the box in the last minute of play. The goal was the first of his career.
–        Seniors Rodrigo Almeida and Arturo Ordoñez each scored a goal, while sophomore Bertin Jacquesson tallied two assists, including Feitosa's game-winner.
–        Pitt moved to 6-3 overall and 3-1 in ACC play with the victory.
HOME TURF ADVANTAGE
–        The Panthers enter Tuesday with the longest home-winning streak in the ACC.
–        Pitt's 14-straight matches won at Ambrose Urbanic Field is currently the most at any home venue in the conference. Clemson previously held that title with 31-straight wins at Historic Riggs Field before Pitt defeated them 2-0 Sept. 25.
–        Pitt's last home loss came Oct. 4, 2019 against No. 20 North Carolina (2-1).
–        Head Coach Jay Vidovich is 23-15-3 at home in six plus seasons at Pitt and is 14-2-1 in the past two seasons at Ambrose Urbanic Field.
RODRIGOAL
–        Senior Rodrigo Almeida is having a career year in 2021, totaling five goals and an assist.
–        The midfielder scored a goal in Pitt's first two home matches (Duquesne, Lehigh) before recording the first multi-goal game of his career at home vs. North Carolina.
–        The Salvador, Brazil, native scored Pitt's lone goal against Penn State, proving to be the game-winner in a 1-0 shutout victory.
–        Almeida tallied his first assist of the season at Wake Forest.
–        He recorded his team leading sixth goal in Pitt's 3-2 double overtime victory at home vs. Syracuse.
UP NEXT
–        The Panthers wrap up their three-game home stand Saturday, Oct. 9 vs. nationally-ranked Duke.
–        Kick-off is set for 7 p.m. on ACCNX.
Sounding Off on Soccer: Riverhounds Road Woes
Subscribe to PGH Soccer Now