NCAA Men's Soccer 
FINAL: University of Illinois at Chicago 4, Robert Morris 0 
GAME SUMMARY
Robert Morris' men's soccer team dropped a Friday afternoon matchup against the University of Illinois-Chicago Flames 4-0 at the Indoor Sports Center.
The loss moves the Colonials to 1-3-1 (1-3-1 HL) on the season.
Jon Faynik led Robert Morris with three total shots on the day.
"We learned a lot of lessons today," head coach Jason O'Keefe said.  "UIC is a championship program, which we aspire to be.  We will grow from this experience, recover and put our attention on NKU, another very good program who we play on Thursday.
UIC scored a season high four goals and earned a shutout win over Robert Morris, 4-0 Friday afternoon.
Roberto Alonzo and Alwin Seitz each scored from the run of play.  In between, the Flames converted two penalty kicks early in the second half.  Sokratis Vasilas and Andres Vasquez shared the shutout, combining for four saves.
"Coming off a result like we had at Green Bay where we weren't able to do things that we want to do, the players challenged themselves this week in training," Sean Phillips said.  "The staff challenged the players and ourselves to come up with a more complete performance.  We wanted a performance with more energy, more selfless running, being better in transition, better running off the ball to create opportunities.
"Our first goal was a textbook example of how we want to play.  Robbie sold himself coming from the wide side on the left to take a serve from the right inside the penalty spot."
The Flames had the majority of possession, and rarely let Robert Morris regroup for multiple chances in the same attacking wave.  They came out of the halftime break looking to add to their 1-0 lead, and were rewarded for their committed, aggressive play.
"Our two penalty kicks were earned off good set piece play, created by good combination play and being committed to all the little things that have to happen.  We have the technical ability, but we have to be able to fight and scratch and claw to create those opportunities," Phillips said.
"I thought our defending was much better.  Robert Morris had been getting much better.  They were very well organized in the first half and difficult to break down."
When the lead increased to three and then four goals, Phillips sent in several subs.  In all, ten players came off the bench.
"We have a deep team.  It was great to see those guys get out there.  They've been busting their tails all season in training.  When they came in, they made a positive impact.  Alwin stepped in to get us that fourth goal.  Today speaks a little bit to the depth of the team."
GAMEDAY
FINAL: UIC 4, RMU 0
48′ – GOAL UIC 2, RMU 0
Mateo converts a PK as Flames double the lead.
HALF:  UIC 1, RMU 0
HT: UIC 1-0 RMU

Alonzo's goal stakes us to the lead as we have a 9-3 edge in shots.

— UIC Men's Soccer (@UIC_MSOC) March 12, 2021
37': GOOOOAAAAAALL!

Alonzo finishes after passing from Zulu and Crespo! We lead 1-0!

— UIC Men's Soccer (@UIC_MSOC) March 12, 2021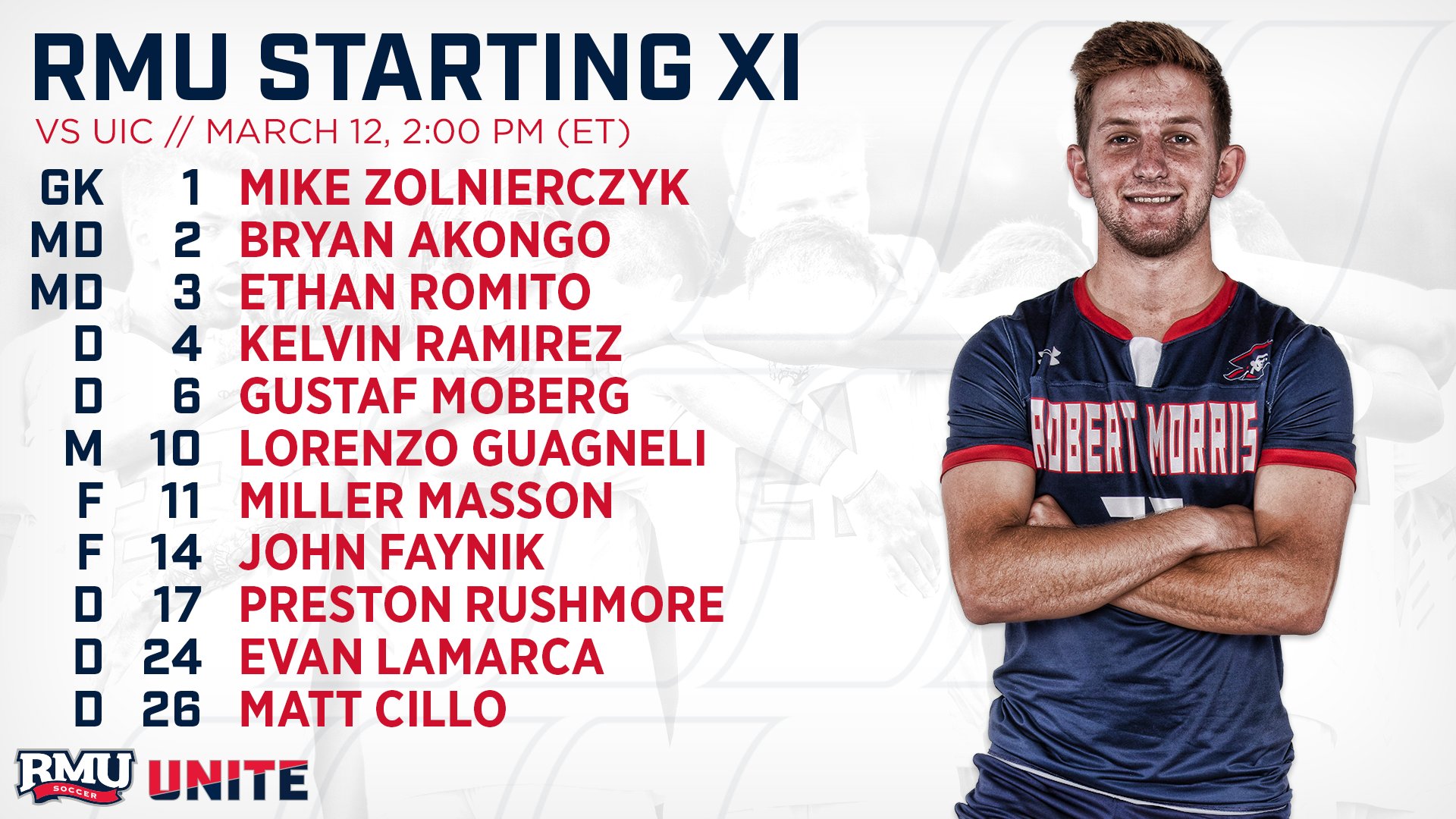 30 minutes until Kickoff!! Let's go Bobby Mo#RMUnite 🔴⚽️🔵 pic.twitter.com/vaSRITiPv5

— RMU Men's Soccer (@RMUMSoccer) March 12, 2021
CATCHING UP
Robert Morris earned its first ever victory as members of the Horizon League last week with a win over the Purdue Fort Wayne Mastodons at SouthPointe Fieldhouse, 1-0.
Miller Masson's strike in the 62′ gave RMU the lead and its first goal of the year, while Mike Zolnierczyk made four saves in goal for his second straight clean sheet as the Colonials held on for their first victory of the 2021 campaign.
KNOW BOBBY MO 
The Colonials are coming off of a 1-0 win over Purdue Fort Wayne at home last week.
Miller Masson scored RMU's first goal of the season and now leads the team with two points. Lorenzo Guagneli picked up the assist on Masson's tally.
Sixteen Colonials saw game action against PFW. Sophomore goalkeeper Mike Zolnierczyk picked up his second straight clean sheet in goal, turning aside four shots on target.
Following the back-to-back clean sheets, the Colonials have not surrendered a goal since the 69′ of their loss to Cleveland State back on February 10, a streak that currently stands at 231 minutes.
Gustaf Moberg, Lorenzo Guagneli, and Jon Faynik each led RMU with four total shots.
RMU has taken eight corners through four games in 2021, conceding 20.
Midfielder Guagneli is the lone senior on a roster that features nine freshmen, seven sophomores, and ten juniors.
Head Coach Jason O'Keefe takes over in his first year at the helm of Robert Morris in 2021. O'Keefe spent the last four years as head coach at Appalachian State, the last two of which he led the Mountaineers to back-to-back winning seasons, including a mark of 11-7-1 (.605) in 2019.
The Colonials will play their 2021 home schedule away from campus in 2021, hosting games at the indoor facilities of the SouthPointe Fieldhouse.
Amongst their new Horizon League foes, the Colonials have never faced Milwaukee or IUPUI.  RMU is 6-12 all-time against Cleveland State, 0-2 against Oakland, 0-0-1 against UIC, 0-1-1 against Detroit Mercy, 3-3 against Wright State, 0-1 against Northern Kentucky, 1-0 against Purdue First Wayne and 0-1-1 against Green Bay.  Robert Morris squared off against both Oakland and CSU last season, however they have not faced UIC in over 20 years, last meeting the Flames during the 1996 campaign.
SCOUTING THE FLAMES
It has been nearly 25 years since the Colonials and Flames have squared off on the pitch, last meeting one another in RMU's 1996 season opener, a 2-2 draw in Chicago.
The Flames currently sit at 3-1-1 on the season and are coming off of a 2-1 loss at Green Bay last Saturday, 2-1.  Junior forward Nkusuwila Zulu leads the Flames in both goals with three as well as total points with eight.
NEXT UP
The Colonials return home for a Thursday afternoon clash against Northern Kentucky on March 18.
Sounding Off on Soccer: Riverhounds Road Woes
Subscribe to PGH Soccer Now