USL Championship Atlantic Division
FINAL: Charlotte Independence 1, Pittsburgh Riverhounds SC 0
Game Stats: USL Championship Match Center
Summary
The Riverhounds SC dropped its second straight game, losing 1-0 to Charlotte Independence in a match where they could only muster one shot attempt on goal on Saturday night in the Queen City at American Legion Stadium.
Long-time Pittsburgh nemesis Enzo Martinez scored early in the second half, taking advantage of a Hounds giveaway at midfield and a defensive breakdown as Charlotte transitioned into the final third.
Charlotte breaks the ice and takes the lead. ☝️#CLTvPIT | @Independence pic.twitter.com/vrukoMGXUD

— USL Championship (@USLChampionship) August 15, 2021
The Hounds were outshot 11-9 and 3-1 on target.  The Independence bottled up Pittsburgh's attacking opportunities, limiting the Hounds to sending in crosses from the width.  As the Hounds pushed for a late equalizer, Charlotte goalkeeper, Austin Pack, was up to the task, coming off his line numerous times to deny Pittsburgh scoring chances.
The Hounds (now 10-6-3, 33 points) will have another short turnaround, as they face Tampa Bay Rowdies at Highmark Stadium in a match between the top two teams in the Atlantic Division.
First half
Charlotte started out the more promising of the two teams, and they outshot the Hounds in the first half, 5-2. But the Independence had a hard time hitting the target with just one shot on goal.
The lone shot was a great chance for Brandt Bronico in the 30th minute, who got an open header inside the six-yard box from a free kick, but Hounds goalkeeper Danny Vitiello made a reflex save to parry the ball downward and cover it before it could cross the goal line.
Charlotte then put the ball into the net in the 41st minute, but Martinez's would-be goal was waved off for offside.
Second half
A much different half played out after the break, and Alex Dixon nearly caught Charlotte napping with a curling shot that missed just high only 20 seconds into the half.
But Charlotte finally found the net going the other direction, as Irvin Parra was able to get down the right flank and serve a low pass to Martinez in the middle. Martinez slid for the ball and got the touch needed to get it between defender Shane Wiedt and Vitiello for the 47th-minute goal.
The Hounds began to press forward more after that point, and they finished with 55 percent of possession in the game. But the time on the ball didn't equal chances, as a long-range effort by Dixon forced the only save of former Hounds goalie Austin Pack in the Charlotte goal.
What's next?
Things won't get any easier for the Hounds next week, as another two-match week starts with a home game against the Tampa Bay Rowdies (11-7-0) at 6 p.m. Wednesday at Highmark Stadium. The Rowdies defeated Hartford, 1-0, on Friday night to retake first place in the Atlantic Division, but the top spot will be up for grabs again Wednesday.
Riverhounds SC lineup (3-4-3) — Danny Vitiello; Preston Kilwien (Ezra Armstrong 79'), Shane Wiedt, Mekeil Williams (Jalen Robinson 79'); Louis Pérez (Dani Rovira 71'), Danny Griffin, Kenardo Forbes, Todd Wharton (Anthony Velarde 71'); Tommy Williamson, Alex Dixon, Russell Cicerone
Charlotte Independence (3-4-3) — Austin Pack; Christian Fuchs, Hugh Roberts, Kevin Riascos; Adam Armour (Clay Dimick 81'), Brandt Bronico, Marcelo Palomino (Distel Zola 90+2'), Joel Johnson; Enzo Martinez (Valentin Sabella 81'), Irvin Parra (Jordan Bender 90+2'), Sylvain Marveaux (Dane Kelly 68')
Scoring summary
CLT — Enzo Martinez 47' (Irvin Parra)
Discipline summary
PIT — Preston Kilwien 29' (caution – persistent infringement)
CLT — Valentin Sabella 83' (caution – delaying restart)
PIT — Alex Dixon 87' (caution – unsporting behavior)
Gameday Updates
FINAL:  Charlotte 1, Pittsburgh 0
90+++ — Hounds best attempts at pushing for the equalizer has come from a handful of crosses in the late portions of the match. Each time, former Hounds keeper Austin Pack has been up to the task.
90′ — FOUR Minutes of stoppage time coming.
87′ — wild sequence.  Ball in from Rovira. Cicerone can't beat GK Pack to it, deflects back and both side scramble with collision as Pack gets nicked by Dixon.
79′ — guess that counts as a shot on goal…
Only second of night for Riverhounds.
Tommy Williamson's shot is blocked, then ricochet's off his leg and back to Charlotte's keeper Austin Pack who grabs it for the save.
78′ – HOUNDS SUBS:  A swap of defenders now, as Jalen Robinson and Ezra Armstrong replace Preston Kilwien and Mekeil Williams.
70′ — HOUNDS SUBS:  Anthony Velard and Dani Rovira in for Louis Perez and Todd Wharton
68′ – First change of the game is being made by Charlotte, which brings Dane Kelly on to replace Sylvain Marveux.
59′ — Plenty of confidence on Dixon's part there — unleashes a shot from 28 yards out that forces a save from Austin Pack. I am sure that Bob Lilley would like to see more shots, and from closer range.
47′ — GOAL – CHARLOTTE – Enzo Martinez
HALF — PITTSBURGH 0, CHARLOTTE 0
Pretty even possession-wise (51%-49% Charlotte) but the home side have been more active in their final third, holding shots edge (7-3, 1-0 on target)
45′ — Preston Kilwien concedes a corner late in 1st half.
Charlotte tried a few times with long balls to catch Hounds off guard (as they have been recently in giving up goals past few games).
38′ — Ball in from right side. Griffin's cross effort ends up with Forbes right there for the volley finish beyond the far post (just like the other night), but Forbes couldn't make good contact with it and it goes out past end line.
29′ — Charlotte giving Hounds fits on the right side. That's two fouls in the past few minutes setting up close range free kicks. The last one — a great save by Danny Vitiello to deny Fuchs' header
14′ — The Hounds have alternated possession with Charlotte. Best chance came on nice ball over the top to Dixon, who cut inside defender and had shot deflected for corner.
11′ – First Hounds corner of the game after Pérez hits Dixon on the counter. He tries to shoot, but it's blocked away.
7:30 — they've kicked off!!
7:05 p.m. — WEATHER DELAY
Hold tight folks! Looks like the rain is clearing soon and we are looking at a 7:30 PM kickoff.

REMINDER: Mecklenburg County Policy does not allow umbrellas inside the stadium.

— Charlotte Independence (@Independence) August 14, 2021
Riverhounds Starting XI(by position)
7 Hugh Alexander Dixon MF
and available subs:
Here's Charlotte's starting XI:
Two former Hounds (Hugh Roberts and Austin Pack in the line-up), plus there's this…
#22 Christian Fuchs makes his Queen City debut tonight at American Legion Memorial Stadium! 👏 He's our Player to Watch presented by @GreatClips. #WeAreCLT #CLTvPIT pic.twitter.com/UmUhsjaxXd

— Charlotte Independence (@Independence) August 14, 2021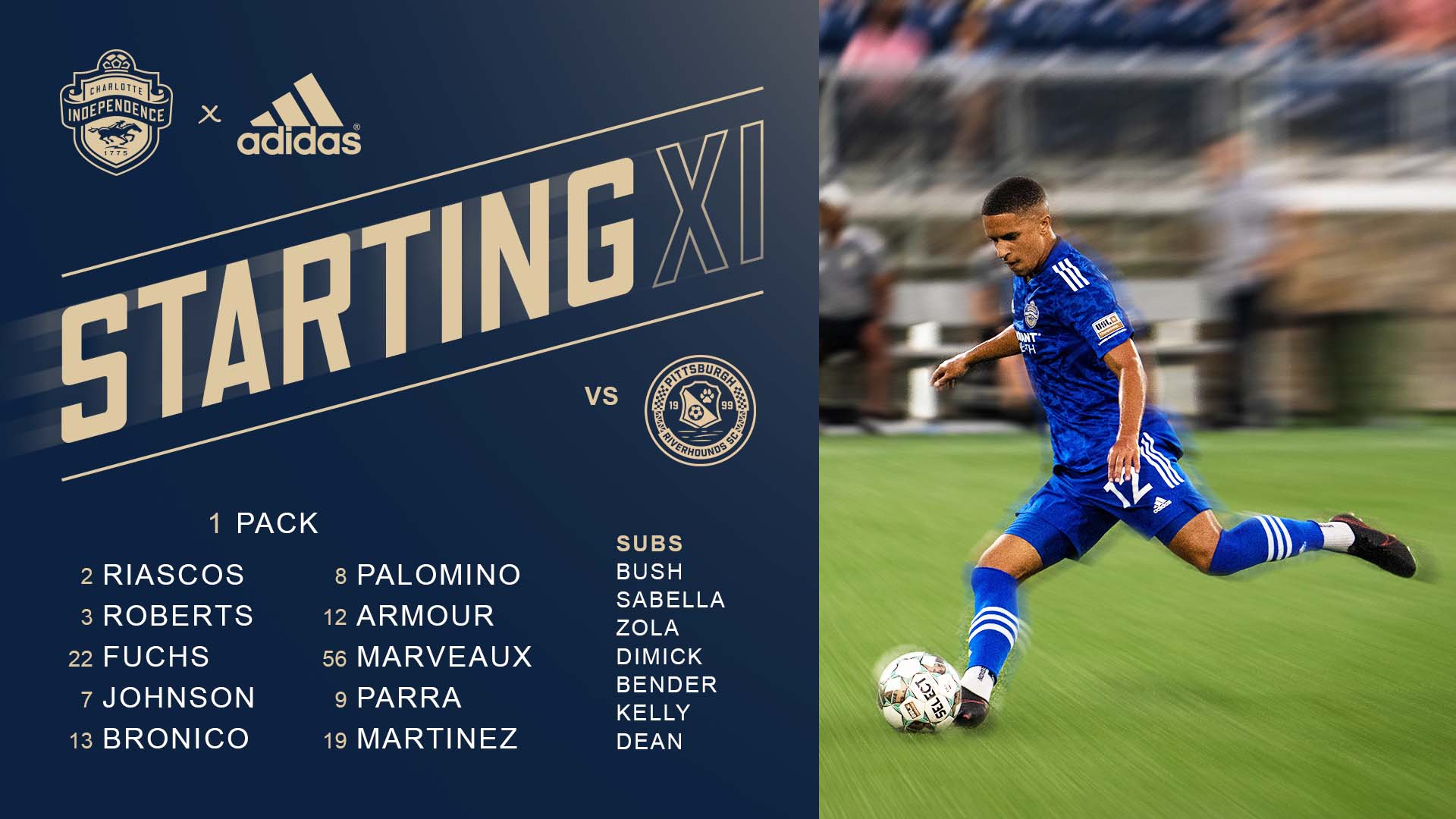 Look for lineups to be posted here along with all game updates and we'll be around after the match to provide the recap/reaction.
In the meantime, here's Mark Goodman's preview/scouting report of Charlotte from earlier in the season.
GAMEDAY!

A quick turnaround from Wednesday sees the boys in Charlotte looking for a second win over the Independence.

Injury issues ✔
Fixture congestion ✔
Still planning on being awesome ✔

If you haven't made the trip down South, catch it on @22ThePoint or ESPN+.#UNLEASH

— Steel Army (@SteelArmy) August 14, 2021
Preview
Saturday, August 14 | 7 p.m. | Location: American Legion Memorial Stadium, Charlotte, N.C.
TV: 22 The Point / WPNT-22 |  Streaming: ESPN+
Coming off their first loss in more than a month, Pittsburgh Riverhounds SC is back on the road for its third meeting of the season with the Charlotte Independence,.
The Hounds (10-5-3) let a two-goal lead slip away in a 3-2 loss Wednesday to Miami FC that tightened the race atop the Atlantic Division. Tommy Williamson and Kenardo Forbes scored in the win, but three goals in a span of just over 30 minutes did in the Hounds' chances at a fifth straight win.
Charlotte (7-7-2) enters the match coming off two wins and a draw in their past three games, as they seem to have recovered from a five-game winless stretch that dropped them out of the playoff positions in the division. The Independence defeated New York, 3-2, in a Tuesday night match behind goals by Marcelo Palomino, Enzo Martinez and Sylvain Marveaux.
Making his debut in the last match for Charlotte was defender Christian Fuchs. Fuchs, an Austrian international and part of Leicester City's Premier League title team in 2015-16, was signed and immediately loaned out to the Independence by new MLS club Charlotte FC, which begins play in 2022.
The Hounds, meanwhile, are hoping defender Mekeil Williams will be fit for the match. The center back missed the Miami game with a leg injury suffered in the previous match at Charleston, but he is listed as questionable for Saturday's game and could at least make the bench, if not the starting 11.
The Hounds and Independence split a pair of 1-0 matches at Highmark Stadium earlier in the year, with the Hounds' victory on July 3 being their first ever in the series. The all-time mark now stands at 1-7-5 for the Hounds vs. the Independence.
Recent PSN Coverage 
Williams, Francois spark Miami's second half surge to defeat Hounds
Subscribe to PGH Soccer Now