FINAL: RIVERHOUNDS SC 2, LOUDOUN UNITED FC 1
Showing some resolve on the road, the Pittsburgh Riverhounds stormed back from its first deficit in seven matches, with two quick goals midway through the second half to surge past Loudoun United for a 2-1 win in northern Virginia on Tuesday night.
"We were able to defend well in the back half of the game and limit their chances," head coach Bob Lilley said. "It was an important three points. I'm proud of the guys. They had a lot of travel and a lot of wear and tear the past 10 days or so."
Once again, it was Kenardo Forbes who sparked the Hounds when they needed a jolt — setting up goals by Neco Brett and Joe Greenpan in the 57th and 62nd minutes.
The veteran midfielder, on the same day he was honored as the USL Player of the Week for his heroics just three days before in a 3-0 win vs Indy Eleven, fueled a comeback, completing 29 of 31 passes in just 37 minutes, coming on after the Hounds surrendered its first goal in more than 696 minutes and seven games.
The game opened slowly, and the first big chance didn't arrive until Brett was played into the right side of the penalty area and was denied by Loudoun goalkeeper Calle Brown in the 23rd minute.
Sammy Kahsai also forced a good save from Brown for the Hounds six minutes later, but six minutes into the second half United took the lead when Kyle Murphy got up and headed home a cross by Kevin Paredes from the right at the back post to break Pittsburgh's shutout streak.
Riverhounds SC hit back quickly in the 57th minute when Forbes slid Anthony Velarde into the left side of the penalty area, and Velarde's low cross was met by a first-time finish from Brett for his 12th goal of the season.
Brett almost added a second on the hour-mark as he had a shot parried away by Brown from a tight angle on the right, but in the 62nd minute an in-swinging corner kick from the left by Forbes arrived at the feet of Greenspan for a close-range finish that put the visitors ahead.
Velarde threatened with a curling finish from 20 yards that Brown just tipped over the crossbar as Pittsburgh looked for an insurance goal, but Loudoun was unable to find an answer in the closing stages as the Hounds moved three points clear at the top of the Eastern Conference as they allowed their hosts only four shots overall for the game.
With the win, Pittsburgh now jumps into sole possession of first place in the USL's Eastern Conference.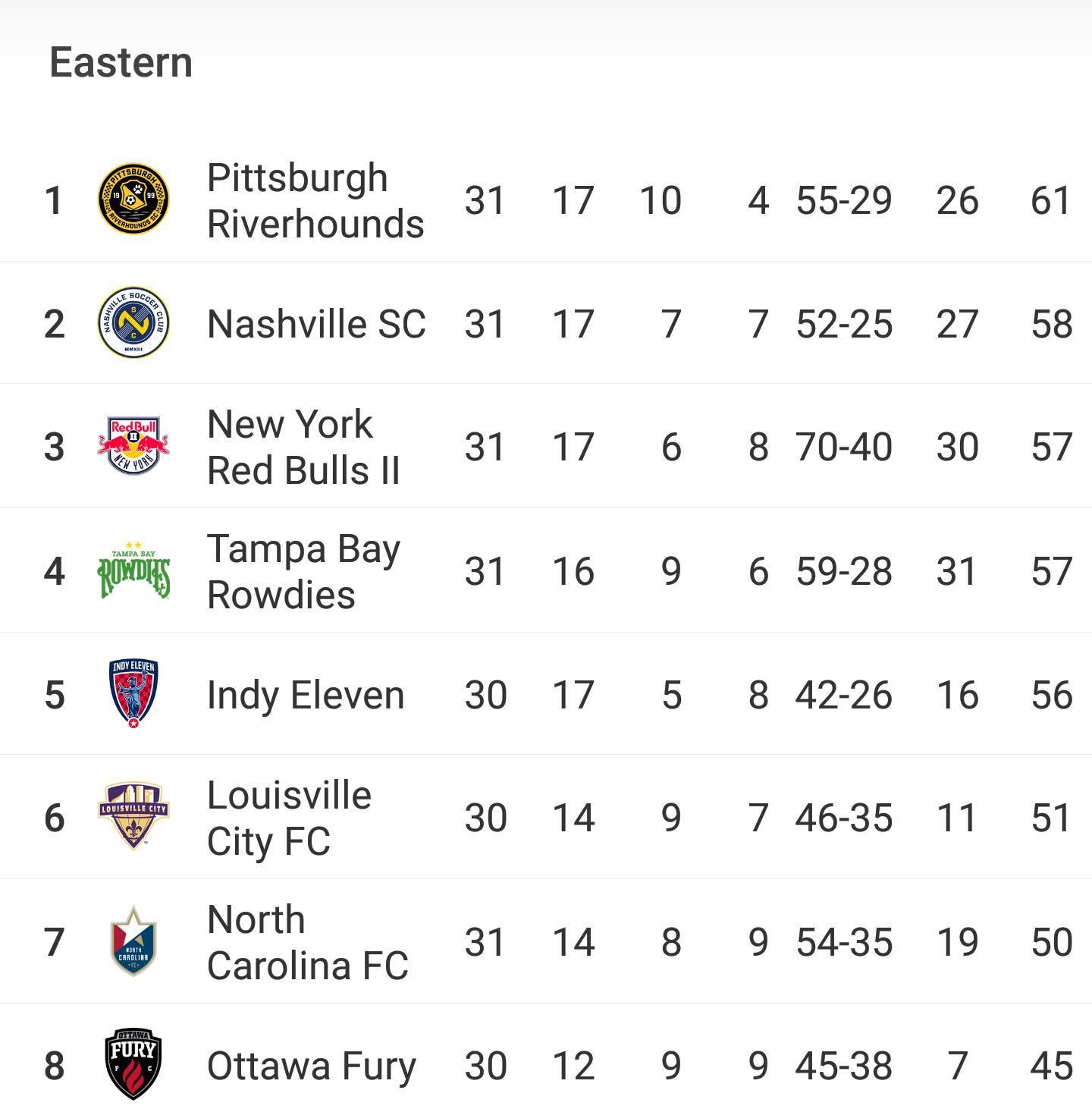 Here's a look at Loudoun's go ahead goal…
After 698 minutes, @RiverhoundsSC's shutout streak comes to an end at the hands of @kmurph_19 and @LoudounUnitedFC.

Another 👀 at the goal that ended the streak, which was the second-longest in USL Championship history:#LDNvPIT | #BeChampions pic.twitter.com/CPcnlmvHeT

— USL Championship (@USLChampionship) October 2, 2019
It only took five minutes for the Hounds to get the equalizer. Kenardo Forbes entered the match as a sub in the 53rd minute, then four minutes later made a run deep into the final third, sending a through ball to the right for Anthony Velarde, who quickly sent a short cross for Neco Brett.
Brett redirected it into the goal for his 12th tally of the season.
Don't [Brett] against him.@RiverhoundsSC's @necobrettj grabs the equalizer.#LDNvPIT | #BeChampions pic.twitter.com/yMPRAREdNu

— USL Championship (@USLChampionship) October 2, 2019
Five minutes later, the Hounds took advantage of its corner kick opportunity, with Forbes delivering a perfectly placed ball into the center of the box. Somehow, Loudoun United's Calle Brown miscalculated the direction of the ball, moving up to the near post, but the ball swung by into the center area for Joe Greenspan to knock in.
ANCHORS AWAY! ⚓️#UNLEASH | #LDNvPIT pic.twitter.com/Im2GdM65TY

— x-Pittsburgh Riverhounds SC (@RiverhoundsSC) October 2, 2019
It was Greenspan's fourth goal of the season, all coming on set pieces.
This one gave the Hounds a lead that they wouldn't relinquish.
Pittsburgh out shot Loudoun 18-4 on the night, and clamped down when they needed for a victory that put them alone in first place.
We'll have more on this match in the coming days, including post-match reaction and in Riverhounds SC Notebook. 
Here's John Krysinsky and Matt Gajtka talking about the big night on Pittsburgh Postgame:
MATCHDAY UPDATES
9:27 – FINAL – RIVERHOUNDS WIN 2-1
9:21 – 88′ | Forbes nearly sets up James for a goal, but it's waved off. RJ was a half-step off side.
9:20 – 87′ | LAST SUB
Mouhamed Dabo IN, Anthony Velarde OUT
9:15 – 81 ' | Pittsburgh has added more pressure. Mertz with a shot blocked.
Forbes took a shot that went over bar, and there was also a Tobi Adewole header that was missed.
Velarde took a run at goal from 21 yards — but Brown punches it over bar.
9:07 – 74′ | HOUNDS SUB:
Neco Brett OUT, Steevan Dos Santos IN
8:56 –  62' | GOAL – RIVERHOUNDS – Joe Greenspan.  It's now 2-1 Hounds
Riverhounds take the lead.
Converting a corner with ease.
Forbes sends it right to center of box, GK Calle Brown comes out to near post and Greenspan is there in center of box all by himself to redirect it in.
8:51 – 57′ | GOAL – RIVERHOUNDS – Neco Brett! It's 1-1
What a response from the Hounds!!
Neco Brett with the finish for his 12th goal of the season.
Immediate impact in game from Kenardo Forbes, who brought the ball into the attacking third, laid it off to Velarde – who crossed it to near post for Brett.
8:45 – 52′ | GOAL – LOUDOUN goes up 1-0
Loudoun capitalize on counter.
Things opened up — Hounds had another counter opportunity — but give-and-go between Franke and Velarde didn't go so well.
Loudoun counters -and just like that Murphy makes their counter chance count.
8:41 -Fantastic ball in from Franke — to back post area for Velarde.
But Velarde with a poor header that bounces down. Golden chance blown for Hounds there!
8:38 – second half begins
halftime stats of note:
Shots:  Pittsburgh 4-2 (on target 3-0)
Possession: Loudoun 53% / Pittsburgh 47%
8:23 – HALF – Pittsburgh 0, Loudoun United 0
8:20 – 43′ | clever ball by Vancaeyezeele to quickly send a long ball forward to open space for Brett to track down. Defender, Miguel Angel Garduño picks up yellow card for hand ball near end line outside the box. Free kick for Pittsburgh — Mertz sends in bending ball which is cleared out.
8:17 – 40′ | nice build-up by Loudoun, Murphy finds some room to unleash a shot from the 18 that misses just wide left.
8:15 – 38′ | few observations:
Can see the difference when Dos Santos isn't in there. They don't have that guy right now to hold the ball up for a bit, and redistribute, keep possessions going into final third.
Velarde needs to be sharper in his passing and decision making. By my count, given three balls away, including one when defending in final third.
8:10 – 33′ | Kyle Murphy with yellow card — knocking Ryan James to the ground on the end line.
8:06 -28′ | Kahsai's not afraid to take those shots from distance!
Another save for Calle Brown there. He's been the busiest man on the pitch.
8:03 – Hounds starting to build some chances now. Kahsai with clever ball for Velarde who can't find an accurate attempt on frame. Noah Franke sets up Brett too, who's shot from tough angle is stopped by former Hounds Calle Brown. Newer Hounds fans may not know, but Calle Brown was a the main guy in goal when the Hounds got on that playoff run in late Aug/Sept 2015.
7:58 – 21′ | Robbie Mertz picks up yellow card for some questionable contact
7:55 – 18′ | First 10 mins were sluggish for Pittsburgh again. They didn't get a weather delay, but look sharper now in the past six or seven minutes stringing together passes.
7:35 – match has kicked off
7:15 – as promised, here's the Hounds line-up for tonight…
GK – Kyle Morton
D – Joe Greenspan, Todd Pratzner, Tobi Adewole
MF – Thomas Vancaeyezeele, Ryan James, Noah Franke, Robbie Mertz, Sammy Kahsai, Anthony Velarde
F – Neco Brett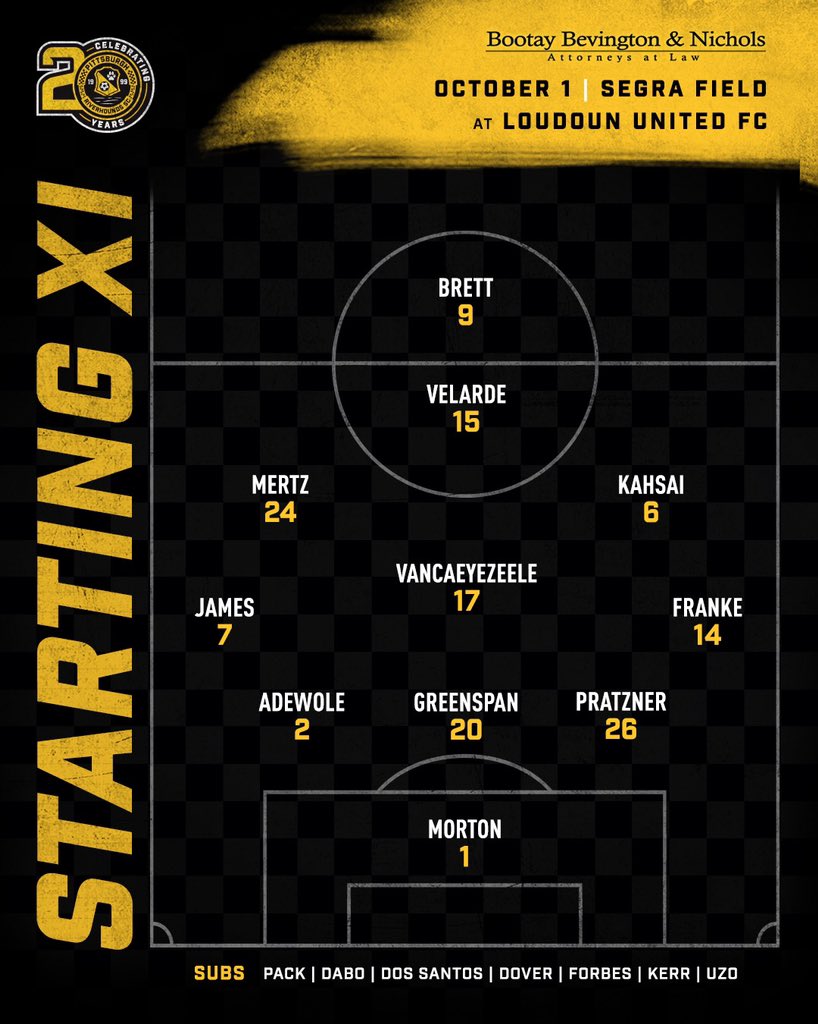 And for good measure, here's Loudoun United's as well: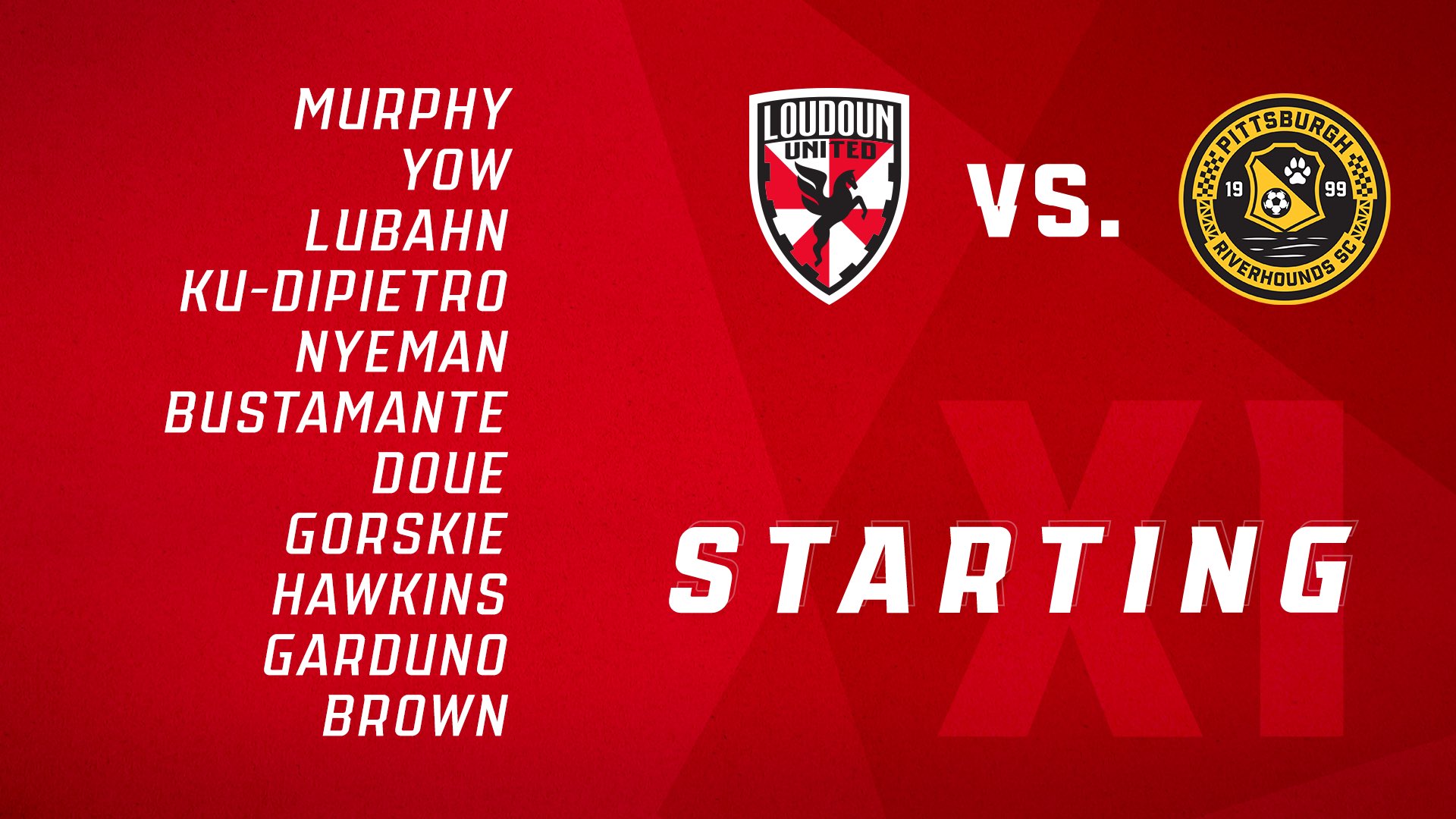 We'll post the Riverhounds SC's Starting XI here at approximately 7:10 p.m.
As Bob Lilley said post-match on Saturday, there's should be some significant squad rotation for the Hounds on Tuesday as they look to make a move into first place.
Here's John Krysinsky's projected Hounds line-up for tonight. With both Joe Greenspan and Jordan Dover sitting on four yellow cards each, it's likely that they might be given the night off.
GK – Austin Pack
D – Tobi Adewole, Thomas Vancaeyezeele, Todd Pratzner, Ryan James, Caleb Smith
MF – Anthony Velarde, Sammy Kahsai, Robbie Mertz, Noah Franke
F – Christian Volesky
More on this match-up:
There are no easy matches in USL Championship, and Tuesday night will be perfect example.
The Riverhounds SC (16-4-10) are red hot, but now they face a team under the playoff line that will be at home, and has nothing to lose: Loudoun United FC (7-16-6).
Working on a club-record streak of seven straight clean sheets, the Hounds enter Week 31 of USL Championship action tied in the total points with Nashville, but technically in second place in the Eastern Conference standings.
Any result will elevate the Hounds into sole possession of first place on Tuesday evening.
Pittsburgh defeated Loudoun earlier this season on Aug. 23 at Highmark Stadium, 1-0. Steevan Dos Santos scored the match's lone tally in the 5th minute.
On the other hand, Loudoun holds a record of 1-4-0 in its past five games. The USL Championship newcomer lost its most recent game, 2-0, to Nashville SC.
Race to First
Heading into Tuesday's match, here's what it looks like at the top of the USL's Eastern Conference standings…
Pos.
P
W
L
T
GD
Pts
Form
1
Nashville SC
31
17
7
7
27
58
WLWDW
2
Pittsburgh Riverhounds SC
30
16
4
10
25
58
DWDWW
3
New York Red Bulls II
31
17
8
6
30
57
LWLLD
4
Tampa Bay Rowdies
31
16
6
9
31
57
WDLWD
5
Indy Eleven
30
17
8
5
16
56
WWLLL
6
Louisville City FC
30
14
7
9
11
51
DDWWD
7
North Carolina FC
31
14
9
8
19
50
LDLLW
Other upcoming matches of note: 
Wednesday, Oct. 2:
Indy Eleven vs Ottawa
Friday, Oct. 4:
Loudoun United vs Tampa Bay Rowdies
Saturday, Oct. 5: 
Pittsburgh Riverhounds vs Atlanta United 2
Indy Eleven vs Memphis 901 FC
North Carolina FC vs NY Red Bulls II
Tuesday, Oct. 8: 
Nashville SC vs Louisville City FC
Injury Report
The Hounds don't have anyone listed on the injury report.
Previous meeting: 
Latest PSN Riverhounds SC coverage: 
Post Match Reaction: Wonder goals lift Hounds to top of table
Also Nicholas Murray of USL Championship.com did this write-up on Kenny Forbes' brilliant, magisterial play on Saturday.
@KenardoF did something he's never done before in the @USLChampionship on Saturday.

But on top of that, he was the usual magisterial midfielder that has been key to @RiverhoundsSC's success the past two years. #UNLEASH #BeChampionshttps://t.co/XWHGETp0Wl

— Nicholas Murray (@NJEMurray) October 1, 2019
Riverhounds Postgame: Russell Cicerone after brace vs Indy
Subscribe to PGH Soccer Now